This month's limited edition print is extremely special for me. Last February I was invited to make a donation to the
Macmillan De'Longhi Art Auction
which takes place in September at the Royal College of Art.
About the same time a fan of my work got in touch to tell me the amazing
story of Stephen Sutton
and to ask if I might be able to help him fulfill one of his bucket-list wishes to have his portrait done.
Stephen was diagnosed with terminal cancer three years ago and he seemed like the perfect subject for a drawing in support of Macmillan Cancer Trust.
But it didn't seem right to exclude the
Teenage Cancer Trust
which Stephen is passionate about raising money for, so we decided to release my print of Stephen this month in advance of the drawing going to auction and for every print that's sold £100 will be donated to the Teenage Cancer Trust.
As an added bonus Stephen has autographed each of the prints and the Certificates of Authentication as well. You can view the original drawing and the prints from the 24th of June at the
Albemarle Gallery
. Or buy prints now directly from
my website
.
If you follow me on Facebook or Twitter, you know that I'm a big fan of Jim Rohn and a strong believer in setting goals and personal development.
The past four months have been full of many incredible experiences, but they have also brought new challenges. I couldn't have handled all the demands and pressure without having quickly found a team to support me.
One of the most important people on that team is my business manager and coach, Kathryn Roberts. She has been offering courses and coaching to artists and business owners for years and I am happy to announce that she has agreed to offer a 15-day online Goals and Mindsetting workshop for my fans and supporters starting July 1st.
Whether you're an artist or not, I believe the material covered over these 15 days can be life changing. I hope you will join me and invest in your future happiness and success.
You can get more information, listen to an audio description and sign up by
clicking here
.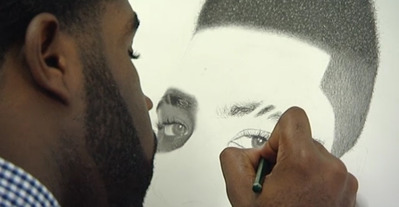 I will be giving a talk and demonstrating my techniques at the Cork Street Open Exhibition followed by a period of question and answers.
I will also have my original drawing of Stephen with me for the morning as well as prints.
Doors open at 9am for a 9:30 start! (Coffee & tea provided)
Tickets are available on my website, but space is limited so please purchase tickets early to avoid disappointment.
Click here
to order now.