CHANGES AT THE REGISTRY!
Our website has changed. Our staff has changed. And we created an advisory board.
CHANGES TO OUR WEBSITE
New Graphs That Update Automatically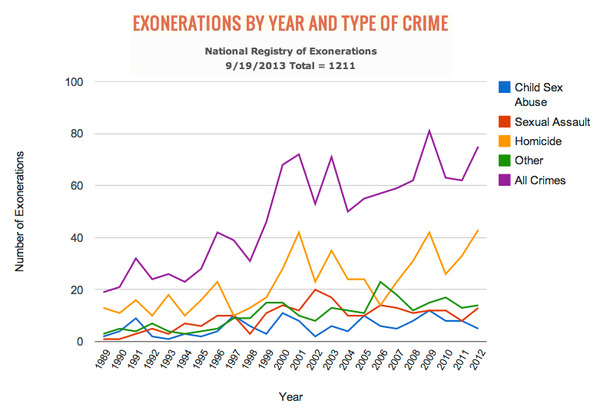 The graph above shows exonerations by year and type of crime. In addition, we have graphs for DNA/non-DNA exonerations by year and exonerations by race and crime. These graphs, which may be copied and reproduced, are always based on up-to-date information.
A "Filter" for Summary and Detailed Views

We have improved the searchability of the website by adding a "Filter" function in both the detailed and summary views. The filter scans the visible coded fields and narrative summaries for the words entered and lists the cases that contain them. For example, if you enter the term "fingerprint," it will create a list with every case in which that term appears. The filter, however, is not a search which works with quotation marks.
A New "Learn More" Page
We created a "Learn More" page that summarizes basic fact patterns in the data as well as recent frindings, and provides easy access to our reports, graphs, and updates.
MEET OUR ADVISORY BOARD
We have assembled a distinguished advisory board of leaders in the field of wrongful convictions and exonerations. Full profiles can be found here.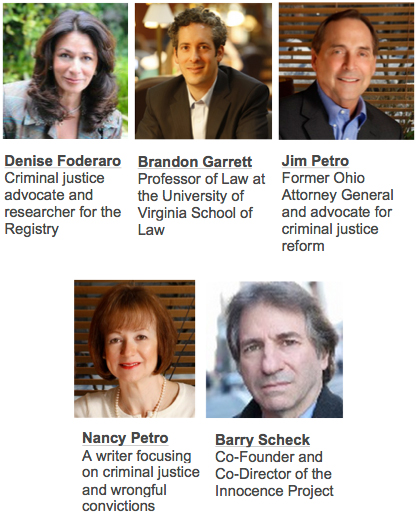 Shannon M. Leitner, a 2013 graduate of the University of Michigan Law School, was hired this month as a Research Fellow. Shannon worked in the Michigan Innocence Clinic for two years as a student attorney, and first joined the Registry in January 2013 as a student research assistant. We are excited to welcome Shannon to the team.
Writer/Researcher Alexandra Gross left the Registry last month to pursue her teaching career. We cannot thank Sasha enough for her ideas, innovations, and passion, and wish her nothing but the best.



Rob Warden, Co-Founder and Executive Director of the Center of Wrongful Convictions at Northwestern University School of Law, will be retiring at the end of the academic year. Rob, who is also Co-Founder of the Registry, has been fighting for the wrongfully convicted for nearly four decades. Rob will continue his work with the Registry. Congratulations, Rob, and thank you.
Prosecutors: Friend or Foe to the Innocent Defendant?

New York:

In March 2013, David Ranta (pictured) was exonerated after an investigation by the Brooklyn Conviction Integrity Unit, which sparked the CIU to investigate 50 additional cases handled by the same detectives.

Some critics are skeptical of this reinvestigation under the same chief prosecutor who was responsible for the convictions.

On September 10, long-time Brooklyn DA Charles J. Hynes was defeated after an election campaign in which this was a campaign issue.
Propublica published an article last month about how prosecutors in New York City abuse material witness orders and the wrongful convictions, like Fernando Bermudez, which can result.
Chicago:
Latherial Boyd and Carl Chatman were released earlier this month when State's Attorney Anita Alvarez dropped all charges, yet the Chicago Tribune reports that many critics believe her office's CIU should be doing more.

National:
A recent article by the Registry's Alexandra Gross and Maurice Possley explains that more prosecutors are cooperating in exonerations than ever before.