New Report: NRE 2012 Update
Recent data show police and prosecutors are more willing to cooperate in exonerations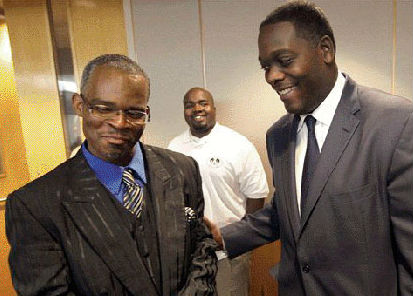 Dallas District Attorney Craig Watkins (right) greets Richard Miles (left), who was found innocent of murder in 2012 after serving 14 years in prison (AP).

On April 3, we released a 2012 Update report on our latest exoneration data. Our research shows that in 2012, there was a dramatic increased in the number of cases in which police and prosecutors initiated or cooperated in exoneration proceedings. Of 63 known exonerations in 2012, law enforcement cooperated in 34, or 54% - the first year on record that authorities have cooperated in a majority of exonerations.



Featured Case: Malcolm Emory

Framed by police in 1970, exonerated by a photograph two decades later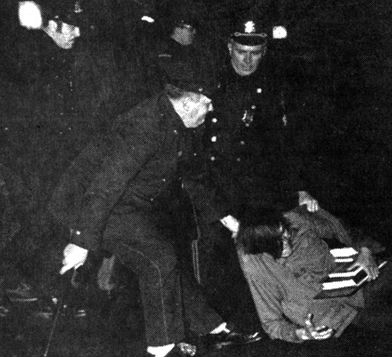 Malcolm Emory, falsely convicted of throwing a brick at a police officer, used this unpublished Boston Globe photo to clear his name 20 years later.
In addition to the new cases that we add to our database as they happen, we regularly add older exonerations that we don't learn about until years or decades after they occur. Malcolm Emory's 1990 exoneration, added this week, is especially noteworthy, in part because we learned about it from another exoneree, Donald Glassman, who is now a student at Brooklyn Law School.

Emory was convicted of throwing a brick at a police officer at a 1970 anti-Vietnam War demonstration, despite his insistence that he was holding his books the entire time and had in fact been arrested without cause and beaten by police. The police officer who claimed to be a victim testified that he struck Emory with his baton only after Emory hit him with a brick, and said that Emory was not carrying any books.

Twenty years later, Emory managed to obtain the above photo, taken by a Boston Globe photographer but never published. Armed with definitive evidence that he was abused by police while still clutching his books in his arms, he was able to clear his name, and later received $250,000 in damages.
New Web Features: Exoneration News and more
The Registry is partway through a major study on the role of recantation evidence in exonerations. We expect to report preliminary findings in a few weeks.