Record Number of Exonerations in 2013


Number of DNA exonerations declined, while non-DNA exonerations rose sharply

In our Report "Exonerations in 2013," which was released today, we announce that at least 1,304 people falsely convicted of crimes were exonerated in the United States over the past 25 years, and there are many more cases yet to be discovered.

Eighty-seven (87) known exonerations occurred in 2013, more than any previous year, and that number is bound to grow as we learn about additional 2013 exonerations over the next several months.

The number of exonerations in which DNA played a role has gradually declined since 2005. DNA exonerations only represented about a fifth of the total number of exonerations in 2013. In the same period, the number of non-DNA exonerations per year doubled from 34 in 2005 to 69 in 2013.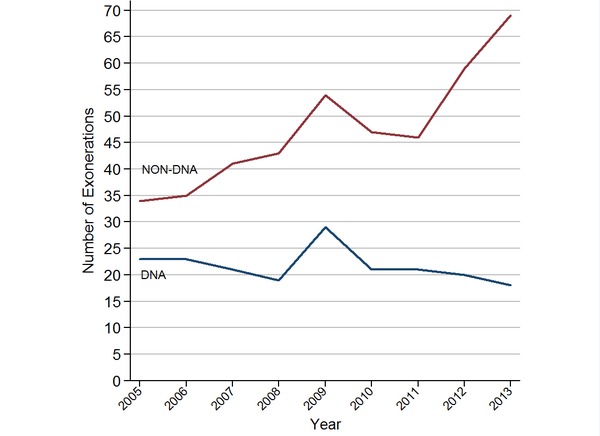 You can see up to date numbers on DNA and non-DNA exonerations here. You can find the report, which includes a separate detailed summary of all known exonerations from 1989 through 2013, here.

The trends in 2013 reflect several long-term trends:
Twenty-seven (27) of the 87 known exonerations that occurred in 2013 – almost one-third of the total number for the year – were in cases in which no crime in fact occurred, a record number.
Fifteen (15) known exonerations in 2013 – 17 percent – occurred in cases in which the defendants were convicted after pleading guilty, also a record number. The rate of exonerations after a guilty plea has doubled since 2008 and the number continues to grow.
Thirty-three (33) known exonerations in 2013 – 38 percent – were obtained at the initiative or with the cooperation of law enforcement. This is the second highest annual total of exonerations with law enforcement cooperation, down slightly from 2012, but consistent with an upward trend in police and prosecutors taking increasingly active roles in reinvestigating possible false convictions.
In 2013, Reginald Griffin, who had been sentenced to death in Missouri, was exonerated, bringing the total number of death row exonerations since 1973 to 143 across 26 states, according to the Death Penalty Information Center.

The ten states with the most recorded exonerations in 2013 were: Texas, Illinois, New York, Washington, California, Michigan, Missouri, Connecticut, Georgia, and Virginia. The states with the most recorded exonerations are not necessarily those where most false convictions have occurred.

| | | | | |
| --- | --- | --- | --- | --- |
| TX - 13 | MI - 5 | MA - 3 | AR - 1 | NJ - 1 |
| IL - 9 | MO - 5 | MD - 2 | AZ - 1 | PA - 1 |
| NY - 8 | CT - 4 | NC - 2 | FL - 1 | TN - 1 |
| WA - 7 | GA - 4 | WI - 2 | IN - 1 | UT - 1 |
| CA - 6 | VA - 4 | WY - 2 | KS - 1 | VT - 1 |
Federal (NY) - 1

Perhaps the most important reason for the rapid increase in exonerations in the last decade is that everyone involved in the criminal justice system – police, prosecutors, defense attorneys, judges, as well as the public at large – has become more aware of the danger of convicting innocent defendants. In particular, a lot of credit goes to prosecutors and police who are increasingly likely to take claims of innocence seriously, to cooperate in investigation by defense attorneys and innocence projects, and to initiate investigations of possible false convictions on their own.

The number of DNA exonerations may be decreasing slowly, but they will continue to happen. But the most important lasting impact of DNA exonerations is what they taught us about errors in the criminal justice system generally. The 365 exonerations since 1989 that involve DNA evidence – including the 312 cases in which the Innocence Project has determined that DNA evidence was the central basis for the exoneration – have left an indelible mark on criminal justice in the United States. They have taught all of us that we do regularly convict innocent defendants of crimes they did not commit, and that knowledge has led to many exonerations in which DNA played no direct role.

Interested in visual representations of our data? Check out our infographic on Exonerations in 2013 and our up-to-date graphs on our website.