IT'S THE FIRST ANNIVERSARY OF THE NATIONAL REGISTRY OF EXONERATIONS
When we launched our public website on May 21, 2012, we listed 891 exonerations in the U.S. since 1989. We've added 232 cases since -- some current, and most older cases that we learned of months or years after they occurred. We'd like to thank the many people who have helped us expand and improve the Registry this year.
Preliminary Report:
Witness Recantation Study
Preliminary findings about exonerations involving recantations by witnesses or victims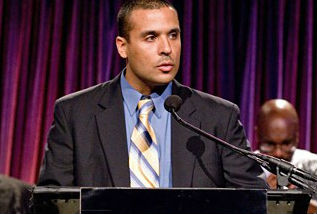 Fernando Bermudez, speaking here at a 2010 Innocence Project event, spent 17 years in prison for murder, though all witnesses recanted their testimony against him within a year of his conviction.
The National Registry of Exonerations is conducting a research study of all the cases in our database that involve
post conviction recantations by witnesses or victims -- the first systematic study of recantations ever conducted. We have released a report on our preliminary findings, which we presented at the Innocence Network Conference in April.

Of 1,068 exonerations in the data set, 250 (23%) involve recantations. Most recantations occur in murder and child sex abuse exonerations, rather than in exonerations for adult rapes and other crimes.

Exonerations in child sex abuse cases often follow a common pattern: the false testimony of an alleged victim or victims is the sole or primary evidence against the defendant, and the accusers' recantations are deemed credible in court, leading to the defendant's exoneration. Unlike child sex abuse cases, courts rarely overturn a murder conviction based solely on recantations; significant corroborating evidence is usually required. We also found that murder exonerations involving recantations are more likely than non-recantation murder cases to involve official misconduct, and less likely to involve false confessions or exculpatory DNA evidence.

We expect to release a complete report in early 2014.
Featured Case: Terence McCracken
Convicted at 19, freed 12 years later with help from Philadelphia Inquirer journalist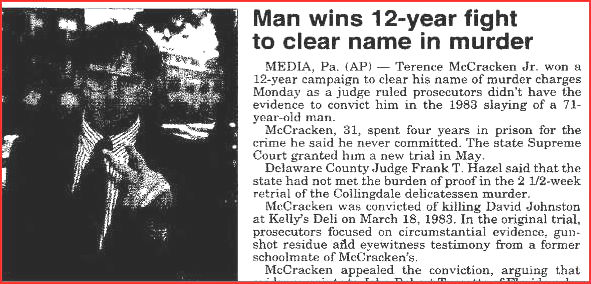 In this 1995 Gettysburg Times article, Terence McCracken is pictured leaving the Delaware County courthouse on the day of his release.
Many of the exonerations added to the Registry are older cases that we learn about months, years or decades after they occur.
Terence McCracken
, a recent addition, was only 18 and had no criminal record when he was arrested for a 1983 murder at Kelly's Deli in Collingdale, Pennsylvania. McCracken insisted he had been busy working on a car at the time of the crime, but he was convicted based on the eyewitness identification of a classmate who was near the crime scene, and testimony from a state expert who said he had found gunshot residue on McCracken.
Days after the murder, police had arrested two other suspects who were fleeing the scene of an armed robbery, one of whom was carrying the gun used in the murder at Kelly's Deli. But after McCracken was convicted, prosecutors dropped the murder charges against these two men.
In 1986, Philadelphia Inquirer reporter John Woestendiek published a series of articles on the case, which later won a Pulitzer Prize. Woestendiek had interviewed numerous gunshot residue experts, all of whom agreed that the state's expert had been wrong - the residue found on McCracken could easily have come from working on a car. He had also interviewed one of the other two suspects, who said that McCracken was not the killer. Eventually, the eyewitness also recanted, saying he was pressured by police to identify McCracken. McCracken won a new trial, and he was acquitted in 1995.
We Join the Pennsylvania Innocence Project in Honoring Denise Foderaro Quattrone, recipient of the 2013 Hero of Justice Award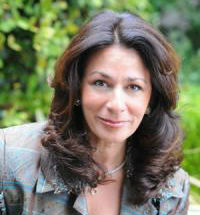 Denise is a passionate and effective advocate for the wrongly convicted, and an invaluable friend and supporter of the Registry. She is also a uniquely talented investigator. Her sleuthing has uncovered some 35 exonerations that we hadn't heard about - about the same number that have been found by all other external contributors combined. Thank you, Denise, for your unmatched enthusiasm and your passion for justice. Congratulations!
Brooklyn District Attorney's Office to Review 50 Murder Cases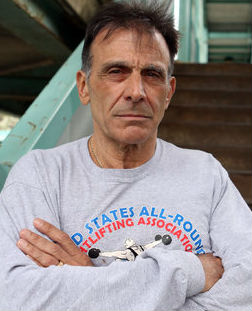 As the New York Times reports, the Conviction Integrity Unit of the Brooklyn district attorney's office will review some 50 murder cases investigated by detective Louis Scarella (pictured), who has handled some of the borough's most notorious crimes. The move comes in the wake of mounting questions about the detective's tactics and the legitimacy of his convictions.