Martin and Music: Remembering Dr. Martin Luther King, Jr.
in Words and Music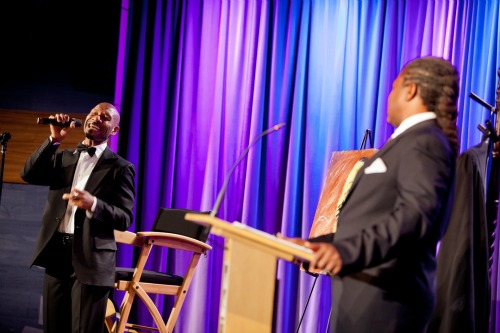 Charles Holt and Gerald Rivers
Photo courtesy of Maya Myers Photography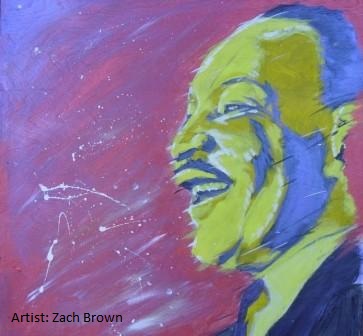 On May 7, Facing History and Ourselves was privileged to host "Martin & Music," a spoken word and musical performance that honored the life and legacy of Dr. Martin Luther King, Jr.

The evening, presented by Facing History and The Allstate Foundation, in
partnership with
The GRAMMY Museum, featured a riveting performance from renowned Broadway singer and actor Charles Holt alongside Gerald Rivers, accomplished actor, voiceover artist, and teacher. Their extraordinary talent immersed the audience in the history of the civil rights era and important themes of justice, participation, and legacy.

"Martin & Music" inspired audience members to think about how they might become "upstanders" to fight for justice and equality in their own community.
During the Q&A session a student from Facing History's Carson Network of schools stood up and he had a question directed, not to the performers, but "…to myself." "I ask myself, 'What am I going to do now? What am I going to do to become an upstander?'"

That is a question each of us should ask ourselves every day.
At Facing History, we work with educators worldwide who share the goal of creating a better, more informed, and more thoughtful society. We challenge students to wrestle with complex moments in human history and make connections between the ethical choices they'll face in life and the positive outcomes they can create in their community and the world.
---
Facing History and Ourselves and The Allstate Foundation present a series of community-wide dialogues across the U.S. Prominent scholars, authors, filmmakers, and policy leaders will speak and participate in discussions about civic engagement, individual and collective responsibility, and tolerance.