Six More Weeks of Winter?
By this point in winter, we've seen the ebb and flow of the season, from storms which dump a foot or more of snow on the ground, to bitter cold temperatures and icy winds, to warm spells when the snow melts, the sun shines, and we may be tempted to start thinking about an early spring. Truth be told, winter will be with us through February and well into March. We are sure to see more snowstorms and feel the bitter bite of sub-zero wind chills. But, fear not, the days are getting longer, and before long Red-winged Blackbirds will be singing from their cattail stakeouts, Sandhill Cranes will be heard bugling overhead, and trees will bud forth with a new season of growth and hope. Until then, come out to Seven Ponds, where we always have a full-slate of fun, seasonal activities planned for children, adults, and families. We're in the midst of our Winter Series, which offers a unique program each Sunday throughout the month. And the trails are always open, dawn to dusk, for our members and during office hours for non-members. See you there!
Programs and activities
The fee for the following programs is the regular admission fee ($3.00 adults, no charge for children 12 and under, no charge for members), unless otherwise noted. Additional information can be found on the nature center's website (sevenponds.org).
Yoga at the Ponds
Wednesdays, February 7 - February 21
6:30 -7:30 p.m.
The "Peaceful Moon" series continues for newcomers, beginning yoga students, and returners. Participants should wear comfortable clothing and bring a yoga mat or blanket. Drop in fee is $12.00 ($10.00 for members). Call Seven Ponds to register.
Winter Science
Saturday, February 3, 1:00 to 3:00 p.m.
Winter is a great time to spend the afternoon doing cold and icy experiments. We will make snow volcanoes, do pine cone science, learn about blubber, and more! This will be fun for the whole family.
Winter Series #2
Colorado Birding: Prairies, Foothills, and Rocky Mountains
Presented by Daryl Bernard - SPNC Executive Director
Sunday, February 4, 2:00 p.m.
Colorado is well-known for its Rocky Mountain splendor - where scenic vistas abound around every bend in the road - but it is also a fantastic place to see some amazing birds. Join Daryl Bernard as he shares the birds and wildlife encountered on a recent Seven Ponds Birding Field Tour. We visited Pawnee National Grasslands, the foothills around Boulder and Fort Collins, Arapahoe National Wildlife Refuge in North Park, and Rocky Mountain National Park. Come along as we recount our extraordinary week in "Colorful Colorado."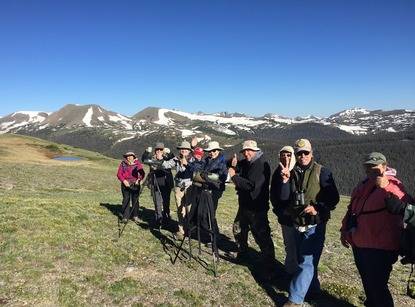 Nature Journaling
Saturday, February 10, 2:00 p.m.
Come out to a wintry Seven Ponds and spend the afternoon looking for animal tracks and other evidence of wildlife. Then we'll be writing a story about what we saw. Come dressed for the weather and please bring a journal and your favorite pen or pencil. You could also bring colored pencils. Please pre-register by February 9 by calling the nature center.
Winter Series #3
Seven Ponds is Going to the Dogs!
Presented by Cathy Wesley - SPNC Naturalist
Sunday, February 11, 2:00 p.m.
Nights in February are some of the best times to hear wild canines! Coyotes are fascinating creatures - they once just lived out west and are now living everywhere, even in our largest cities - but are rarely seen. Join naturalist Cathy Wesley for a howling fun afternoon learning about the wily coyote and some of their canine relatives.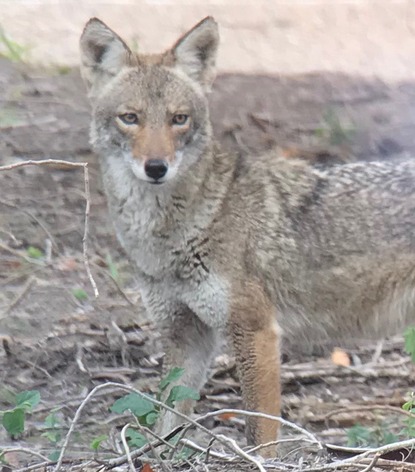 Snowshoeing at the Ponds
Saturday, February 17, 10:00 a.m. - 12:00 p.m.
Let's meander through the fresh fallen snow on snowshoes! You can bring your own or borrow a pair from the nature center. Pre-register by calling the nature center and let us know if you need snowshoes.

Sweetheart Night Hike
Saturday, February 17, 6:00 p.m. to 8:00 p.m.
You and your "Sweetie" can spend an evening snowshoeing under a waxing winter moon while seeing the beauty of Seven Ponds blanketed by snow. We will finish the evening next to a cozy campfire roasting marshmallows. Please call to register. Fee: $5.00 ($3.00 for members).
Winter Series #4
Tropical Nature
Presented by Science Alive
Sunday, February 18, 2:00 p.m.
The world's tropical rain forests are a vast, self-perpetuating reservoir of living things. Indeed, the Amazon Basin alone contains more than half of all life on earth. Science Alive's biologist, a specialist in rain forest ecology, will take us on an inspirational trip through tropical nature. We will meet some of the world's most amazing animals, find out how all life in the rain forest is intertwined, and discover how deforestation threatens this fragile equatorial wilderness.
Winter Series #5
The Zoo Experience
Presented by Katie McKiernan - SPNC Naturalist
Sunday, February 25, 2:00 p.m.
Zoos and aquariums have long been a place of wonder and discovery. They have also been the topic of some heated debates for as long as we have kept live animals. Do zoos and aquariums serve a conservation purpose or have they become a thing of the past? Naturalist Katie McKiernan (former zoo employee) will talk about the good and the bad surrounding these institutions and how you can make smart, informed choices to help protect animals all over the world.
Winter Bird Walk #4
Wednesday, February 28, 8:00 a.m.
This late in the winter we may start seeing some early migrants joining the birds we've been enjoying all winter. After starting the morning watching the feeders from indoors, enjoying hot beverages, we'll venture out and see what the tail end of February brings our way on our final bird walk of the winter. Bring your binoculars and field guide, and be sure to dress for the weather.
Upcoming Club Meetings
Astronomy Club
Saturday, February 24, 7:00 p.m.
Contact club president John Lines at jelines1@gmail.com.
Beekeeping Club
Tuesday, February 27, 6:30 p.m. social, 7:00 p.m. program
Birding Club
Tuesday, February 20, 7:00 p.m. Contact club president Nancy Kautz at nkautz@sevenponds.org.
Camera Club
Friday, February 2 & Friday, February 16, 7:00 p.m.
Friends of Herbs
Wednesday, February 14, 10:00 a.m.
Reflections from Nature
"Wilderness is not a luxury but a necessity of the human spirit, and as vital to our lives as water and good bread. A civilization which destroys what little remains of the wild, the spare, the original, is cutting itself off from its origin and betraying the principle of civilization itself."
Edward Abbey
Desert Solitaire (1968)