By: Gary M. Steck, LMFT, CEO
Why Integration Matters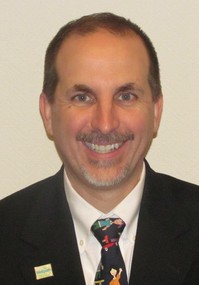 As Americans we pride ourselves as being a people who persevere, overcome and defeat problems. In the case of adults in recovery of mental illness or substance abuse, living a healthy life is indeed a formidable challenge. Our clients face the 'Quintuple Whammy' of:

1.) Delayed care due to difficulty in identifying behavioral health problems;
2.) Common co-morbidity;
3.) Medication therapy side-effects that can worsen their health;
4.) Little to no early intervention and often absent preventive care;
5.) And a high likelihood of premature death.
Some would pile on the negative long term consequences of childhood trauma and the socio-economic disadvantages of poverty, but you get the point, those in our care are at tremendous risk for poor health outcomes.

The 2003 National Comorbidity Survey Replication found than 68% of adults with mental or substance abuse disorders had at least one other medical condition (diabetes, heart disease, asthma, obesity, etc.). A multi-state study from 1997 – 2000 found persons with mental disorders die 25 years earlier than the average life expectancy for the general population (Colton, et. al., 2006), primarily from 'natural causes' like heart disease rather than accidents or suicide. The medications used to treat many mental disorders can cause weight gain, type 2 diabetes and obesity (Muench and Hamer, 2010). System fragmentation has also created problems with the quality and efficacy of care for this segment of the population. Overall, most communities have minimal linkage between primary and behavioral health care providers, greater Waterbury is no exception. As common mental health conditions present with symptoms similar to medical disorders, detection and diagnosis are challenging. This being the case, persons with mental and substance abuse disorders are thus less likely than the general public to receive preventive care such as immunizations and standard screening such as that for cancer (Druss, et. al., 2001).

With this data in mind and in the context of the rapidly changing face of health care in this country, Wellmore Behavioral Health is focusing on integration opportunities with medical and dental providers in the communities we serve to achieve the best possible outcomes for those we serve. This is not a new concept to us as the former Child Guidance Clinic of Greater Waterbury affiliated with St. Mary's Hospital in the 1997 to collaborate on children's crisis service and child abuse prevention. Similarly, Wellmore has partnered with StayWell Health Center on a school-based health clinic and in early screening for adult substance abuse. In August 2013 Wellmore and StayWell agreed to further this relationship and affiliate to work together to seek opportunities for improved health care outcomes for residents of the greater Waterbury region. Several joint projects which encourage and enhance integration while addressing gaps in the local system of care are in development. The initial focus is on services that support substance abuse recovery.
Helping reverse the 'Quintuple Whammy' will take focus, patience, innovation, compassion and strong collaboration with our clients, partners and funders. What time is better than now to begin!
Addiction and Adolescents
By: Christopher Young, MD, Medical Director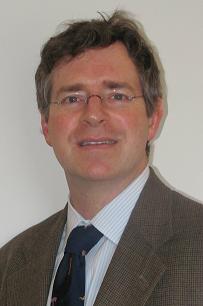 The burden of substance abuse and addictions is enormous. Taking into account medical consequences, accidents, crimes and lost productivity, some estimates suggest that the impact of addictions on the US economy is half a trillion dollars annually. Addictions can take many forms and are not necessarily associated with illicit substances. Behavioral addictions to things such as gambling, food and screen media are the focus of a growing body of research and knowledge. Despite this surge in interest about behavioral addictions, the foundations of abuse and dependence research have been focused on nicotine and alcohol use, as well as the use of illicit substances like cocaine and heroin. Adolescence is frequently identified as the time when addictions begin, and researchers are beginning to unravel some of the reasons why, as well as the differential impacts of a variety of substances on the developing brain.
Culturally, adolescence has been associated with risk taking and novelty seeking within a climate of peer and social pressure. Neuroscientists, however, point out that the brain is not fully formed until adulthood. The particular circuits in the brain associated with impulse control, motivation and executive control are still incompletely developed in adolescence and appear to be specifically vulnerable to substances. Further, the brains adaptation to substances may be different in the teen years compared to adulthood. Two different types of research studies have looked at this more closely. In laboratory studies of adolescent mice and rats, the adaptations of the brain to substances like alcohol and nicotine are quite different compared to the adult brains. Other studies have shown that children who begin using alcohol prior to age 14 are four times more likely to become addicted to alcohol then those who begin using alcohol at 20 years or older(1). These studies raise important additional questions, for example, do different types of substances differ in their impact on the developing brain?
To answer this question, several researchers from a variety of Universities surveyed a cohort of 73,000 high school students over an 8-year period. They specifically looked at lifetime substance use associated with suicide attempts requiring medical attention within the year prior to the survey. After controlling for confounders, researchers found that all substances had an increased association with suicidal thoughts, yet the impact of each different substance on these thoughts was not equal. 28% of heroin users (people who had used at least once in their life) had made a suicide attempt within the previous year compared with 4% of those reporting use of marijuana, and less than 1% who said they had never used marijuana(2).

This growing body of research about the adolescent brain and its unique vulnerabilities to substances and addictions underlines an important point; providers must work to actively engage adolescents, prevent substance experimentation, and aggressively treat those developing addiction. As a provider of mental health and addiction services across the lifespan, Wellmore is uniquely positioned to make a positive impact on adolescents in our community by understanding the factors that contribute to risk and resiliency.

1. Volkow, N., and Li, TK. The neuroscience of addiction, Nature Neuroscience. 8, 1429-1430 (2005).
2. Wong SS, Zhou B, Goebert D, Hishinuma ES. The risk of adolescent suicide across patterns of substance use: a nationally representative study of high school students in the United States from 1999-2009. Social Psychiatry and Epidemiology. Epub Jun 7, (2013).
Minute To Win It!

"Minute It To Win It" (based on the television game show) day was developed by the team leaders from home based programs. The idea was based around an event or activity that would be a morale boosting activity for staff that spend 75% or more of their week out in the community leaving little interaction between coworkers. Team leaders meet a few times before the event to choose fun and safe games for the staff.

The event was held this year on September 13th and the staff members were told ahead of time to plan accordingly. Staff members were asked to make teams of two and develop a costume and name for themselves. The day of the even t the staff begins the event by enjoying a light breakfast of coffee, bagels and pastries. Then staff participate in 6 games with their times posted to move on to the semi-final and final games. The winning team receives a prize for being the ones who completed all the games.

This year was the second time it has be held with much success and enjoyment. As team leader s we thoroughly enjoy watching all the other staff members who stay the whole time cheering on the teams that make it to the semi-finals and final table. It displays a sense of morale, accomplishment and encouragement home based staff have with each other.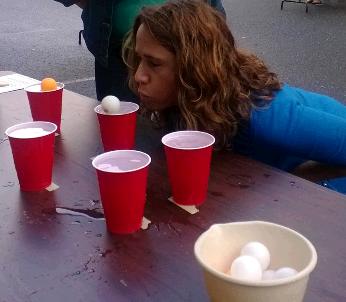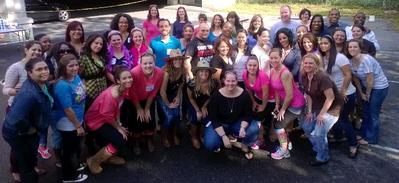 Wellmore Out & About In The Community
F.E.L.T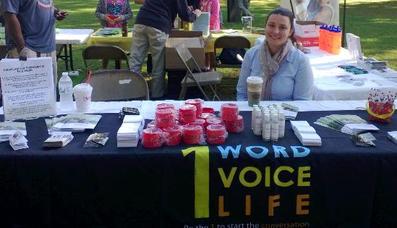 The 1st inaugural Dads Matter Too! Awareness Day took place September 22, 2013 in Waterbury, CT at Library Park! This statewide event focused on raising awareness around the importance of fathers in today's society. The event was hosted by the State of Connecticut's Department of Children and Families Region #5 Fatherhood Engagement Leadership Team (F.E.L.T). The mission of the F.E.L.T is: To Educate, Inform and Empower Fathers while strengthening and increasing their roles in the lives of their children. The team is comprised of DCF workers and external community providers and other local and state organizations.
This event will allow fathers/father figure to congregate and demonstrate their commitment to children and their future; and provide an opportunity for community providers/organizations to showcase the services they offer and empower residents by exposing them to resources. The event also has the ability to offer a health component for those who choose to participate in the walk, run, or planned activities. Children will also have the opportunity throughout this event to recognize and highlight the significant male figures in their life by way of an essay contest. Children will be able to present the award to the selected recipients. This will be an opportunity for the state of CT to come together for this unified cause.
Back To School Rally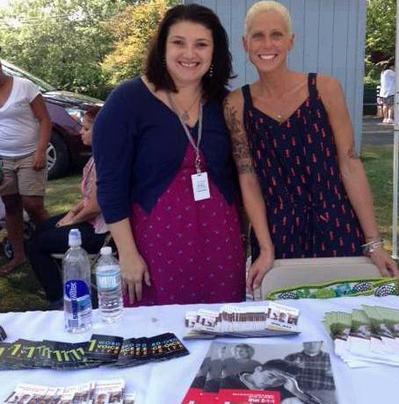 Carrie Miranda and Stacey Martwinski-Nardozzi,
EMPS Crisis Clinicians
The 2013 City Wide back to school Rally hosted at Library Park in Waterbury, CT. was a great success. Organized by Waterbury Youth Services, over 30 vendors attended including: Wellmore, Acts 4 Ministry, DCF Fatherhood Initiative, YMCA, Girl scouts of America and Connecticut Junior Republic. Hundreds of families were able to come together as a community, enjoy free hot dogs sponsored by Frankies, and gather information on local services and programs as well as back to school supplies for their children. Several activities were provided for families such as free hair cuts, face painting, physical activities, singing, and dancing, and several raffle prizes donated by vendors were given away. Dr. Kathleen M. Ouellette, superintendent of Waterbury schools spoke about striving for perfect attendance as well as hope for the 2013-2014 school year.

Parents and children who approached Wellmores table, engaged in conversation about Child and Adult services and the use of 211 for mobile crisis intervention. Many families reported having wonderful experiences with both Wellmore and the use of 211. Several adolescents engaged in conversation about suicide prevention and the use of 211 as a 24 hour service.
Human Resources Corner
Greetings from Ann Marie Gillick, new Director of Human Resources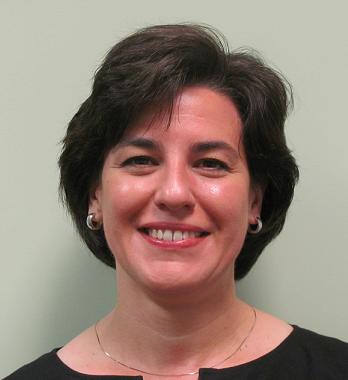 Greetings from your new HR Director and many thanks for the warm welcome I have received! I am excited to begin my new venture with an organization that has demonstrated such growth and enthusiasm in taking behavioral health care to the next level and is both well-established and well-respected within the larger community. As a new employee, I am very grateful to everyone who has made my first days and weeks here such a pleasant experience with the cheerful smiles, offers to help, kind words, emails, phone calls and visits to make me feel so welcome and already a part of the Wellmore family.

Transitions can be overwhelming (yes, even for an HR Director!), especially when you have to learn new faces, names, policies and the nuances of your new environment. I have found that one of the best ways a new employee can learn quite a bit about an organizations culture is by the opportunities that employees have to interact with one another. In the brief time since I joined Wellmore, I have been inspired by events such as the 3rd floors recent "Minute to Win It" competition, the All-Staff Meeting on September 25th and the upcoming Frankies Luncheon on October 9th. These events have shown me how we, as an organization, make time to recognize and celebrate the contributions employees make to Wellmore, regardless of whether they are clinical or non-clinical, on site or in the community. It takes dedication, commitment and a unified effort to tackle the challenges we face on a daily basis and deliver superlative service to our clients, both internal and external. I am proud to be a part of an organization that values the teams contributions toward living and achieving its mission.

While my time here thus far has been spent learning the Wellmore way and meeting employees primarily at the 141 and 402 East Main Street locations, my goal is to meet as many of the staff as possible at the sites where they work each day. In the coming weeks, I will be scheduling time to visit the other locations to meet all of you who make Wellmore such a special place to work. In the meantime, please dont hesitate to stop by to introduce yourself if you're visiting 141 East Main Street (I am on the 4th floor next to Duane), drop me a quick line by email or give me a call at extension 1106.

Once again, thanks for extending to me such a warm welcome. I look forward to meeting and working with all of you and being a part of this great team!
Wellmore has completed a LOFTY goal!!!
By: Freda Drsicoll-Sbar, Director of Systems Operations
The Adult Services division of Wellmore went live with the myAvatar Electronic Health Record (EHR) on August 26th. This accomplishment was the culmination of over a year of collaborative efforts between division leadership as well as Information Technology staff. What made this deployment quite different from our Child Services deployments was that all programs needed to make the switch from the previous EHR (Qualifacts' Carelogic) to myAvatar simultaneously. In part this meant that multiple programs workflows required review, input and report modeling needed to be designed and modified and staff needed to be trained so that the go live could all occur successfully on the same day. And all of this needed to occur while the IT Applications staff continued to support existing users in both myAvatar and Carelogic and attend to other duties. In addition, all of the client data from Carelogic needed to be prepared for conversion into myAvatar and converted. This is akin to translating War and Peace from Russian to English. In fact, it is more complex.
This achievement required teamwork. In particular my staff and I want to thank Susan Cutillo, Priscilla Tyson, Chris Deroches and Desiree Scime. Without the breathe of knowledge of their programs, their willingness to communicate and be active partners in this process we could not have succeeded. We also would like to thank and acknowledge Rebecca Zadlo. Rebecca really rose to the occasion to step into the quality role as well as very rapidly absorbing knowledge on the technical side of myAvatar. She spent long hours helping to insure that needed conversion data was present and accurate.
Most significantly I want to acknowledge the IT Applications team; Arina Medovnikov, Paula Engler and Margaret Buell. These 3 women have done amazing work. While most certainly this was a team success, Arina's leadership, IT brilliance, teaching skills and "can do it" attitude was the linchpin in the success of this project. Wellmore and I are very lucky to have a team like this. Congratulations to you all.
Webster Bank Day of Caring Volunteers are Worth their Weight in Gold!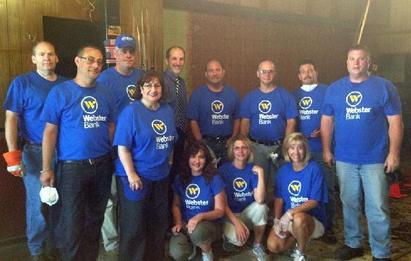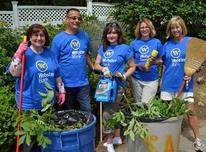 Wellmore would like to extend a special thank you to Webster Bank's, Michael O'Connor, SVP Corporate Real Estate, and his energetic and professional team for sharing their time and talents with us on August 30th. A skilled group of employees from the bank took on the challenging task of demolishing the inside of a former rented space that will soon be turned into office space for a new program. A second group of hard working employees tackled the flower gardens and overgrown shrubbery at one of our adolescent group homes.
Wellmore Staff Happenings
Ice Cream, You Scream, We All Scream for ICE CREAM!

The Circus Man Ice Cream truck made two special stops over the summer months to offer our staff a cold sweet treat!
(Above: Wellmore Staff enjoy a cool treat outside 141 East Main Street)
Wellmore's All Staff Meeting

The fall All Staff meeting was held on September 25th at Coco Key Conference Center with 200 staff in attendance and eager to hear an update on how Wellmore is fairing. Gary kicked off the meeting with updates on the agency's strategic plan priorities and continued integration amongst programs. Dr. Plant followed with a talk on "The ABC's of our Work Together". How we are all joined in a mission to support common human needs. To close out the meeting we heard from Thurman, a 62 year old client who had been abusing substances for almost 40 years. Thurman had many nice things to say about the treatment he has received along the way but the one thing that stuck out in my mind was what he had to say about the staff in Adult Out Patient. "From the first day at Wellmore to the present has been a life saving experience for me and a way back to living as I need and want to live for the rest of my life" said Thurman.
The All Staff meeting also allowed Wellmore Staff to come together for a local organization! Wellmore staff donated a total of 984 pounds of nonparishable food items for the Connecticut Food Bank in Waterbury. Together we can make a difference!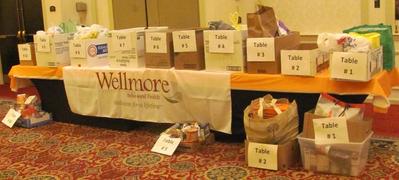 Wellmore Spotlight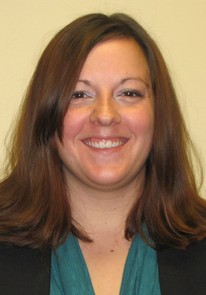 Destiny Girard, NFN Team Leader, talks about her promotion from IICAPS Clinician to NFN Team Leader.
My first few days as the Nurturing Families Network (NFN) Team Leader were met with warm welcomes and a great deal of support from both the NFN staff and the management team. Although the transition from working solely with clients in their homes and in crisis mode to working in a stable, office setting was an exciting change, it came with its own set of challenges. I had to learn a new program, a new set of rules, new clients and get to know the staff that I was going to be managing. There were numerous people around me that were understanding and willing to answer any questions that I had and that have made this shift to management much easier and more enjoyable. I am happy to be a part of the NFN team and am excited to continue on this journey with them.
Warrior Dash 2013
"We Can Do It!"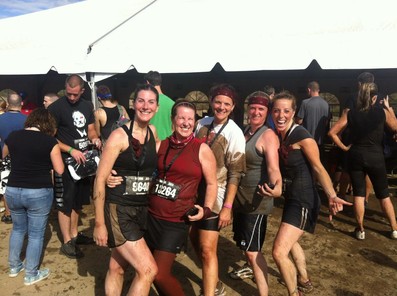 From Left to right, Diane Britz Joy Powell, Marcy Kane, Jenn Virbila, and Michelle Andrews at the 2013 Warrior Dash. Missing from the picture was Lee Seeman who also participated in this 5K obstacle course.
The Warrior Dash was held on September 21, 2013 at Thompson Speedway in Thompson, CT. It was a 3.2 mile race with 12 obstacles.
Spot Awards
The Wellmore Spot Award Program recognizes employees for their day-to-day efforts that contribute in a special way to getting the job done. Supervisors give immediate recognition to acknowledge and reward employee excellence. We congratulate all members who received spot awards!
Vandy Moore
Robert Gugliotti
Steve Lavaway
Mike DiMasso
Dorian Sacaza-Morales
Daniel Bosco
Kelmarie Lara
Jason Paugus
Sylvia Santos
Kathy Cannavaro
Provi DeSantis
Louis Jackson
Nicole Grant
Regan Moriarty
Danielle Mastriano
Alexandra Solomon
DATES TO REMEMBER:
1st Annual Festival of Lights - December 2013
Wellmore 24th Annual Golf Tournament is being held at Great River Golf Course in Milford, CT on May 14, 2014.

Corporate Office
141 East Main Street
Waterbury, CT 06704
Phone:
203-574-9000
Fax:
203-574-9006

Congratulations to Maggie Lucian and her husband as they welcomed their new son Jude Gregory Lucian, to their family. He was born 9lbs. 9oz.
Kelly Mackiewicz in Children's Outpatient had a baby boy and named him Parker Robert Fortin. He was born on May 22 weighing in at 6 lbs. 1 oz. and 19 inches long.
Timothy Dowling and his wife had a baby boy and named him Chase Jacob Dowling. He was born on 8/21/13, weighed 8.5 lbs. and was 20 inches long!
Caroline Pierce, CSF, had a baby boy named Ryan who was born on September 28. Both mom and baby are doing well.
Kim Shellman passed her LMFT licensing exam.
Marissa DiGangi passed her LMFT licensing exam.
Shari Hull was hired as a Senior Clinician in the Naugatuck office.
Dorothy Johnson, parent navigator in CSF got married.
Carrie Miranda got married on April 27, 2013.
Rosa Luis got married on August 3, 2013 to John Baldino.
Additional Locations:
Child and Adolescent Services-
Waterbury-Clinical Services
70 Pine Street
Waterbury, CT 06710
P:203-756-7287
or
1-855-WELLMORE
Fax: 203-596-0722
Home Based Services
141 East Main Street
Waterbury, CT 06702
P:203-575-0466
Fax:203-575-1817
Naugatuck Clinical Services
150 Meadow Street
Naugatuck, CT 06770
P:203-723-9890
Torrington Clinical Services
30 Peck Road, Building 2, Suite 2203
Torrington, CT 06790
P:860-626-7007
Fax:860-626-7014

Danbury Clinical Services
72 West Street
Danbury, CT 06810
P:203-797-9778
Fax:203-797-9858
Adult Services
Waterbury Outpatient Behavioral Health Services
402 East Main Street
Waterbury, CT 06702
P:203-755-1143 or
1-855-WELLMORE
Fax:203-753-3274
Liberty Center Outpatient Behavioral Health Services
30 Controls Drive
Shelton, CT 06484
P:203-944-0366
Fax:203-944-0159
Therapeutic Shelter
142 Griggs Street
Waterbury, CT 06704
P:203-574-1419
Fax:203-578-4180
Morris Recovery House
26 North Elm Street
Waterbury, CT 06702
P:203-574-3986
Fax:203-597-5459
Women and Children's Program
79 Beacon Street
Waterbury, CT 06704
P:203-574-3311
Fax:203-574-3315
---