Lieutenant Governor Wyman Personally Thanks Wellmore's First Responders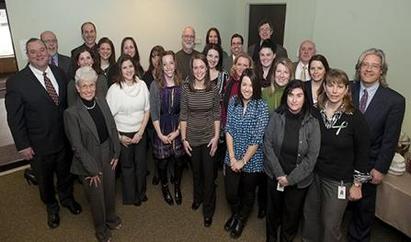 Lt. Governor Nancy Wyman, joined by Senator Joe Markley and Waterbury Mayor Neil O'Leary, recently visited Wellmore to recognize 24 staff members for going above and beyond the call of duty when they were called to the tragedy in Newtown on December 14, 2012.
"I am very honored and humbled to be with all of you to say thank you - thank you for choosing a career path that helps people in their greatest time of need," Lt. Governor Wyman said during the February 19 visit. "I am not sure if any level of education ever prepares you for something quite like this, but you did your jobs with such compassion and strength."
In light of the unprecedented response to the Newtown tragedy, the efforts of our agency may appear small and insignificant. But it is clear that to the children, families and educators that have been the recipients of Wellmore services - and to those staff affected by the provision of help and support - the impact has been profound.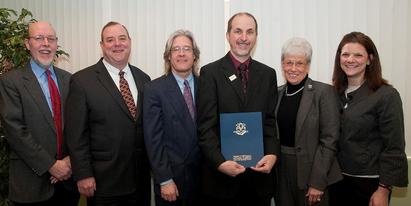 LINKS FORE HOPE
Wellmore's Annual Golf Tournament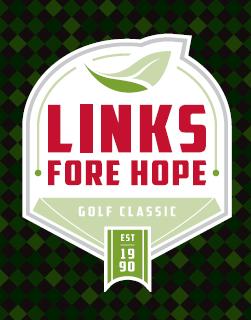 BE OUR SPECIAL GUEST
Find your foursome and get ready for this fun & exclusive event at one of Connecticut's top golf courses, with proceeds to support the efforts of Wellmore Behavioral Health throughout our community.
Wednesday, May 15, 2013
Great River Golf Club
Milford, Connecticut
Please contact Jackie Post if you would like to become a sponsor or register for golf.
jpost@wellmore.org or 203-574-9000 ext. 1109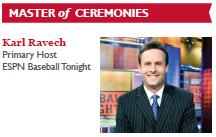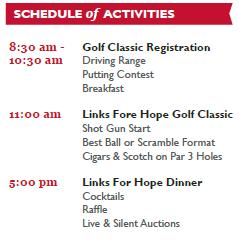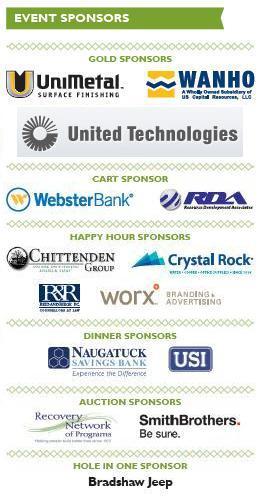 Safety Net Rally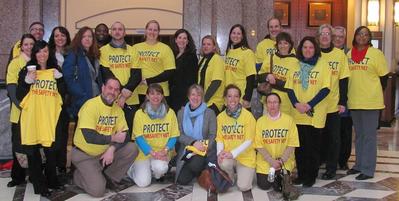 A rally to Protect the Safety net was held on January 30, 2013 at the State Capitol. The rally drew a crowd of more than 1,000 people from across the state representing safety net providers and people who rely on the safety net. The purpose of the rally was to communicate to the legislators and state administrating leaders that future cuts in funding for safety net services was not acceptable. The crowd chanted, "Save Our Safety Net ~ Save Our State".
"Smile"
A Successful IICAPS Client Story Worth Sharing By Arthur Roy, MS and Robert Sarmardi-Fard
After discussing a case in supervision, aw jeez! - we mean after discussing a family in supervision - so easily talking about the work we do with our families turns robotic and impersonal - my partner and I were asked to write a short synopsis of the "success" we encountered with a particular family, and share it in the newsletter with our Wellmore family. We thought to ourselves, write about our success? We are both not sure how we feel about that - would we want to share our "not so successful" families too? There sure have been plenty of those. But of course therapy is not measured by "successful" or "unsuccessful" families, at least not in our hearts. As we began to think a little bit more we realized that we should, at some small level be able to discuss more openly, honestly, and proudly, the kids and families who have made great strides with our interventions and at some level attempt to understand why.
Back in mid August, a 9 year old boy who was referred to us for aggressive out of control behaviors along with severe anxiety- typical IICAPS referral. Mother of this youngster was nervous about the "stigma" surrounding having therapy done at the home and was reluctant to begin IICAPS, although it was being strongly suggested by outpatient and his medication provider. By late August, after meeting with the child only a few times, he quickly became one of our favorites. We know, we know we should not have favorites. Let us just say that we enjoyed seeing him and appreciated our time together.
Our little friend had aggressive tantrums towards his 4 year old brother which were getting increasingly more dangerous by the week. He would also have small panic attacks, for a variety of reasons, one of which being if his mother drove him a different way to football practice. "We are gonna be late, we are gonna be late!! I cant go to practice late!!" he would think and say. He had a delightful mix of internal unease and external rage. Through the help of a neurological psychological evaluation our diagnosis of Anxiety Disorder and rule out of Attention Deficit Disorder were both confirmed. Shortly thereafter a stimulant was added to his medication regiment which proved to be very effective.
During our course of treatment, we implemented the interventions that all of us with a clinical background use. I could list them all out here but that would be boring. What was more interesting was mothers commitment. We provided her with a Functional Behavioral Assessment, parent friendly of course, if that is even possible. Mother would diligently record his behavior of concern, aggression towards his younger brother (hitting, kicking, etc). Interestingly enough as mother began to record this aggression it began to naturally dissipate. There were small patterns that we observed but as usually happened we did not find our "textbook" triggers. We instead discovered an assortment of intertwined situations that spiraled into chaos for this youngster.
During the last 10 weeks of treatment there was only one report of an aggressive outburst. Perhaps best explained by an extinction burst? Or maybe his missed dose of Risperdal a few days prior? The emphasis though is on his positive behavioral choices for an extended period of time, where as just a few months prior mother had rated him at a 2 out of 10 for his aggressive outbursts (and yes that is as bad as it sounds). Throughout it all we remained positive and optimistic, which is imperative with the work we do. If we cant be positive how can we expect our families to be?
So here is where we should attempt to explain why our family was successful. One might look towards the beginning of the stimulant medication; it seemed to be very effective, yes. Maybe mothers commitment to observing and tracking her sons behavior? We would agree this was an impressive commitment and at the very least empowering. Did we mention that the routine/alternating days between his mothers house and his fathers house was made vastly more consistent? That type of a structure and predictability would definitely be paramount for any child, let alone a child with ADHD and Anxiety. We are sure you have your own thoughts about what was beneficial in helping the family move towards favorable outcomes and honestly they are all probably right. We guess what we are attempting to shed light on is that this childs success was not a result of 1 magic factor, but rather the combination of variables coming together at the right time- the clinical perfect storm if you will! What we can say with 100% certainty is that IICAPS was there during the barrage of positive events and really helped to foster this family constructive momentum.
Yes our work is hard but we encourage you all to take a minute and be proud of the strides our families make with all of the Wellmore Family support. Smile, you earned it!
Replace this with your own text.

You can add as many different content blocks to customize your email. Drag and drop content blocks from the menu on the left.
Replace this with your own text.

You can add as many different content blocks to customize your email. Drag and drop content blocks from the menu on the left.
All Staff Meeting - March 27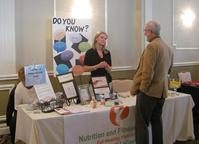 On March 27th, Wellmore sponsored it's 2nd Annual Health & Wellness Fair "Embracing Wellness". Many vendors came out to support our Wellness mission including: Urgent Care, Middlebury Chiropractic Wellness Center and COSTCO. Our guest speaker was Maria Calo from Sensing Wellness who spoke to staff about finding their inner self and connecting with who they really are. Thank you all the vendors who participated to make our Fair successful. Vendors included the ones listed above as well as:
AAA
Aetna
Aflac
Alexandra Capaldo, Yoga Instructor
Cigna
Connecticut Hypnosis
COSTCO
Great West
Jane Doe No More
Middlebury Chiropratic & Wellness Center
Mutual Security
Nutrition & Fitness for Life
Opticare
Sensing Wellness
Urgent Care
Verizon
YMCA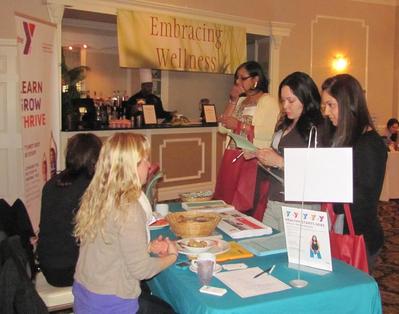 Replace this with your own text.

You can add as many different content blocks to customize your email. Drag and drop content blocks from the menu on the left.
Here is what some clients had to say about their time with Wellmore...
Adult Outpatient Comments
"The program is very helpful to me. It keeps me on point with my life and things I have to do for myself to stay clean".
"This group is helping me deal with a lot of my inner emotions. I see myself staying in this program".
"This is a good program if you want help with your drug issues".
"Very satisfied with the program; I learned stuff that I never knew. I would recommend program to others".
Adult Residential Comments
"The Morris House has done a great job helping me get my life and health back".
"After spending so many years in prison, the staff have been very supportive of my wellbeing. They made my transition back into the community a very positive one".
Star Awards
A Wellmore "Star" is...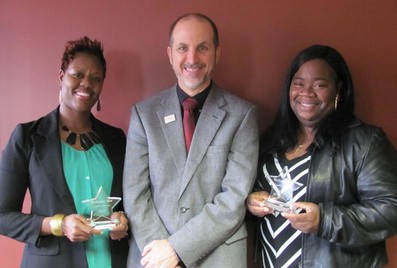 a person who demonstrates excellence both as an individual and as part of a team, who consistently goes above and beyond expectations, and who holds our clients in the highest regard. This person leads by example and strives to promote the mission and values of Wellmore with adults, children and families we serve.
CONGRATULATIONS to the most recent Wellmore Stars picture above with Gary Steck, CEO: Dilice Robertson, APRN for Adult Outpatient (left) and Joy Brundage, MS, HS-BCP Residential Supervisor at Valiant House (right).

Spot Awards
The Wellmore Spot Award Program recognizes employees for their day-to-day efforts that contribute in a special way to getting the job done. Supervisors give immediate recognition to acknowledge and reward employee excellence. We congratulate all members who received spot awards!
William Finneran
Nicole Gilman
Sharon Carosella
Jaime Mastroianni
Desiree Scime
Cassandra Tucker
Rodney Parker
Crusita Lopez-Vargas
Sylvia Santos
Marilyn Rodriguez
Brenda Matta
Kate Jordan
Adela Rusi
Zazz-Monay Byrd
Lee Seeman
Brett Bogdan
Dennis Jones
Deborah Ciarlo
Jessica Matyka
Regan Moriarity
Marissa DiGangi
Kimberly Shellman
Human Resources Corner
"I used to wake up at 4 A.M. and start sneezing sometimes for five hours. I tried to find out what sort of allergy I had but finally came to the conclusion that it must be an allergy to consciousness." - James Thurber
Spring is the most common time of the year for us to experience seasonal allergy symptoms. Did you know that 55% of the U.S. population tests positive for at least one seasonal allergen? As plants start to bloom, obtain a dose of warm weather and recover from Winter's harsh reality, a great amount of pollen is released into the air. For many this coronation of the seasons brings unwanted allergy symptoms as the pollen grains send their immune system into overdrive. Due to the body's attempt to fight off the pollen invaders, antibodies are released that subsequently lead to symptoms of itchy noses, watery and dark circles under the eyes, sneezing, and coughing.

In an effort to make this season a blissful one, I have compiled some tips on how seasonal allergy symptoms can be alleviated. If your symptoms persist or worsen, please seek medical advice from your physician.
Keep doors and windows closed. When cleaning your house or apartment focus on areas where allergens tend to accumulate, such as air filters, bedding, upholstered furniture and carpeting.

Shower before bed to prevent transferring allergens from your hair or face to your pillow.
Mold is also a contributor to seasonal allergy symptoms. As such, it is best to remove mold in common places, such as basements, bathrooms, kitchens, and any areas with leaks. A simple mixture of water and detergent will prove effective in removing mold!
Pollen count is highest from 5 A.M. to 10 A.M., so it is best to avoid outdoor activities during this period. Also note that dry days will have a greater amount of pollen in the environment than cold, rainy days.
In this day and age of technological advancement, access to the internet is commonplace. Utilize your smart phones, tablets and/or computers to download a weather application that tracks pollen and mold counts in your area.
If your allergies are severe, consult your physician about using a Neti-pot. Studies have continued to show a strong positive correlation between consistent Neti-pot usage and relief of allergy symptoms.
Lastly, acupuncture has been linked to a reduction of allergy symptoms.


Sincerely,
Duane Marc Kiel Persad, MAIOP, PHR
HR Manager at Wellmore

Corporate Office
141 East Main Street
Waterbury, CT 06704
P:203-574-9000
Fax:
203-574-9006

A special THANK YOU to Wendy Torrel, author of Guardian of Dreams. Wendy donated a signed copy of her book to all of the first responders at Sandy Hook as a thank you for their services.

Maria Carr passed her LCSW exam
Caroline Pierce passed her LCSW exam
Rebecca Russo was promoted to IICAPS Clinician
Maria Carr was promoted to IICAPS Senior Clinician
Additional Locations:
Child and Adolescent Services-
Waterbury-Clinical Services
70 Pine Street
Waterbury, CT 06710
P:203-756-7287
or
1-855-WELLMORE
Fax: 203-596-0722
Home Based Services
141 East Main Street
Waterbury, CT 06702
P:203-575-0466
Fax:203-575-1817
Naugatuck Clinical Services
150 Meadow Street
Naugatuck, CT 06770
P:203-723-9890
Torrington Clinical Services
30 Peck Road, Building 2, Suite 2203
Torrington, CT 06790
P:860-626-7007
Fax:860-626-7014
Danbury Clinical Services
57 North Street
Unit 402
Danbury, CT 06810
P:203-797-9778
Fax:203-797-9858
Adult Services
Waterbury Outpatient Behavioral Health Services
402 East Main Street
Waterbury, CT 06702
P:203-755-1143 or
1-855-WELLMORE
Fax:203-753-3274
Liberty Center Outpatient Behavioral Health Services
30 Controls Drive
Shelton, CT 06484
P:203-944-0366
Fax:203-944-0159
Therapeutic Shelter
142 Griggs Street
Waterbury, CT 06704
P:203-574-1419
Fax:203-578-4180
Morris Recovery House
26 North Elm Street
Waterbury, CT 06702
P:203-574-3986
Fax:203-597-5459
Women and Children's Program
79 Beacon Street
Waterbury, CT 06704
P:203-574-3311
Fax:203-574-3315
Winners of Raffle Items from the ALL STAFF MEETING:
Amy Hilario
Jessica Brown
Marshall Mullen
Christian Ayala
Katie Bisaillon
Provi DeSantis
Kelly Mackiewicz
Chris Desroches
Jessenia Perez
Liz Reilly
Steve Lavaway
Nicole Gilman
Arina Medovnikov
Ray Bosworth
Robert McClain
Dorian Sacaza-Morales
Elizabeth Shea
Monique DeGraca
Ana Fisher
Victor Pittman
Jessica Moreira
Daniel Bosco
Kelly Babjak
Frances Goessinger
Nicole Grant
Tanya Smith
Chelsea Anderson
Danielle Davenport
Lia Cerreta
Natalie Pina