ACoB E-Bulletin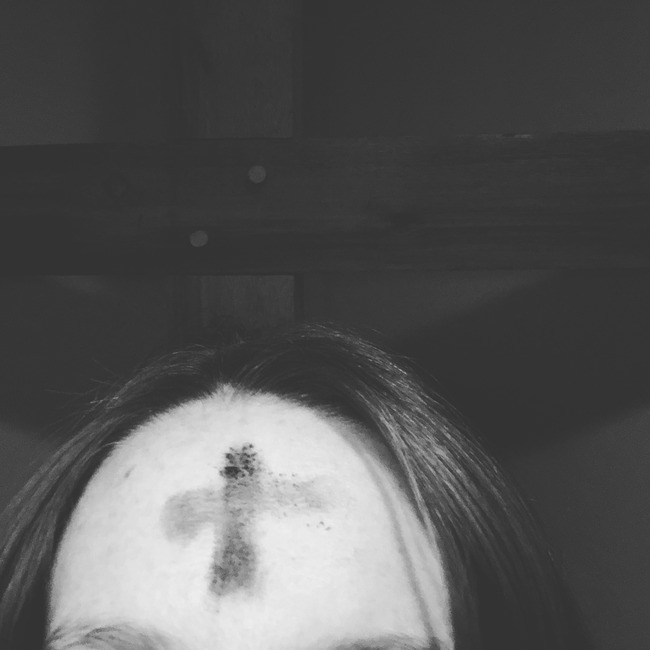 Because Service Doesn't Stop on Sundays.
Let us be marked - not for sorrow.
And let us be marked - not for shame.
Let us be marked - not for false humility
or for thinking we are less than we are
but for claiming
what God can do
within the dust,
within the dirt,
within the stuff
of which the world is made,
and the stars that blaze in our bones,
and the galaxies that spiral inside the smudge we bear.

Jan Richardson quoted in last week's Ash Wednesday Service
---
•

Iglesia de Restauracion Pacto Eterno, 7-9 pm



•

Lenten Quiet Day, 8:30 am at Shepherd's Spring




•

Brethren Voices

, 11 am,

more details




•

Yoga

, 5:45 pm in fellowship hall




•

Handbell Choir Practice

, 7 pm




•

Doorways Donor Appreciation, 6:30 pm



Thursday

.

•

Kaizen Karate, 6:30 pm in fellowship hall




•

Community Choir Practice

, 7:30 pm at AFUMC
Thursday

.



•

ACOB Young Adults Gathering

, 6:30 pm in fellowship hall,

more details



Saturday

.
•
Yoga
, 9 am
•
Stream Clean-Up
, 10 am,
more details
•
Centering Prayer
, 10:30 am,
more details
•
Iglesia de Restauracion Pacto Eterno, 5-9 pm
Sunday

.



•

Daylight Saving Time starts




•

Sunday School Book Group on Race

, 9:45 am,

more details




•

Community Choir Singing during Worship, 11 am


•

MAD Lenten Service Series, 6:45 pm, Meadow Branch COB




•

Brethren Voices

, 6:30 pm,

more details



Wed., March 15 - Stewards of Life Meeting, 10 am at Alma's
Wed., March 15 - On Earth Peace Racial Justice Organizer Clininc, 7 pm
Sun., March 16 - Bethany Seminary Forum on Creation Care, thru 3/19
Thurs., March 16 - AFAC Fundraiser: A Light Exists in Spring
Fri., March 17 - New Windsor Days, thru 3/19
Fri., March 17 - Poetry as Prayer Workshop, Shepherd's Spring
Sat., March 18 - Art for Worship, Susquehanna Valley Ministry Center
Sun., March 19 -

SS

Class on Environmental Concerns

, 9:45 am
Sun., March 19 - MAD Lenten Service Series, 6:45 pm, Piney Creek COB
Sun., March 19 - Rockingham Male Chorus, 7 pm, Hagerstown COB
Mon., March 20 - EMU STAR Training, Lancaster, PA, thru 3/24
Wed., March 22 -

Bible Study

, 10 am in library
Thurs., March 23 - Breakfast Bunch, 8 am
Thurs. March 23 - Centering Prayer, 4 pm
Fri.-Sat., March 24 - 25 - All Church Retreat, at Shepherd's Spring,
more details
Sun., March 26 - MAD Lenten Service Series, 6:45 pm, Union Bridge COB
Fri., March 31 - Roundtable, Bridgewater College, thru 4/2
Mon., April 3 -

Board Meeting

, 7:30 pm
Sat., April 8 - Dinner for MAD Disaster Relief, Bush Creek COB
Sun., April 9 - Big Sunday School, 9:45 am
Lent | Devotionals in Narthex
Lenten devotionals are available in the narthex including one from the Upper Room, a Church of the Brethren devotional by Theresa Eshbach and for a coloring devotional see
Pastor Nancy
.
Four Mile Run Stream Cleanup | Sat., March 11, 10 am-1 pm
Our Service Ministry Team is organizing a group of folks to help Arlington County Park Rangers clean up Four Mile Run. Get outdoors and help Arlington restore it's natural spaces. Wear waterproof boots and bring gloves. Bags will be provided. Meet at Glencarlyn Park at 10 am or connect with a carpool from ACOB. Contact
Nate
to connect, commit to volunteer and with any questions.
Centering Prayer | Sat., March 11, 10:30 am
Join in the library for meditative time of silence, concluding with scripture. Likely to be around 40 minutes in total. All are welcome.
Contact
Pastor Nancy
with questions.
Sunday School Book Group on Race | Sun., March 12, 9:45 am
We're reading "The Fire This Time: A new Generation Speaks about Race" edited by Jesmyn Ward and meet the first Sunday of every month at 9:45 am in the library (The second Sunday in March). The book is a collection of essays, memories, and poems dealing with issues of race in America. Contact
Melody
with questions.
All Church Retreat | Friday + Saturday, March 24-25
Everyone is welcome to attend our annual all church retreat at Shepherd's Spring. This year's retreat will be led by Rev. Ken Kline Smeltzer on "Finding Common Ground: Facing the Other and Healing the Divide." A group of folks carpool up and have dinner on the way, Friday night. Those staying the night enjoy a worship service beginning at 7:30 pm and fellowship before bed. Another group carpools up early in the morning to meet before breakfast and a morning and afternoon full of retreat activities. See the registration form in Sunday's paper bulleting or contact the office for an e-copy of it. Contact
Everett
with questions about the retreat.
Decals | No matter where you are from, we're glad you're our neighbor
Immanuel Mennonite
in Harrisonburg, VA posted a literal sign of welcoming love that has inspired thousands across the country. ACOB is making some available in our neighborhoods too. Only decals are left. Note that they include ACOB's address! They are $2 each. Please reimburse Cindy directly who picked them up from
Ayuda
, a metro area immigrant aid organization.
New Office Hours | Thursday Morning, 9:30 am-12:30 pm
Church office hours on Wednesday evening have moved to Thursday morning. A big thanks to Alma for making this possible by generously offering to care for Marylynne at this time!

More Details | arlingtoncob.org/calendar
For more information on neighboring church, denomination and non-profit events listed, check the calendar at the above link or contact the office.
---
Volunteer + Give.
Food Drives | Donation Bins in Office Hallway
Keep the ongoing food collections in mind on your regular grocery shopping trips. Throughout the year, we collect whole grain, low sugar cereals to donate for distribution to families served at AFAC. Throughout the winter, we are continuing to support families of our building partner congregation, IRPE, who have been laid off from seasonal jobs like construction with non-perishables like cereal, beans, rice, and canned goods. Donate in the bins by the window in the office hallway. Contact the
office
with any questions.
---
Media.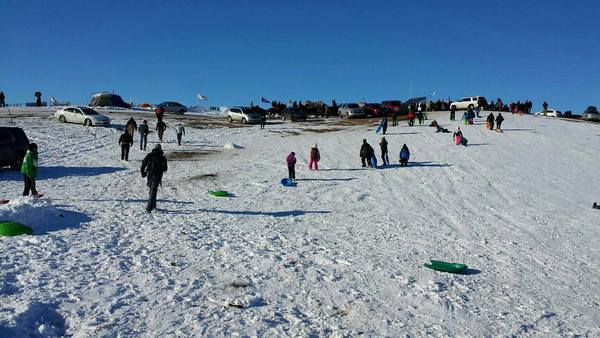 Dunker Punks Podcast |
http://bit.ly/DPP_Episode26
The latest episode comes from Jonathan Stauffer on standing with those most likely to bear the brunt of ecological degredation. It features an interview with On Earth Peace's Bill Schuerer and an awesome new version of an old hymn by Jacob!
Listen by clicking the above link or subscribing on
iTunes
.
Brethren Voices | Experiencing Nigeria
Brethren Voices is the TV show featuring what Brethren do as a matter of our faith. The episode for March features a group from Elizabethtown COB on their learning tour in Nigeria. Despite horrific devestation by Boko Haram, the Etown Brethen experienced wonderful hospitality by the Nigerian people who continue to witness their faith and joy during very turbulant times. Watch in Arlington on Comcast 69/Verizon-FIOS 38 on Sundays at 6:30 pm, Wednesdays at 11 am or
online
anytime.
Worship Audio |

Online
Listen again to this week's sermon, catch a sermon from a Sunday you were out or peruse the archives. Each Sunday message along with a selection of hymns and readings is posted online or subscribe on iTunes.

#BlessedBreak | New Devotion! http://bit.ly/BlessedBreak44
The latest devotion was inspired by a first-person perspective video taken by Fitz skiing with Pastor Nancy in Colorado. Watch the video and read the accompanying scripture and prayer at the above link.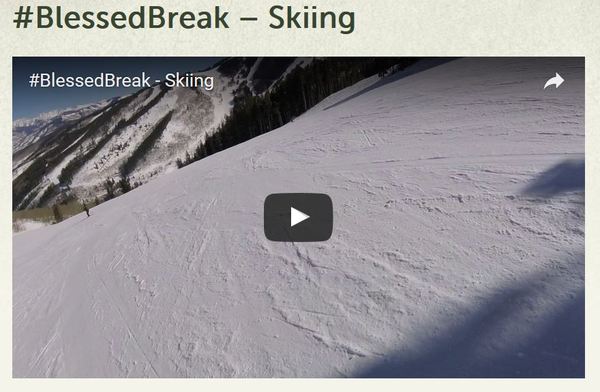 ---
Pray. Call. Write.
Pastor Mike

, in ICU recovering from a succesfull kidney and liver transplant

Paul White

, friend of Carole Compton, recovering from brain surgery

Roger Cubbage

, home from the hospital after treatment for sodium deficiency

Ralph

, home recovering from surgery for a broken hip

Linda

, Suzanne's mom, home from the hospital

Erica Whitaker

, Elaine's great niece, recovering from recent surgery after multiple serious health concerns including dialysis

Charlotte

, Amy's mom, anticipating surgery on 3/13 for a brain aneurysm

Hubert Wright's Family + Friends

, Shelley's grandfather and best friend who passed suddenly from pneumonia

Hazel

, moved to Woodbridge, contact the

office

for her new address/phone

Orin

, seeking housing and employment in Arlington

Walkin-Haske Family

, cotinued health improvments and ongoing health treatments

Jummai Paul

, kidnapped Chibok girl and 195 others

Church of the Brethren in Nigeria (EYN)
Keep in your ongoing prayers:
Minnie Simmons, Dorothy Fravel (Dee's mom), Theresa McCary, Erin Julca, Steve Shuss, Elizabeth Smucker, Carolyn Studds

Note:
Prayer concerns will ordinarily be listed for four weeks. If you would like one to be kept on or added back in, please let the office know. Names in bold are new to the list or updated this week.
---
Worship Pix.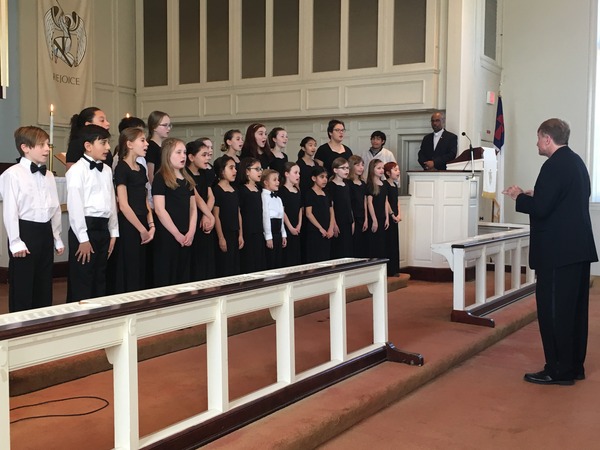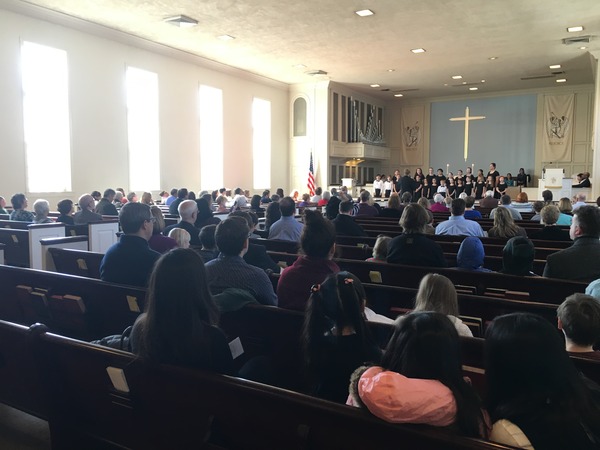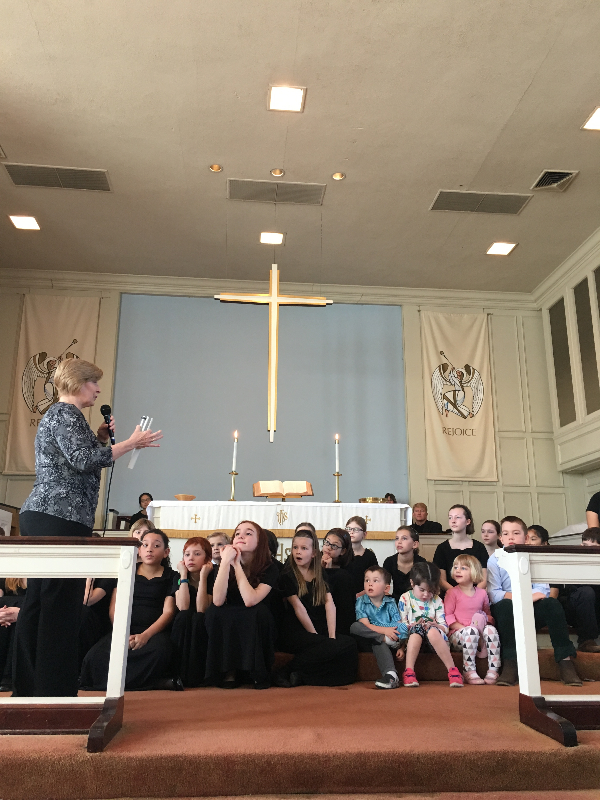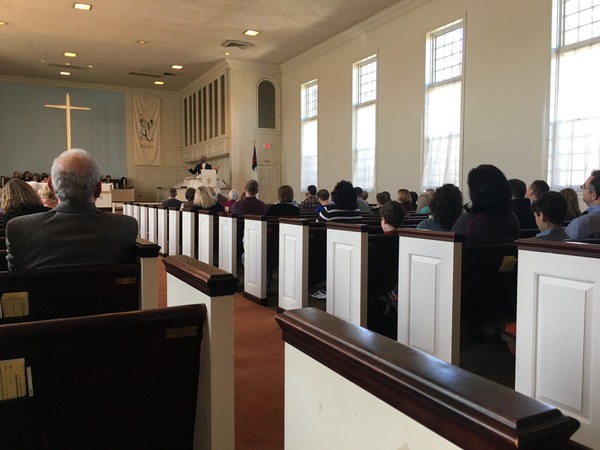 Sunday, we were treated to the music of angels! We joined Arlington Forest UMC and Bethel UCC for a community worship with their special music guest, the Arlington Children's Choir.
---
More Pix.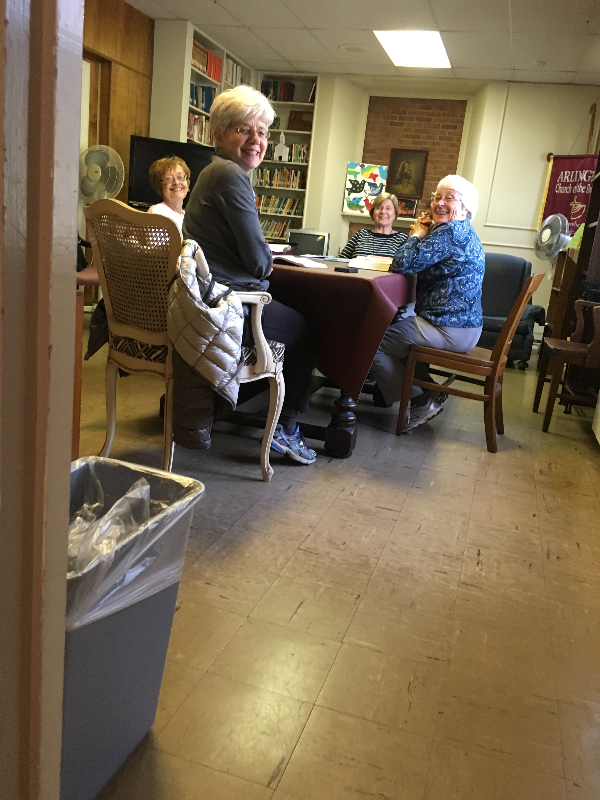 All smiles from the Bible Study folks for Marylynne who snapped this picture. Join them Wed., March 22 as they continue studying the Sermon on the Mount.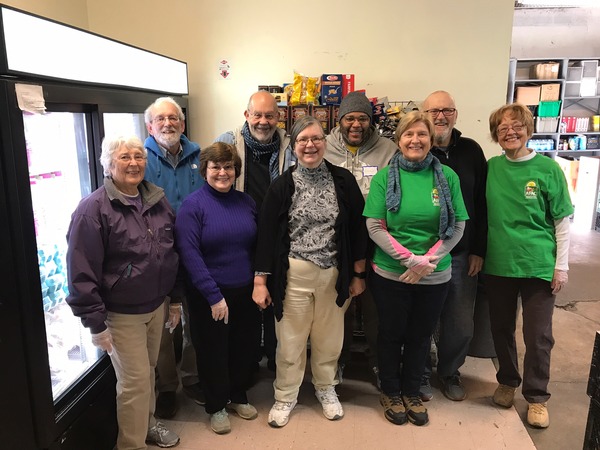 Thank you Lord, for our volunteers who helped distribute food at AFAC this past Saturday!

"Thank you Lord, for waking me up this morning; that the walls of my room were not the walls of my grave, and my bed was not my cooling board. Lord, we know that you will be coming through this line today, so Lord, help us to treat you well — help us to treat you well. Amen."
Mary Glover's prayer before serving food from a recent article in
Sojourners