---
"Like a great waterwheel, the liturgical year goes on relentlessly irrigating our souls, softening the ground of our hearts, nourishing the soil of our lives until the seed of the Word of God itself begins to grow in us, comes to fruit in us, ripens in us the spiritual journey of a lifetime."
---
Monday.
•
Congregational Life Ministries Meeting
, 7 pm
Tuesday.
•
Iglesia de Restauracion Pacto Eterno, 7-9 pm
Wednesday.
•
Nate Field's birthday!
•
Brethren Voices, 11 am
•
ACOB Office Hours,
4-6 pm
•
Bell Choir Practice, 7 pm
Thursday.
•
ACOB Office Hours,
9-11 am
•
Kaizen Karate, 6:30 pm in fellowship hall
•
Community Choir Practice, 7:30 pm at AFUMC
Friday.
• Playgroup, 10 am in nursery
• Bethel Moving Sale, thru 9/16
• Young Adults Meet, 6:30 pm
•
Andy's Organ Practice, 9 am - 1 pm
• Shredding for AFAC, 10 am
•
Iglesia de Restauracion Pacto Eterno, 5-9 pm
•
Bethel UCC, 9:30 am
•
Sunday School
, 9:45 am
•
Worship
, 11 am
•
ACOB Office Hours

,
12-3 pm
• Cambodian Alliance Evangelical Church, 1-4 pm in Sanctuary + Fellowship
Hall
•
Iglesia de Restauracion Pacto Eterno, 5-9 pm in Fellowship Hall
• Brethren Voices, 6:30 pm
Fri., 9/21 - International Day of Prayer for Peace
Sun., 9/23 -

Unity Sunday Worship + Picnic

, 11am & Noon
Mon., 9/24 - Worship Team Meeting, 7:15 pm
Thurs., 9/27 - Breakfast Bunch, 8am at City Diner on Rt. 7
Sat. 9/29 - AFUMC Paint NIght, 2pm
Fri., 10/12 - 13 - Mid-Atlantic District Conference
Sat., 10/13 -

CROP Walk


Sun., 10/14 - Big Sunday School, 10am
---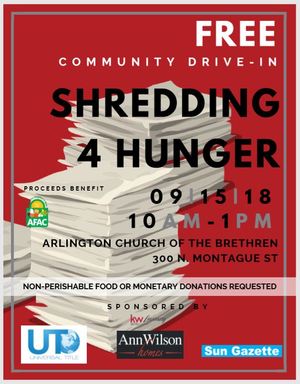 Shredding 4 Hunger | This Saturday, September 15, 10 am-1 pm
Volunteers are needed to help with our big, annual Hunger Action Month event this Saturday. We are again partnering with Ann Wilson Homes and new co-sponsors Universal Title and the Sun Gazette. We will help collect nonperishable food donations for AFAC from folks coming to use the document shredding truck. Volunteers are needed to help answer questions, direct the flow of participants and help keep count of participation and donations. Drop-in for all or part of the time to help. Make a commitment to volunteer by contacting Karolina. Help spread the word by emailing and printing and posting this flyer.
Bethel Moving Sale | This Friday-Sunday, September 14-16
Stop by Bethel UCC (4347 Arlington Blvd.) this weekend for a big yard sale following their recent move. Peruse and purchase from 10 am-4 pm on Friday, 9 am-3 pm on Saturday and 12-3 pm on Sunday. Contact Peter with questions.
Cereal Collection | This Sunday, September 16
Bring low-sugar cereal this Sunday for the children to collect during worship. Diane transports our donations to AFAC for distribution to our neighbors who experience hunger and food insecurity.
Medical Supply Drive | Throughout September
Help our Service Ministry Team collect medical supplies for the Lybrook Community. Marlene is a Native American nurse on the reservation who helps with simple procedures and must pay for all medical supplies herself. Sign up in the narthex to purchase needed items including wash basins, diabetic socks, gauze pads (2x2 and 4x4), alcohol swabs, medical gloves and antibiotic hand wipes. Monetary donations can also be made for the team to purchase remaining supplies. This service project is in lieu of the fall school kit drive. Please donate by the end of the month. Contact Lisa with questions.
Yoga | Proposed Classes
Interested in a beginner's Yoga class? Penny, the yoga instructor who held classes in our fellowship hall a year ago, is exploring the possibility of restarting a yoga class. It would be held on Wednesday evenings in our fellowship hall from 5:45-6:45 pm. Cost: $9 per session. A minimum of 6 people are needed to make it beneficial for her. Please contact Nancy Weimer if interested.
Child Care | Volunteer during Worship
Please sign-up to care for the children in the nursery during the worship hour. New volunteers are needed and would be very appreciated. All volunteers must meet insurance safety requirements. Please connect with Suzanne in the office if you are unsure of your eligibility.
Disaster Relief | Donate via the MAD Disaster Relief Auction Jar
Don't forget to save your change and drop it in the collection jar. All donations add up to support people across the world recovering from disasters.
Children's Sunday School | Sundays at 9:45 am
Children from Bethel and ACOB join together at 9:45 am, while Bethel adults worship. Grades 3-6 will attend a class upstairs with Ms. Judy while 3 year-olds through 2nd graders will attend downstairs with Ms. Alma. Both classes will use the Shine curriculum with the fall theme, "God's Blessing and Care." Contact Alma with questions.
Adult Sunday School | Sundays at 9:45 am
The adult Sunday School class will resume with a study of the book, Unafraid: Living with Courage and Hope in Uncertain Times by Pastor Adam Hamilton. "Drawing on recent research, inspiring real-life examples, and fresh biblical insight, Hamilton shows how to untangle the knots we feel about disappointing others, failure, financial insecurity…" Whether you're a regular participant or interested in checking out this class for the first time, you are always welcome. We've moved to room 303 on the third floor. Contact Nancy with questions.
Unity Worship + Picnic | Sept., 23, 2018, 11 am
In celebration of the International Day of Prayer for Peace, all four congregations that share our building will join together for our annual joint worship service in three languages, letting God's Spirit do the translating. A hearty potluck meal follows where we learn about each other across culture and languages. All are welcome to join our diverse fellowship! Contact Melody with questions.
AFUMC Paint Night | Sat., Sept. 29, 2 pm
Join our community partners for a monthly paint night. $20 covers the canvas, paint and instruction. Snacks and inspiring music are provided. Come and let God's talents work through you. Contact the office to be in touch with Leslie at AFUMC with questions.
MAD District Conference | Registration Open
This year's annual gathering of delegates and congregants in the Mid-Atlantic District is at Manassas COB from October 12-13. Linda Lambert is moderating, Sona Wenger is Moderator Elect and Brenda Palsgrove is serving as clerk. Contact the office for help to register and to join a carpool.
Volunteer to Garden | Lawns 2 Lettuce 4 Lunch
Our neighborhood Reevesland Learning Center will be planting a new organic lettuce crop in our church garden beds soon. Twice a year, Reevesland harvests lettuce and washes it in our kitchen for a salad lunch at Ashlawn Elementary. They are warmly inviting church members to help plant by staying after worship for 10 minutes or so in early September. Contact Joan at
shorwitt@aol.com
or 703-528-2646 to help.
Invitation | Contact Pastor Christy
Have you been thinking about formally becoming a member of ACOB? Would you like to talk about your discernment or process your own journey? Pastor Christy would appreciate having a conversation with you. Contact her (pastorchristy@arlingtoncob.org or 814 599-6307) to schedule an appointment.
CROP Walk | Donate + Save the Date
This 5K/10K walk is part of a nationwide network of Hunger Walks sponsored by Church World Service to
raise funds to provide sustainable self-help and development, disaster relief, and refugee assistance around the world.
Click here
to donate and ask others to pitch in too. Then, plan to walk the morning of Saturday, October 13. Contact Marcia with questions.
---
Brethren Voices | Celebrating 13 Years
Brethren Voices celebrates 13 years of monthly community television programs, sharing what Brethren do as a matter of faith. Programs have originated from 18 different states from Arctic Village Alaska, 100 miles north of the Arctic Circle to New Orleans. "Brethren Voices" has also been filmed in 7 countries featuring the works of Brethren from Nigeria to Japan. Current episodes air
in Arlington on Comcast channel 69 and Verizon-FIOS channel 38.
https://youtu.be/6REhj1W1v84
---
Mary

, Marcia's friend, anticipating surgery on Wednesday, 9/12

Start of Sunday School

, a joy to have all ACOB's children together on Sunday along with more from Bethel

Wayne

, Donna's uncle,

hospitalized for heart problems at age 92

Children separated from their families

, for full reunification and healing for each child

Jacque

, continues to feel weak following intense chemo treatments

Prison Hunger Strike

, concluded on Sunday, that we continue to advocate for humane treatment of all

Sue J

, friend of Peggy, recovering from heart valve replacement

Sue H

, giving thanksgiving for healing following her hip surgery, and the many ways she felt supported by the congregation

Carole

, who is making progress walking with her prosthesis

Kathleen

, Melody's friend, whose baby is now home and routines needing to be established prior to her return to work in two weeks

Students and teachers

, who started a new school year

Bethel UCC Church

, continuing regular worship in the building
Keep in your ongoing prayers:

Steve Shuss, Minnie Simmons, Carolyn Studd



* P

rayer concerns will ordinarily be listed for four weeks. If you would like one to be kept on or added back in, please let the office know. Names in bold are new to the list or updated this week.
---