We often find it hard to learn that prosperity does not involve getting what you want, but it comes from being connected to the source of life – God.
---
Mo
Monday.
•
Special Church Board Meeting

, 7:30pm in library
Tuesday.
•
Office Hours,
3:30-5:30pm
•
Iglesia de Restauracion Pacto Eterno, 7-9pm in Fellowship Hall
Wednesday.
•
Office Hours,
9:30-11:30am
•
Church Planting Conference, thru 5/19 at Bethany
•
Brethren Voices, 11am,
more details
•
Pastoral Search Commitee Meeting, 7:30pm in the library
Thursday.
•
Office Hours,
3-5pm
•
Kaizen Karate, 6:30-8:30pm in Fellowship Hall
•
Community Choir Practice,
7:30pm at AFUMC
Friday.
•
Young Adults Gathering, 6:30pm at parsonage *note changed date/location
Saturday.
•
Shepherd's Spring Workday, 2 of 2
•
CAEC Prayer Service, 11am in fellowship hall
•
Iglesia de Restauracion Pacto Eterno, 5-9pm in Fellowship Hall
Sunday.
•
A Pentecost Sunday of Celebration, Information & Conversation, 11am +
11:45am,
more details
•
Office Hours, 12 - 3pm
•
Cambodian Alliance Evangelical Church, 1-4pm in Sanctuary + Fellowship Hall
I
•
Iglesia de Restauracion Pacto Eterno, 5-9pm in Fellowship Hall
•
Brethren Voices, 6:30 pm
,
more details
Thurs., 5/24 - Breakfast Bunch, 8am
Fri., 5/25-27 - Young Adult Conference, Camp Brethren Woods
Sun., 6/3 - AFAC Volunteer Picnic, 5pm
Mon., 6/4 -

Church Board Meeting

, 7:30pm in library
Fri., 6/8 - 12 - Reevesland Lettuce Washing, in kitchen
Fri., 6/8 - Young Adults Gathering, 6:30pm in fellowship hall
Sun., 6/10 - Bethel Worship (2 of 2 trials), 9:30am in sanctuary
Sun., 6/10 - Children's Sunday School with Bethel, 9:45am
Sun., 6/10 - Unity Worship with IRPE + CAEC, 11am
Sun., 6/10 - Unity Potluck, 12pm in fellowship hall
Sun., 6/17 - Father's Day
Sun., 6/17 -

Worship

, 10am
Wed., 7/4-8 - Annual Conference, Cincinnati, OH
Sat., 7/7 - Volunteer at AFAC, 8:30am
Sat., 7/8-14 - Song + Story Fest, Inspiration Hills Camp, OH
Sun., 7/22 - Bag Lunches for ASPAN, 12pm in fellowship hall
---
More Details.
A Pentecost Sunday of Celebration, Information + Conversation | Sun., May 20
Come at our regular worship hour (11 am in sanctuary) to celebrate the gift of Pentecost, the birthday of the church. Stay for conversation, information and a working salad luncheon (11:45 am-2pm in fellowship hall). All are encouraged to participate for important information and conversation related to our new relationship with building partners, Bethel UCC, as well as information gathering for the work of the search committee and the future of our congregation. Your gifts and your input are valued. Bring a salad to share for our lunchtime together. Childcare will be provided. Contact Pastor Christy with questions.
2018 Directory | In the Narthex
An updated contact directory is now available in the narthex. Pick up the stapled version to reuse your cover from last year or take one with a cover if you need a new one. If we run out of covers and more are needed, put your name on the sticky note so Suzanne can get you one. Contact her with any questions too. The online directory is now up-to-date too. Navigate to it under the 'About Us' tab, hovering over 'Contact Us' or use this url: arlingtoncob.org/member-directory. The password is case-sensitive and all one word: NewLife.
---
Advocate, Volunteer + Give.
Thank You!
|

AFAC Donations
Together we offered 40 lbs of baby food, 28 lbs of cereal and over $100 in cash for our neighbors served at Arlington Food Assistance Center. Our Saturday morning volunteers dropped off the donations and helped distribute food this week. They reported back that the children were particularly pleased to receive the goody bags our children made for them in Big Sunday School. AFAC serves an average of 2,200 families experiencing food insecurity each week in one of the wealthiest counties in the nation.

Donations for AFAC
| Bring to Worship

this Sunday
The children will be collecting cereal box and monetary donations for the Arlington Food Assistance Center (AFAC)

this Sunday

during worship. Whole grain, low-sugar cereal provides families receiving food assistance with an easy, nutritious way to start the day and the cereal always seems to be in short supply when we are helping with distribution. Contact the office with any questions.
Disaster Relief
|

Pretzel Jar Donation Total
Last year we re-purposed a pretzel jar brought back from the 2018 Disaster Auction. We used it to collect spare change to donate at this year's auction the other week. The change was counted and w

e collected $271 for disaster relief! Before sending the jar off to the auction, folks guessed how much they thought we might have collected and Josh was the closest with a guess of $276! The Service Ministry Team very kindly awarded him a $10 Starbucks gift card for the very close guess. We picked up another jar this year and after we polish off the pretzels, we'll start collecting again! Contact Marcia

* Do you care about ways to serve and participate in our community and through our denomination? Sign-up for and commit to reading regular updates from organizations that interest you, then notify Suzanne in the office about the events and projects you want shared on ACOB's calendar.
---
Media.
New!
Dunker Punks Podcast |
http://bit.ly/
DPP_Episode57
In the latest episode, Emmy Goering reflects on service. In her experience—moving cross country, tackling divisive politics and praying with a perfect stranger—serving is an impactful and rewarding challenge. Think of your own service story and that of those around you. Consider all the good grown from giving ourselves for others.
Type in the case sensitive url to listen on the showpage or subscribe on iTunes.

Listen by clicking the above link or subscribing on
iTunes
.
---
Ron,

Sue's friend, continued chemo treatments for stage IV lung cancer

John

, Dale's brother, undergoing health assessment for an englarged heart and possible microvalve repair

Dale

, seeking treatment for back pain

Karolina

, positive progress transitioning between homes

Ruby

, Lisa's student, back at school and a mostly normal routine after first of series of brain surgeries

Jacque + John

, Jacque anticipating

serious surgery on May 18

Eugene

, Donna's high school friend, receiving treatment for burns after a farm accident

Birgitta + Sophia

, wrapping up a challenging school year

Abraham, Silena's dad

, celebrating his 95th birthday on May 14

Cindy + her Parents

, traveling to Roanoke to help as her stepfather, diagnosed with pre-dementia, is closing his business

Tom

, Sue's boss, recovering well after completing cancer treatments

Walt Hibbard's family

, Josh's grandfather, celebrating his 98 years after peacefully passing last week

Pastor Nancy

, recovering from successful knee surgery

Carole

, continuing to heal and adjust after surgery at a new rehab facility, Calls and visits are appreciated, 703-867-1952

Chuck Norton

,

Bethel UCC, undergoing treatment for pancreatic cancer

Church of the Brethren in Nigeria (EYN),

including 113 girls still captive
Keep in your ongoing prayers: Steve Shuss, Minnie Simmons, Carolyn Studds

* P

rayer concerns will ordinarily be listed for four weeks. If you would like one to be kept on or added back in, please let the office know. Names in bold are new to the list or updated this week.
---
Worship.
Listen to Sunday's Sermon here:
http://bit.ly/ACoBMessage51318
A sermon about those who have nurtured our faith, including reflections from Stephen and Ralph.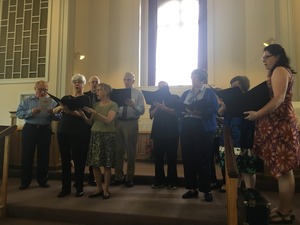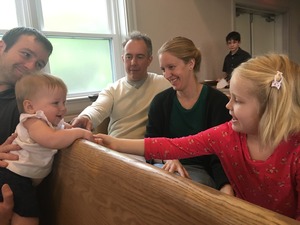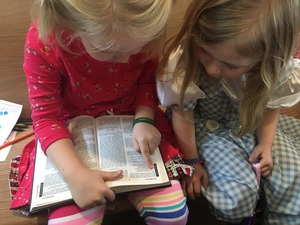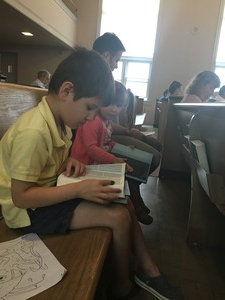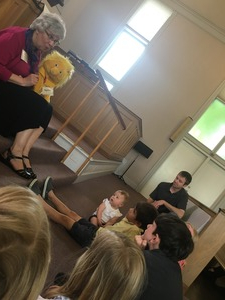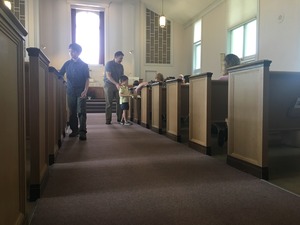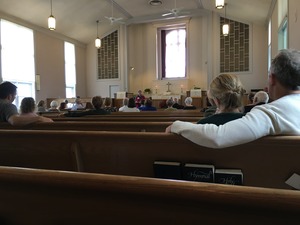 ---
We shared refreshments after worship: