"On this Christmas Eve day of rest and worship, keep us focused on the love that exists all around us. With each familiar greeting, let us feel the love between us. With each regret for a broken relationship, let us find a thread of hope for reconciliation."
-

from Sunday's Pastoral Prayer
---
Mo
Tuesday

.
•
Iglesia de Restauracion Pacto Eterno, 7-9pm
Wednesday.
•
Brethren Voices,

11am

,
more details
•
Handbell Choir Practice, 7:00 pm
Sunday

.
•
Community Worship at AFUMC, 10am
•
Brethren Voices,

6:30pm

,
more details
Sat., 1/6 - AFAC Food Distribution, more details
Sun., 1/7 - Pastor Nancy's Final Sunday
Sun., 2/14 - AFAC Empty Bowls Event, more details
---
More Details.
Pastor Nancy's Last Day
|
Sun., Dec. 31
Sunday, December 31 is Pastor Nancy's official last day. She will lead worship for the final time on January 7 with District Executive Minister Gene Hagenburger preaching.
More Details |
arlingtoncob.org/calendar
For more information on neighboring church, denomination and non-profit events listed, check the calendar at the above link or contact the office.
---
Advocate, Volunteer + Give.
AFAC Food Distribution | Sat., Jan. 6
ACOB is traditionally committed to providing at least 8 or 9 volunteers to cover the morning food distribution at AFAC on the first Saturday of every other month beginning in January. We are scheduled to help out on Saturday, January 6 (the first Saturday following the Christmas holidays). Those interested in assisting are asked to contact Diane Micker (dmicker@verizon.net). Many hands make light work!
Global Mission Office Prayer Requests
The Church of the Brethren Office of Global Mission and Service is requesting prayer for the people of Honduras as the country is divided over the contested results of the November 26 presidential election. The confrontations have led to protests, riots, and destruction of public buildings. This crisis threatens the stability of a country that has experienced relative peace and achieved significant economic and social improvements in recent years. Prayers are also requested for the people of Jerusalem, where tensions are high following the recognition of the city as the capital of Israel. For more information, see the prayer update here.
AFAC Empty Bowls | Sun., Feb. 14
Empty Bowls is a fundraiser luncheon featuring delicious hot soups donated by local restaurants and served in beautiful hand-thrown bowls created by local artists. Choose from 2 seatings: 11:30am - 12:45pm or 12:45pm - 2:00pm. St. Andrew's Episcopal Church, 400 Lorcom Ln.
Each $35 ticket includes a bowl of your choice to take home, plus soup, bread and dessert.
Children 5 and under are free.
All proceeds from this event go directly to helping feed the 2,200 Arlington families AFAC serves each week.
Questions? Please contact puwen.lee@afac.org.
---
Media.
New!
Dunker Punks Podcast |
http://bit.ly/DPP_episode47
Sarah Ullom-Minnich presents a special podcast related to the holiday season. In this episode, Sarah reminds us of what's really important in the Christmas season as she shares reflections from one of her community's beloved holiday events, the Alternative Christmas Bazaar. Along with insightful yuletide contemplations, this episode offers us some new Christmas-themed music.

Type in the case sensitive url to listen on the showpage or subscribe on iTunes. Listen by clicking the above link or subscribing on
iTunes
.
Worship Audio |

Online
Listen again to this week's sermon, catch a sermon from a Sunday you were out or peruse the archives. Each Sunday message along with a selection of hymns and readings is posted online or subscribe on iTunes.

Brethren Voices | Passion for Practical Peacemaking
Brethren Voices is the TV show featuring what Brethren do as a matter of our faith. The episode for November features Samuel K. Sarpiya, 2018 Annual Conference Moderator of the Church of the Brethren. Samuel first had contact with the Brethren as a young man in Nigeria. He remembered that the EYN Church of the Brethren was very accepting of others and "they made really good peanut butter.". Watch online now! Watch in Arlington on Comcast 69/Verizon-FIOS 38 on Sundays at 6:30 pm, Wednesdays at 11 am.

New! #BlessedBreak | http://bit.ly/BlessedBreak81

This week's video offers perspective on Love, the theme of the fourth week of Advent. What is it that needs your love to grow?

---
Family of Charles Tuck,

who died Sunday morning

Chip

, recovering from surgery, anticipating regular dialysis

Joe M.

, friend of Chris D., cancer

People of Honduras, Israel and Palestine

, more details

Ralph

,

recovering at home

Hazel's Son

,

cancer

Carole C.,

recovering from surgery at home

Donna Fields

,

cataract surgery on Tuesday

Co-worker of Leslie,

looking for a safe living situation

Andy Price,

vision difficulties

Family and friends of Theresa M.,

after her passing last week

Hermella

, Amy's neighbor, an 11 year old with seizures

The Weimer Family,

following the loss of Nancy's mother, Charlotte

Church of the Brethren in Nigeria (EYN)

, including 113 girls still captive
Keep in your ongoing prayers:
Erin Julca, Steve Shuss, Minnie Simmons, Carolyn Studds

Note:
Prayer concerns will ordinarily be listed for four weeks. If you would like one to be kept on or added back in, please let the office know. Names in bold are new to the list or updated this week.
---
Worship.
Listen to Sunday's Sermon:
http://bit.ly/ACoBMessage122417
On this final Sunday of Advent, Pastor Nancy offers reflections on the risk inherent in the Christmas story and the risk we all are invited to take in order to live into the love and justice of Christ.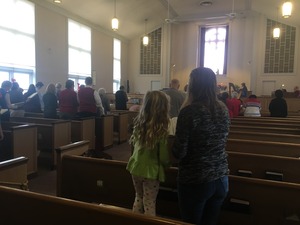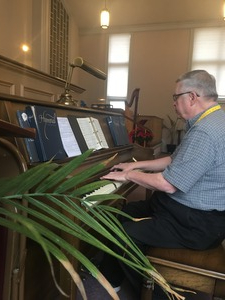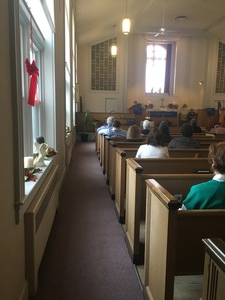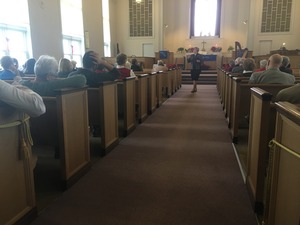 ---
More Pictures.
From our Christmas Eve service on Sunday night: