After Jesus rose, the word spread. And it still spreads today.
People are hearing about what Jesus did and is still doing.
Proclaim the awesomeness of God.


-

from Pastor Alex's Sermon
---
Mo
Monday.
Tuesday.
•
Office Hours,
3-5pm
•
Iglesia de Restauracion Pacto Eterno, 7-9pm in Fellowship Hall
Wednesday.
•
Office Hours,
3-5pm
•
Brethren Voices, 11am,
more details
•
Bell Choir Rehearsal,
7pm in Sanctuary
Thursday.
•
Office Hours,
3-5pm
•
Kaizen Karate, 6:30-8:30pm in Fellowship Hall
•
Community Choir Practice,
7:30pm at AFUMC
Friday.
•
Young Adults Gathering
, 6:30pm,
more details
Saturday.
•
ACOB Yard Sale,
9am-2pm
more details
•
Iglesia de Restauracion Pacto Eterno Funeral, 9-1pm in Sanctuary
•
Iglesia de Restauracion Pacto Eterno, 5-9pm in Fellowship Hall
•
Big Sunday School, 10am in Fellowship Hall,
more details
•
Worship, 11 am in Sanctuary
•
Special Council Meeting, after worship in Sanctuary,
more details
•
Office Hours, 12 - 3pm
•
Cambodian Alliance Evangelical Church, 1-4pm in Sanctuary + Fellowship Hall
I
•
Iglesia de Restauracion Pacto Eterno, 5-9pm in Fellowship Hall
•
Brethren Voices, 6:30 pm
,
more details
Thurs., 4/19 - AFAC Shining a Light on Hunger, 6:30pm
Fri., 4/20 - 4/23 - Ecumenical Advocacy Days
Sun., 4/22 - Vision + Vitality Reunion, 10am
Thurs., 4/26 -

Breakfast Bunch

, 8am
Sat., 4/28 - Spring Church Work Day, 9am
Mon., 4/30 -

Big E-Bulletin Edition

,
more details
Mon., 4/30 - Executive Committee Meeting, 7:30pm
Sat., 5/5 -

AFAC Service Saturday

, 8:30am
Sat., 5/12 - Camp Mardela Auction + Flea Market
---
More Details.
While cleaning out and organizing all of the church's storage areas, several nice but not needed items were found. Come see if you might need them at our Spring Yard Sale, Rain or Shine. Contact Jo Ann with questions.

Lisa is organizing a bake table for the morning. Contact her if you can donate desserts for sale to benefit the church.
Big Sunday School | Sun., April 15, 10 am
All ages join together for BIG Sunday School with activities planned for all in the fellowship hall. Come learn about the story of the rich young man, what Jesus asked him and how we should respond. We'll explore the story together in fun multi-generational and interactive ways. Contact Alma, Jo Ann, or Donna with questions.
Special Council Meeting | Sun., April 15, after worship
Please plan to stay after worship in the sanctuary for a special all church council meeting to discuss increasing two line items in the budget: 411, Church Maintenance and 412, Parsonage Maintenance. Contact Warren, Lisa Martin or Everett with any questions.
Big E-Bulletin | First Edition, Mon., April 30
Each fifth Monday the e-bulletin "Media" section will be dedicated for reports and appeals. This will replace the quarterly paper Big Bulletin. Please send any items for inclusion to the office by
Wed., April 18
. Paper copies will be distributed to the handful of members who are not on email. If you would also like a paper copy, please email Suzanne in the office:
acob@arlingtoncob.org
.
---
Advocate, Volunteer + Give.
Baby Food Drive | Throughout April
Be part of this month's Service Ministry Team service project by donating baby food items for distribution at AFAC. No glass jars please. Lisa will make a store trip for folks who prefer to give monetary donations. Contact her with any questions.

* Do you care about ways to serve and participate in our community and through our denomination? Sign-up for and commit to reading regular updates from organizations that interest you, then notify Suzanne in the office about the events and projects you want shared on ACOB's calendar.
---
Media.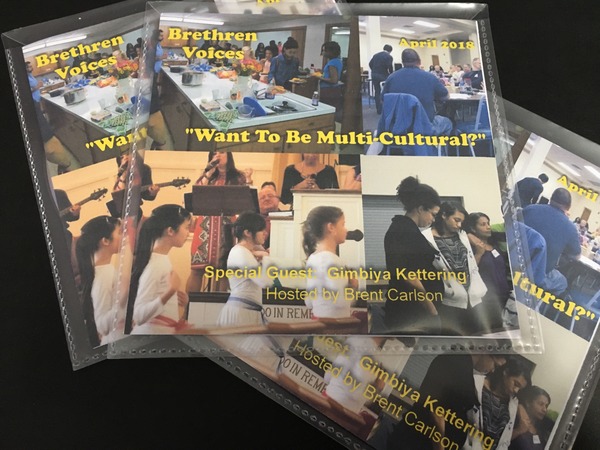 Brethren Voices |
New!
"Want to Be Multi-Cultural?"
The TV show about what Brethren do as a matter of faith features an inteview with Gimbiya Kettering, the Church of the Brethren Coordinator of Intercultural Ministries. Hear about how she facilitates intercultural activity within the denomination this month on AIM (Comcast channel 69, Verizon-FIOS channel 38). Tune in Wednesdays at

11 am

, Thursdays at

2 am

or Sundays at

6:30 pm.

Check out past episodes online at
http://arlingtoncob.org/brethren-voices
---
Hazel,

in Woodbridge Hospital being treated for stomach problems, she is accepting visits (room 126) and calls (703-523-0126)

Ruby,

Lisa's student, undergoing brain surgery today.

Karolina and family

,

transitioning between homes

Ron,

friend of Sue, recovering from a successful tumor surgery after much time living with pain, and anticipating continued treatments

Carole,

continuing to heal and adjust after surgery

Karen,

Marsha's cousin, recovering from surgery

Tom,

Sue's boss undergoing treatment for cancer

Terra + the Behren family,

Melody's friend who just lost her mother

Peggy + family,

grieving the loss of both her sister and brother
Chuck Norton

,

Bethel UCC, undergoing treatment for pancreatic cancer

Church of the Brethren in Nigeria (EYN),

including 113 girls still captive
Keep in your ongoing prayers: Steve Shuss, Minnie Simmons, Carolyn Studds

* P

rayer concerns will ordinarily be listed for four weeks. If you would like one to be kept on or added back in, please let the office know. Names in bold are new to the list or updated this week.
---
Worship.
Yesterday, we worshiped with our community partners at Arlington Forest UMC.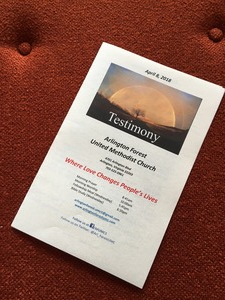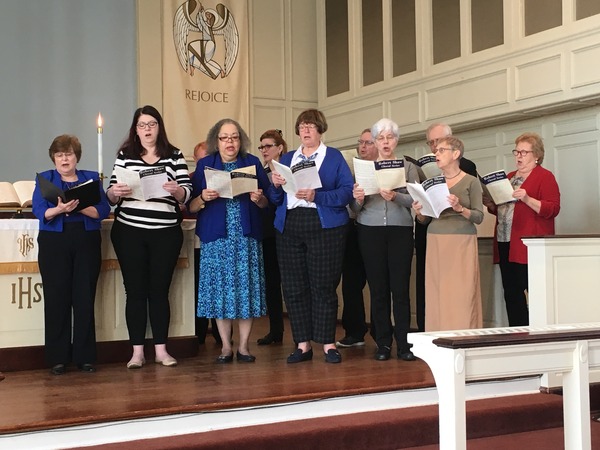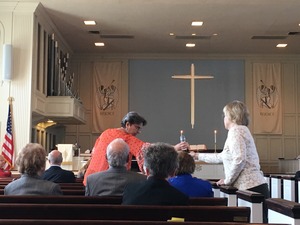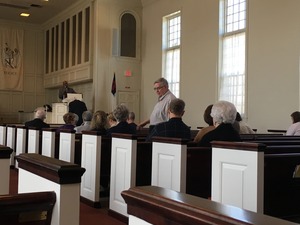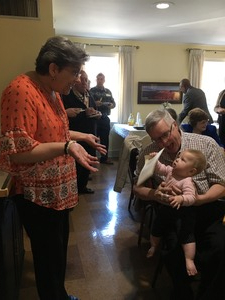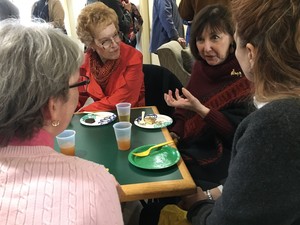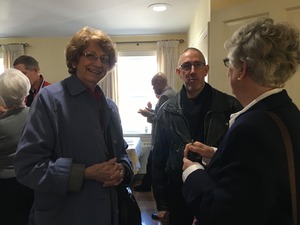 ---
A cute snap from a recent visit with Minnie!