In a culture so fixed on the superficial, the negative, the sensational and the tawdrey, we need to be a people who look for the movements of God's grace and stand ready to follow where those movements lead.
Quoting Dougherty + Thompson, from yesterday's opening reflection.
---



•

Hunger Action, How are you working for the "food that endures for eternal life?"

Tuesday

.
•

Iglesia de Restauracion Pacto Eterno, 7-9 pm




•

Hunger Action, Give thanks today for Jesus, the Bread of Life.



•

Brethren Voices, 11 am,

more details




•

Yoga, 5:45 pm,

more details




•

Handbell Choir Practice, 7 pm


•

Hunger Action, Try a new food from a different culture today.

Thursday

.



•

Community Vocal Choir Practice, 7:30 pm at AFUMC


•

Hunger Action, Today, plan one way you will fight hunger in the coming months.




•

Movies + Munchies, 7 pm,

more details




•

Hunger Action, Put a gift in your coin box as a thanksgiving for the many blessings you enjoy.

•
Bush Creek CoB Fall Festival, 9-4 pm
•
Iglesia de Restauracion Pacto Eterno, 5-9 pm
Sunday

.



•

Sunday School + Book Group, adult and children classes 9:45 am,

more details




•

Worship, 11 am


•

Brethren Voices, 6:30 pm,

more details




Sun., Oct. 2 - Ecumenical Blessing of the Animals,
more details
Mon., Oct. 3 - Board Meeting
Sat., Oct. 8 - MAD District Conference
Sun., Oct. 9 - Big Sunday School
Mon., Oct. 10 - Shepherd's Spring Quiet Day
Fri., Oct. 14 - ACoB Young Adults' Gathering
Sat., Oct. 22 - CROP Walk,
more details
Sun., Oct. 23 - Oakton CoB Community Concert
Mon., Oct. 24 - Executive Committee Meeting
Sat., Oct. 29 - Fall Church Work Day
Sat., Nov. 5 - Soup + Pie Bazaar
Movies + Munchies |
This Fri., Sept. 30, 7 pm
A movie screening as part of Blessing of the Animals celebration. "Brother Sun, Sister Moon" is the story of Francis of Assisi, the patron saint of ecologists and all animals. Francis was born to very wealthy Italian/French parents and was captured and imprisoned for ransom. According to legend, while awaiting his father's payment, Francis began to receive visions from God. He was told to repair the crumbling church and to live in poverty. Francis and his followers received papal approval to form a congregation which has become known as "The Franciscans" today. Contact Ralph with any questions.

Ecumenical Blessing of the Animals | This Sun., Oct 2, 2 pm
We'll join together at Bethel UCC (4347 Arlington Blvd) with our community partner congregations and our furry, scaled, and winged loved ones for a service to celebrate all God's creatures. Join us with your animal companions for a blessing. Contact Pastor Nancy with questions.
Beginner Yoga |
Wednesdays, 5:45 pm
Join others in the fellowship hall for simple, gentle beginner yoga, especially designed to include folks 55+. $9.00 per session. The 6 week session just began. Contact Pastor Nancy with questions.

Summer Worship Survey | Take 2-3 Minutes to Share Your Thoughts
Follow this link to answer 10 questions about your experience of our summer ecumenical community worship: http://bit.ly/SummerWorshipSurvey
---
Volunteer.
Brethren Nutrition Program | Help Needed During Staffing Transition
Washington City CoB's food kitchen on Capitol Hill will begin serving meals again on Fridays only staring October 7. The organization is currently seeking both interim and long-term solutions to staffing due to the resignation of a recent hire. You can help by considering or passing along the job description (
http://bit.ly/BNPjob
), volunteering on a Friday (
http://bit.ly/BNPVolunteer
) or donating (
http://bit.ly/Donate2BNP
).
CROP Walk |
Sat., Oct. 22, 9 am
This 5K/10K walk is part of a nationwide network of Hunger Walks sponsored by Church World Service to raise money for hunger relief both locally and abroad. Donate and sign up to walk:
bit.ly/2016CROPWalkACOB
. Contact
Marcia
with questions.
Above. ACoB was mentioned in Arlington Food Assistance Center's e-newsletter for spotting and posting a picture of their Hunger Action Month bus advertisement on Instagram. They also use the e-newsletter to publically thank our church for our Saturday volunteering and donating produce from our Plot Against Hunger garden and of course to advertise their volunteer opportunities.Consider this easy action to end hunger before the month is out:
1. Subscribe to AFAC's e-newsletter at the bottom of their
homepage
,
2. Take a minute each week to peruse their email, and
3. Notify the church office with any AFAC volunteer opportunities you see and think others might want to see highlighted in our church e-newsletter.
Highlight Volunteer, Advocacy + Spiritual Activities |
Notify the church office
Continuing the picture caption, the same goes for other relief organizations like Heifer and Doorways or denominational activities you find in Newsline or elsewhere. Let's inspire each other live the Gospel's call to serve and share.

Big Bulletin | http://bit.ly/BigBulletin
The latest newsletter includes articles about Christian Education at ACoB, A History of Mennonites in Ukraine, Big Question Responses, and more. Read it online at the above link or contact the office for a paper copy.

Brethren Voices | South Sudan: On a Journey to Peace
Brethren Voices in Arlington features current mission work including a large health care program, recent footage from and an historical perspective of Sudan
throughout September.
Tune in Sundays at 6:30 pm or Wednesdays at 11 am on Comcast, 69; Verizon-FIOS, 38 or on
Arlington Independent Media
's
live stream

.
Contact
James
with any questions.
Dunker Punks Podcast | http://bit.ly/DPP_Episode14
The latest episode, "Spiritual Training Regimen" features Dana Cassell. Our spiritual ligaments are meant to be worked, so we can grow in faith. In this episode, Pastor Dana gives us the secret to spiritually training like the greats. Tune in and get to work! Listen by clicking the above link or subscribing on
iTunes
.
Text Alerts |

Sign up with your cell phone
Oh no! Worship must be cancelled due to the biggest blizzard in history, or maybe, we don't have any ice cream for tomorrow's ice cream social! Fortunately, should church emergencies arise, we now have a new tool for spreading information fast. Text "EZSAY19248" to 313131 and you'll be signed up for ACoB's new text alerts. We won't forget to contact folks who don't sign up, but for those who do, text alerts are the quickest way to stay in the loop with your church family. We might even text out surprise blessings or words of encouragement too!
Worship Audio |

Online
Listen again to this week's sermon, catch a sermon from a Sunday you were out or peruse the archives. Each Sunday message along with a
selection of hymns and readings is posted
online
or subscribe on
iTunes
.
---
Pray. Call. Write.
Ed Varner and family

, following death of Lillian




Minnie

, in treatment for chest infection




Yoli, Roy + Family

,

Lisa's sister and Alma's daughter, upon Roy's mother's passing
Nelson Family + Nokesville CoB

, mourning the loss of Kay Nelson from a very rapidly developing cancer
Gary

, travelling to Russia and Ukraine (9/21-10/3), TourMagination feels secure that all areas of the tour are safe for travel. Let us also pray for folks caught in the middle of the conflict between Russia and Ukraine and for success at ongoing peace talks in Minsk.
Pastor Mike

, continuing to deal with liver failure and awaiting transplant
Pastor Pat

, recovering from a broken arm
Briana + Alys,

starting college + grad school
Charles Tuck

, Hazel's son, diagnosed with cancer throughout his body
Minnie

, palliative care at Goodwin House, Rm 248, visitors welcome
Walkin-Haske Family

, ongoing health treatments
Jummai Paul

, kidnapped Chibok girl and others
Church of the Brethren in Nigeria (EYN)
---
Worship Notes.
Sunday's message reflects on I Timothy, chapter 6 in three parts, followed by three reflections. Listen to God speaking through scripture and story to hear how we should live
:
http://bit.ly/ACoBMessage25Sept16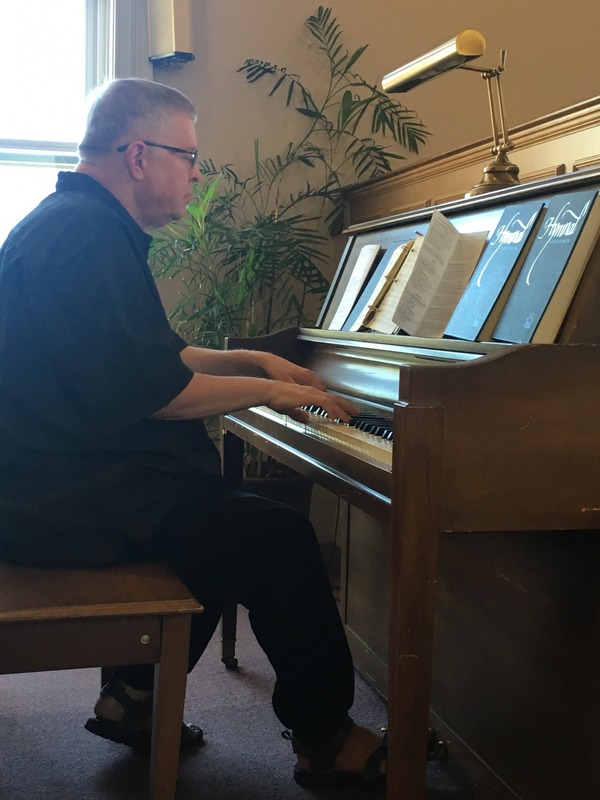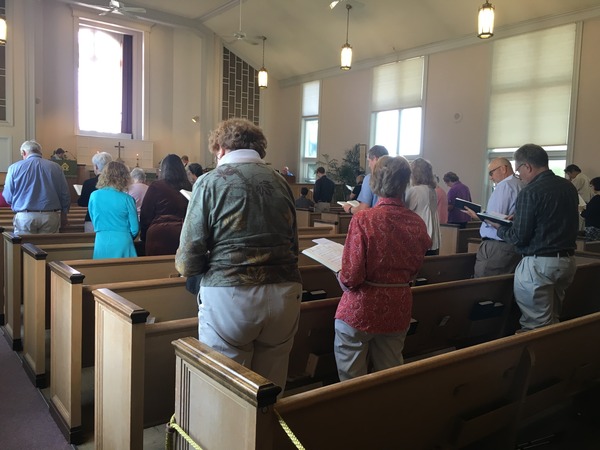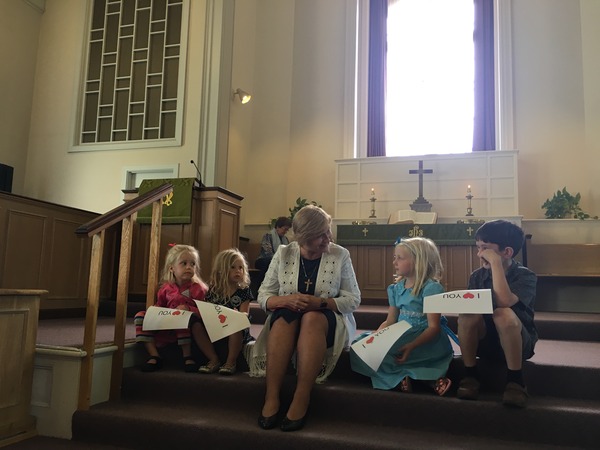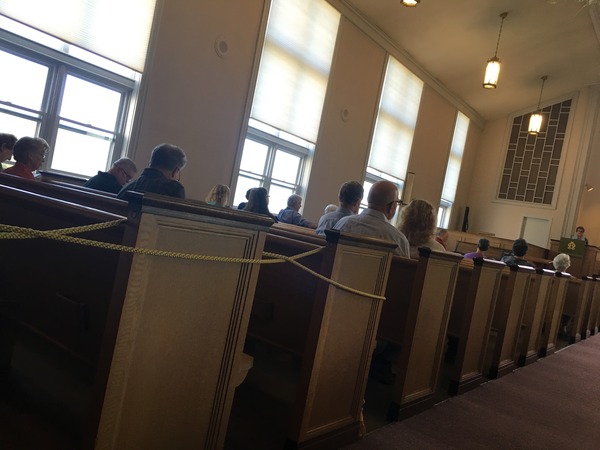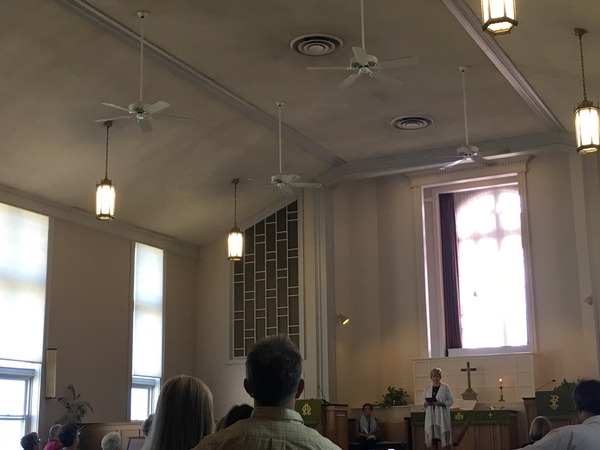 ---
More Pictures.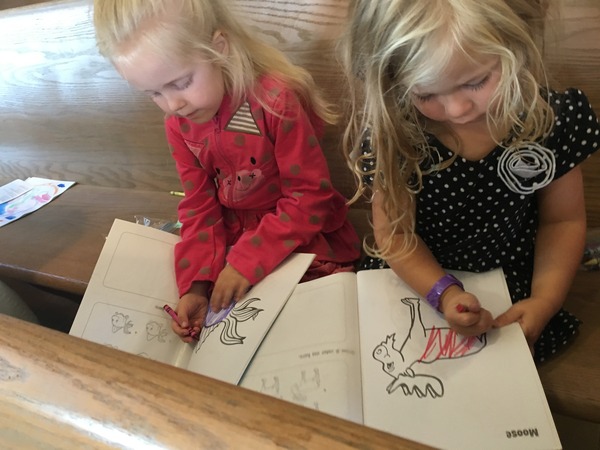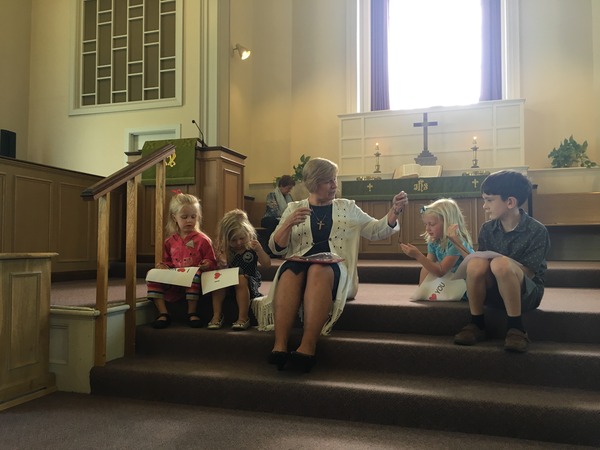 Special thanks to Alma for restocking the children's worship supplies for the new Sunday School year and Carole Compton for bringing back lovely wooden necklaces from annual conference for the kids. Pastor Nancy passed them along during Children's Church along with the message that when we do nice things for others, we are doing nice things for God.

Let us thank God for spending time with us always by seeking God's help in doing a better job with our time, that we spend ever more of it with God. #ACoBAmen.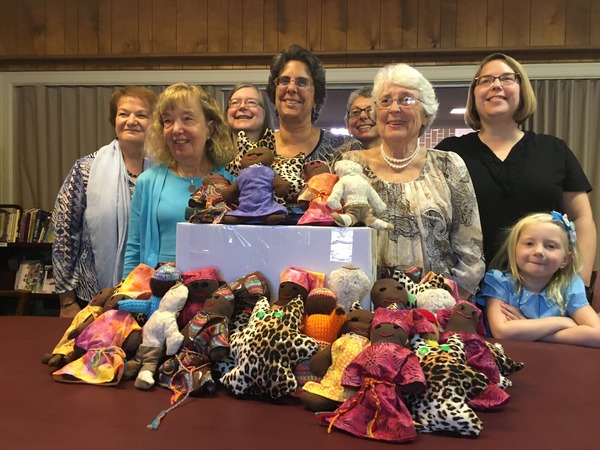 Our talented crafters created these beautiful comofort dolls for children in trauma workshops in Nigeria. With this second shipment heading to Children's Disaster Services this week, ACoB will have passed along over 50 handmade dolls and stuffed animals.
CDS has been working with women theologians of EYN (Church of the Brethren in Nigeria) on the "Healing Hearts Curriculum," trauma healing for children affected by the violence of the Boko Haram. The dolls and stuffed animals are given to teams of trainers as part of a 'Kit of Comfort' to take back to their local communities to share with children and adults who will then work with children.
They are usd as examples of the kinds of comfort items that could be made locally in the future.