"Just as surely as God uses ordinary bread and wine to bring to us God's saving word, so does God also use each of us to accomplish God's will and work in this world."

---
Mo
Monday.
Tuesday.
•
Iglesia de Restauracion Pacto Eterno, 7-9pm in Fellowship Hall
Wednesday.
• ACOB Office Hours, 10am - 12pm
•
Brethren Voices, 11am
• IRPE Musician Practice, 6-9pm in fellowship hall
• ACOB Office Hours, 6:30-8pm
Thursday.
•
Breakfast Bunch in Bridgewater, more info
Friday.
• Marina's Birthday!
Saturday.
•
Families Belong Together Rally, 11am,
more details
•
Iglesia de Restauracion Pacto Eterno, 5-9pm in Fellowship Hall
Sunday.
•
Worship with Bethel UCC, 10am
• ACOB Office Hours, 11am-2pm
•
Mark's Birthday!
•
Iglesia de Restauracion Pacto Eterno, 5-9pm in Fellowship Hall
• Brethren Voices, 6:30 pm
Wed., 7/4 - Neighborhood Ice Cream Social, 7:30pm, more details
Wed., 7/4-8 - Annual Conference, Cincinnati, OH
Sat., 7/7 - Volunteer at AFAC, 8:30am
Sun., 7/8 - Dave Johnson Preaching + Stephen leading worship
Fri., 7/13 - Young Adult Meet-Up, 6:30pm
Sat., 7/8-14 - Song + Story Fest, Inspiration Hills Camp, OH
Sun., 7/22 - Bag Lunches for ASPAN, 11am in fellowship hall
Thurs., 7/26 - Breakfast Bunch, 8am
Sun., 7/29 - Refreshments after worship, 11am in library
Mon., 7/30 - Executive Committee Meeting, 7:30pm
Sun., 8/5 - Community Worship at Bethel UCC, 10am
Mon., 8/6 - Church Board Meeting, 7:30pm
Sun., 8/12 - Community Worship at ACOB, 10am
Sun., 8/19 - Community Worship at AFUMC, 10am
Sun., 8/26 - Community Worship at Lubber Run, 10am
---
More Details.
Joint worship with Bethel UCC at ACOB | Sun. July 1, 10 am.
Following worship, we are encouraging everyone to stay for a brief meeting to update our congregational members on plans for Bethel's move to our church building. Questions, challenges and realities will be offered prior to task team meetings to follow. You participation will be appreciated as we welcome our Bethel neighbors to our neighborhood.
Invitation | Contact Pastor Christy
Have you been thinking about formally becoming a member of Arlington Church of the Brethren? Would you like to talk about your discernment or process your own journey? Pastor Christy would appreciate having a conversation with you. Feel free to let her know. Contact her by email (pastorchristy@arlingtoncob.org) or phone call/text (814 599-6307) to schedule an appointment.
Families Belong Together Rally | Sat., June 30, 11 am
James, Phoenix and Melody invite you to join them at the Families Belong Together Rally being held in DC. The event is being hosted by the National Domestic Workers Alliance, Leadership Conference on Civil and Human Rights, ACLU, MoveOn, and others to send a clear message that families belong together. You can register for the rally online: http://bit.ly/ACOB4Families (case-sensitive). They plan to take Metro to the event and can organize a meet up location if you'd like to join them.


Breakfast Bunch to Bridgewater
|

This Thurs., June 28, 6:45 am
RSVPs are needed! Let Alma know by June 17 if you plan to join the Breakfast Bunch trip to Bridgewater next month. In June our Breakfast Bunch hits the road to visit our friends in Bridgewater, and as with their local meet-ups, all are welcome. We'll meet at 6:45 am to carpool from ACOB at 7 am. Then, we'll stop at the Village Inn (4979 S. Valley Pike on Rte. 11 just off I-81) for breakfast. Ralph C. and Rhonda C. have reserved the Kreuger Room on the 3rd floor of Maple Terrace for our get-together from 10 am-12 pm, and Pastor Christy and Dale have generously invited any or all to their home in Harrisonburg to further break up our trip home.
Neighborhood Ice Cream Social | Wed., July 4, 7:30-9:45 pm
The tradition continues, sharing ice cream with the Boulevard Manor neighborhood as we wait to see the fireworks above the national mall from the church yard. Please bring a lawn chair, blanket, or bug spray as needed. Ice cream and water will be provided. Personal fireworks and alcohol are not allowed. The national fireworks usually begin around 9:15 pm. Contact the office with questions.
Summer Camp | Scholarships for Children + Grandchildren
The church is offering $150 scholarships for each camper going to Shepherd's Spring or Camp Mardela for a week this summer. Contact Lisa for more information and to access the scholarship for your child or grandchild.

Reeves Farmhouse | BMCA Supports Habitat for Humanity Project
At Boulevard Manor's civic association meeting on Monday night, the neighborhood unanimously voted approval of support for Habitat for Humanity to move forward with Arlington County to convert the existing Reevesland structure into a home for adults with intellectual and/or developmental disabilities. Contact the office if you're interested in more details on this exciting development for our neighborhood.

Mid-Atlantic District | Non-Pastoral Job Openings
Frederick COB is seeking a part-time Worship Coordinator, Westminster COB a Community Spirit Coordinator and the Brethren Service Center has summer openings in the warehouse. Please spread the word and contact the office for more details.


---
Advocate, Volunteer + Give.

Thank You! | Lemonade Stand Total
A big thanks to everyone who supported the childrens' lemonade stand last week! Lily, Elijah, Marina and Marylynne hosted on behalf of Alex's Lemonade Stand Foundation, offering cookies and lemonade for donations to pediatric cancer research. Together we raised $143 for research to find better treatments and cures for childhood cancer and helped provide needed hope for kids and their families. If you weren't here but would like to contribute, you can still donate online:
http://bit.ly/ACOB4ALSF
. Thank you for your support!

* Do you care about ways to serve and participate in our community and through our denomination? Sign-up for and commit to reading regular updates from organizations that interest you, then notify Suzanne in the office about the events and projects you want shared on ACOB's calendar.
---
Media.
New!
Dunker Punks Podcast |
http://bit.ly/DPP_Episode60
Sarah Ullom-Minnich interviews Lucy and Becky Bowman about their work with the Malala Fund. Think about who inspires you to be an activist for change as you listen to this episode.
---
Jacque

,

started chemotherapy this week

John

, Dale's brother, recovering from mitro valve repair

Sharon

,

Marcia's friend + ACOB service volunteer, recovering from gall bladder surgery

Anna May and Mike

, friends of Donna, Anna May's husband, Eugene, died of severe burns.

Graduates

, celebrating the season of new possibilities

People who are Hungry,

as we remember the Global Day of Prayer to End Famine

Nate and Jenn Hosler

, pastors of the Washington City CoB, on the birth of their son, Ayuba

Lisa

, preparing for a New Community Project trip to Lybrook, NM to learn from and work with the Navajo community

Vernon Miller's Family

, honoring his good long life after peacefully passing following a couple bouts of pneumonia. Vernon pastored the Arlington congregation from 1969-1978

Bethel UCC

, after an emotional service

on Sunday

to say goodbye to their building

People Experiencing Disasters,

for our brothers and sisters whose homes and communities are being threatened and wrecked by wildfire, lava and floods

People Responding

, for people and projects like Heifer providing relief through livestock donations and micro loans

Carole

, in positive spirits, calls and visits while she is still at the rehab facility are appreciated, 703-867-1952

Chuck Norton

,

Bethel UCC, undergoing treatment for pancreatic cancer

Church of the Brethren in Nigeria (EYN),

including 113 girls still captive
Keep in your ongoing prayers: Steve Shuss, Minnie Simmons, Carolyn Studds

* P

rayer concerns will ordinarily be listed for four weeks. If you would like one to be kept on or added back in, please let the office know. Names in bold are new to the list or updated this week.
---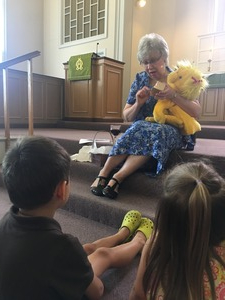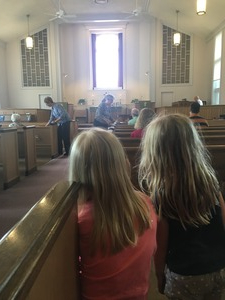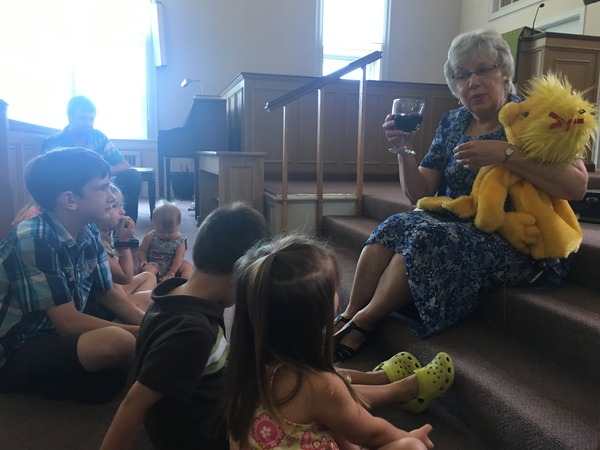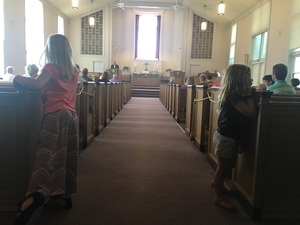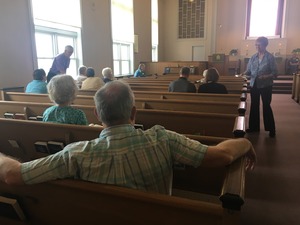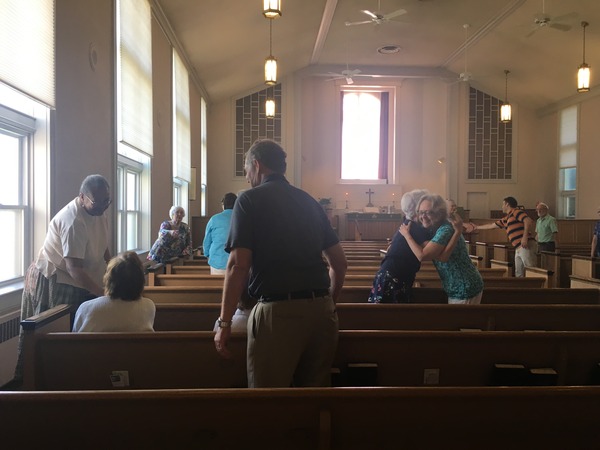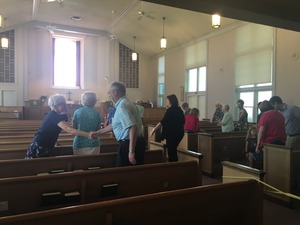 ---
More Photos.
After worship, we chatted, shared our ideas with the pastoral search committee

and...demolished an old desk (thanks to Sue and Don for finding newly donated

furniture for the office!):