While we are reconciled to God and one another through the work of Christ, we reaffirm our convictions that militarization of conflict will not bring peace. And recognizing that violence is a way of the world that has yet to be fully redeemed, we commit ourselves to another way of living, to speak and work for peace in the righteousness of Christ our Lord.
From a statement on Syria
by Annual Conference Moderator Carol Scheppard
+ Church of the Brethren General Secretary David Steele
---
•

Transforming Conflict Seminar, thru 4/15, Dundalk, MD



Tuesday

.
•

Iglesia de Restauracion Pacto Eterno, 7-9 pm



•

Brethren Voices

, 11 am,

more details




•

Viewing (11:30) + Funeral (noon)

for Julia Golloday




•

Yoga

, 5:45 pm in fellowship hall



Thursday

.



•

Love Feast

, 7 pm,

more details
Friday

.
Saturday

.
•
Egg Hunt

, 10:30 am,
more details
•
Iglesia de Restauracion Pacto Eterno, 5-9 pm
Sunday

.



•

Sunrise Worship

, 6:15 am, Hains Point with the City Church,

more details




•

Easter Breakfast

, 9 am,

more details


• Easter Worship

, 11 am




•

Brethren Voices

, 6:30 pm,

more details




Mon., 4/17 - Being Mortal Film Screening, 3 pm, Goodwin House
Thurs., 4/20 - Kingian Conflict Resolution, 6 pm, Online, Weekly thru 4/27
Fri., 4/21 - ACOB Young Adult Gathering, 6:30 pm *Note date change
Sat., 4/22 - Shepherd's Spring Benefit Supper, 4 pm, Bush Creek COB
Sun., 4/23 - Worship at Bethel UCC, 10 am *Note earlier time
Mon., 4/24 - Why Love Leviticus, Susquehanna Valley Ministry Center
Mon., 4/24 - Meeting with Bethel UCC, 7 pm
Thurs., 4/27 - Breakfast Bunch, 8 am
Sat., 4/29 - Church Workday, 9 am-2 pm
Sat., 5/6 - Volunteer at AFAC, 8:30 am
Fri., 5/12 - Shepherd's Spring Quiet Day, 8:30 am
Sat., 5/20 - Volunteer for AFAC at Taste of Arlington, thru 5/21

Big Bulletin Newsletter | New edition
The spring edition of the Big Bulletin Newsletter is out! Contact the
office
for a paper or e-copy. Special thanks to this edition's contributing writers!
Love Feast | This Thurs., April 13, 7 pm *Note Corrected Time
The Love Feast tradition includes a time of personal examination, feet washing in circles (a hand washing option is available), a simple meal with a variety of foods from 19th century Brethren and 1st century Palestinian tradition (including vegetarian and gluten free options), and Communion. The Washington City CoB and other guests will join us. Everyone is welcome and free to participate as they feel comfortable. Contact
Pastor Nancy
with questions.
Good Friday Service| This Fri., 4/14, 7 pm
All are invited to join in community worship at Bethel UCC (4347 Arlington Blvd), the Friday before Easter. Contact
Pastor Nancy
with questions.
Egg Hunt | This Sat., April 15, 10:30 am
Our annual egg hunt with the Boulevard Manor neighborhood is for children aged 11 and younger. Everybunny will enjoy snacks, games, raffle prizes and a visit from the Easter bunny. Don't forget your Easter basket to gather eggs and tote home a favor of each child's choosing. Contact the
office
with any questions.
Easter Breakfast | This Sun., April 16, 9 am
The Life Ministry Team invites you to breakfast Easter morning before worship. Thanks to a generous bunch of volunteers, all of this year's breakfast donation will support
Brethren Voices
, the tv show about what Brethren do as a matter of faith.
Contact
Alma
or
Donna
with any questions.
2017 Directory | Paper copies in the Narthex
The latest directory is now available. Pick up a copy in the narthex or contact the
office
to have one mailed to you. An electronic version is available
online
using the case-sensitive password "NewLife". Contact the
office
with any updates to your information.
More Details | arlingtoncob.org/calendar
For more information on neighboring church, denomination and non-profit events listed, check the calendar at the above link or contact the office.
---
Volunteer + Give.
Easter Flowers | Help Decorate for Easter
Please sign up to bring flowers to decorate the church on Easter Sunday. Indicate the type of flowers: arrangement, plant or loose flowers for pinning on the cross and if your donation is honoring someone. Contact
Pastor Nancy
with questions.
One Great Hour of Sharing | Still Time to Donate
The Service Ministry Team invites you to participate in One Great Hour of Sharing. This special relief offering dates back to WWII and is an annual ecumenical effort to make the love of Christ real for individuals and communities around the world who suffer the effects of disaster, conflict and severe economic hardship. The Church of the Brethren designates our offerings to Global Mission and Service, Congregational Life Ministries, Brethren Disaster Ministries, Brethren Volunteer Service, Workcamps and the Global Food Initiative. Donate
online
and designate your donation for One Great Hour of Sharing by typing it in the "add special instructions" field. Contact
Marcia
with any questions.
---
Media.



Brethren Voices | New Episode! Take 10, Tell 10: The Rest of the Stories
Brethren Voices is the TV show featuring what Brethren do as a matter of our faith. The episode for April features a second edition about a group from Elizabethtown COB on their learning tour in Nigeria. The response of US Brethren has been amazing with nearly $5 million provided from 2014-2016. The effort has saved lives and averted starvation for many. Watch in Arlington on Comcast 69/Verizon-FIOS 38 on Sundays at 6:30 pm, Wednesdays at 11 am or
online
anytime.
#BlessedBreak |
http://bit.ly/BlessedBreak48
This video was shared in worship last week and is about the White Helmets saving lives in Syria. Watch the video and read the accompanying scripture and prayer at the above link.
Worship Audio |

Online
Listen again to this week's sermon, catch a sermon from a Sunday you were out or peruse the archives. Each Sunday message along with a selection of hymns and readings is posted online or subscribe on iTunes.

Dunker Punks Podcast | http://bit.ly/DPP_Episode26
Jenna Walmer composes a discussion on forbearance from many voices at On Earth Peace. The Brethren agency has revived the word for a 2017 emphasis on coming together amidst differences. Listen as they look back to Brethren statements to find a way forward, picking up on the signature Brethren practice of following Jesus by gathering around relationship instead of division. Listen by clicking the above link or subscribing on iTunes.
---
Pray. Call. Write.
Family + Friends of Julia Golloday

, Julia passed last week at age 99, a viewing and funeral to celebrate her life will be held this Wednesday at ACOB

James Thomas, coworker of Lisa, recovering from a kidney transplant

Family + friends of Michael Sharp

, a Mennonite Central Committee and UN worker with refugees in the Congo, recently killed

Roger

, recovering from cataract surgery

John

, home from the hospital and welcoming visitors

Rich Massabny's friends + family

, Boulevard Manor neighbor, mourning his passing

Communities in Northern Peru

, where Sara lives, experiencing severe storms

Pastor Mike

, in ICU with complications from a kidney and liver transplant

Charlotte

, Amy's mom, in rehab after successful brain aneurysm surgery followed by a small stroke

Tom

, Stephen's Father, recovering from kidney treatments

Karolina

, undergoing renewed health treatments

Walt's friends + family

, Vicki's Father-in-Law, recently passed

Ralph

, home recovering from surgery for a broken hip

Jummai Paul

, kidnapped Chibok girl and 195 others

Church of the Brethren in Nigeria (EYN)
Keep in your ongoing prayers:
Minnie Simmons, Dorothy Fravel (Dee's mom), Theresa McCary, Erin Julca, Steve Shuss, Elizabeth Smucker, Carolyn Studds

Note:
Prayer concerns will ordinarily be listed for four weeks. If you would like one to be kept on or added back in, please let the office know. Names in bold are new to the list or updated this week.
---
Worship Pix.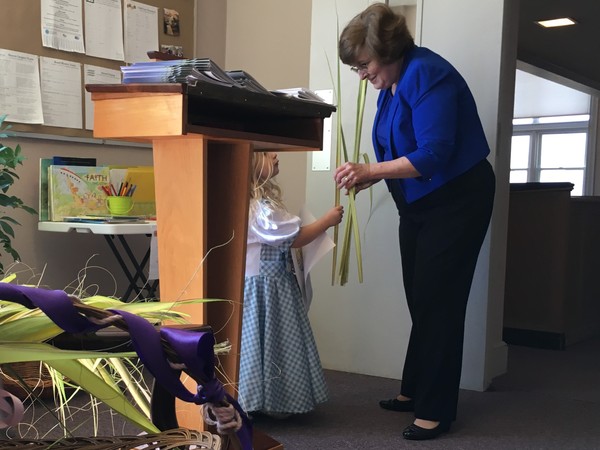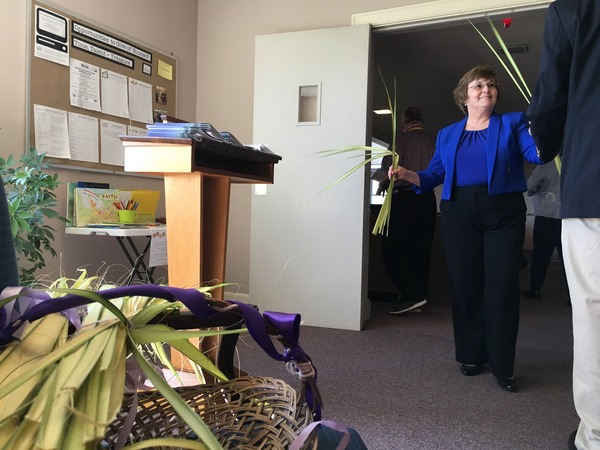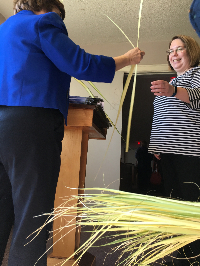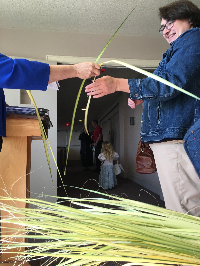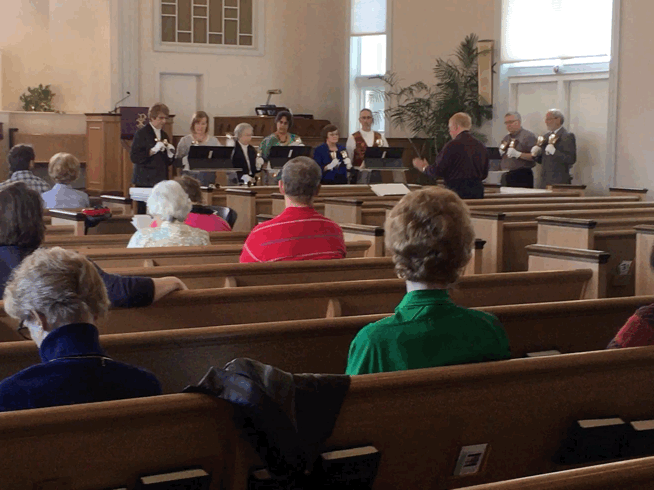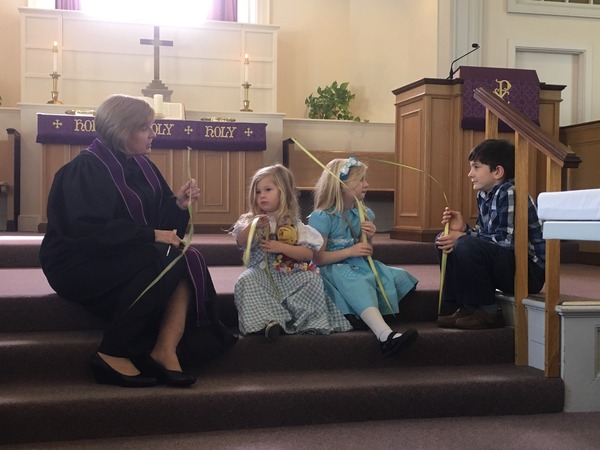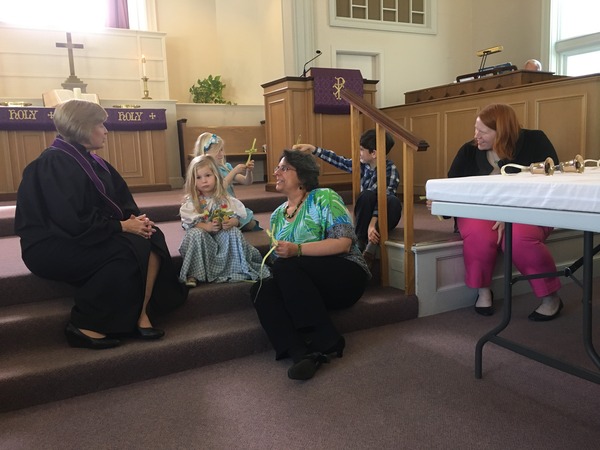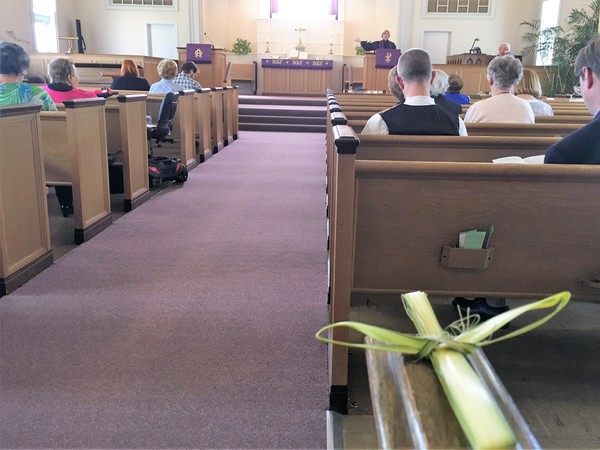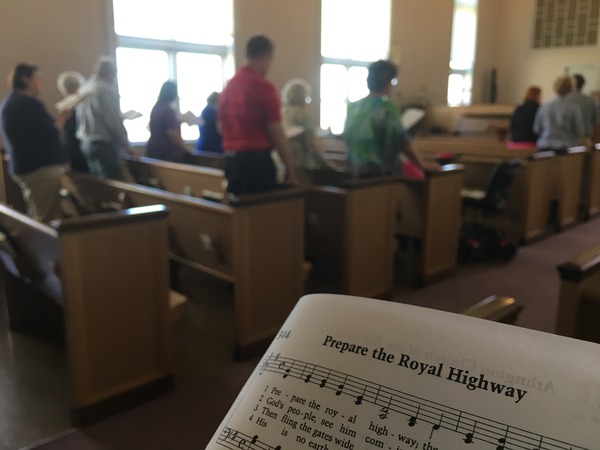 \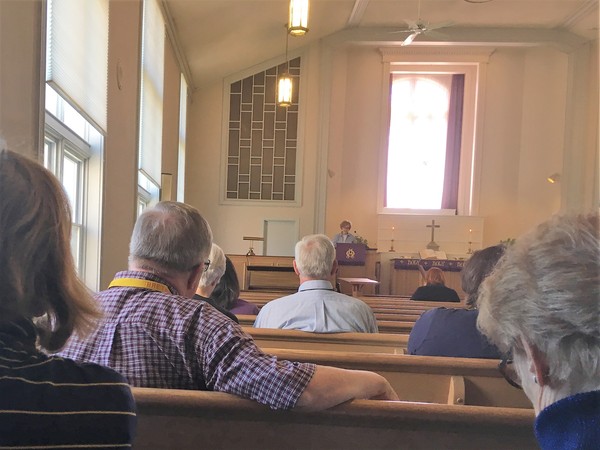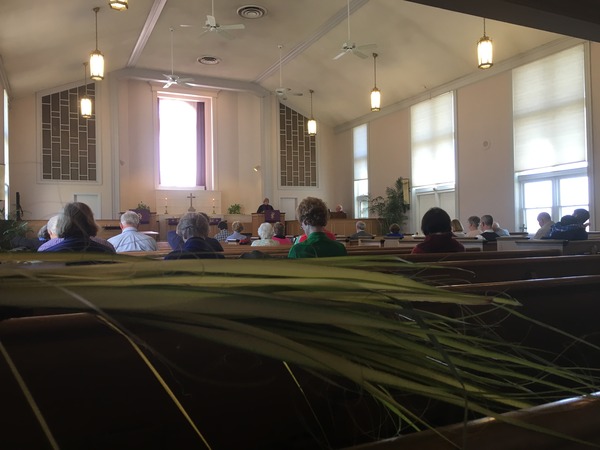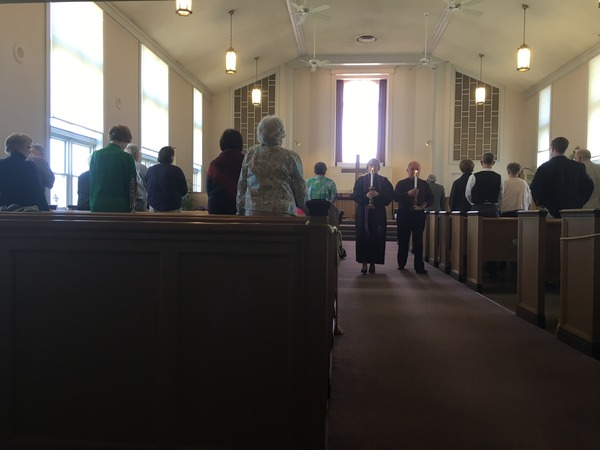 ---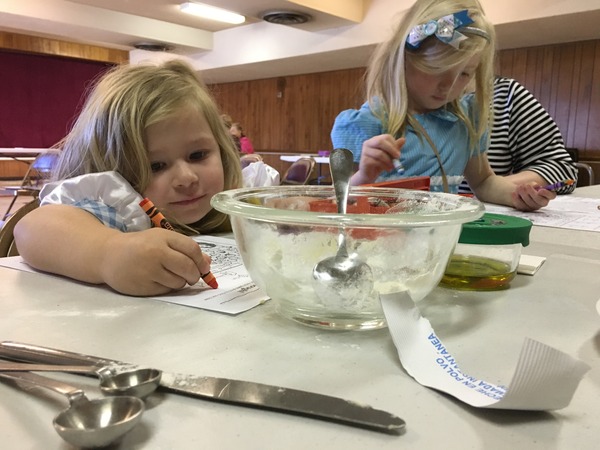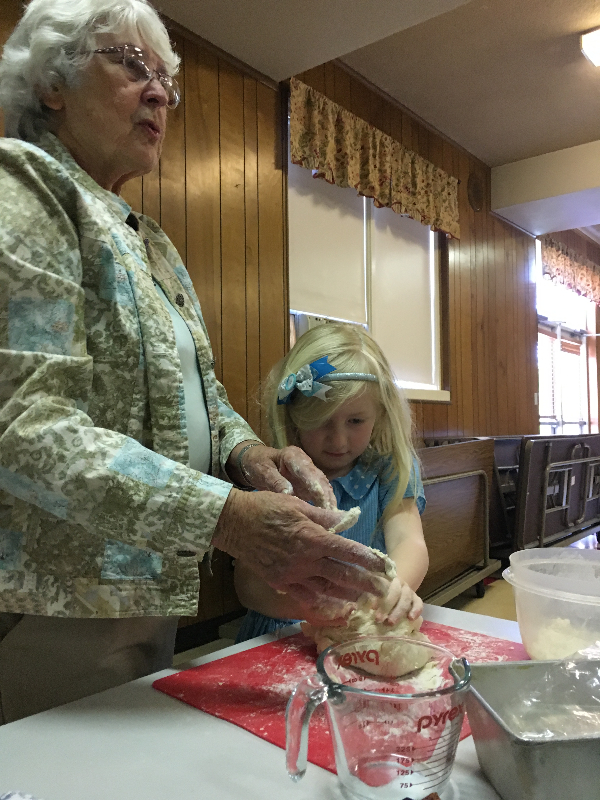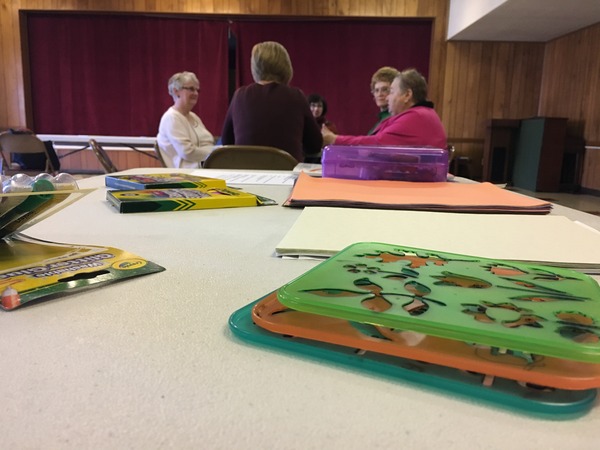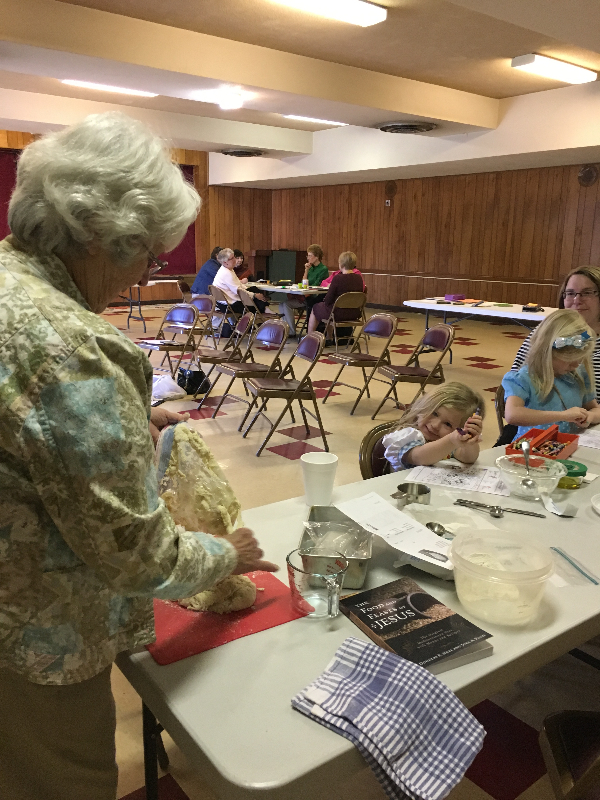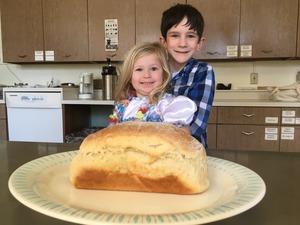 The children talked about Jesus being the bread of life in Big Sunday School today. And then they made yummy bread in a bag! You can try it too by squishing all of the following ingredients in a large resealable bag before lightly kneading and baking!
3 cups all-purpose flour, divided
3 tablespoons white sugar
1 .25 oz package of rapid rise yeast
1 cup warm water
3 tablespoons non-fat dry milk
3 tablespoons olive oil
1 1/2 teaspoons salt

1. In a large freezer bag, combine 1 cup of flour, sugar, yeast and warm water. Squeeze out most of the air, seal and squish until well blended. Set aside to rest for 10 minutes at room temperature or until bubbles appear.

2. In a seperate bag, mix 1 cup of flour, dry milk, oil and salt. Squeeze out most of the air, seal and squish until well blended. Add the last cup of flour to the bag and continue mixing in the same manner until well blended.

3. Remove the dough and place on a floured surface. Knead for 5-8 minutes. Form into a small loaf and place in a greased 8x4 inch loaf pan. Cover with a towel and allow to rise for about 30 minutes, or until your finger leaves an impression when you poke the top of the loaf gently.

4. Bake the bread for 35 minutes in a preheated 375 degree oven, until golden brown.