Dear God, often we forget that our words and actions make an impact. We think that they are too insignificant to make a difference. Remind us that even seemingly small actions can be powerful. Let us remember that a word can bring about justice, a smile can brighten someone's day, and a simple act of kindness can spread Your love. Give us strength, O God, so we can show Your glory through words we say and things we do. Amen.
By Amanda McLaren Moss, Recent BVSer
Yesterday's Prayer Dedicating our Gifts
---
•

Iglesia de Restauracion Pacto Eterno, 7-9 pm




•

Coping with Stress, 7 pm, Grossnickle COB






•

Bible Study

, 10 am


•

Brethren Voices

, 11 am,

more details




•

Yoga

, 5:45 pm in fellowship hall




•

Handbell Polishing Party

, 7 pm in sanctuary




•

Refugee Relocation Committee Meeting

, 7:30 pm,

more details



Thursday

.



•

Senior Law Day, 1 pm, Arlington Mill Community Center




•

Kaizen Karate, 6:30 pm in fellowship hall




•

Community Choir Practice

, 7:30 pm at AFUMC
Friday

.
•

Quiet Day, 8:30 am, Shepherd's Spring
•
Young Adults Gathering
, 6:30 pm in sanctuary
Saturday

.
•
No Saturday Office Hours this Week
•
Stamp Out Hunger Food Drive Collection
•
Yoga
, 9 am in fellowship hall
•
Gay Spirits Conference, thru Saturday
•
Centering Prayer
, 10:30 am
•
"Gender Revolution" film screening, 4 pm, Christ Church Alexandria
•
Iglesia de Restauracion Pacto Eterno, 5-9 pm
•
Rock Creek Singers, Gay Men's Chorus of DC, 6 pm, UUC Sterling
Sunday

.



•

SS Class on Environmental Concerns

, 9:45 am upstairs


•

Brethren Voices

, 6:30 pm,

more details



Mon., 5/15 - Affordable Housing: Federal Upheaval...Local Consequences, 8 am
Mon., 5/15 -

Meeting with Bethel UCC

, 7 pm
Sat., 5/20 - Volunteer for AFAC at Taste of Arlington, thru 5/21
Sat., 5/20 - Ministry in Healthcare Settings, 10 am, Farhney Keedy
Sat., 5/20 -

RiP Project

, 2 pm,
more details
Sat., 5/20 - The Brethren Sister's Sing for Supper, 4:30 pm, Glade Valley COB
Sun., 5/21 - Outdoor Worship, 11 am
Mon., 5/22 - on Becoming a Dancing Monk, thru 5/24, Shepherd's Spring
Mon., 5/22 -

Executive Committee Meeting

, 7:30 pm
Thurs., 5/25 -

Breakfast Bunch

, 8 am, Original Pancake House
Fri., 5/26 - Young Adult Conference, thru 5/28, Camp Harmony
Sat., 6/3 - National Trails Day, 8:30 am, Shepherd's Spring
Sun., 6/4 -

Unity Sunday

, 11 am
Mon., 6/5 - Board Meeting, 7:30 pm
Tues., 6/6 - 34th Annual Capital Pride Interfaith Service in DC, 7:30 pm
Sun., 6/11 -

Worship at 10 am begins


Sat., 6/17 -

Doorways Collection Day

, 10 am,
more details
Mon., 6/19 - Shepherd's Spring Golf Tournament
Wed., 6/28 - COB Annual Conference, thru Sun., July 2
Sat., 7/1 - Volunteer at AFAC, 8:30 am
Sun., 7/2 - Worship at Bethel UCC, 10 am
Refugee Relocation Committee Meeting | This Wed., May 10, 7:30 pm
This week we have the opportunity to meet with our friends at Catholic Charities. Patrick is Resource Coordinator at Catholic Charities of the Diocese of Arlington Migration and Refugee Services (MRS). Neota is a volunteer with Catholic Charities and often sings in our combined church choir. We will explore how to move forward together to help make the transition to the U.S. as welcoming as possible for those seeking a new way of life. Gather in the fellowship hall. Light refreshments will be served. Please RSVP to
Robyn
.
More Details |
arlingtoncob.org/calendar
For more information on neighboring church, denomination and non-profit events listed, check the calendar at the above link or contact the office.
---
Volunteer + Give.
Coloring Book Collection | Throughout May
With children out of school for the summer months, our neighbors relying on
AFAC
food assistance often have to bring their kids along to pick up food. The wait can be long and coloring books and crayons can help the kids pass the time. Perforated coloring books are ideal, so children can more easily take home their art work. Place donations in the collection basket in the office hallway throughout the month of May. Contact
Marcia
with questions.
Doorways Donation Day | Sat., June 17, 10 am – 2 pm
Volunteers (in pairs for hour shifts) are needed to staff ACOB's donation table outside of Safeway on Harrison Street just north of Lee Highway. Doorways will furnish us with its wish list (normally diapers, paper goods and cleaning goods). Volunteers will give customers the opportunity to purchase these items for Doorways clients: women and families escaping domestic violence and homelessness. A volunteer is also needed to transport the donations to Doorways after the last shift. Sign up in the narthex and contact
Marcia
with questions.
Volunteer to Water the Garden | Weekly or In Turn
Each spring and summer, our garden beds are used to grow lettuce for the neighborhood Reevesland Learning Center Lawns 2 Lettuce 4 Lunch program. Their twice a year lettuce lunch at Ashlawn Elementary is a big celebration to encourage the children's interest in homegrown vegetables. Overage and additional vegetables are donated to AFAC. Help make this neighborhood partnership possible by volunteering to water the garden. Depending on rain, the garden will need to be watered 2-3x a week. Multiple volunteers could divvy the load. Contact the
office
to help.
RiP Project | Sat., May 20, 2 - 4 pm
ACOB's service ministry team is sponsoring a
RiP (Removal of Invasive Plants) event
at Madison Manor Park (6225 12th Rd.) to help reclaim natural areas in our community. Wear long sleeves and pants, bring garden gloves and a water bottle. Garden tools will be provided, but if you have some of your own to use, please bring them so there's enough to go around. Commit to volunteering by singing up on the sheet in the narthex. Contact
Marcia
with questions.
Volunteer in Our Community | AFAC
AFAC is in need of volunteers to restock shelves weekday mornings from 7:30-9 am, which helps ensure distributions start on time. Sign up directly on their on-line
calendar
.
MAD District Disaster Response Auction | Collecting Change
Our folks who attended the MAD Disaster Response Auction on Saturday brought back a big barrell of pretzels to enjoy and then repurpose the container for collecting change ahead of next year's auction. Stay tuned for details on how much was raised for disaster relief this year and save your change to drop in the barrell ahead of next. Contact
Lisa
with questions.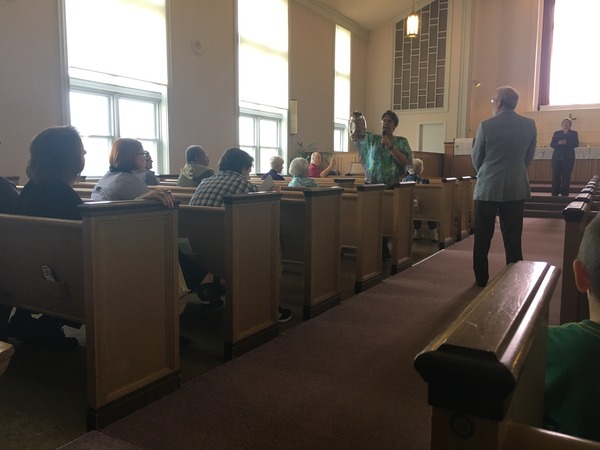 ---
Advocate.
Update!
82 of the Chibok girls were
freed
from Boko Haram just this weekend, including
Jummai Paul
! Each Brethren congregation in the U.S. has been praying for one of the 276 girls kidnapped from their school over three years ago. Arlington Church of the Brethren has been praying for Jummai and we thank God for her return! We give thanks for their freedom as we pray for their healing and continue our prayers for their sisters and all children who remain captive.
Children in Nigeria | News Citing UN Statistics
As posted in this week's
COB Newsline
,
The United Nations says boys and girls in northeast Nigeria "continue to be brutalized as a result of Boko Haram's insurgency in the region and the ensuing conflict," according to a news article on
AllAfrica.com
. "In the first report by the UN office of the special representative for children and armed conflict on violations suffered by children, the UN documented horrendous abuse of children between January 2013 and December 2016." The article reported a number of statistics released by the UN: Book Haram attacks and confrontations with the military left some 3,900 children dead and 7,300 maimed; at least 1,000 of the children were killed and 2,100 injuries resulted from suicide attacks; up to 1,650 children were recruited and used by Boko Haram, and the insurgent group recruited and used thousands more since 2009, some as young as age 4; the children were used in direct hostilities, to plant improvised explosive devices, to burn schools or houses, and children, especially girls, have been used in suicide attacks since 2014 with at least 90 used in suicide bombings in Nigeria, Cameroon, Chad, and Niger; more than 1,500 schools have been destroyed since 2014, with at least 1,280 casualties among teachers and students; up to 4,000 boys and girls have been taken in mass abductions from schools, including the 276 Chibok girls kidnapped in 2014. On the Nigerian government's side of the conflict, the UN also reprimanded the country for the 228 children, some as young as nine, who were recruited into the Civilian Joint Task Force (CJTF), created in Borno State to assist the Nigerian Security Forces.
Bread for the World | Call your Senators
Another repost from
COB Newsline
,
Bread for the World
is calling on advocates to tell the Senate to reject the American Health Care Act (AHCA) passed by the House of Representatives last week. Bread for the World explains that the AHCA would take away health insurance from millions of Americans, including 14 million on Medicaid by capping state Medicaid funding and eliminating the Medicaid expansion. States would receive less money to cover children, the poor, the elderly, and the disabled, resulting in the rationing of health care. The bill would also cut subsidies that have made it possible for millions of families to buy health insurance, and would allow insurers to charge higher rates for those with pre-existing conditions, returning many people to the situation prior to the Affordable Care Act, when 1 in 3 people with chronic medical conditions had to choose between paying for medical treatment and purchasing food for their family. "
Protecting Medicaid
is a priority for the faith community," said David Beckmann, president of Bread for the World, in the release. "Medical bills often drive families, especially those who struggle to make ends meet, into hunger and poverty. We strongly urge the Senate to reject this bill." Bread for the World is a collective Christian voice urging the nation's decision makers to end hunger at home and abroad.
---
Media.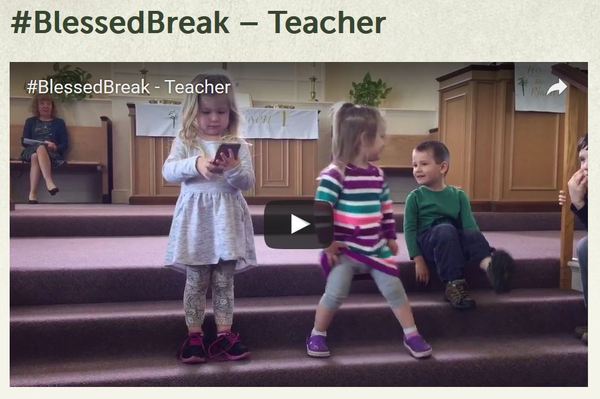 #BlessedBreak | New devotion!
http://bit.ly/BlessedBreak52
The video for this week's devotion was taken yesterday during the Children's message on what we all have to teach each other. Watch it and read the accompanying scripture and prayer at the above link.
Worship Audio |

Online
Listen again to this week's sermon, catch a sermon from a Sunday you were out or peruse the archives. Each Sunday message along with a selection of hymns and readings is posted online or subscribe on iTunes.

Dunker Punks Podcast | http://bit.ly/DPP_Episode30
The latest episode, "Inside Cornfields" features Emmett Eldred, founder of DunkerPunks.com interviewing next year's COB moderator, Samuel Sarpiya. Type in the case sensitive url to listen on the showpage or subscribe on iTunes. Listen by clicking the above link or subscribing on iTunes.

Brethren Voices | New Episode! What Would Jesus Drive?
Brethren Voices is the TV show featuring what Brethren do as a matter of our faith. The episode for May talks with Portland Peace COB members about their switch to alternative engery cars and features some new electric cars shown at the Portland Auto Show. Watch in Arlington on Comcast 69/Verizon-FIOS 38 on Sundays at 6:30 pm, Wednesdays at 11 am or online anytime.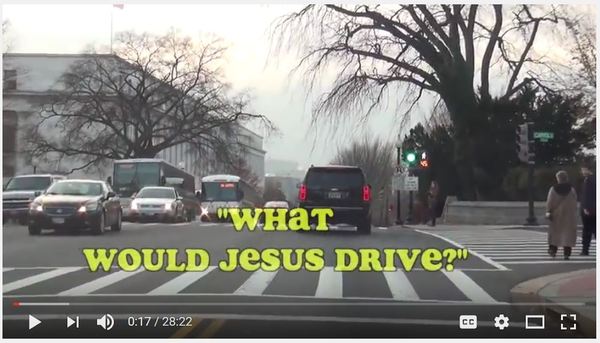 ---
Pray. Call. Write.
Jummai Paul

, among the 82 Chibok girls released over the weekend!

Charlotte

, Nancy W.'s mom, undergoing surgery today for a broken hip

Becky + her family

, Nancy W.'s sister, following a massive stroke and awaiting the future

Ralph

, recovering well and continuing in rehab

Alan

, Hazel's son, anticipating surgery on 5/12

Amy's Parents

, recovering well and have returned home, continuing in rehab

Children, families + first responders in Missouri flooding

, including 20 Brethren Disaster Ministry volunteers and Children's Disaster Services team at the ready

Family + Friends of Julia Golloday

, Julia, a former Deacon, passed at age 99

James Thomas, coworker of Lisa

, recovering from a kidney transplant

Family + friends of Michael Sharp

, a Mennonite Central Committee and UN worker with refugees in the Congo, recently killed

Pastor Mike

, in rehab after organ transplant

Karolina

, undergoing renewed health treatments

Church of the Brethren in Nigeria (EYN)

, including 113 girls still captive
Keep in your ongoing prayers:
Minnie Simmons, Dorothy Fravel (Dee's mom), Theresa McCary, Erin Julca, Steve Shuss, Elizabeth Smucker, Carolyn Studds

Note:
Prayer concerns will ordinarily be listed for four weeks. If you would like one to be kept on or added back in, please let the office know. Names in bold are new to the list or updated this week.
---
Worship Pix.
Consider, in what ways are you free and not free? Our freedom is not ours alone, but is based on other people. It takes real discernment to know when you are giving up your freedom or taking someone else's away. Looking to this week's scripture, Paul isn't worried about offending someone's sensibilities. Paul warns us from causing someone to fall away from the faith, which is tricky when looking at what divides us today. Paul's bottom line is at the very heart of Brethren ideals, that all our actions should glorify God and our neighbor's good. So our decisions have to reach across the divide without sacrificing someone else's faith, being careful to uphold justice in a way that honors those with whom we disagree. It takes great care to focus on love.

Listen to Sunday's Sermon:
http://bit.ly/ACoBMessage7May17