Help us with your Spirit, O God, to have the courage to act when we know a brave word will make a stand for peace. Help us to stay silent when needed and to act with our feet when justice requires more from us. Remind us that you seek justice for all humanity and for the earth. Mend our ears until we hear calls for justice and hope, and act with courage.
-

from yesterday's pastoral prayer
---
Tuesday

.
NO
•
Iglesia de Restauracion Pacto Eterno, 7-9 pm
Wednesday.
•
Brethren Voices, 11am,
more details
•
Yoga, 5:45pm
•
Handbell Choir, 7pm
Thursday.
•
International Day of Prayer for Peace
•
Breakfast Bunch,

8am, Silver Diner - Merrifield
•
Community Choir Practice, 7:30pm @ AFUMC
Sunday

.
•
Sunday School,
9:45am
•
BNP Celebration BBQ, 1 pm, more details
Wed., 9/27 - Young Adult DC Gathering, 6:30pm
Wed., 9/27 - Handbell Choir Practice, 7pm
Thurs., 9/28 - Centering Prayer, 4pm
Thurs., 9/28 - Community Choir Practice, 7:30pm @ AFUMC
Mon., 10/2 - Board Meeting, 7:30pm
Fri., 10/13 - ACoB Young Adults Gathering, 6:30pm
Fri., 10/13 - MAD District Conference, thru 10/14 at Frederick COB
Sat., 10/14 -

Centering Prayer

, 10:30am
Wed., 10/25 -

Young Adult DC Gathering

, 6:30pm
Sat., 10/28 - Shepherd's Spring Into the Dark Retreat, through 10/29
Fri., 10/20 - Power & Privilege conference, at Bridgewater CoB, more details
Sat., 11/4 -

AFAC Volunteer Day

, 8:30am, more details
Fri., 11/10 - Simple Living Weekend, at Brethren Woods, more details
---
More Details.
Sunday School Study
The Adult Sunday School class is beginning a study of Jim Wallis' book, America's Original Sin: Racism, White Privilege and the Bridge to a New America. We'll meet at 9:45am on Sunday mornings, upstairs.
Power, Privilege and the Journey Toward Justice
| October 20-22, Bridgewater, VA
Registration is now open for this timely conference event, co-sponsored by BMC and OEP. Facilitators Regina Shands Stoltzfus and Matt Guynn will help participants meet the goals of the weekend: to examine how power and privilege affects our individual and corporate lives; to analyze how power operates within the church; to learn new ways to use power to further nonviolent change; and to share experiences of liberation through storytelling, worship and conversation. CEUs are available. Registration cost increases October 9. For more information, click here.
Simplify: A Simple Living Weekend | November 10-11, Brethren Woods Camp
Simple Living has been a core Brethren value since our earliest days as a denomination. But what does it mean to live simply in a busy, modern, 21st century world? What does it mean for us, for our relationship with God, and for the Earth? Join inspiring practitioners and experts on simple living as they offer practical, engaging, and hands-on workshops and experiences to help us consider what simple living looks like for us today. We'll have opportunities for worship, fellowship, and great food. More information here.
Big Bulletin | July, 2017 Edition
More Details |
arlingtoncob.org/calendar
For more information on neighboring church, denomination and non-profit events listed, check the calendar at the above link or contact the office.
---
Advocate, Volunteer + Give.
Office of Public Witness Action Alert: DACA
The Church of the Brethren Office of Public Witness has issued an Action Alert to support recipients of the Deferred Action for Childhood Arrivals (DACA). The alert includes suggestions for contacting congressional representatives, being public in our support of the DREAM Act, and resources from the denomination's papers and official statements. Read more here.
AO
Laying Down BNP
In a letter last month, Jenn Hosler and Faith Westdorp shared that the Washington City CoB
has decided to "lay down" the Brethren Nutrition Program. Citing declining numbers of people served, the need for large-scale kitchen renovations, and the changing dynamics of the Capitol Hill neighborhood, the church community has decided to end the program, giving thanks for what's been done, meals shared and relationships built. They are still in need of volunteers through the month of September, and invite you to a Celebration BBQ on Sunday, September 24. You can sign up to volunteer here and RSVP for the BBQ here.
See Pastor Nancy with more questions, or to read the original email.
AFAC Volunteer Service Day
| Sat., Nov. 4, 8:30-10:30am
This is one of those special opportunities to serve our community as a community. At least 8 to 9 people are needed to assist with the food distribution process for the day. We'll be there from 8:30 am to 11:30 am. Please make a commitment to help by signing up on the volunteer sheet posted on the bulletin board in the narthex or by emailing Diane at dmicker[at]verizon[dot]net.
---
Media.
New!
Dunker Punks Podcast |
http://bit.ly/DPPcreation
In the most recent episode, Reconnecting to Creation,
Jonathan Stauffer speaks with Randall Westfall from Camp Brethren Heights on rewilding the Christian Faith. Randall unpacks what it means to be more in tune with God's creation.
Type in the case sensitive url to listen on the showpage or subscribe on iTunes.

Listen by clicking the above link or subscribing on
iTunes
.
Worship Audio |

Online
Listen again to this week's sermon, catch a sermon from a Sunday you were out or peruse the archives. Each Sunday message along with a selection of hymns and readings is posted online or subscribe on iTunes.


Brethren Voices | Families Remake Their Lives from War
Brethren Voices is the TV show featuring what Brethren do as a matter of our faith. The episode for September features Carol Mason, who has just returned from Nigeria after compiling stories and photos of families devastated by Boko Haram. Watch online now! Watch in Arlington on Comcast 69/Verizon-FIOS 38 on Sundays at 6:30 pm, Wednesdays at 11 am.


New! #BlessedBreak | http://bit.ly/BlessedBreak66

This week's Blessed Break, in celebration of Thursday's International Day of Prayer for Peace, features a hymn by composer David Haas based on a traditional Navaho prayer.

---
Theresa M.,

nearing the end of life

Gary

,

whose aunt, Elizabeth, died last Sunday

Hurricane Harvey and Irma storm refugees and victims

Charlotte

,

Nancy's mom, in rehab after another hospitalization

Carole C.

,

in rehab at The Virginian

Yoder Family

, transitioning at work ahead of overseas transfer next summer and mourning a close colleague and friend killed in a car accident

Barbara's family

, Ralph's sister-in-law, following her death

Joe

, Chris' friend, facing resurgence of lymphoma after several year's remission

Maxine

, Hazel's sister, broke two ribs and fractured a lung from a fall and is also struggling with Alzheimer's

Karolina

, at home but continuing health treatments

Church of the Brethren in Nigeria (EYN)

, including 113 girls still captive
Keep in your ongoing prayers:
Minnie Simmons, Dorothy Fravel (Dee's mom), Theresa McCary, Erin Julca, Steve Shuss, Elizabeth Smucker, Carolyn Studds

Note:
Prayer concerns will ordinarily be listed for four weeks. If you would like one to be kept on or added back in, please let the office know. Names in bold are new to the list or updated this week.
---
Listen to Sunday's sermon:
http://bit.ly/ACoBMessage91717
This week's sermon anticipates the International Day of Prayer for Peace, and outlines the process for addressing conflict in Matthew 18. The community of church is different from other kinds of communities precisely because of how we make peace together.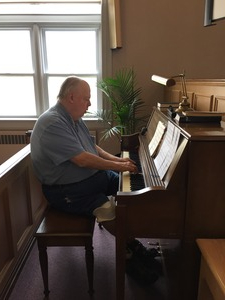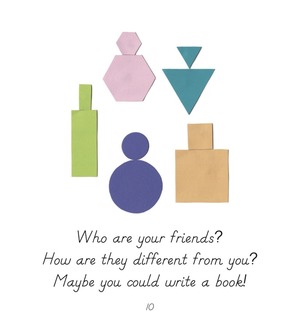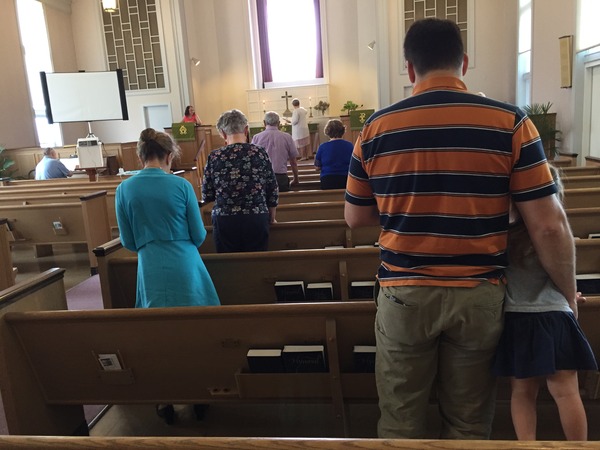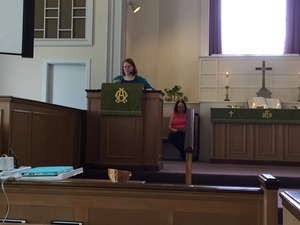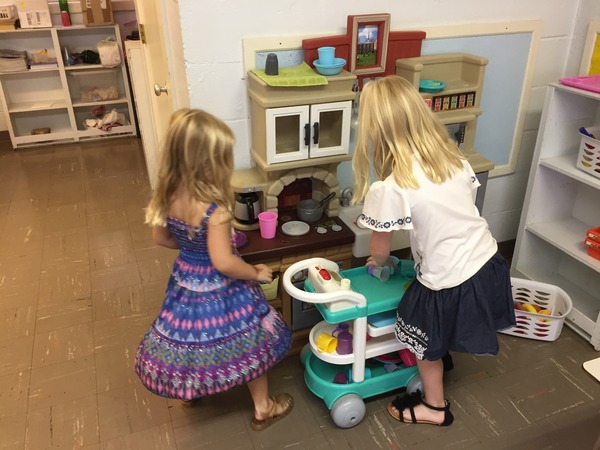 ---
Check out these active peacemaking kids at Saturday's Weaving for Peace event!