Suzanne, you are a unique, gifted child of God and a blessing to our vital faith community.
This e-update is just one way we connect with each other as together,
we live for the glory of God and our neighbor's good.

---

Kaizen Karate Summer Camp each weekday, 7:30 am-6 pm


Tuesday

.



Iglesia de Restauracion Pacto Eterno, 7-9 pm

Brethren Voices, 11 am,

more details


Yoga, 6 pm,

more details




Thursday

.



Kaizen Karate Evening Class, 6:30 - 8 pm




Playgroup, 10:30 - 11:30 am

Iglesia de Restauracion Pacto Eterno, 5-9 pm
Sunday

.

Worship, 10 am
Brethren Voices, 6:30 pm,

more details




July 11 - July 31 - Pastor Nancy on Vacation
July 28 - Young Adult DC Gathering
August 1 - Board Meeting
August 4 - Community Choir Practice Resumes
August 5 - Volunteer at Brethren Nutrition Program,
more details
August 6 - Shepherd's Spring's Celebrate Summer,
more details
August 7 - Community Worship at ACoB
, more details
August 8 - Book Worms Meet
August 14 - Community Worship at Bethel UCC
August 21 - Community Worship at Arlington Forest UMC
August 28 - Community Worship at Lubber Run Park
August 29 - Executive Committee Meeting
Sept. 3 - AFAC Volunteer Service Saturday
Sept. 10 - Shredding for AFAC
Sept. 11 - Big Sunday School Resumes
Sept
Beginner Yoga | Wednesdays, 6 pm
Join others in the fellowship hall for simple, gentle beginner yoga, especially designed to include folks 55+. $9.00 per session. To continue weekly through August. Contact Pastor Nancy with questions.

Celebrate Summer | Sat., Aug. 6, 11 am - 4 pm
Brethren Voices is a monthly public access TV show featuring what people of the Church of the Brethren do as a matter of our faith. The current episode is about Brethren's favorite band, Mutual Kumquat. Tune in on Comcast channel 69, Verizon-FIOS channel 38 or watch on AIM's website on Wednesdays at 11 am, Thursdays at 2 am or Sundays at 6:30 pm. Contact James with any questions.


Worship Audio | Online
In case you miss a Sunday service, sermon audio along with a selection of hymns and readings is posted online or subscribe on iTunes
---
Volunteer.
Support OAR Clients | Donate Gift + Smart Cards
Offender Aid + Restoration supports persons in the criminal justice system, particularly those transitioning back to the community after being in jail or prison. OAR has amazing results—its employment project has a low 8% recidivism rate. To help support OAR clients the Witness Commission is collecting $25 Target cards for clothes and other essentials and $20 Smarttrip cards for transportation to job interviews and employment while waiting for a first pay check. Contact Marcia with questions or listen to the Laura's recent episode of the Dunker Punks Podcast to learn more about OAR.
Help Host Our Ice Cream Social
|
Sun., Aug. 7 following Community Worship

Volunteer to donate ice cream, toppings, or fruit. In two weeks we will be hosting the first
Ecumenical Community Worship
of our August series gathering together with Bethel UCC and Arlington Forest UMC. We will invite our community partners downstairs for ice cream immediatly following worship. Contact Nancy Weimer or sign up on the sheet in the narthex.
Volunteer for Brethren Nutrition Program | Fri., Aug. 5, 9 am - 3 pm
Mark your calendars for

Friday August 5th

. We will meet at the church at

9 am

and carpool to Washington City CoB to prepare and serve a lunch for the homeless and needy participants in the Brethren Nutrition Program. We will return by

3 pm

. Sign up on the bulletin board in the narthex and contact Cindy with any questions. Thanks for your help!
Refugee Assistance | Learn more + get involved
A group met after church yesterday to discern how best our congregation can help Syrian refugees resettling in our community. Follow this link to learn more about ways our congregation could help a family fleeing violence:
http://bit.ly/ACoB4Refugees
. Contact Debbie to help or with questions.
---
Pray. Call. Write.
Charles Tuck

, Hazel's son, diagnosed with lung cancer
Elizabeth Smucker

, Gary's aunt, in rehab following a severe stroke
The communities of West Virginia and California

, experiencing natural disasters
Our national community

,

in the wake of multiple incidents of gun violence
Donna

, following elbow surgery
John

, following a procedure
Pastor Mike

, being treated for liver disease
Margarta

, dear friend of Carole Compton, health concerns
Edwardo

, Fitzgeralds' neighbor, with tumor diagnosis
Minnie

, palliative care at Goodwin House, Rm 248, visitors welcome
Walkin-Haske Family

, ongoing health treatments
Jummai Paul

, kidnapped Chibok girl and others
Church of the Brethren in Nigeria (EYN)
---
Worship Notes.
Jesus is again tested in today's Scriptures and again responds in an astute and challenging way. God's love compels us to love our neighbor, to extend God's love to others: simple to say but not simple to do. We are to extend God's love, especially to those that seem unlovable. Selfless, compassionate love responds in countercultural ways to those around us. Radical love in difficult circumstances demonstrates God's love to the fullest extent. Consider if you are doing all you can to live out the Greatest Commandment in your own life. We can always do more, especially if we give up some of our own comfort and love beyond ourselves. Let love change you and change us all.


Click here to hear the full sermon from guest preacher Jamie Risser:
http://bit.ly/ACoBMessage24July16
The audio also includes inspiring Children's Church and Call to Giving messages by Amy and lovely prayers by Everett.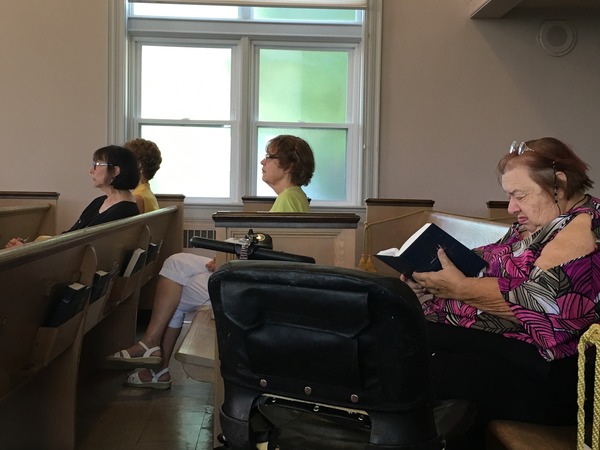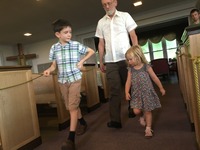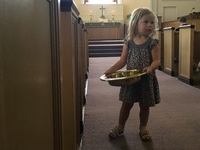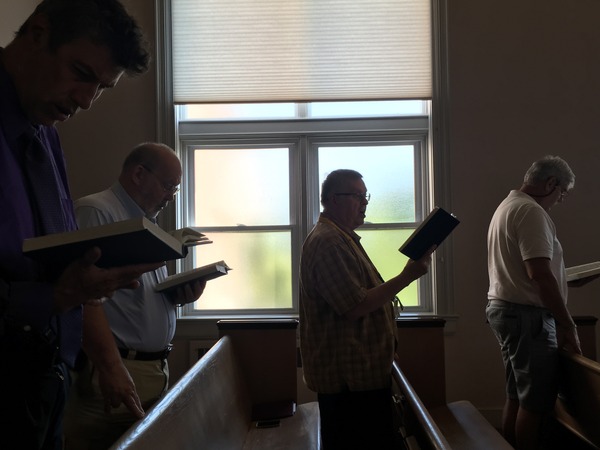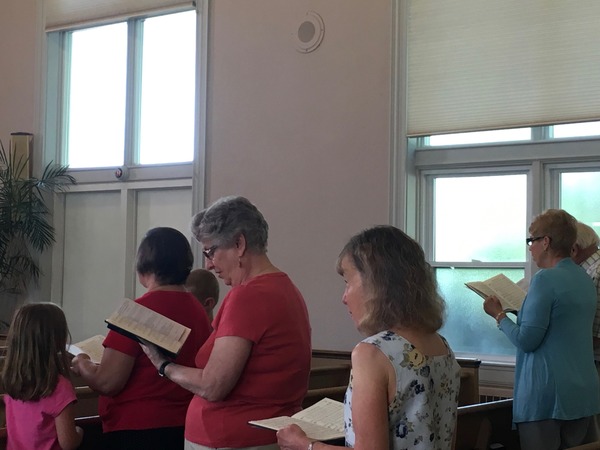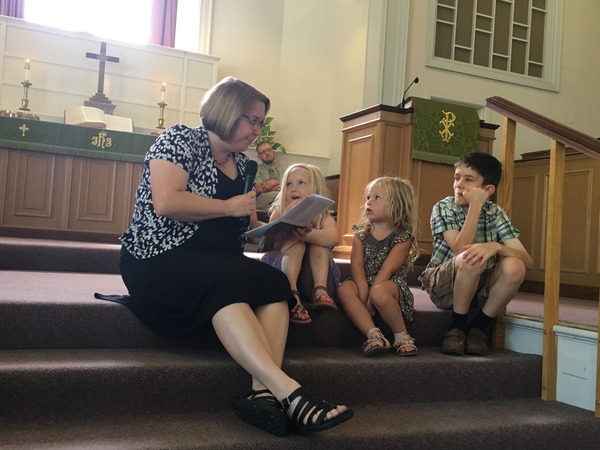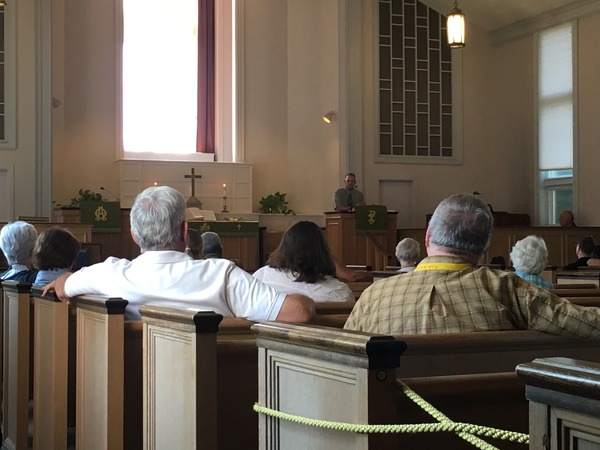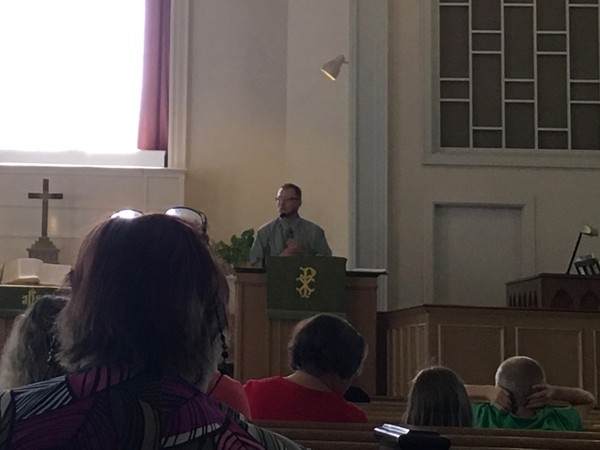 ---
More Pictures.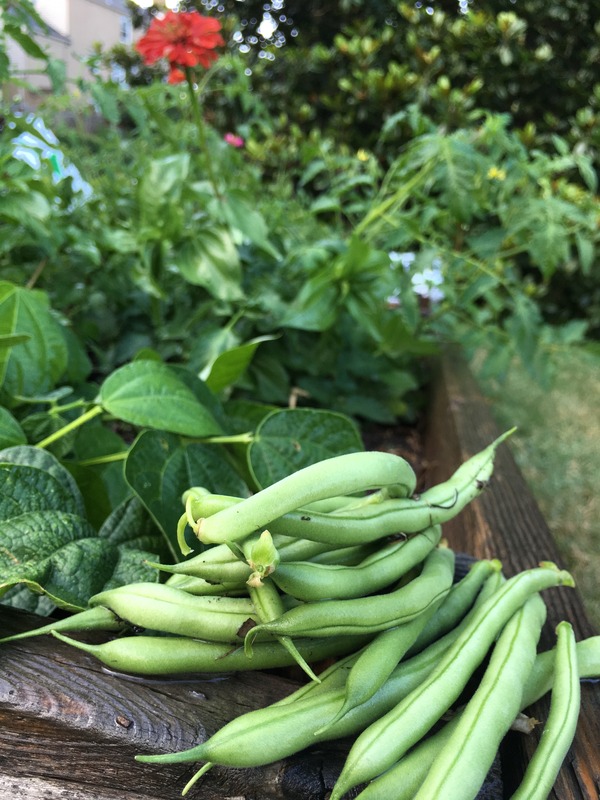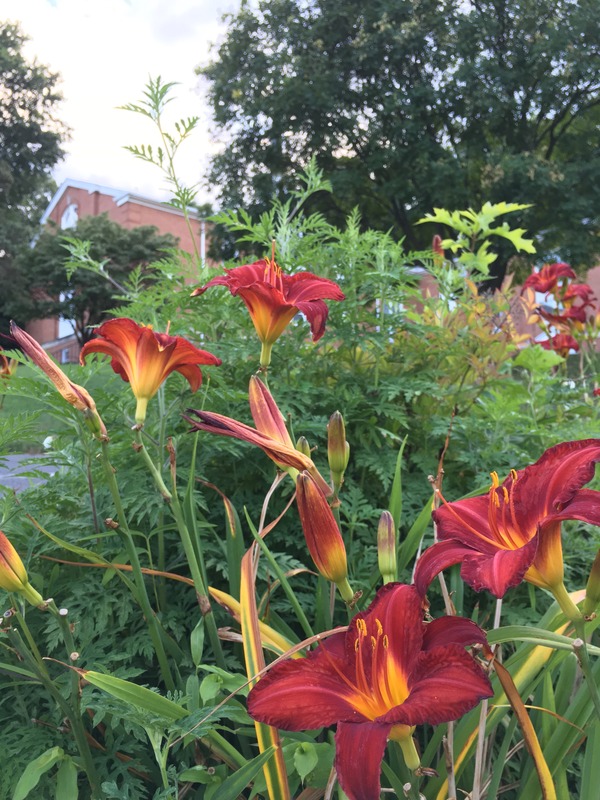 Special thanks to Nate, Rick, Orin, Alma, Nancy and everyone who helps keep the church grounds beautiful and fruitful! Especially as it's been so hot lately.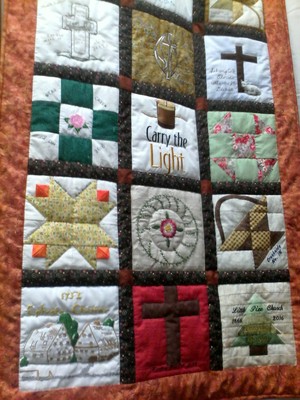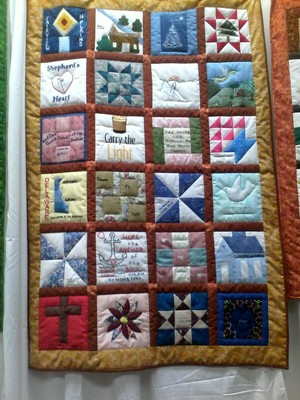 Carole Compton brought these pictures back from Annual Conference. Churches across the denomination create the squares which are then stitched together and auctioned off. Five quilts brought in $10,050 for world hunger relief. The annual quilt auction sponsored by the Association for the Arts in the CoB also raised $877 in a silent auction of Nigerian dresses and $2,000 given toward "Gifts of the Heart."