On that first Easter, Mary doesn't recognize Jesus until he calls her name. It's the way sheep recognize the shepherd and we are supposed to be reminded by her response that Jesus' sheep KNOW his voice. I wonder how often our names are called, but we don't recognize Jesus' voice through the many conflicting voices in the world. We are called to set aside time to worship and called to pause in silence and pray and called to give our treasure and our time. Each of these calls is a call from Jesus. To whom will we listen? Did you hear that call?
From Sunday's Call to Giving
---
•

Iglesia de Restauracion Pacto Eterno, 7-9 pm



•

Brethren Voices

, 11 am,

more details




•

Yoga

, 5:45 pm in fellowship hall




•

Handbell Choir Practice

, 7 pm in sanctuary



Thursday

.



•

Kaizen Karate, 6:30 pm in fellowship hall




•

Community Choir Practice

, 7:30 pm at AFUMC
Friday

.
•

Ecumenical Advocacy Days, thru 4/24, Crystal City,
more details
•

Fall Prevention Workship

, 1 pm, VA Hospital Center


• ACOB Young Adults Gathering
, 6:30 pm
Saturday

.
•
Yoga

, 9 am
•
Supper to Benefit Shepherd's Spring, 4 pm, Bush Creek COB
•
Iglesia de Restauracion Pacto Eterno, 5-9 pm
Sunday

.



•

Community Worship

, 10 am, Bethel UCC,

more details




•

Ecumenical Advocacy Days Vigil at Pentagon, 5:30 pm,

more details



Mon., 4/24 - Why Love Leviticus, Susquehanna Valley Ministry Center
Mon., 4/24 - Ecumenical Advocacy Days Vigil, Walk + Witness, 12 pm, Methodist Building DC,
more details
Mon., 4/24 - Meeting with Bethel UCC, 7 pm
Thurs., 4/27 - Breakfast Bunch, 8 am, Bentley's (6654 Arlington Blvd.)
Thurs., 4/27 - Centering Prayer, 4 pm in library
Fri., 4/28 - VA 211 Access to Services, 1 pm, VA Hospital Center
Sat., 4/29 - Church Workday, 9 am-2 pm,
more details
Sun., 4/30 - SS Class on Environmental Concerns, 9:45 am
Thurs., 5/4 - Rocklands' Benefit for Doorways, 5:30 pm
Fri., 5/6 - Birdwatcher Retreat, thru 5/7, Shepherd's Spring
Sat., 5/6 - Volunteer at AFAC, 8:30 am
Sun., 5/7 - Sunday School Class on Race, 9:45 am
Fri., 5/12 - Shepherd's Spring Quiet Day, 8:30 am
Sat., 5/13 - Gay Spirits Conference, thru 5/14, Alexandria
Mon., 5/15 - Affordable Housing: Federal Upheaval...Local Consequences, 8 am
Sat., 5/20 - Volunteer for AFAC at Taste of Arlington, thru 5/21
Fri., 5/16 - Young Adult Conference, thru 5/28, Camp Harmony
Community Worship | Sun., April 23, 10 am
This Sunday we'll meet at Bethel UCC for an ecumenical community worship service. Note the earlier worship time at 10 am. Contact
Pastor Nancy
with questions.


Church Workday | Sat., April 29, 9 am-2 pm
Projects are available for all ages and all levels of activity and you can choose whether to work inside or outside. Contribute to making our church look welcoming and enjoy fellowship while you work. We'll be working from 9am to 2 pm and pizza and drinks will be provided for lunch. Contact
Warren
with questions.
Big Bulletin Newsletter | New edition
The spring edition of the Big Bulletin Newsletter is out! Contact the
office
for a paper or e-copy. Special thanks to this edition's contributing writers!
2017 Directory | Paper copies in the Narthex
The latest directory is now available. Pick up a copy in the narthex or contact the
office
to have one mailed to you. An electronic version is available
online
using the case-sensitive password "NewLife". Contact the
office
with any updates to your information.
More Details | arlingtoncob.org/calendar
For more information on neighboring church, denomination and non-profit events listed, check the calendar at the above link or contact the office.
---
Volunteer + Give.
Volunteer in Our Community | VA Hospital Center + THRIVE
Virginia Hospital Center is seeking patient companions for the dying. Training is provided. Contact
Chaplain Bardsley
to learn more or express interest.

THRIVE is looking for at-home volunteers to take calls from social workers requesting emergency financial assistance for their clients two weekday afternoons per month. Learn more on the flyer in the narthex or contact
Nicole LaFragola
at 703-558-0035.
Volunteer in Our Denomination | Meat Canning
Contact the Mid-Atlantic District
office
if you are interested and available to help with meat canning on 4/20 at 6 am or 4/24 at 6 am.
---
Advocate.
Chibok Abduction
| 3 Year Anniversary
Good Friday, a day where we reflect on both suffering and hope, marked 3 years that 195 girls have been held captive. Countless Nigerians have suffered at the hands of Boko Haram. We wish for hope through humanitarian aid and more government attention for Nigeria in this dark time of an even broader humanitarian crisis. You can do something. The Brethren Office of Public Witness is circulating resources for fasting, praying and calling Congress. Find more information in their
action alert
.


Ecumenical Adv
ocacy Da
ys | April 21-24
At the end of this week, a record number of attendees will join together for the 15th annual national gathering of Christian advocates for justice, peace, and integrity of creation. This year's theme is Confronting Chaos, Forging Community to grapple with the local and global impact of racism, materialism and militarism. The weekend of training culminates in a Lobby Day on Monday, April 24. EAD has provided several ways to get involved beyond conference attendance. Plenary sessions will be streamed on Facebook, a conference app is available for both attendees and at-home advocates, anyone is welcome to the two vigils planned for Sunday and Monday, and at-home advocates are encouraged to follow tips in the social media tool-kit and to call Congress on Monday. Learn more and get involved at
advocacydays.org
.
---
Media.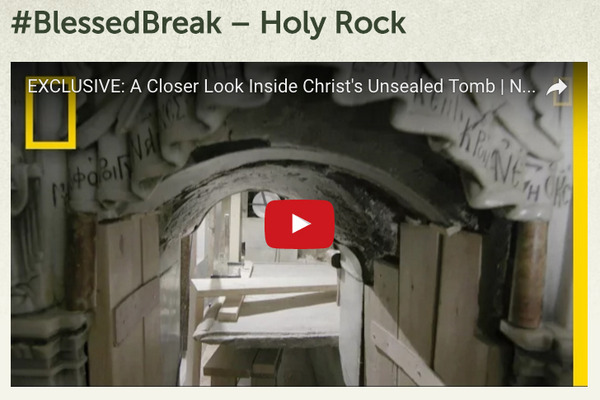 #BlessedBreak | New devotion!
http://bit.ly/BlessedBreak49
This video is part of a National Geographic series documenting recent restoration of Jerusalem's Church of the Holy Sepulcher which houses the tomb of Jesus. The renovation, completed just 3 weeks ago, was referenced in Sunday's Easter message.
Watch the video and read the accompanying scripture and prayer at the above link.
Brethren Voices | Take 10, Tell 10: The Rest of the Stories
Brethren Voices is the TV show featuring what Brethren do as a matter of our faith. The episode for April features a second edition about a group from Elizabethtown COB on their learning tour in Nigeria. The response of US Brethren has been amazing with nearly $5 million provided from 2014-2016. The effort has saved lives and averted starvation for many. Watch in Arlington on Comcast 69/Verizon-FIOS 38 on Sundays at 6:30 pm, Wednesdays at 11 am or
online
anytime.
Worship Audio |

Online
Listen again to this week's sermon, catch a sermon from a Sunday you were out or peruse the archives. Each Sunday message along with a selection of hymns and readings is posted online or subscribe on iTunes.

Dunker Punks Podcast | New episode! http://bit.ly/DPP_Episode29
The newest episode, "Peace Not Pieces" features Nate Hosler in the Office of Public Witness interviewing Yusef Dahar of the World Council of Churches in Jerusalem about the struggle over land in Israel/Palestine. Listen by clicking the above link or subscribing on iTunes.

---
Pray. Call. Write.
Family + Friends of Julia Golloday

, Julia, a former Deacon, passed at age 99

James Thomas, coworker of Lisa

, recovering from a kidney transplant

Family + friends of Michael Sharp

, a Mennonite Central Committee and UN worker with refugees in the Congo, recently killed

Rich Massabny's friends + family

, Boulevard Manor neighbor, mourning his passing

Pastor Mike

, in rehab after organ transplant

Karolina

, undergoing renewed health treatments

Jummai Paul

, kidnapped Chibok girl and 195 others

Church of the Brethren in Nigeria (EYN)
Keep in your ongoing prayers:
Minnie Simmons, Dorothy Fravel (Dee's mom), Theresa McCary, Erin Julca, Steve Shuss, Elizabeth Smucker, Carolyn Studds

Note:
Prayer concerns will ordinarily be listed for four weeks. If you would like one to be kept on or added back in, please let the office know. Names in bold are new to the list or updated this week.
---
Worship Pix.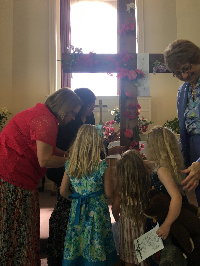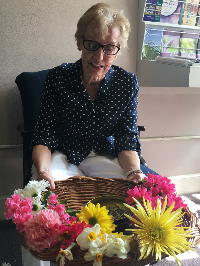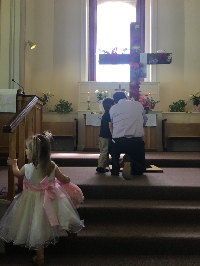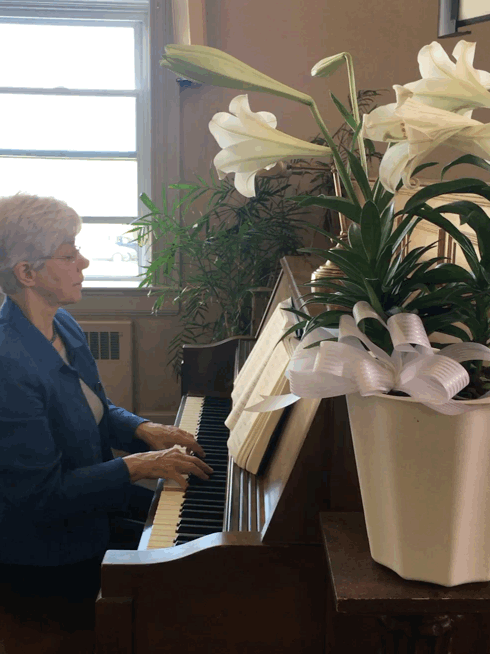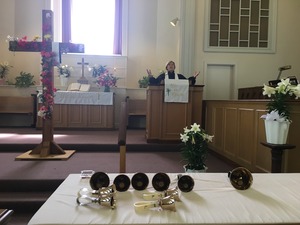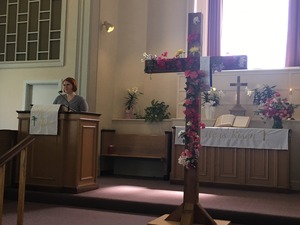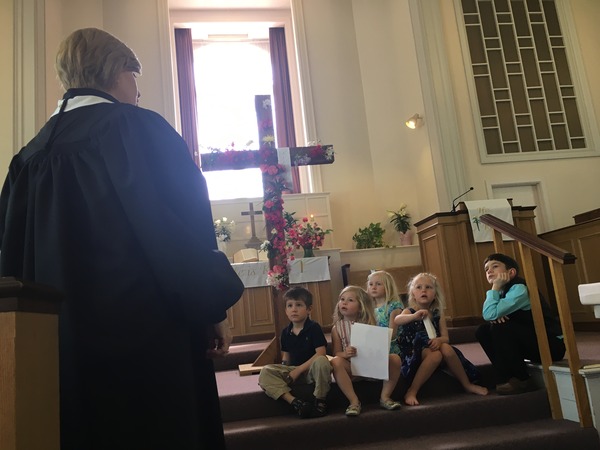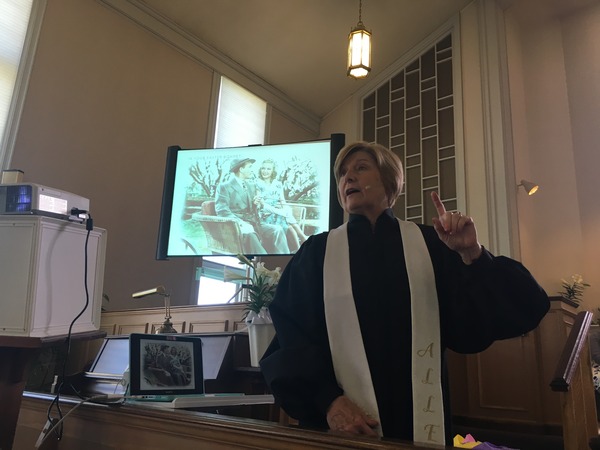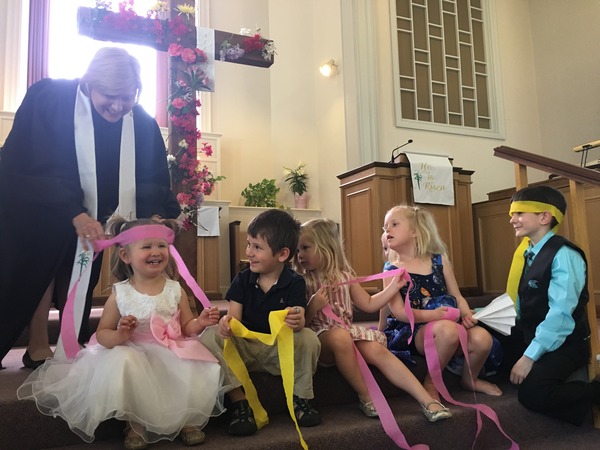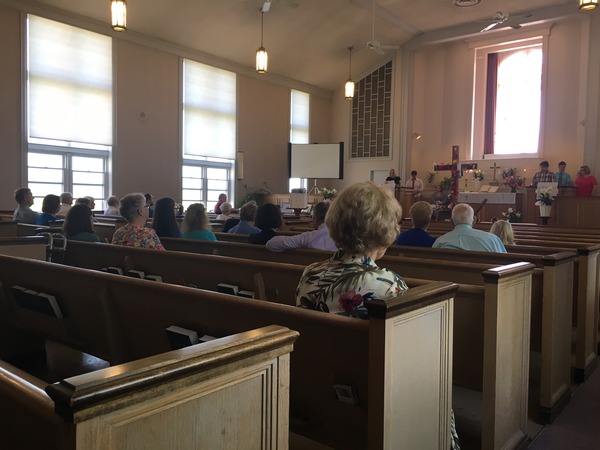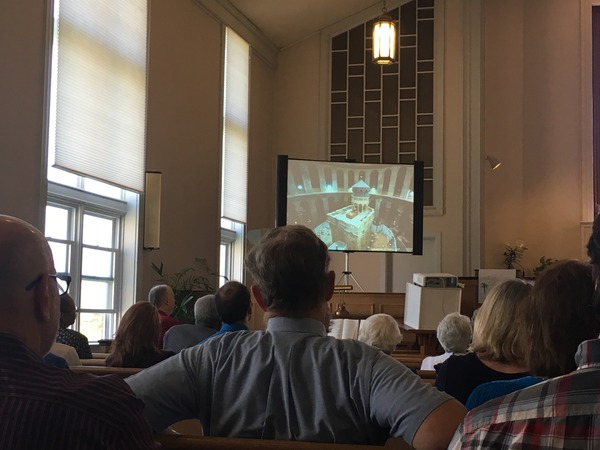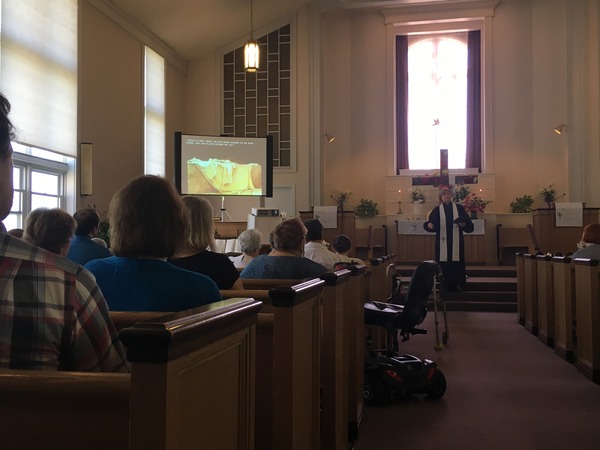 ---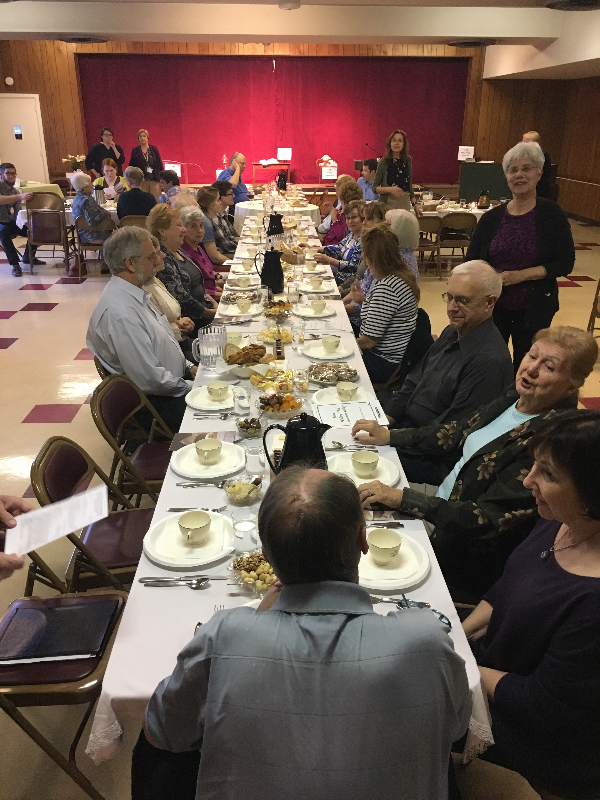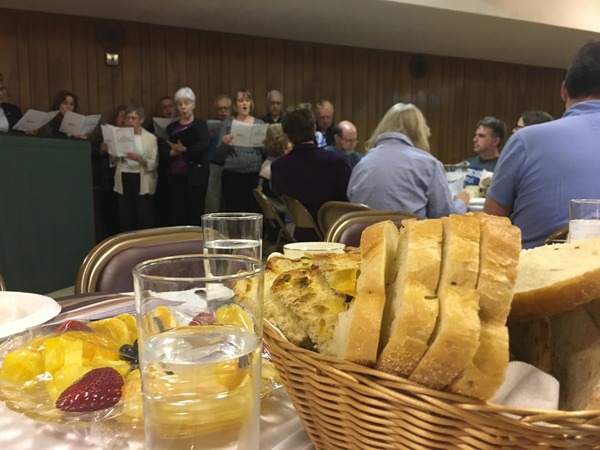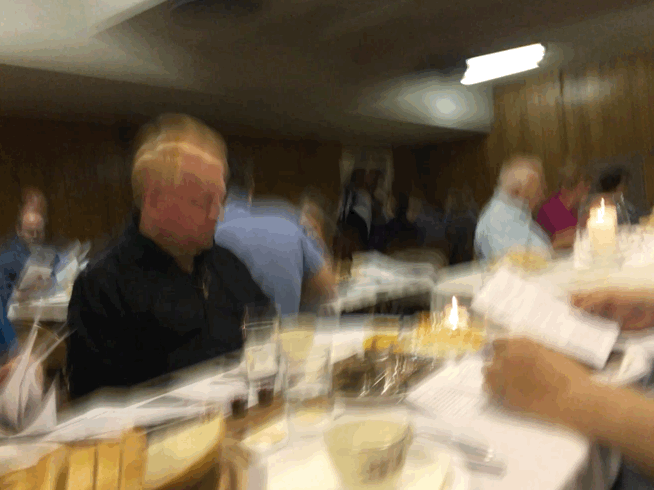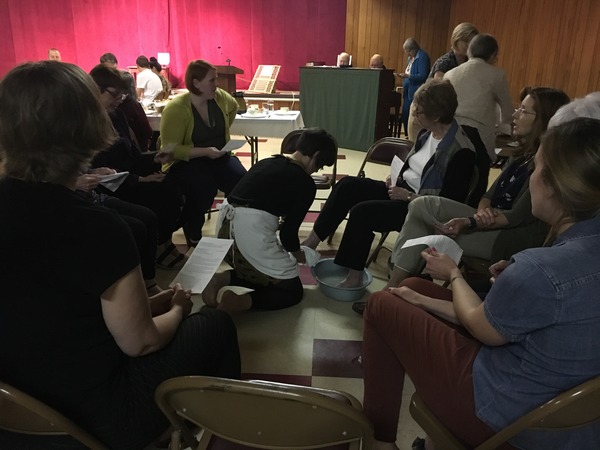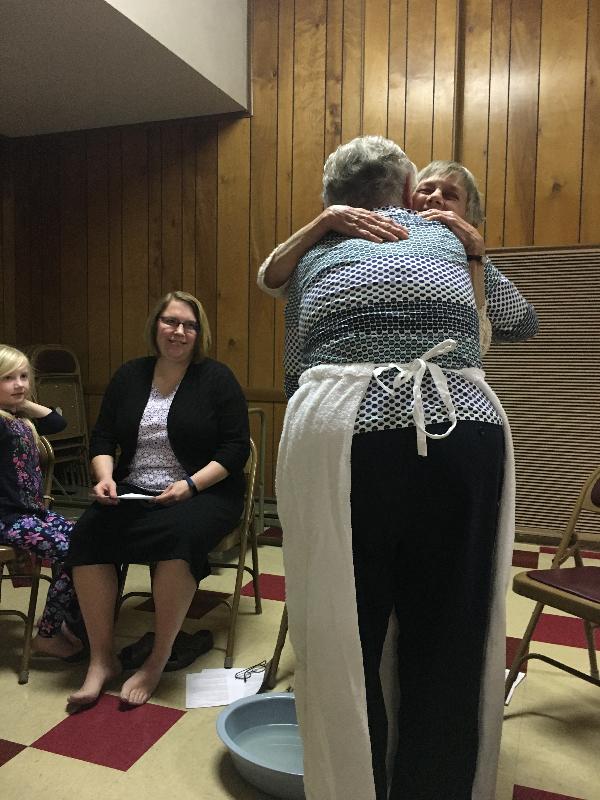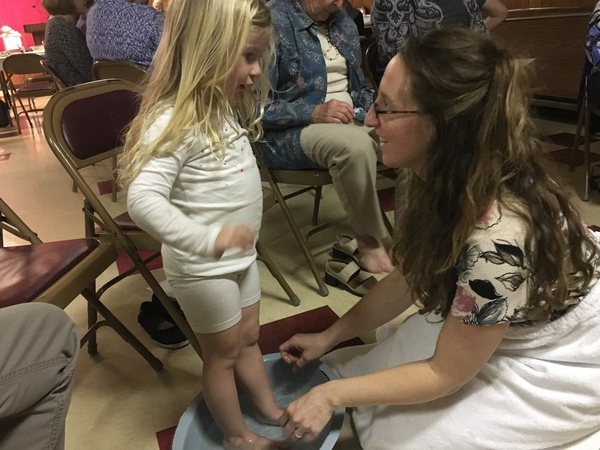 ---
Egg Hunt.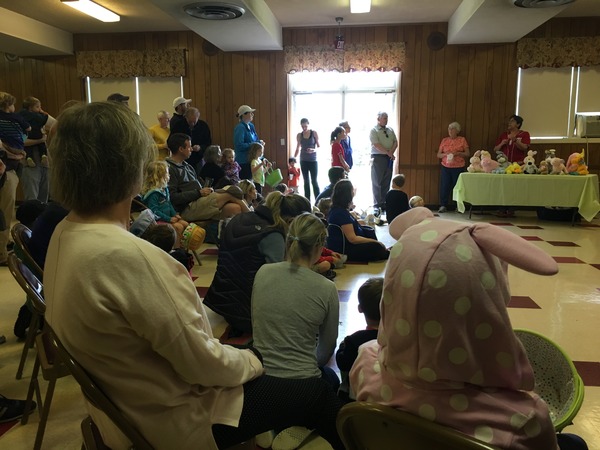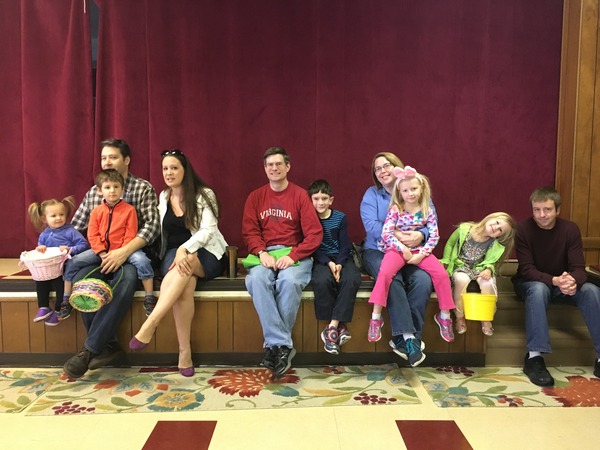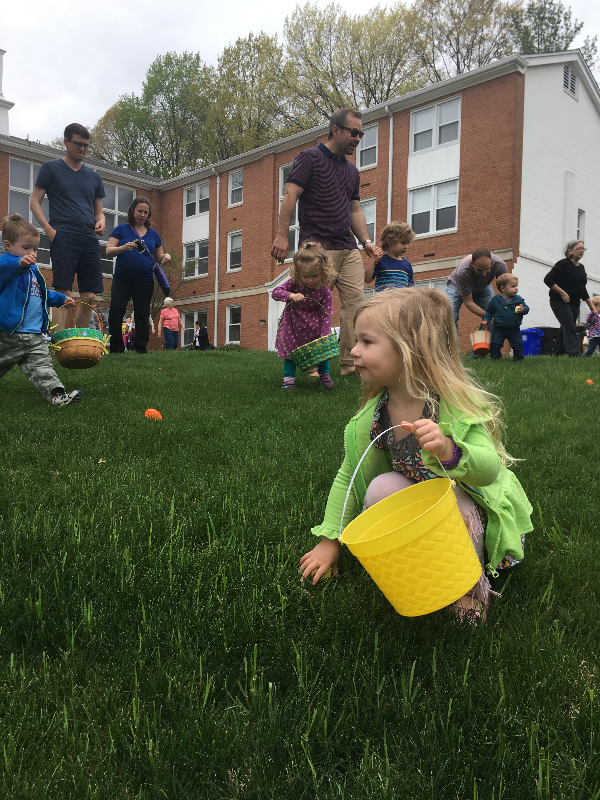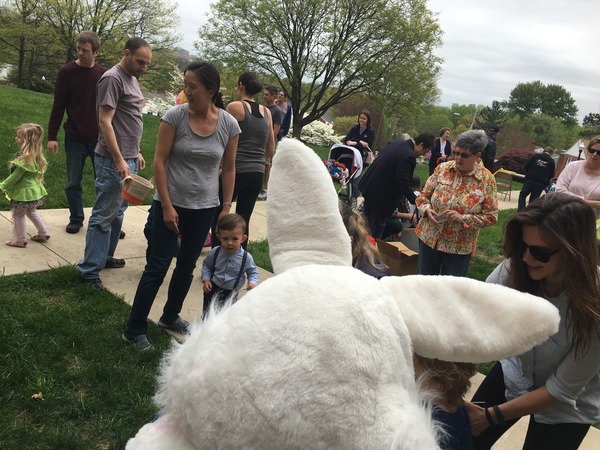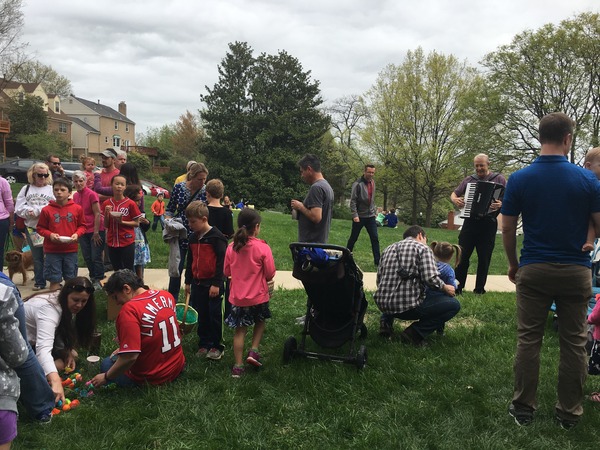 ---
Easter Breakfast.