"They help you hold on and that you can keep making it."
"They were there and they helped me and they kept me going."
"They talk to you, encourage you, nurture you."
"They were the healthiest environment that I was ever in."
"They were like family."
"They opened up this whole new world I hadn't experienced before."
"I can't say enough about them. I just can't believe there's people like that in the world."

Survivors of domestic violence reflect on the help they received from our local Doorways shelter.
---
•

Executive Committee Meeting, 7:30 pm, library


•

Boulevard Manor Meeting, 7:30 pm, downstairs



Tuesday

.
•

Iglesia de Restauracion Pacto Eterno, 7-9 pm



•

Brethren Voices

, 11 am,

more details




•

Yoga

, 5:45 pm,

more details




•

Handbell Choir Practice

, 7 pm



Thursday

.

•

Breakfast Bunch

, 8 am, Silver Diner (3200 Wilson)
•

Kaizen Karate, 6:45 - 7:45 pm


• Community Vocal Choir Practice

, 7:30 pm at AFUMC
Saturday

.
• Church Work Day, 9 am - noon,
more details
•
Iglesia de Restauracion Pacto Eterno, 5-9 pm
Sunday

.



•

Rotating Sunday School Class: Messenger, 9:45 am


•

Brief Deacon Meeting, noon,

more details




•

AFUMC Fall Festival, 11:30 am - 3 pm




•

The Politics of Anabaptism, 4 pm in Harrisonburg




•

Brethren Voices, 6:30 pm,

more details



Wed., Nov. 2 - Young Adult DC Gathering, 6:30 pm
Fri., Nov. 4 - Soup + Pie Setup, 7 - 10 pm
Sat., Nov. 5 -

Soup + Pie Bazaar

, 9 am - 2 pm,
more details
Sat., Nov. 5 - Shepherd's Spring 25th Anniversary Campfire, 4 pm
Sun., Nov. 6 -

Bell Choir Playing for Worship


Wed., Nov. 9 -

ACoB Young Adults Gathering

, 6:30 pm *New Date
Sun., Nov. 13 - Big Bulletin Distributed
Wed., Nov. 16 - 19 - Oakton CoB Craft Fair
Sun., Nov. 20 - Church Council Meeting + Lunch
Mon., Dec. 5 -
Board Meeting, 7:30 pm
Deacon Meeting | This Sun., Oct. 30, noon
Brief meeting downstairs after church to affirm new chair.
Beginner Yoga |
Wednesdays, 5:45 pm
Join others in the fellowship hall for simple, gentle beginner yoga, especially designed to include folks 55+. $9.00 per session. Contact Pastor Nancy with questions.

Summer Worship Survey | Take 2-3 Minutes to Share Your Thoughts
Follow this link to answer 10 questions about your experience of our summer ecumenical community worship: http://bit.ly/SummerWorshipSurvey

More Details | arlingtoncob.org/calendar
Many of our neighboring churches and organizations are hosting events throughout the fall. See an upcoming event you're interested in or want to learn more about? Follow the above link to get the details from our online calendar.
---
Volunteer + Donate.
Fall Church Work Day | This Sat., Oct. 29, 9 am - noon
Pitch in to spruce up our building and make our space inviting for Soup + Pie guests next week. Projects are available for all ages and abilities. Contact
Stephen
with questions.
Craft for Nigerian Montessori Preschool | Contact Marcia to Help
Carol Smith of South Bend, IN will head to Nigeria in November to set up a preschool at a refugee camp.
Marcia
is currently coordinating another craft project to equip the preschool with emotional dolls and matching games.
Soup + Pie Bazaar | Sat., Nov. 5, 9 am – 2pm
Pitch in for our annual fall festival and fundraiser. Contact
Robyn
to sign up to make soup and pie or to volunteer in the kitchen on the day-of. There is no sign-up for baked goods, but please plan to make bread, cupcakes, muffins, cookies and candies. Please wrap and price the goodies. See
Sue
if you have craft items.

Click
here
or for a pdf flyer to print or email and feel free to contact the office for printed copies to post and distribute.
Setting Up for Soup + Pie | Fri., Nov. 4, 7-10 pm
Help set up for Soup and Pie the night before and plan to bring soup, pie, and baked goods at this time too. Otherwise, please have your food donations at church before 9 am on Saturday. Contact
Alma
with questions.
Heifer Raffle | Sat., Nov. 5, 2 pm
New this year to Soup + Pie is a Goat Basket Raffle for Heifer International! Each chance to win is $5 and the basket is valued at approximately $160. See
Lisa
for tickets available now until drawing on 11/5 at 2 pm.
ViSTA Volunteer Seeking Affordable Housing | Jan, 2016
The office was recently contacted by Margarita, currently serving at a non-profit for youth through AmeriCorps in Miami, Fl. She will finish her year of service in December and is looking for affordable housing in NoVa to find a federal job. She is offering child and/or senior car for 20 hours per week in exchange for a place to live. Contact the
office
to be connected.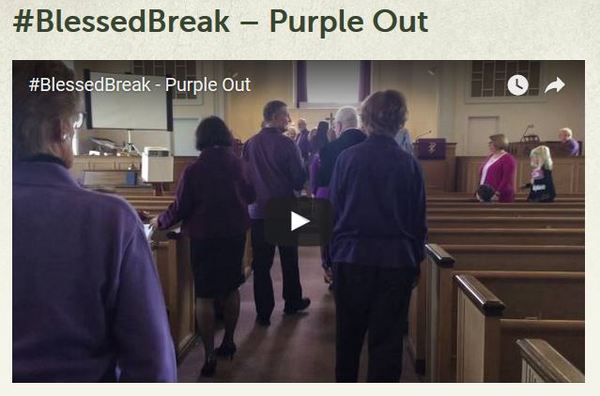 #BlessedBreak | New devotion!
http://bit.ly/BlessedBreak30
Our latest video devotional is inspired by yesterday's Purple Out to raise awareness, support survivors and take a stand against domestic violence. Click through to see the video, scripture and prayer.
Brethren Voices | Caring for the Earth
Brethren Voices in Arlington features an interview with David Radcliffe on caring for our earth
throughout October.
Tune in Sundays at 6:30 pm or Wednesdays at 11 am on Comcast, 69; Verizon-FIOS, 38 or on
Arlington Independent Media
's
live stream

.
Contact
James
with any questions.
Dunker Punks Podcast | http://bit.ly/DPP_Episode16
The latest episode, "It's Not Easy Being Peace-y" features Jenna Walmer from On Earth Peace talking about the recent International Day of Prayer for Peace. Listen by clicking the above link or subscribing on
iTunes
.
Worship Audio |

Online
Listen again to this week's sermon, catch a sermon from a Sunday you were out or peruse the archives. Each Sunday message along with a
selection of hymns and readings is posted
online
or subscribe on
iTunes
.
---
Pray. Call. Write. Give.
Harry

, Suzanne's dad, hospitalized overnight
Carole Compton + Family

, following the death of her sister Darlene's son, Shawn Pollard from a stroke. Shawn and his wife Amy of Berlin, Md were married at ACoB and have two children, Shawn and Savannah.



Church Leadership

, meeting next week re: same-sex weddings query,

more details




All affected by Hurricane Matthew

, consider donating to Brethen Disaster Ministries respone in Haiti

here

.
Eliana

, Ralph's friend, undergoing surgery for a hip replacement
Denise

, Lisa's co-worker, Denise's father is preparing for hospice care
Marina, Mark + Wes

, adjusting to ongoing health treatments for Marina
Ed Varner and family

, following death of Vivian
Pastor Mike

, continuing to deal with liver failure and awaiting transplant
Charles Tuck

, Hazel's son, diagnosed with cancer throughout his body
Minnie

, palliative care at Goodwin House, Rm 248, visitors welcome
Walkin-Haske Family

, ongoing health treatments
Jummai Paul

, kidnapped Chibok girl and others
Church of the Brethren in Nigeria (EYN)
---
Worship Notes.
It may sound funny at first, but Jesus tells us to be like a cheating tax collector. He was talking to people convinced of their righteousness and looking down on others with judgement. How do we hear the story? Let us humbly consider the source of many of our privileges and be more consistently aware of the toll others bear for our comforts. We all rely on God's mercy, especially those of us with advantages that delude us into believing we are self-reliant. When we open ourselves before God, we can all be certain of God's grace.
Listen to yesterday's sermon here
:
http://bit.ly/ACoBMessage23Oct16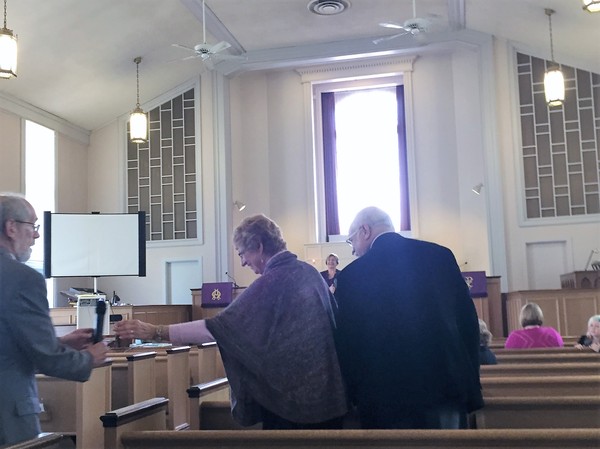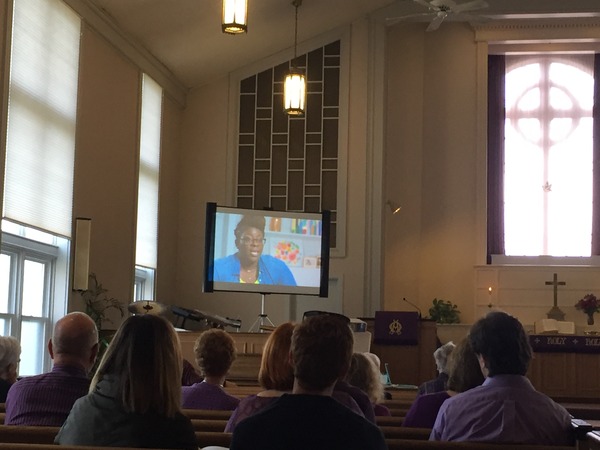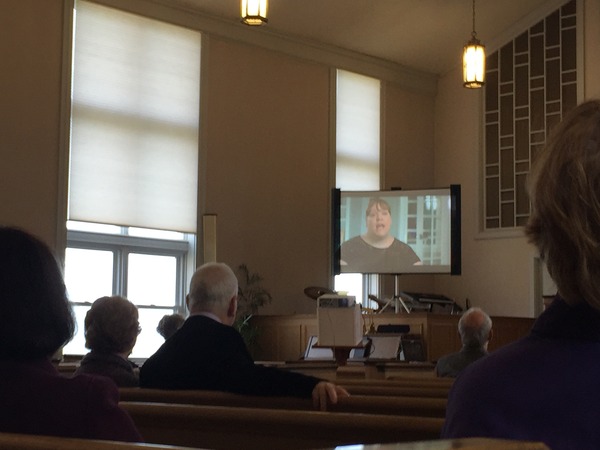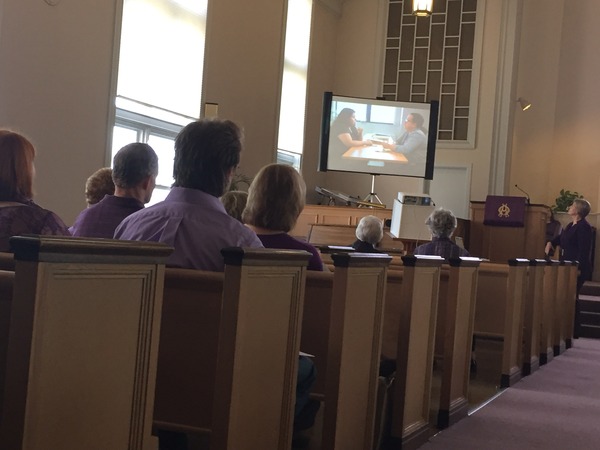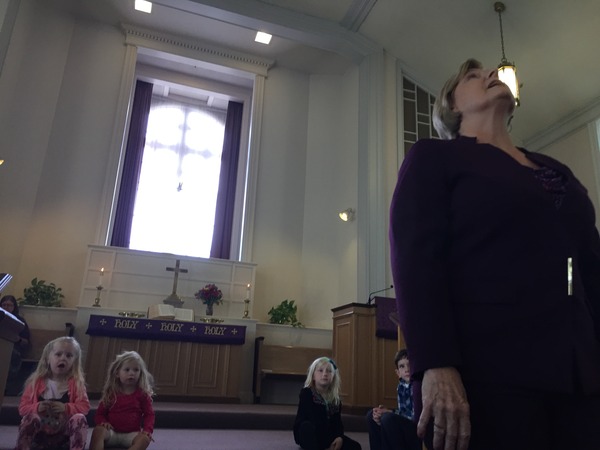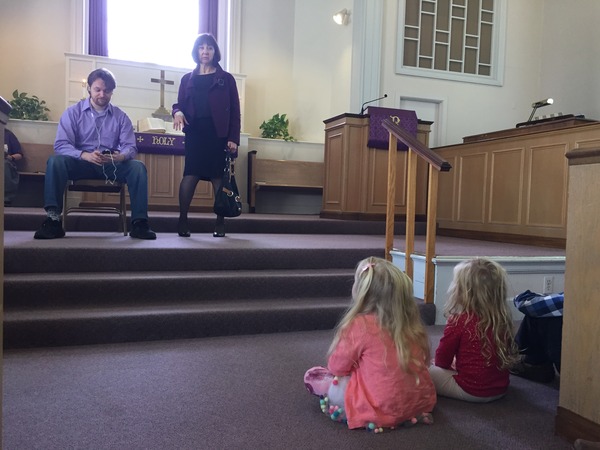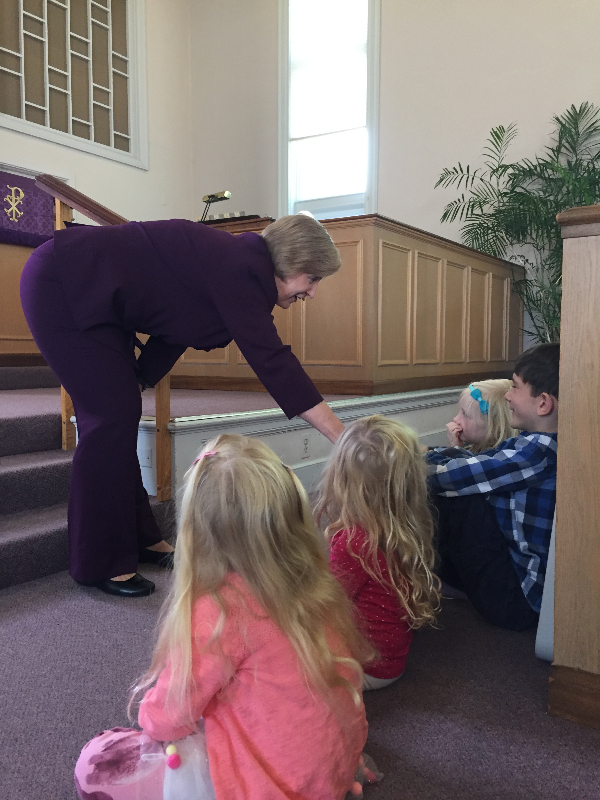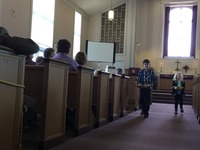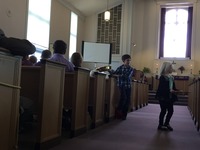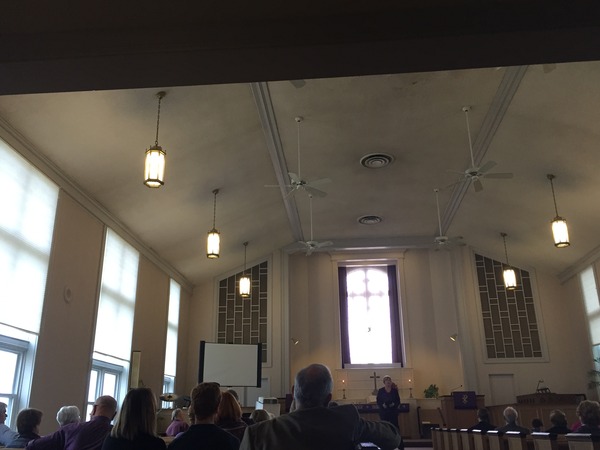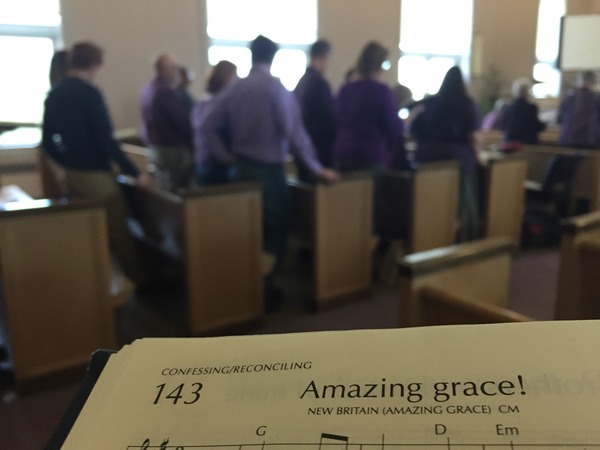 H
---
More Pictures.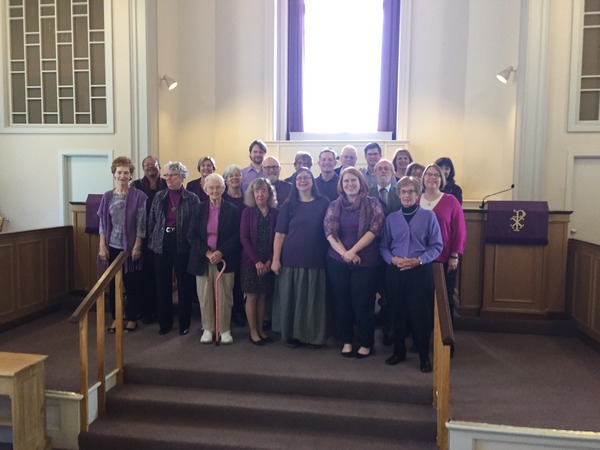 On Sunday we participated in
Doorways
' Purple Out,
an effort of Domestic Violence Awareness Month in October.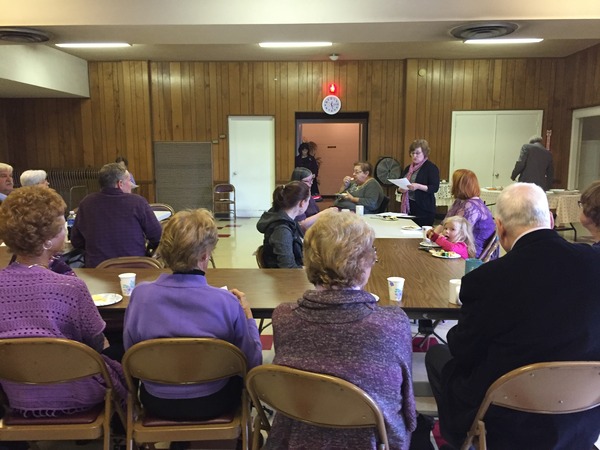 We also met after worship for a fun greeter training complete with skits!
Check them out by clicking on the following picture links: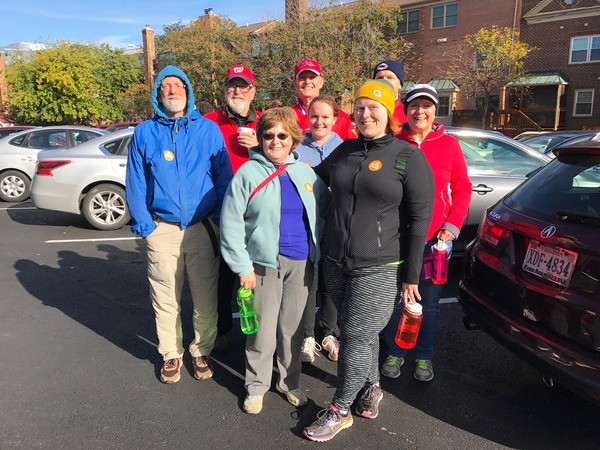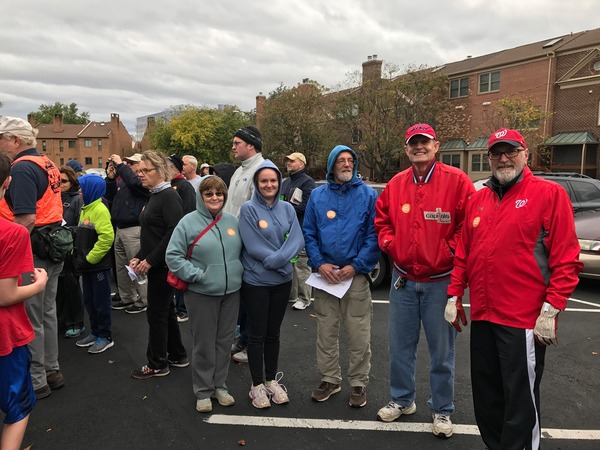 A big thanks also to Saturday's walkers in the annual CROP Walk
sponsored by Church World Service to raise money for hunger relief both locally and abroad.

If you haven't yet, you can still donate at:
http://bit.ly/2016CROPWalkACOB
.