"He has a battalion named after him. He wears a Congressional Medal of Honor... What convinced Jim to join the Brethren? In answer, he reached for a copy of Messenger and turned to the "Opinions" section. With a colored pencil, he underlined the editorial note that appears each month: 'To hold in respect and fellowship those in the church with whom we agree or disagree is a characteristic of the Church of the Brethren...' It struck me that Jim had put his finger on one of the best things Brethren have to offer. We've sometimes called it our principle of 'no force in religion.' It's our belief that every person has gifts to offer for the good of the whole body."

Ken Gibble in a 1984 Messenger article, quoted in worship yesterday
---
•

EMU STAR Training, thru 3/24



Tuesday

.
•

Iglesia de Restauracion Pacto Eterno, 7-9 pm



•

Bible Study

, 10 am in library,

more details




•

Brethren Voices

, 11 am,

more details




•

Yoga

, 5:45 pm in fellowship hall




•

DC Young Adult Meetup

, 6:30 pm,

more details




•

Handbell Choir Practice, 7 pm

Thursday

.

•

Breakfast Bunch

, 8 am at Metro 29 Diner (4711 Lee Hwy)
•

Funeral Reception, 1 pm in the fellowship hall,

more details


•

Centering Prayer cancelled

,

more details


•

Kaizen Karate, 6:30 pm, maybe upstairs this week


•

Arlington County 10 Year Plan to End Homelessnes, 7 pm, Marymount U




•

Community Choir Practice

, 7:30 pm at AFUMC
Friday

.

• All Church Retreat, thru Sat., 3/25 at Shepherd's Spring,

more details



Saturday

.
•
Iglesia de Restauracion Pacto Eterno, 5-9 pm
Sunday

.



•

SS Class on Environmental Concerns

, 9:45 am,

more details


•

"Slavery by Another Name" Film Screening, 4:30 pm, Emmaus UCC




•

MAD Lenten Service Series, 6:45 pm, Union Bridge COB




•

Brethren Voices

, 6:30 pm,

more details



Thurs., 3/30 - Listening Session with David Steele, 7 pm,
more details
Fri., 3/31 - Roundtable, Bridgewater College thru 4/2
Sun., 4/2 - Sunday School Class on Race, 9:45 am
Sun., 4/2 - One Great Hour of Sharing, during Worship,
more details
Mon., 4/3 - Board Meeting, 7:30 pm
Sat., 4/18 - Potomac Watershed Cleanup, 10 am,
more details
Sat., 4/8 - Dinner for MAD Disaster Relief, Bush Creek COB
Sun., 4/9 - Big Sunday School, 9:45 am
Sun., 4/9 - Big Bulletin Distributed


Mon., 4/10 - Transforming Conflict Seminar, thru 4/15, Dundalk, MD


Thurs., 4/13 - Love Feast, 7 pm,
more details
Fri., 4/14 - ACOB Young Adult Gathering, 6:30 pm
Fri., 4/14 - Contemplative Music, 7 pm, Hagerstown COB
Sat., 4/15 - Egg Hunt, 10:30 am,
more details
Sun., 4/16 -

Easter Breakfast

, 9 am,
more details
Sun., 4/16 - Easter Worship, 11 am
Sun., 4/23 - Community Worship, 10 am *Note earlier time
Mon., 4/24 - Why Love Leviticus, Susquehanna Valley Ministry Center
Sat., 4/29 - Church Workday, 9 am-2 pm
Sat., 5/6 - Volunteer at AFAC, 8:30 am
Sat., 5/20 - Volunteer for AFAC at Taste of Arlington, thru 5/21
Bible Study | Wed., 3/22, 10 am
Drop in for this mid-week Bible Study of the Sermon on the Mount. Contact
Pastor Nancy
with questions.
Centering Prayer | Cancelled this Week
This week's centering prayer time has been cancelled. A funeral reception for Rich Massabny, a neighbor in Boulevard Manor, will be held in the fellowship hall at that time. Contact
Pastor Nancy
with questions.
All Church Retreat | Friday + Saturday, March 24-25
Contact
Everett
as soon as possible if you'd like to attend but haven't signed up. Everyone is welcome to our annual all church retreat at Shepherd's Spring. This year it will be led by Rev. Ken Kline Smeltzer on "Finding Common Ground: Facing the Other and Healing the Divide." A group of folks carpool up and have dinner on the way, Friday night. Those staying the night enjoy a worship service beginning at 7:30 pm and fellowship before bed. Another group carpools up early in the morning to meet before breakfast and a morning and afternoon full of retreat activities.
2017 Directory | Paper copies in the Narthex
The latest directory is now available. Pick up a copy in the narthex or contact the
office
to have one mailed to you. An electronic version is available
online
using the case-sensitive password "NewLife". Contact the
office
with any updates to your information.
SS Class on Environmental Concerns | Sun., March 26, 9:45 am
The upstairs class is reading This Changes Everything: Capitalism v. Climate Change by Naomi Klein, a book suggested by David Radcliff for her "challenging indictment of our inactivity accompanied by a clarion call to recognize the urgency of the moment and get busy reversing course." She finds hope "in people and groups who reject the culture of consumption and practice interdependence." All are welcomed to this weekly class that skips the first Sunday to join the downstairs book group and every other second Sunday to join Big Sunday. Contact
Nancy W.
with questions.
General Secretary Listening Tour | Thurs., 3/30, 7 pm at Oakton COB
David Steele, our General Secretary of the Church of the Brethren is holding listening sessions around the denomination. This is a way for David to listen closely to people within the church. It's also a good opportunity to meet our General Secretary. For questions or to RSVP, call 847-429-4363 or
email
.
Big Bulletin Newsletter | Send Articles by Thursday, 4/6
The next edition of ACOB's Big Bulletin newsletter will be distributed on Big Sunday, 4/9. Email or drop articles by the
office
.
Stream Cleanup | Sat., 4/8, 10 am - Noon
Get outdoors and help Arlington restore its natural spaces! Wear waterproof boots. Bags and gloves will be provided. Meet at the intersection of Glebe and Chain Bridge or connect with a carpool. Contact
Nate
to connect and with any questions. Commit to volunteer by signing up on the sheet in the narthex.
Love Feast | Thurs., April 13, 7 pm *Note Corrected Time
The Love Feast tradition includes a time of personal examination, feet washing in circles (a hand washing option is available), a simple meal with a variety of foods from 19th century Brethren and 1st century Palestinian tradition (including vegetarian and gluten free options), and Communion. The Washington City CoB and other guests will join us. Everyone is welcome and free to participate as they feel comfortable. Contact
Pastor Nancy
with questions.
Egg Hunt | Sat., April 15, 10:30 am
Our annual egg hunt with the Boulevard Manor neighborhood is for children aged 11 and younger. Everybunny will enjoy snacks, games, raffle prizes and a visit from the Easter bunny. Don't forget your Easter basket to gather eggs and tote home a favor of each child's choosing. Contact the
office
with any questions.
Easter Breakfast| Sun., April 16, 9 am
The Stewards of Life Ministry Team invite you to breakfast Easter morning before worship. Please RSVP on the signup in the narthex with the number in your family planning to attend so they know how much to cook. Thanks to a generous donor, all of this year's breakfast donations will support
Brethren Voices
, the tv show about what Brethren do as a matter of faith. Contact
Donna
with questions about attending and
Alma
if you've volunteered to help.
More Details | arlingtoncob.org/calendar
For more information on neighboring church, denomination and non-profit events listed, check the calendar at the above link or contact the office.
---
Volunteer + Give.
Messenger | Subscription Reimbursements Welcome
You are invited to contribute towards the cost of your Messenger magazine subscription, if able, by designating a $14.50 donation in the offering.
Easter Flowers | Signup in the Narthex
Please sign up to bring flowers to decorate the church on Easter Sunday. Indicate the type of flowers: arrangement, plant or loose flowers for pinning on the cross and if your donation is honoring someone. Contact
Pastor Nancy
with questions.
One Great Hour of Sharing | Sun., 4/2 during Worship
The Service Ministry Team invites you to participate in One Great Hour of Sharing the Sunday worship after next. This special relief offering dates back to WWII and is an annual ecumenical effort to make the love of Christ real for individuals and communities around the world who suffer the effects of disaster, conflict and severe economic hardship. The Church of the Brethren designates our offerings to Global Mission and Service, Congregational Life Ministries, Brethren Disaster Ministries, Brethren Volunteer Service, Workcamps and the Global Food Initiative. Contact
Marcia
with any questions.
---
Media.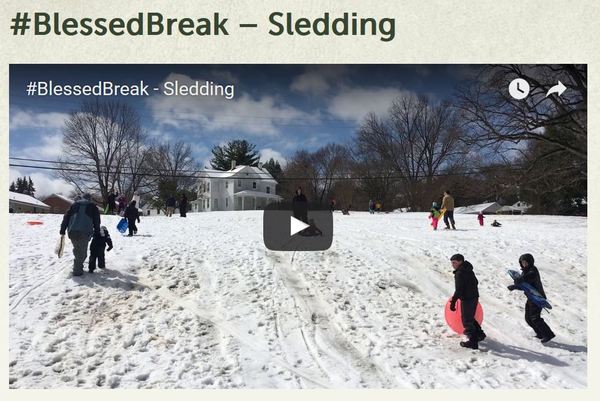 Taken at Reevesland during last week's snow, the latest devotional video is paired with a prayer by Jeff Carter. Watch the video and read the accompanying scripture and prayer at the above link.
Brethren Voices | Experiencing Nigeria
Brethren Voices is the TV show featuring what Brethren do as a matter of our faith. The episode for March features a group from Elizabethtown COB on their learning tour in Nigeria. Despite horrific devestation by Boko Haram, the Etown Brethen experienced wonderful hospitality by the Nigerian people who continue to witness their faith and joy during very turbulant times. Watch in Arlington on Comcast 69/Verizon-FIOS 38 on Sundays at 6:30 pm, Wednesdays at 11 am or
online
anytime.
Worship Audio |

Online
Listen again to this week's sermon, catch a sermon from a Sunday you were out or peruse the archives. Each Sunday message along with a selection of hymns and readings is posted online or subscribe on iTunes.

Dunker Punks Podcast | http://bit.ly/DPP_Episode26
A new episode features Dylan Dell-Haro continuing his exploration of gender with a fun and fascinating conversation with the Bible. Listen by clicking the above link or subscribing on iTunes.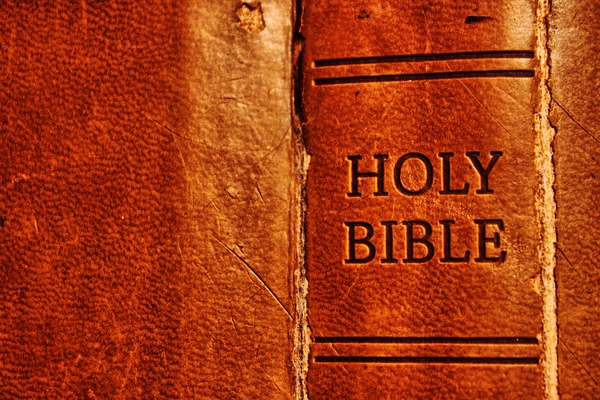 ---
Pray. Call. Write.
Pastor Mike

, in ICU with complications from a kidney and liver transplant

Charlotte

, Amy's mom, undergoing surgery today for brian aneurysm

Stephen's Father

, recovering from kidney treatments

Karolina

, undergoing renewed health treatments

Walt

, Vicki's Father-in-Law, just entered hopsice

Paul White

, friend of Carole Compton, recovering from brain surgery

Roger Cubbage

, home from the hospital after treatment for sodium deficiency

Ralph

, home recovering from surgery for a broken hip

Orin

, seeking housing and employment in Arlington

Jummai Paul

, kidnapped Chibok girl and 195 others

Church of the Brethren in Nigeria (EYN)
Keep in your ongoing prayers:
Minnie Simmons, Dorothy Fravel (Dee's mom), Theresa McCary, Erin Julca, Steve Shuss, Elizabeth Smucker, Carolyn Studds

Note:
Prayer concerns will ordinarily be listed for four weeks. If you would like one to be kept on or added back in, please let the office know. Names in bold are new to the list or updated this week.
---
Worship Pix.
In John 4, Jesus and a woman from another culture find relationship at a well. Then that woman spreads the word.
Where might our vulnerability, expressed to someone who doesn't expect to hear from us, lead to conversation and relationship, and will it be in such a relationship that we find the living water to quench our thirst? God thirsts for people, seeking all God's lost children. Then to whom should we propose relationship with us and through us with Christ so that they might find the living water to quench their thirst? We are all thirsty for a fulfilling life. Here in this place planted for us, we find the God that pursues us until we are found.
May we be open to relationships and always eager to tell others about the life-giving relationship Jesus offers.
Listen to yesterday's sermon here:
http://bit.ly/ACoBMessage19March17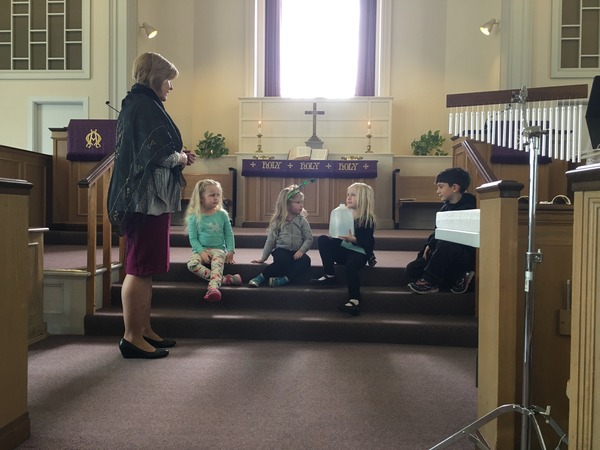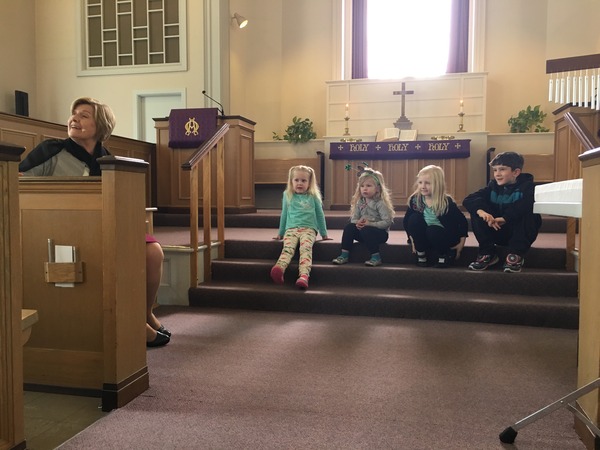 Come and see Jesus and he will tell you how much God loves you!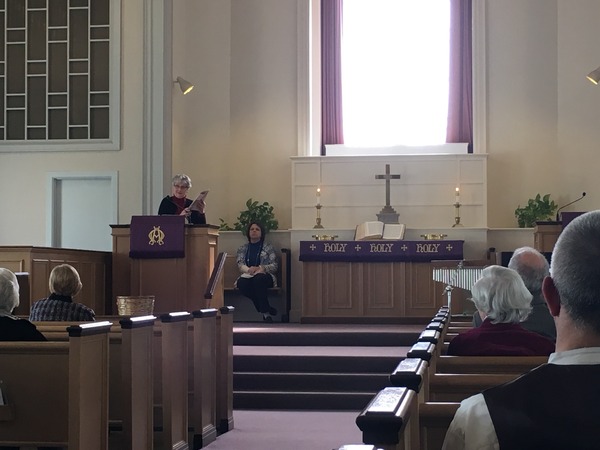 In a moment for Messenger, Jo Ann shared the inspiring excerpt at the top of the e-bulletin and encouraged our support for our denomination's magazine. Referring to the many voices featured, Jo Ann assured us we may find articles that will comfort our souls and others that may light a fire!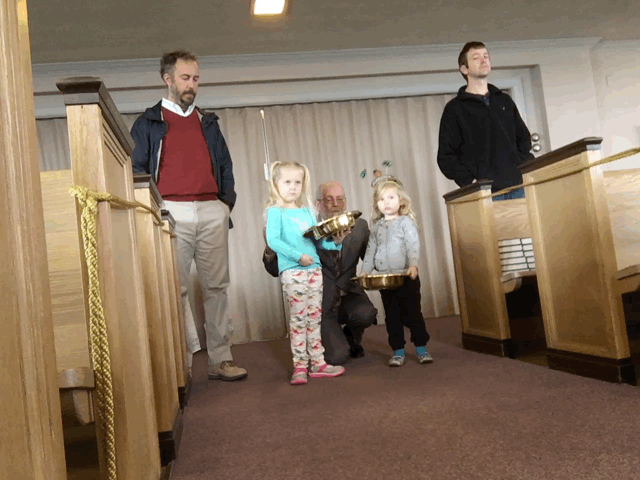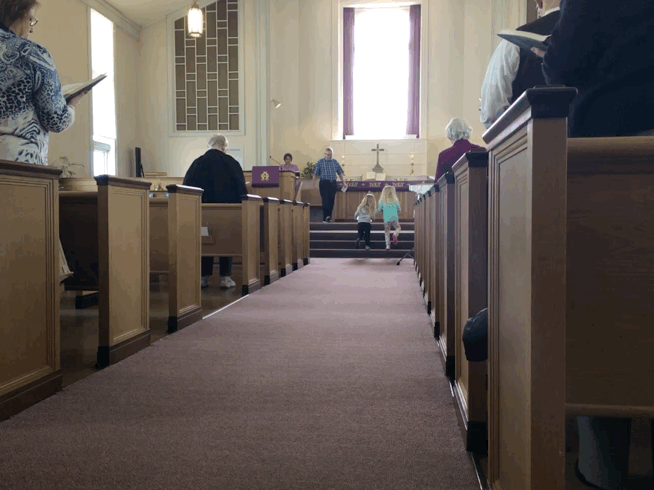 See how the fields are ripe for harvest! Already, God is gathering fruit for eternal life. With rejoicing, let us offer our lives to the Lord.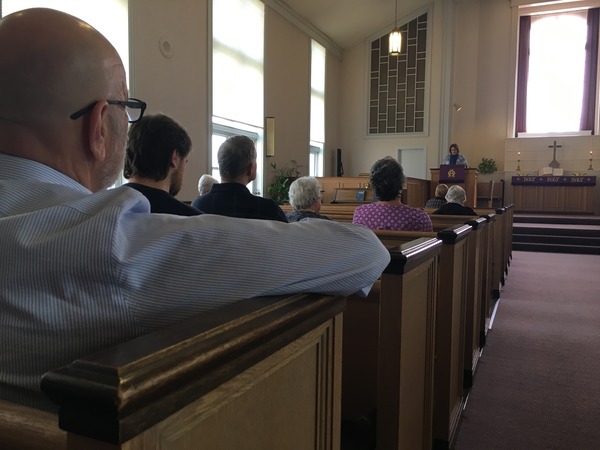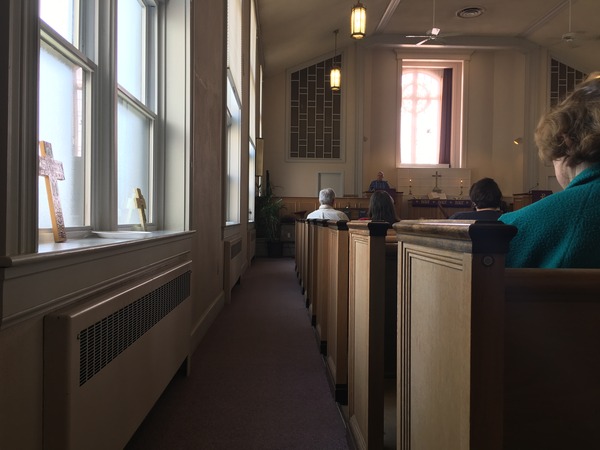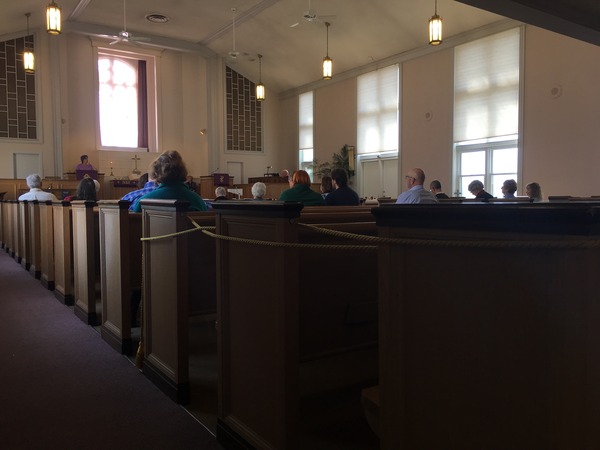 Click
here
to read John 4 in the CEB translation.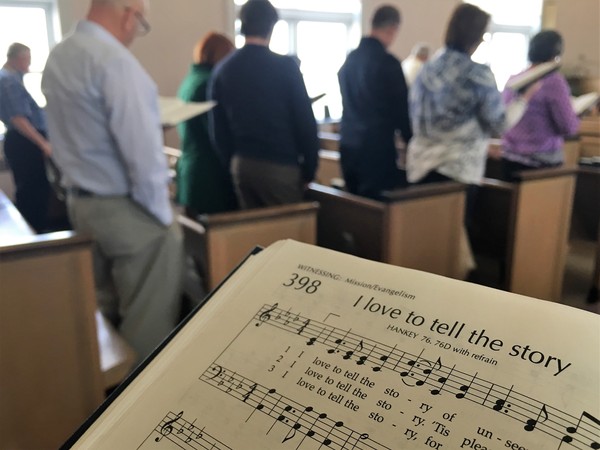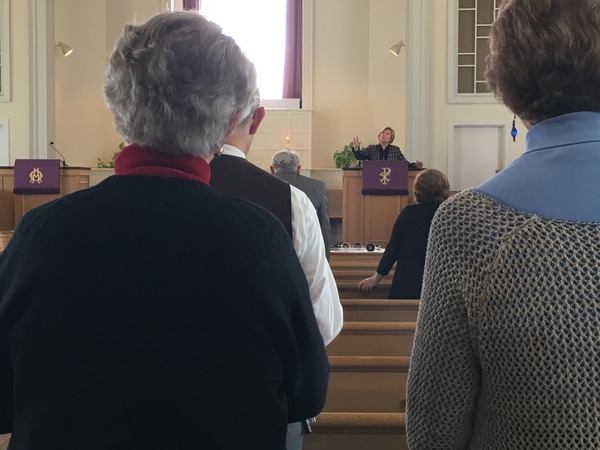 May God use us to quench the thirst of those who long to be included, to be loved and those who sit on the edge because they have nowhere else to sit. May they sit here and may we be found with them this week.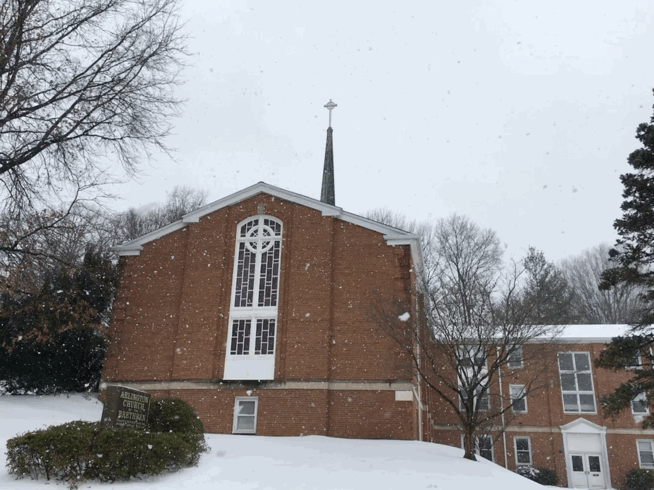 Our church building in Tuesday's snow. A big thanks to Nate, Rick, Warren and Fitz for coming out to clean the parking lot for our building partner IRPE's Tuesday night service.