---
And he who was seated on the throne said, "Behold, I am making all things new." Also he said, "Write this down, for these words are trustworthy and true."
-

Revelation 21:5, and the theme of our August Community Worship series
---
Monday.
• Church Board Meeting
, 7:30pm in the library
Tuesday.
•
Iglesia de Restauracion Pacto Eterno, 7-9 pm in Fellowship Hall
•
Brethren Voices, 11 am
•
IRPE Band Practice, 6-9 pm in Fellowship Hall
•
ACOB Office Hours

,
6:30 - 8 pm
•
ACOB Office Hours

,
3 - 5 pm
•
Community Choir Practice, 7:30 pm at AFUMC
• Young Adult Meet Up
, 6:30 pm in the fellowship hall
•
Andy's Organ Practice, 9 am-1 pm in Sanctuary
•
Iglesia de Restauracion Pacto Eterno, 5-9pm
•
Community Worship at ACOB
, 10am
•
Ice Cream Social
, after worship in fellowship hall
•
ACOB Office Hours

,
12-3 pm
• Cambodian Alliance Evangelical Church, 1-4 pm in Sanctuary + Fellowship Hall
•
Iglesia de Restauracion Pacto Eterno, 5-9 pm in Fellowship Hall
• Brethren Voices, 6:30 pm
Sun., 8/19 -

Community Worship at AFUMC

, 10am
Thurs., 8/23 - Breakfast Bunch, 8am
Sun., 8/26 - Community Worship at Lubber Run, 10am
Sat., 9/1 - Volunteer at AFAC, 8:30 am
Sun., 9/2 - Bethel UCC Worshiping at ACOB, 9:30 am
Sun., 9/2 - Refreshments with Bethel, 10:30am in fellowship hall
Sun., 9/2 - ACOB Worship at 11 am
Sun., 9/9 - Sunday School Starts, 9:45am
Sat., 9/15 - Shredding for AFAC, 10 am
Fri., 9/21 - International Day of Prayer for Peace
Fri., 10/12 - 13 - Mid-Atlantic District Conference
Sun., 10/14 - Big Sunday School, 10am
---
Old Books + Tables | Up for Grabs!
Take a minute to peruse the boxes of books sorted out during the ongoing sprucing up of our building spaces. Feel free to any of them before they are moved along to a recycling outfit in Harrisonburg. Contact Alma with questions. Three folding tables (Two 6'L, 30"H, 29"W and One 5'L, 30"H, 29"W) are still available too. Contact Don for those.
"I Make All Things New" | August Community Worship Series
This Sunday

we meet at ACOB, all coming together for the last worship service in our building
.
Our summer tradition of worship in community continues. Three congregations celebrate holidays together, share customs and enjoy a community choir made up of singers from each church. In August, we take turns worshipping at each partner church on Sundays at 10 am. At the end of the month, we worship at Lubber Run Park amphitheater at 10 am followed by a picnic at the pavilion there. All are welcome! Invite a friend! Contact the office with any questions.

8/12 - Arlington COB, 300 N. Montague Street
8/19 - Arlington Forest UMC, 4701 Arlington Boulevard
8/26 - Lubber Run, 200 N. Columbus Street
Ice Cream Social | Bring Refreshments for Community Worship
ACOB hosts our August Community Worship Series with Bethel UCC and Arlington Forest UMC on Sunday, August 12. Please volunteer to bring ice cream, toppings or fruit for refreshments after worship. Contact Jo Ann to sign up.
Please click through for a letter from Pastor Nancy about her recent call to Bethel UCC as Adjunct Pastor of Communications and Outreach.

Sunday School | Starts Sunday, September 9, 9:45 am
This year worship returns to 11 am the first Sunday of September, but Sunday School will again resume the second Sunday. Children from Bethel and ACOB will have Sunday School together starting at 9:45 am, while Bethel adults worship. Grades 3-6 will attend a class upstairs with Ms. Judy while 3 year-olds through 2nd graders will attend downstairs with Ms. Alma. Both classes will use the Shine curriculum with the fall theme, "God's Blessing and Care." The adult class will also begin meeting on the same day. Contact the office with any questions.
---
Brethren Voices | August Edition on the Way
The monthly community television show about what Brethren do as a matter of faith airs in Arlington on Comcast channel 69 and Verizon-FIOS channel 38. The August episode is still in production, but should run later this week. In the meantime, watch the show's 13th year celebration episode on YouTube:
http://arlingtoncob.org/brethren-voices/
. Contact James with questions.
---
Lillian Varner's family and friends

, special aunt of Carol Cory and Rick and Jim Fields, Lillian died July 31 in Fredericksburg, one week shy of her 98th birthday. She and her late husband Clarence Varner were charter members of ACOB.

Cindy

, recovering from a root canal

Maggie

, Bethel UCC, anticipating tests to check for recurrence of cancer

Jacque and John

, as Jacque continues chemotherapy

Dennis

, friend of Cindy, recovering from surgery

Gadbey family

, AFUMC, returning from several years in Djibouti

Warren Brown's family and friends

, Post auto columnist and neighbor of Rick and Donna, recently passed

Our Community Ahead of White Supremacists/Nationalists Rally

, Unite the Right is assembling in DC this weekend on the anniversary of their 2017 rally in Charlottesville, that all involved and nearby remain safe, that hateful ideologies be transformed, our communities embrace everyone, and victims of exclusion and oppression feel our solidarity and find healing

Bethel UCC,

after sharing their last service in their building and ahead of moving into our building this fall

Chuck Norton

, Bethel UCC, undergoing treatment for pancreatic cancer
* This month, our prayer list will consist of requests made at our community worship services.
---
Worship.
There is no podcast of this week's sermon, as we shared in Community Worship at Bethel UCC.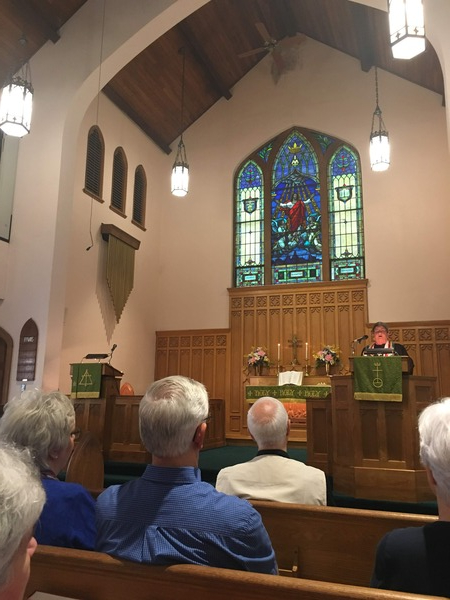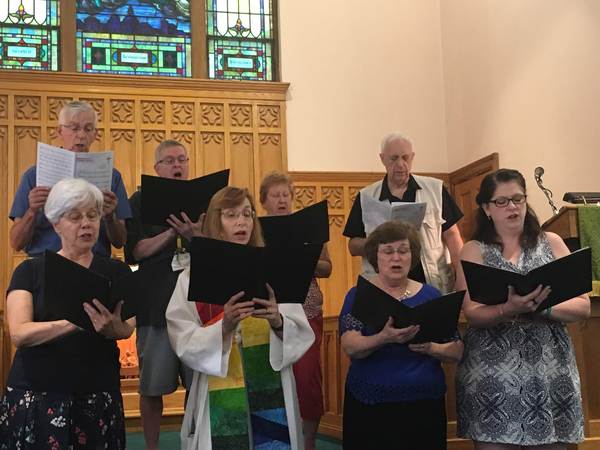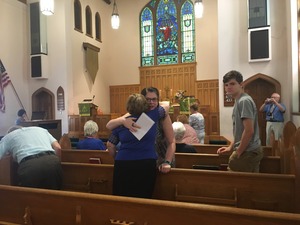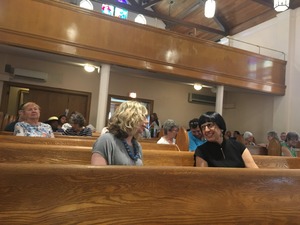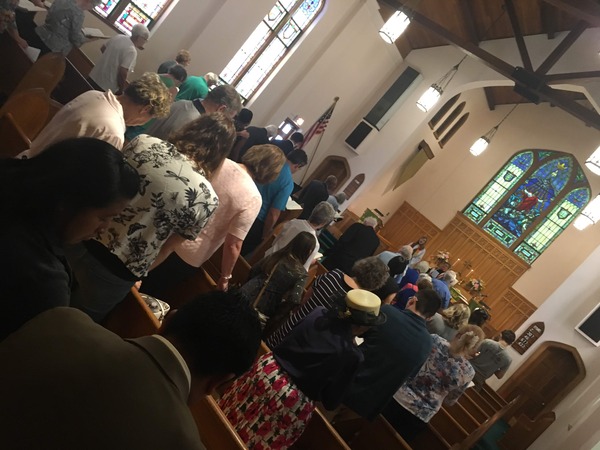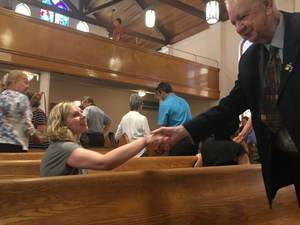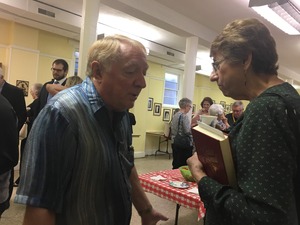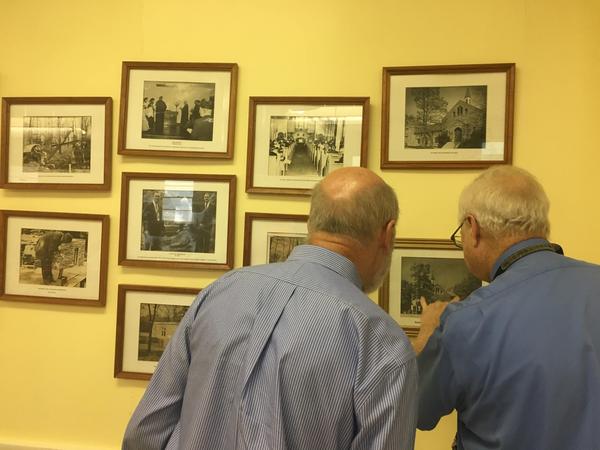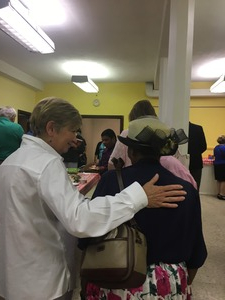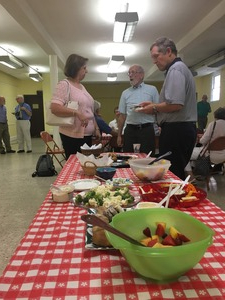 ---