Se
ñ
or, me has mirado a los ojos y sonriendo has dicho me nombre.
Lord, with your eyes you have searched for me, and smiling, spoken my name.

"Lord, You have Come to the Lakeshore" is a simple but beautiful tune. Written by a Spanish priest to make worship more meaningful in his parish, it has spread around the world. The words too are simple, but the song touches the hearts of many people.

In a believers church music often takes the place of the liturgy of other churches. However, music also connects us to the broader communion of believers. Music reminds us that we are the body of Christ with other Christians around the world.

You who have fished other oceans,
ever longed-for by souls who are waiting,
my loving friend, as thus you call me.
In yesterday's Call to Giving, Gary S. recalled several times and diverse places he's heard this song
cross boundaries and languages to bless those who could hear it and to connect the body of Christ.
---
•
Affordable Housing: Federal Upheaval...Local Consequences, 8 am
•
Meeting with Bethel UCC, 7 pm in 2nd floor adult classroom
•
Welcome Ministry Team Meeting, 7:30 pm in library *Note Corrected Time
Tuesday

.
•

Iglesia de Restauracion Pacto Eterno, 7-9 pm






•

Brethren Voices

, 11 am,

more details




•

Yoga

, 5:45 pm in fellowship hall




Thursday

.



•

Thursday office hours moved to Friday

, this week only (5/19)
•

Kaizen Karate, 6:30 pm in fellowship hall




•

Community Choir Practice

, 7:30 pm at AFUMC
Friday

.
•
ACOB Office Hours

, 9:30 am - 12:30 pm
•
Young Adults Gathering
, 6:30 pm in sanctuary
Saturday

.
•
Volunteer for AFAC at Taste of Arlington, thru 5/21
•
RiP Project

, 2-4 pm,
more details
•
Piano Recitals in Sanctuary, 2-4 pm
•
Brethren Sisters Sing, 4:30 pm, Glade Valley COB
•
Iglesia de Restauracion Pacto Eterno, 5-9 pm
Sunday

.



•

SS Class on Environmental Concerns

, 9:45 am upstairs


•

Brethren Voices

, 6:30 pm,

more details



Mon., 5/22 - On Becoming a Dancing Monk, thru 5/24, Shepherd's Spring
Mon., 5/22 -

Executive Committee Meeting

, 7:30 pm in library
Thurs., 5/25 -

Breakfast Bunch

, 8 am, Original Pancake House
Thurs., 5/25 - Centering Prayer, 4 pm in library
Fri., 5/26 - Young Adult Conference, thru 5/28, Camp Harmony
Sun., 5/28 - Outdoor Worship, 11 am *Note New Date
Sat., 6/3 - Oakton COB Flea Market, 8 am - 1 pm,
more details
Sat., 6/3 - National Trails Day, 8:30 am, Shepherd's Spring
Sun., 6/4 -

Unity Sunday Worship + Picnic

, 11 am
Sun., 6/4 - 50 Years: CMEP Advocacy Event, thru 6/6,
more details
Mon., 6/5 - Board Meeting, 7:30 pm in library
Tues., 6/6 - 34th Annual Capital Pride Interfaith Service in DC, 7:30 pm
Sun., 6/11 -

Worship at 10 am begins


Tues., 6/13 - Bread for the World Lobby Day
Sat., 6/17 -

Doorways Collection Day

, 10 am,
more details
Sat., 6/17 - MAD COB Night at Camden Yards, 4 pm,
more details
Mon., 6/19 - Shepherd's Spring Golf Tournament
Wed., 6/28 - COB Annual Conference, thru Sun., July 2
Sat., 7/1 - Volunteer at AFAC, 8:30 am
Sun., 7/2 - Community Worship at ACOB, 10 am *Note New Location
NOAC Bus | Sign up + Travel with District Friends
If you are planning to attend this year's Older Adult Conference, consider taking the MAD District bus. It is about half full but needs more riders to make it a go. Contact Pat Ecker at
410-871-0765
for details.

MAD COB Night at Camden Yards | Register Today
An event sponsored by the MAD Youth Cabinet for EVERYONE in the Mid-Atlantic District of the Church of the Brethren. 150 seats are reserved in Section 382 (Upper Left Field) at $15 each. Registration was requested by 5/14, so register today if you'd like to go. For more information call or
email
Mike Kenney,
304-279-0168
.
50 Years Too Long: A CMEP Advocacy Event | June 4-6, 2017
Churches for Middle East Peace (CMEP) is a coalition of 27 national church denominations and organizations in Catholic, Orthodox, and Protestant traditions. June 2017 marks 50 years of the occupation of the West Bank and Gaza. Hosted by CMEP, "50 Years Too Long" is an advocacy summit for American Christians to gather, learn, and advocate for constructive ways to pursue a just and sustainable peace in Israel and the occupied Palestinian territories. Register at
cmepsummit.org
. Early registration ends today (5/15).
Oakton COB Flea Market | Vendors Registering Now
Head to Oakton COB Sat., 6/3 from 8 am-1 pm for grilled hot dogs, food, drinks and bake sale. You never know what you'll find at the flea market! Vendor setup begins at 7 am. Sales space is available for a $15 donation to the church and must be reserved in advance.
Email
or call the Oakton COB church office,
703-281-4411
.
More Details |
arlingtoncob.org/calendar
For more information on neighboring church, denomination and non-profit events listed, check the calendar at the above link or contact the office.
---
Volunteer + Give.
RiP Project | Sat., May 20, 2 - 4 pm
ACOB's service ministry team is sponsoring a
RiP (Removal of Invasive Plants) event
at Madison Manor Park (6225 12th Rd.) to help reclaim natural areas in our community. Wear long sleeves and pants, bring garden gloves and a water bottle. Garden tools will be provided, but if you have some of your own to use, please bring them so there's enough to go around. Commit to volunteering by singing up on the sheet in the narthex. Contact
Marcia
with questions.
Coloring Book Collection | Throughout May
With children out of school for the summer months, our neighbors relying on
AFAC
food assistance often have to bring their kids along to pick up food. The wait can be long and coloring books and crayons can help the kids pass the time. Perforated coloring books are ideal, so children can more easily take home their art work. Place donations in the collection basket in the office hallway throughout the month of May. Contact
Marcia
with questions.
Doorways Donation Day | Sat., June 17, 10 am – 2 pm
Volunteers (in pairs for hour shifts) are needed to staff ACOB's donation table outside of Safeway on Harrison Street just north of Lee Highway. Doorways will furnish us with its wish list (normally diapers, paper goods and cleaning goods). Volunteers will give customers the opportunity to purchase these items for Doorways clients: women and families escaping domestic violence and homelessness. A volunteer is also needed to transport the donations to Doorways after the last shift. Sign up in the narthex and contact
Marcia
with questions.
Volunteer to Water the Garden | Weekly or In Turn
Each spring and summer, our garden beds are used to grow lettuce for the neighborhood Reevesland Learning Center Lawns 2 Lettuce 4 Lunch program. Their twice a year lettuce lunch at Ashlawn Elementary is a big celebration to encourage the children's interest in homegrown vegetables. Overage and additional vegetables are donated to AFAC. Help make this neighborhood partnership possible by volunteering to water the garden. Depending on rain, the garden will need to be watered 2-3x a week. Multiple volunteers could divvy the load. Contact the
office
to help.
---
Media.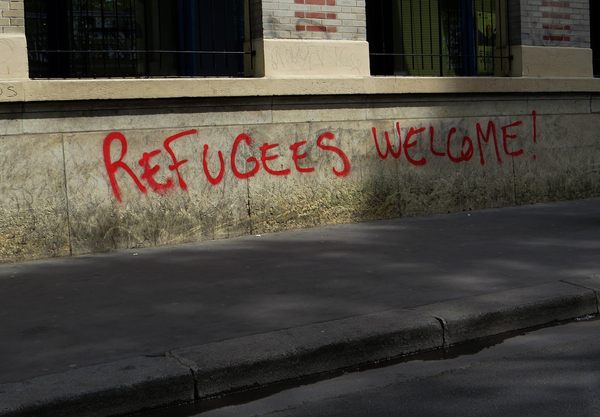 Dunker Punks Podcast | New episode!
http://bit.ly/DPP_Episode30
Whenever you have welcomed a stranger, you have welcomed Jesus. Ashley Haldeman's interview with Church World Service's Christine Bear teaches us so many ways to gladly receive folks. Christine makes sure refugees fleeing persecution and violence have the resources they need to make a new home in our community. Learn about her work, how you can support it and many more ways to welcome. Type in the case sensitive url to listen on the showpage or subscribe on iTunes.

Listen by clicking the above link or subscribing on
iTunes
.
#BlessedBreak |
http://bit.ly/BlessedBreak52
The video for this devotion was taken during last Sunday's Children's message on what we all have to teach each other. Watch it and read the accompanying scripture and prayer at the above link.
Worship Audio |

Online
Listen again to this week's sermon, catch a sermon from a Sunday you were out or peruse the archives. Each Sunday message along with a selection of hymns and readings is posted online or subscribe on iTunes.

Brethren Voices | What Would Jesus Drive?
Brethren Voices is the TV show featuring what Brethren do as a matter of our faith. The episode for May talks with Portland Peace COB members about their switch to alternative engery cars and features some new electric cars shown at the Portland Auto Show. Watch in Arlington on Comcast 69/Verizon-FIOS 38 on Sundays at 6:30 pm, Wednesdays at 11 am or online anytime.
---
Pray. Call. Write.
Marie

, Marcia's friend, undergoing risky cancer operation today

Weimer Family

, following the death of Nancy W.'s sister Becky who died peacefully after a massive stroke last week. Becky's daughter, Layla, was with her at the time.

Nixon

, Nancy W.'s grandnephew, healthy baby boy born to Becky's daughter Roya this week

Charlotte

, Nancy W.'s mom, recovering from hip surgery this week

Alan

, Hazel's son, recovering from surgery on Friday

Jummai Paul

, among the 82 Chibok girls released last weekend!

Ralph

, recovering well and continuing in rehab

Amy's Parents

, recovering well and have returned home, continuing in rehab

Children, families + first responders in Missouri flooding

, including 20 Brethren Disaster Ministry volunteers and 2 Children's Disaster Services teams

James Thomas

, coworker of Lisa, recovering from a kidney transplant

Family + friends of Michael Sharp

, a Mennonite Central Committee and UN worker with refugees in the Congo, recently killed

Pastor Mike

, in rehab after organ transplant

Karolina

, undergoing renewed health treatments

Church of the Brethren in Nigeria (EYN)

, including 113 girls still captive
Keep in your ongoing prayers:
Minnie Simmons, Dorothy Fravel (Dee's mom), Theresa McCary, Erin Julca, Steve Shuss, Elizabeth Smucker, Carolyn Studds

Note:
Prayer concerns will ordinarily be listed for four weeks. If you would like one to be kept on or added back in, please let the office know. Names in bold are new to the list or updated this week.
---
Worship Pix.
Wrapping up a three-part sermon series on Healing the Divide: Reclaiming Hope, we have learned that as we see through the cross, we make decisions based on a different set of priorities. And when we reach across
what divides us, we only have the right to give up our freedom, not someone else's.
Living in Christian community, we must remember how we are all connected even as we differ. For example, calling forth people's gifts allows them to offer God their time and talents, while giving up our own power and territory evens the workload. We work for unity not uniformity. It is only by living Christ's love that we can realize the promise of unity amidst diversity. Let us plant the seeds of love today, and allow God to work the miracle that will heal the divide.
Listen to Sunday's Sermon:
http://bit.ly/ACoBMessage14May17