During yesterday's worship announcements, Jo Ann shared a lovely story of man in line behind her at check out who insisted on paying for the school kits she was buying. That surprise kindness freed her up to pay the shipping for all of our
CWS
school kit
donations. Then, Donna's preplanned Call to Giving was a similar, and similarly inspiring, story of a couple who paid for her dinner, copying her father's generosity years earlier. That led Donna to conclude,

"I think we're meant to ponder the act of paying it forward this week and acts of generosity and kindness."
---
•

Hunger Action, Pray for those who seek work in order to feed themselves and their families.

Tuesday

.
•

Iglesia de Restauracion Pacto Eterno, 7-9 pm




•

Hunger Action, The Hebrew people ate in a hurry. Put fifty cents in your coin box for every fast food meal you've eaten in the last month.



•

Brethren Voices, 11 am,

more details




•

Yoga, 5:45 pm,

more details




•

Hunger Action, Eat only leftovers today. 48 million hungry Americans would love to have such good food to eat.

Thursday

.

• Hunger Action, Food left in the fields is forgotten, like loose change is forgotten. Put your loose change in your coin box today.

•

Young Adults Gathering


•

Hunger Action, Where in your life are you experiencing scarcity today? Money? Love? Hope? Time? Share some of what seems scarce.

•
Shredding for AFAC, 10 am - 2 pm,
more details
•
Iglesia de Restauracion Pacto Eterno, 5-9 pm
•
Hunger Action, Psalm 23 says, "The Lord is my shepherd. I shall not want." Practice contentment today.
Sunday

.



•

Big Sunday School, 9:45 am,

more details




•

Big Bulletin Distributed


•

Worship, 11 am


•

Brethren Voices, 6:30 pm,

more details




•

Hunger Action, Enjoy a special meal with good friends or family today. Thank God for their presence in your life.



Sun., Sept. 18 - Assembling School Kits + Finishing Dolls
Mon., Sept 19 - ACoB's International Day of Prayer for Peace Gathering
Thurs., Sept. 22 - Breakfast Bunch
Fri., Sept. 30 - Movie for Blessing of the Animals
Mon., Oct. 3 - Board Meeting
Sat., Oct. 9 - MAD District Conference
Sat., Oct. 22 - CROP Walk
Sat., Oct. 29 - Fall Church Work Day
Sat., Nov. 5 - Soup + Pie Bazaar


Thank You! | AFAC Volunteers
We had a great turnout of volunteers on Saturday. A big thanks to Marcia, Alma, Jo Ann, Melody, James, Robyn, Pastor Nancy, Fitz, and Diane for assisting 123 families who wouldn't otherwise have enough food for the week.

Shredding for AFAC | Sat., Sept. 10, 10 am - 1 pm
Don't miss our annual Hunger Month Awareness event generously sponsored by Ann Wilson Reality. Get your personal papers shredded in exchange for a donation to Arlington Food Assistance Center. The shredding truck will be parked in the church parking lot. Contact Carole Compton to volunteer to accept donations.

Beginner Yoga | New Time, Wednesdays, 5:45 pm
Join others in the fellowship hall for simple, gentle beginner yoga, especially designed to include folks 55+. $9.00 per session. Contact Pastor Nancy with questions.

Christian Education at ACoB | Learn More in Sunday's Big Bulletin
New and continuing opportunities to grow in faith through group study await us this year. This Sunday, Intergenerational Big Sunday School returns at 9:45 am, downstairs and continues most second Sundays.

The remaining Sundays will still see the children meet with Ms. Alma and the upstairs adult class meet during the Sunday School hour. However, the library class will shift to a rotating, drop-in group discussion model during the Sunday School hour focusing on a book the first Sunday of the month, open Scripture exploration on the third Sunday, Brethren Voices TV show the fourth Sunday and Messenger magazine articles on the fifth Sunday. Stay tuned for next week's Big Bulletin Newsletter to learn more about continuing Christian education opportunities, as well as this new opportunity to meet and learn with people and content that both change from week to week.
---
Volunteer.
Donate CWS School Kits | Keep Donating Until We Assemble Together, Sun., Sept. 18
Stay after worship in 2 weeks to help assemble school kits. We'll send them to
Church World Service
(CWS) who then distributes these basic tools for learning to children in impoverished schools, refugee camps, and other difficult settings. Please donate completed school kits up until 9/18. Contact
Lisa
with any questions. CWS School Kits Include:
One pair Fiskars blunt metal scissors (rounded tip)

Three 70-count, wide rule, spiral notebooks (no loose leaf or filler paper)

One 30-centimeter ruler (12")

One hand-held pencil sharpener

One large eraser

Six to Eight new pencils with erasers

One box of 24 count Crayola crayons (24 count only)
Comfort Dolls for Nigerian Children | Stay after worship Sun., Sept. 18
Children's Disaster Relief Services for the CoB is collecting hand-sewn, knitted, or crocheted dolls and stuffed animals to help provide comfort for Nigerian children in trauma healing workshops. We'll gather after worship 9/18 to put finishing touches on the dolls (stuffing, dressing and making faces). No crafting experience is necessary to help.
Nigeria Workcamps |
Nov. 4-21, Jan. 11-30, + Feb. 17 - March 6
EYN (Church of the Brethren in Nigeria) families and their neighbors have started the long journey of recovery and return of self sufficiency, we continue to walk with them and our support is still needed. Nigeria workcamps, aimed at restoring some of the nearly 70 percent of church buildings lost during the crisis, are one way to offer this support. Workcamps will help to rebuild churches and repair church facilities, and will also be an opportunity to worship and pray in fellowship with the Nigerian Brethren and to encourage people as they recover. More information can be found at
http://www.brethren.org/nigeriacrisis/action.html
or by contacting Kendra Harbeck by
email
or at
847-429-4388
. As we celebrate our connection with our Nigerian brothers and sisters and walk with them on their journey, we proclaim "zumunci a kafa taka - fellowship is in the feet!" Let it be so!

#BlessedBreak | http://bit.ly/BlessedBreak25
Our latest video devotional is inspired by the Children's Church story last week at Community Worship about Seagoing Cowboys. Pastor Nancy was asking the children to imagine what living on a boat full of animals would be like. Take a break to watch the video, read the Scripture and pray.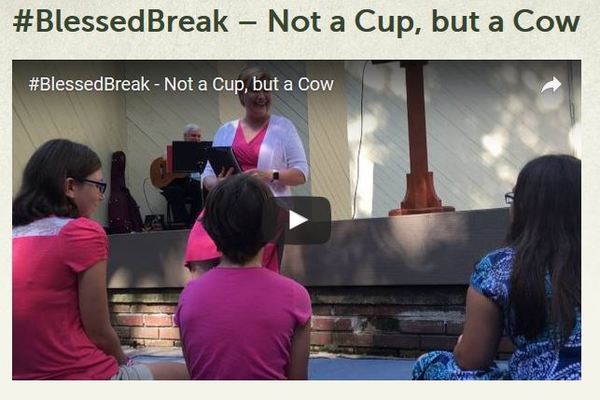 Brethren Voices | South Sudan: On a Journey to Peace
Brethren Voices in Arlington will feature current mission work including a large health care program, recent footage from and an historical perspective of Sudan
throughout September.
Tune in Sundays at 6:30 pm or Wednesdays at 11 am on Comcast, 69; Verizon-FIOS, 38 or on
Arlington Independent Media
's
live stream

.
Contact
James
with any questions.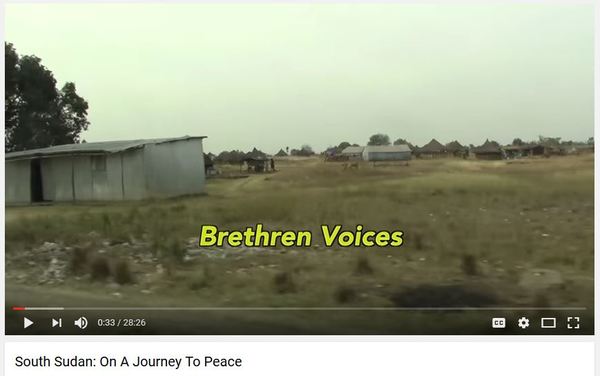 Dunker Punks Podcast | http://bit.ly/DPP_Episode13
The latest episode, "Communitas" features Sarah Ullom-Minnich interview counselors about building the beloved community at camp and Jacob Crouse unveils a new cover of an old camp favorite.
Click the above link or subscribe on
iTunes
.
Text Alerts |

Sign up with your cell phone
Oh no! Worship must be cancelled due to the biggest blizzard in history, or maybe, we don't have any ice cream for tomorrow's ice cream social! Fortunately, should church emergencies arise, we now have a new tool for spreading information fast. Text "EZSAY19248" to 313131 and you'll be signed up for ACoB's new text alerts. We won't forget to contact folks who don't sign up, but for those who do, text alerts are the quickest way to stay in the loop with your church family. We might even text out surprise blessings or words of encouragement too!
Worship Audio |

Online
Peruse the archives, ACoB sermon audio along with a selection of hymns and readings is posted
online
or subscribe on
iTunes
---
Pray. Call. Write.
Pastor Mike

, continuing to deal with liver failure and awaiting transplant
Pastor Pat

, recovering from a broken arm
Briana + Alys,

starting college + grad school
Charles Tuck

, Hazel's son, diagnosed with cancer throughout his body
Minnie

, palliative care at Goodwin House, Rm 248, visitors welcome
Walkin-Haske Family

, ongoing health treatments
Jummai Paul

, kidnapped Chibok girl and others
Church of the Brethren in Nigeria (EYN)
---
Worship Notes.
Do you enter relationship as equal or with prejudgment? Do you reconcile differences that come up? We always have a choice of how to act in relationships, especially when we have power. Christians ask how Jesus would have us act. We can transform the way we think and act thanks to Jesus' transforming power to engage what is broken among us, and we can seek justice by following Jesus' way of modeling love.

Listen to Sunday's sermon here:
http://bit.ly/ACoBMessage4Sept16
This sample of worship includes the Children's message (at 13s), a reading of the Letter to Philemon (at 2m28s), the sermon (at 5m56s), and singing What a Friend We Have in Jesus (at 24m26s). Thanks to Donna for serving as worship leader. Her's is the beautiful voice near the mic for the song. The other song is "I Know That My Redeemer Lives." The sermon includes references to Temple Gray, Kim Stanley Robinson and Cain Hope Felder. Many of this week's Tweets are inspired by the same, as well as Psalm 139 and Season of the Spirit.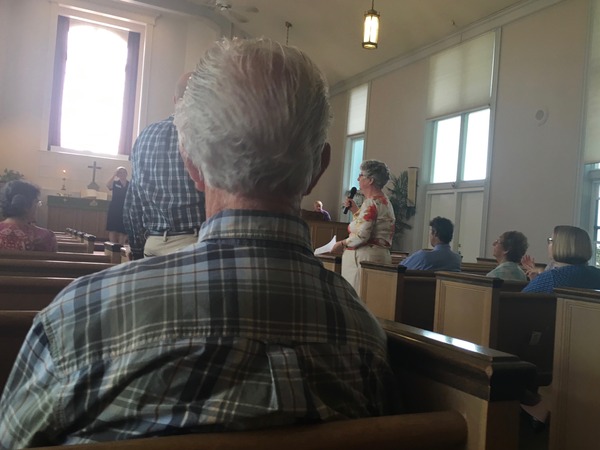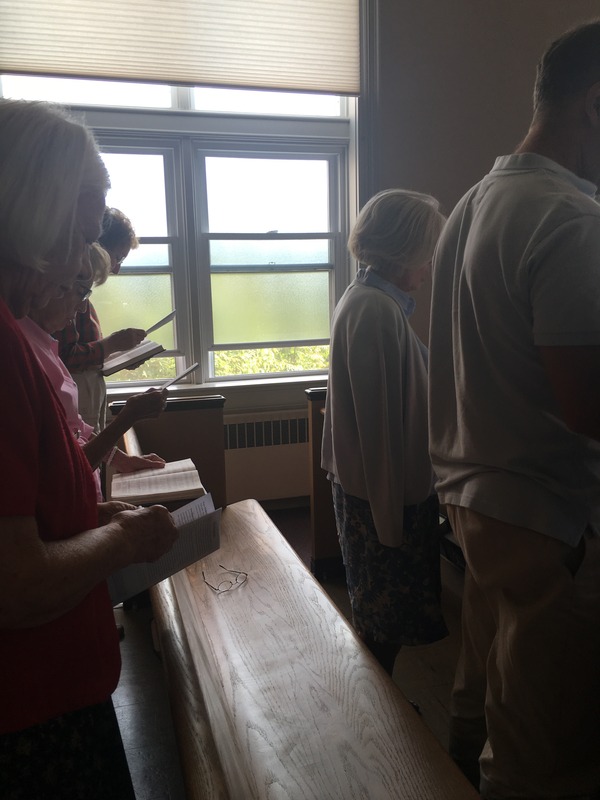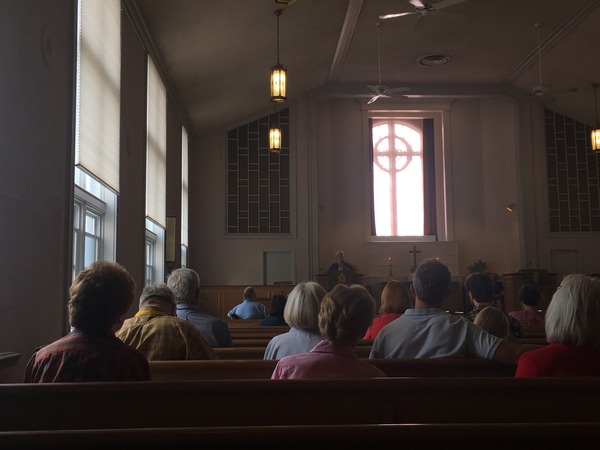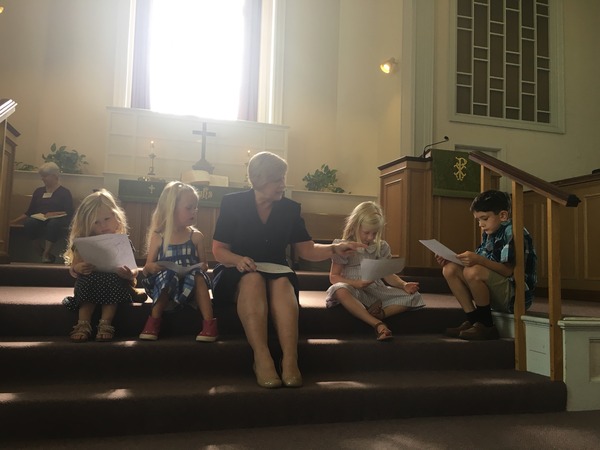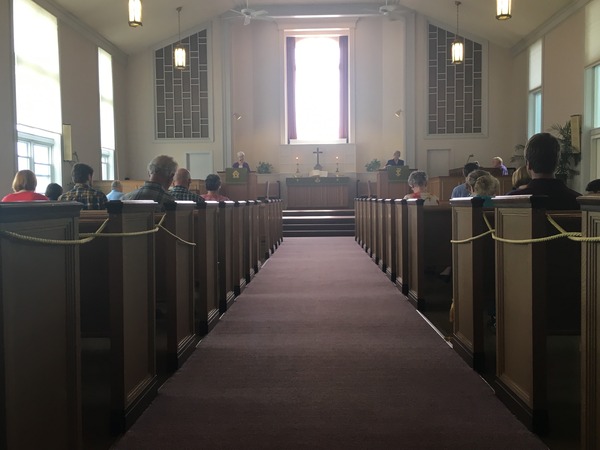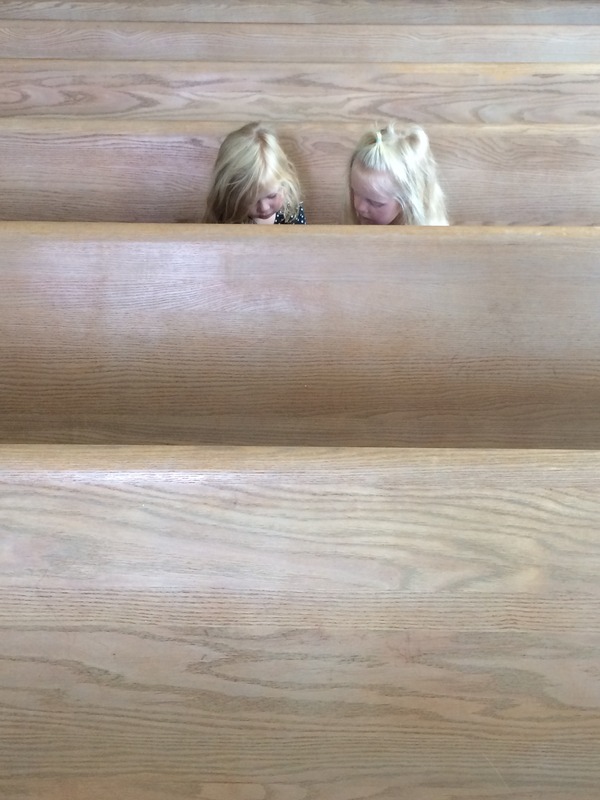 ---
More Pictures.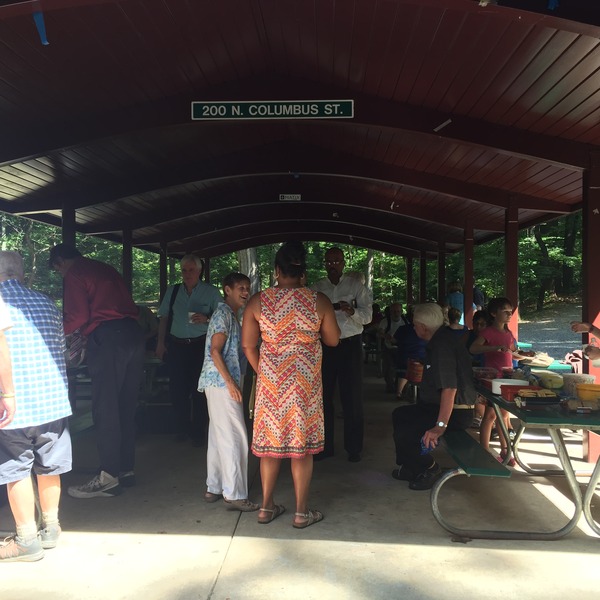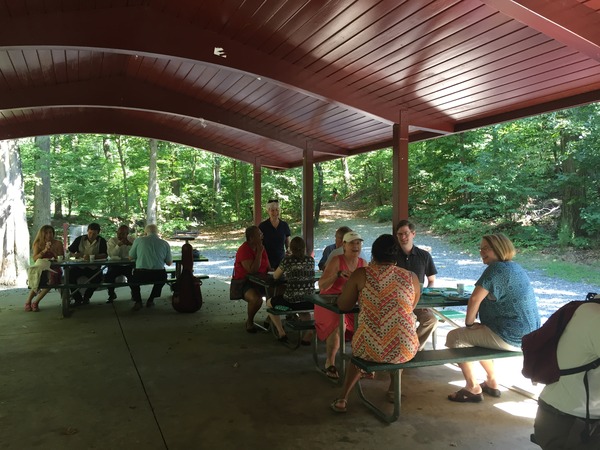 A few pictures more from the potluck following community worship last week.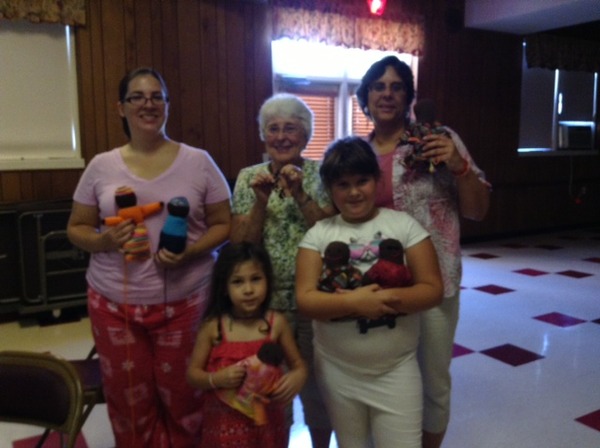 A snapshot from our Doll-Making Bee the other week.