Christ has no body but ours, no hands, no feet on earth but yours. Yours are the eyes with which he looks compassion on this world. Yours are the feet with which he walks to do good. Yours are the hands in which he blesses all the world. Yours are the hands, yours are the feet, yours are the eyes, yours is the body.

-

Teresa of Avila, quoted in Sunday's service
---
Mo
Tuesday

.
•
Iglesia de Restauracion Pacto Eterno, 7-9pm
Wednesday.
•
Brethren Voices,

11am

,
more details
•
Bell Choir Rehearsal,

7pm

, in the sanctuary
Thursday.
•

Love Feast, 7pm in the fellowship hall, more details more Fr



Friday.
•
Good Friday Service, 7pm, at Bethel UCC, more details
Saturday.
•
Egg Hunt
, 10:30am, more details
•
Iglesia de Restauracion Pacto Eterno, 5-9pm
I
•
Let's Chat! Small Group at the Parsonage, 4pm,
more details
es
Sunday

.
•
Easter Breakfast, 9am
•
Easter Choir Ensemble Rehearsal, 10am
•
Easter Worship, 11am
•
Cambodian Alliance Evangelical Church, 1-4pm
I
•
Iglesia de Restauracion Pacto Eterno, 5-9pm
I
•
Brethren Voices,

6:30pm

,
more details
Mon., 4/2 -

Church Board Meeting

, 7:30pm
Fri. 4/6 - 4/8 - Roundtable, Bridgewater
Fri., 4/6 - 4/8 - Mission Alive, Frederick CoB
Sun., 4/8 - Samuel Sarpiya, AC Moderator at Oakton COB, 11am, more details
Fri., 4/13 -

Young Adults Gathering

, 6:30pm
Sat., 4/14 - ACOB Yard Sale,

more details


Sun., 4/15 -

Big Sunday School

, 10am, more details
Sun., 4/15 - Special Council Meeting, noon,
more details
Thurs., 4/19 - AFAC Shining a Light on Hunger, 6:30pm
Fri., 4/20 - 4/23 - Ecumenical Advocacy Days
Sun., 4/22 - Vision + Vitality Reunion, 10am
Thurs., 4/26 -

Breakfast Bunch

, 8am
Sat., 4/28 - Spring Church Work Day, 9am
Mon., 4/30 - Executive Committee Meeting, 7:30pm
Sat., 5/5 -

AFAC Service Saturday

, 8:30am
Sat., 5/12 - Camp Mardela Auction + Flea Market
---
More Details.
Holy Week |
2018
Join in for the services and events leading up to and including Easter worship. Click
here
for additional details on Holy Week and a few pictures form last year. Send the link to a friend! Next week's bulletin will include an insert flyer for your fridge.
Love Feast | Maundy Thurs., Mar. 29, 7 pm
The Love Feast tradition includes a time of personal reflection, feet washing in circles (a hand washing option is available), a simple meal with a variety of foods from 19th century Brethren and 1st century Palestinian tradition (including vegetarian and gluten free options), and Communion. Neighboring congregations Washington City COB, Arlington Forest UMC, Bethel UCC and University Park COB will join us in the downstairs social hall. Everyone is welcome and free to participate as they feel comfortable.
Good Friday Service | Fri., Mar. 30, 7 pm
We remember the crucifixion of Jesus the Friday before we celebrate his rising on Sunday. This year we'll join with our community partner congregations at Bethel UCC (4347 Arlington Blvd.) for an evening service.
Egg Hunt | Sat., Mar. 31, 10:30 am
Our annual egg hunt with the Boulevard Manor neighborhood is for children aged 11 and younger. Everybunny will enjoy snacks, games, raffle prizes and a visit from the Easter bunny. Don't forget your Easter basket to gather eggs and tote home a favor of each child's choosing.
---
Advocate, Volunteer + Give.
Unite to End Racism Rally | April 4
A rally to end Racism on the National Mall in Washington, D.C., is scheduled for
April 4
, the 50th anniversary of the assassination of Martin Luther King, Jr. The Office of Peacebuilding and Policy of the Church of the Brethren is volunteering at the event, encouraging Church of the Brethren congregations to attend, and working to provide hospitality/coordination for Church of the Brethren march participants.
On Tuesday
evening,
April 3
, an ecumenical worship service will be held.
On Wednesday
morning,
April 4
, a silent prayer walk will proceed to the National Mall, culminating in an interfaith prayer service preceding the
9 a.m.
anti-racism rally.
Thursday, April 5
is slated for advocacy and action efforts in the nation's capital. "Fifty years ago, the Rev. Martin Luther King, Jr. went to Memphis, Tenn., to support 1,300 striking sanitation workers battling deadly working conditions, low wages and white supremacy," said an announcement of the rally. "The night before he was murdered standing on a hotel balcony on April 4, 1968, he told them, 'We've got to give ourselves to this struggle until the end. Nothing would be more tragic than to stop at this point in Memphis. We've got to see it through." The event is being held with several ecumenical partners including the National Council of Churches (NCC) and several of its 38 member communions. Next week, the Office of Peacebuilding and Policy will be sending out an Action Alert about the rally with more information.
---
Media.
Dunker Punks Podcast |
http://bit.ly/DPP_Episode53
How do Christians advocate for what they believe in? More importantly, how do you? Join Emmett as he interviews Krisanne Vaillancourt Murphy from the Catholics Mobilizing Network on their work to abolish the death penalty. Type in the case sensitive url to listen on the showpage or subscribe on iTunes. Listen by clicking the above link or subscribing on
iTunes
.
Worship Audio |

Online
Listen again to this week's sermon, catch a sermon from a Sunday you were out or peruse the archives. Each Sunday message along with a selection of hymns and readings is posted online or subscribe on iTunes.

Brethren Voices | Muted Voices of WWI through Today
The TV show about what Brethren do as a matter of faith features a look back at those who witnessed for and affected policies that led to greater peace. Hear from Andrew Bolton, organizer of a recent symposium on "Muted Voices in WWI," Dr. William Kostlevy, director of the Brethren Historical Library in Elgin and Dr. Kirk MacGregor of McPherson College this month on AIM (Comcast channel 69, Verizon-FIOS channel 38). Tune in Wednesdays at 11 am, Thursdays at 2 am or Sundays at 6:30 pm. Check out past episodes online at http://arlingtoncob.org/brethren-voices

New! #BlessedBreak | http://bit.ly/BlessedBreak95

This week's video features Sanctified Art, a visual liturgy focused on footwashing.


---
Keep in your ongoing prayers:
Steve Shuss, Minnie Simmons, Carolyn Studds

Note:
Prayer concerns will ordinarily be listed for four weeks. If you would like one to be kept on or added back in, please let the office know. Names in bold are new to the list or updated this week.
---
Worship.
Listen to Sunday's Sermon:
http://bit.ly/ACOBMessage32518
This week, we heard the passion story in its entirety from the Gospel of Mark.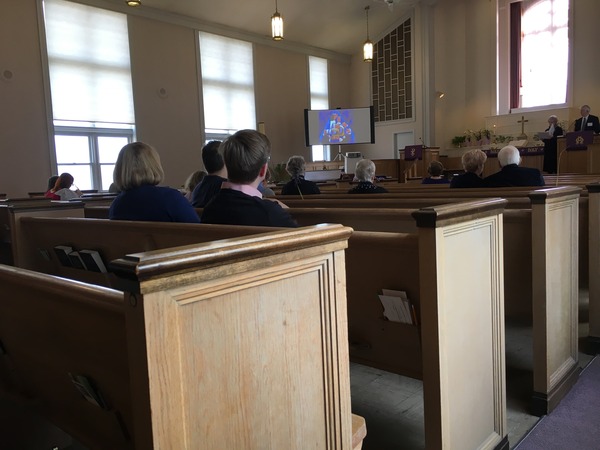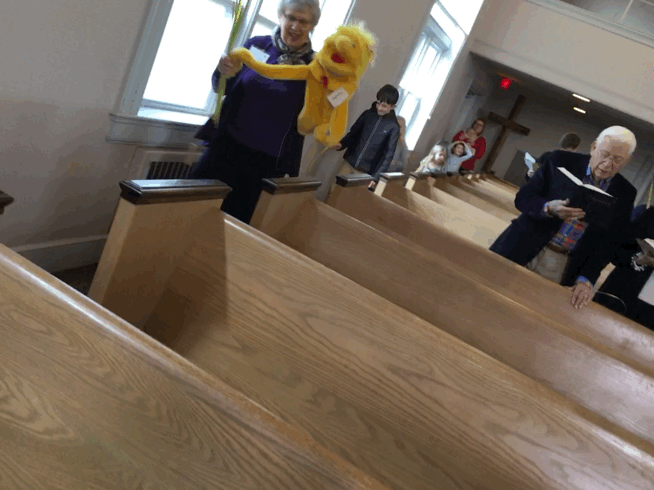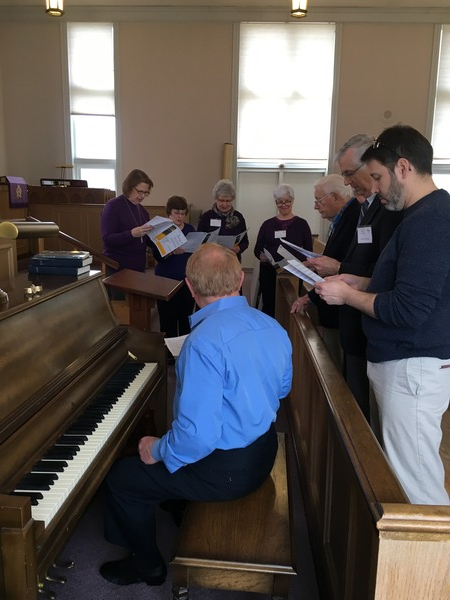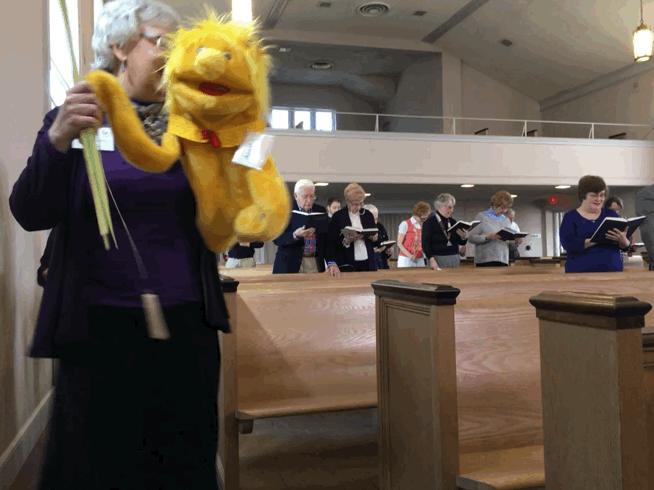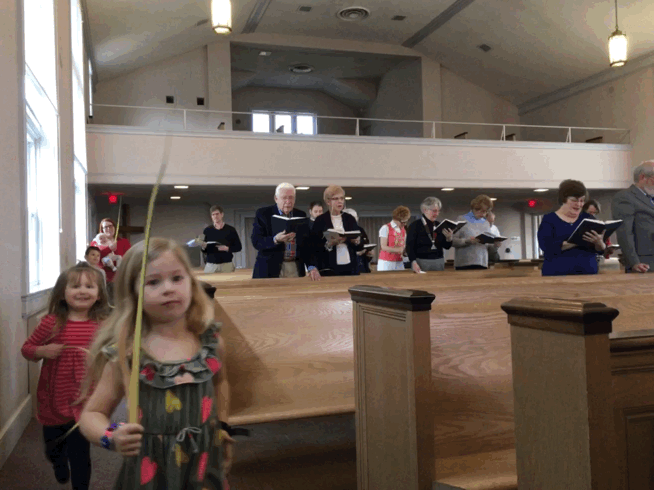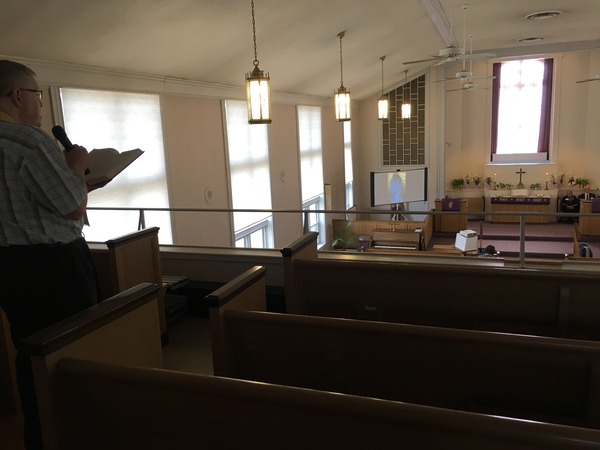 ---
More Photos.
Several ACoB folk at the March 4 Our Lives on Saturday: