The Sunday sanctuary is a house of God. Preparations are made for your coming. The building is cleaned of dust, leftover bulletins and cracker crumbs. It is uncluttered because someone has prepared it for worship. But the church building is not the only temple where God abides. God dwells in the heart even more than in the sanctuary. So it is up to each of us, as a custodian of the soul, quickly and quietly to make ready for the Divine Presence. Let us put aside all that is unnecessary for these moments and wait on the Lord.
From Sunday's Call to Worship, adapted from For All Who Minister published by Brethren Press
---
•

Kaizen Karate, in fellowship hall weekdays thru 8/4




•

44th Brethren Bible Institute, thru 7/28, Elizabethtown College
• Meeting with Bethel, 7 pm in library

Tuesday

.
•

Iglesia de Restauracion Pacto Eterno, 7-9 pm

• Brethren Voices, 11 am,

more details
Thursday

.
• Breakfast Bunch, 8 am at Bentley's
•
Centering Prayer

, 4 pm in library
Saturday

.
•
Iglesia de Restauracion Pacto Eterno, 5-9 pm
Sunday

.



•

Worship

, 10 am




•

Church Council Meeting

, 11 am in sanctuary,

more details


• Brethren Voices, 6:30 pm,

more details



Mon., 7/31 - Executive Committee Meeting, 7:30 pm
Sun., 8/6 - Community Worship at ACOB,
more details
Mon., 8/7 - Board Meeting, 7:30 pm
Wed., 8/9 - Hymn Sing, 7 pm at Nokesville COB
Fri., 8/11 - Volunteer at Brethren Nutrition Center, 10 am
Sun., 8/13 - Community Worship at Arlington Forest,
more details
Thurs., 8/17 - Shepherd's Spring's Sprint to the Spring
Sun., 8/20 - Community Worship at Bethel UCC,
more details
Sun., 8/27 - Community Worship + Picnic at Lubber Run,
more details
Sat., 9/2 -
Volunteer at AFAC
, 8:30 am
Mon., 9/4 - NOAC, thur 9/8 at Lake Junaluska
Sat., 9/9 - Shredding 4 Hunger
Church Council Meeting |
This
Sun., July 30, 11 am
Bethel UCC voted on June 25th to enter into a covenantal relationship with Arlington COB. Now it's our turn to vote. A full congregational meeting will be held this Sunday, July 30th at 11 am. Everyone is invited to remain after worship for the meeting. Members can vote. If you have questions see
Everett
,
Warren
or
Pastor Nancy
.
August Community Worship| "God Makes a Way Out of No Way"
Each Sunday in August we will meet with our community worship partners, taking turns at each of our churches. At the end of the month, we'll worship together at Lubber Run Park amphitheater followed by a picnic at the pavilion there. Everyone is welcome; invite a friend! See below for topics, times and locations.

August 6, 10 am @ Arlington COB
"Feeding the 5,000"
Pastor Nancy preaching on Matthew 14:13-21
August 13, 10 am @ Arlington Forest UMC


"Jesus Walks on Water"
Pastor Alex preaching on Matthew 14:22-33
4701 Arlington Blvd. (at N Henderson Rd.)
August 20, 10 am @ Bethel UCC
Pastor Anne preaching on Matthew 15:21-28
4347 Arlington Blvd. (b/w N George Mason + Trenton St.)
August 27, 10 am @ Lubber Run Park
Several reflections on Exodus 1:8-2:10
200 N Columbus Street (at 2nd St. N.)
Summer Study Journal | 12 Weeks on Abrahamic Family Narratives
These messy narratives are full of complexity and promise that often hold a mirror up to our current society, perhaps more than we'd like. To dig deep, request from the
office
a booklet that is part devotional, part Scripture study, and part personal journal. Dive in with art, visio divina mediation, Scripture study, artist reflections, creative writing prompts and prayer. It is organized around the weeks of June 18 – September 3, but work through it at whatever pace/timeline you chose. Several weeks in June, July and the Lubber Run community service will feature messages on these scriptures that were foundational for Jesus.
More Details |
arlingtoncob.org/calendar
For more information on neighboring church, denomination and non-profit events listed, check the calendar at the above link or contact the office.
---
Volunteer + Give.
Donate Gift + Smart Cards | Supporting OAR Clients
Offender Aid + Restoration supports persons in the criminal justice system, particularly those transitioning back to the community after being in jail or prison. OAR has amazing results – its employment project has a low 8% recidivism rate. To help support OAR clients we are collecting $25 Target cards for clothes and other essentials and $20 SmarTrip cards for transportation to job interviews and work. Contact
Marcia
with questions.
Volunteer at Brethren Nutrition Center |
Fri., August 11
Each summer we volunteer together to serve food at Washington City COB's soup kitchen. We'll help prepare the days meal, serve it and help clean up. Sign up on the sheet in the narthex or contact
Cindy
to volunteer and join a car pool. We'll work together from 10 am to 2:30 pm.
Volunteer Point Person Needed | September Shredding 4 Hunger Event
Every year we partner with Ann Wilson Reality to provide a document shredding truck service in exchange for non-perishable food donations for AFAC. This is always a very successful service project for Hunger Action Month in September. Much of the details have been confirmed, but because of a conflict with the NOAC conference, a point person is needed. The event will be September 9. Contact the
office
if you can volunteer.
---
Media.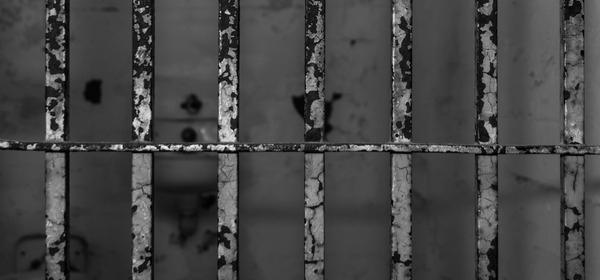 Dunker Punks Podcast |
http://bit.ly/DPP_Episode36
In the newest podcast, Dana Cassell explores the scriptural calls to live anew as part of her series on a spiritual training regimen for Dunker Punks. Transforming our understanding of what the Bible means by repentance is a step towards the spiritual awakening needed to return to God's justice amidst the inequality of empire.
Type in the case sensitive url to listen on the showpage or subscribe on iTunes.

Listen by clicking the above link or subscribing on
iTunes
.
#BlessedBreak |
http://bit.ly/BlessedBreak59
The video from this #BlessedBreak was created by the Church of the Brethren for their 2017 Annual Report, first shared at the 2017 Chruch of the Brethren Annual Conference the other week. Read the prayer and Scripture paired with the video at the above link.
Worship Audio | Online
Listen again to this week's sermon, catch a sermon from a Sunday you were out or peruse the archives. Each Sunday message along with a selection of hymns and readings is posted online or subscribe on iTunes.

Brethren Voices | Dunker Punks Podcast
Brethren Voices is the TV show featuring what Brethren do as a matter of our faith. The episode running through July features our very own Dunker Punks Podcast and includes interviews with Laura, Meloday and Suzanne. Watch online now! Watch in Arlington on Comcast 69/Verizon-FIOS 38 on Sundays at 6:30 pm, Wednesdays at 11 am.
---
James + Melody

, expecting a baby in mid-November!

Marie

, Marcia's friend, recently discovered resurgance of cancer and meeting with a doctor this week about radiation treatments

D. Senko Family

, following her sudden death, family friends of Chris

Families of 2 men kille din CSX accident

, both family friends from Shelley's hometown

Barbara's family

, Ralph's sister-in-law, following her death

Maxine

, Hazel's sister, broke two ribs and fractured a lung from a fall and is also struggling with Alzheimer's

Cindy's Mom

, home from rehab

Sarah + Kathy

, special prayer requests from Cindy's friend, Dennis

Karolina

, undergoing health treatments

Noel

, son of Marcia's friend Sandy, still working with doctors to figure out mysterious and serious dizzy spell

Elizabeth

, Gary S.' aunt, stable following a stroke

Miller Family

, following the unexpected passing of Debbie's dad

Joe

, Chris' family friend, facing resurgance of lymphoma after several years remission

Pastor Mike

, continuing rehab after organ transplant

Church of the Brethren in Nigeria (EYN)

, including 113 girls still captive
Keep in your ongoing prayers:
Minnie Simmons, Dorothy Fravel (Dee's mom), Theresa McCary, Erin Julca, Steve Shuss, Elizabeth Smucker, Carolyn Studds

Note:
Prayer concerns will ordinarily be listed for four weeks. If you would like one to be kept on or added back in, please let the office know. Names in bold are new to the list or updated this week.
---
Worship.
Listen to Sunday's sermon:
http://bit.ly/ACOBMessage23July17
As God's witnesses, it matters how we imagine God. Sunday's scripture gives a glimpse at God's identity. Christians also think of the trinity, but there are many more images and metaphors for God. God is often described in personal imagery through anthropomorphic metaphors, like a parent or like a shepherd. God is also described as an encompassing spirit surrounding us and everything around us like wind or breath. We should be aware of how we are describing God so we don't diminish ourselves, others or God with metaphors that fall short of the true glory of God. God is in whom we live move and have our being alone, the power and presence that loves us and sends us out to act lovingly to all.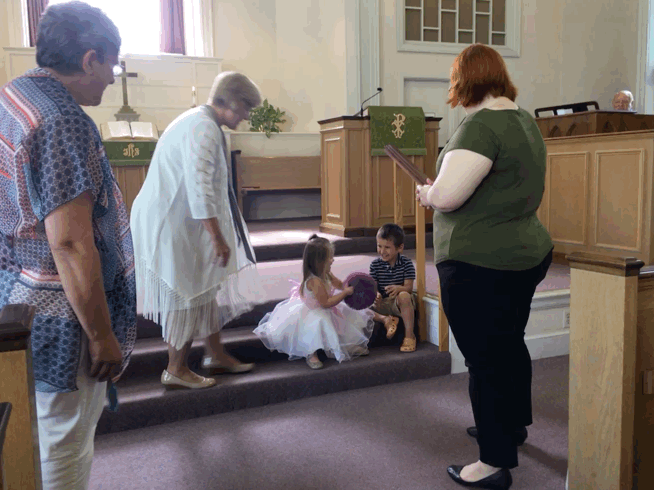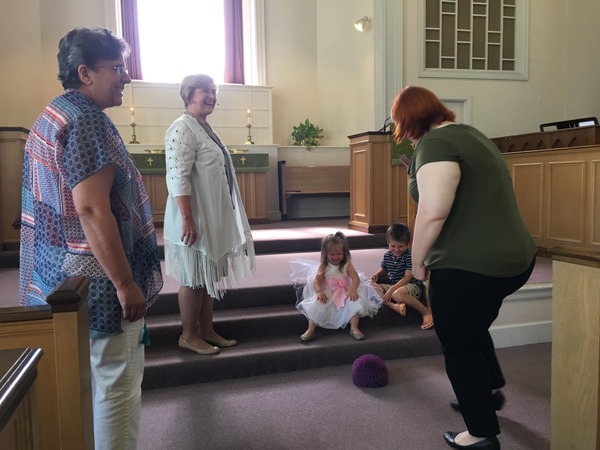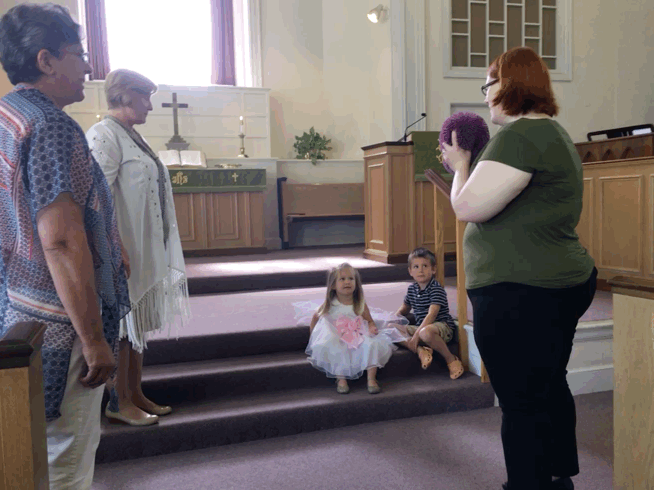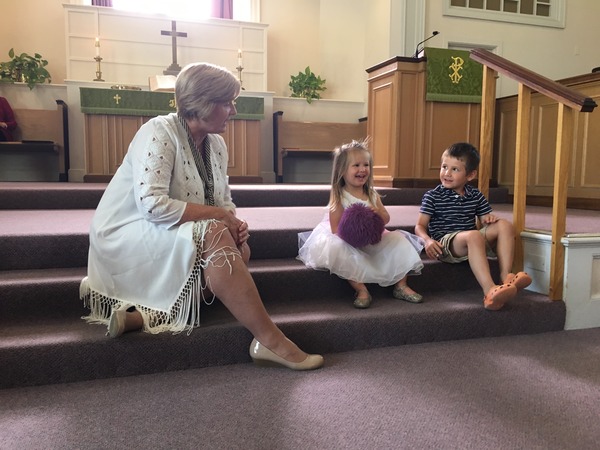 The children played a "getting to know you" game during worship yesterday, saying each others names as they threw the ball back and forth. Then they prayed,

God, we give thanks that you know our name and want to get to know us better. Help us to know you better everyday. Amen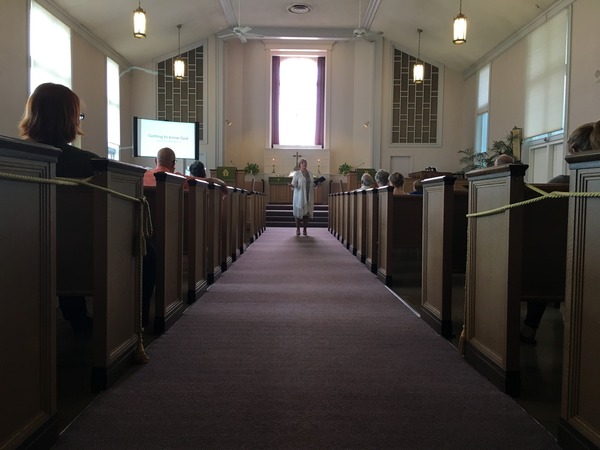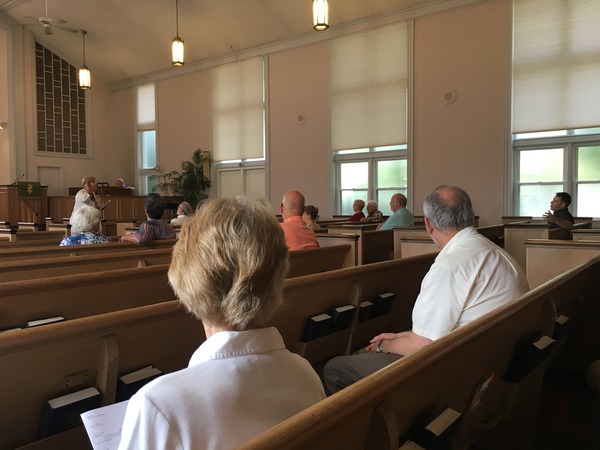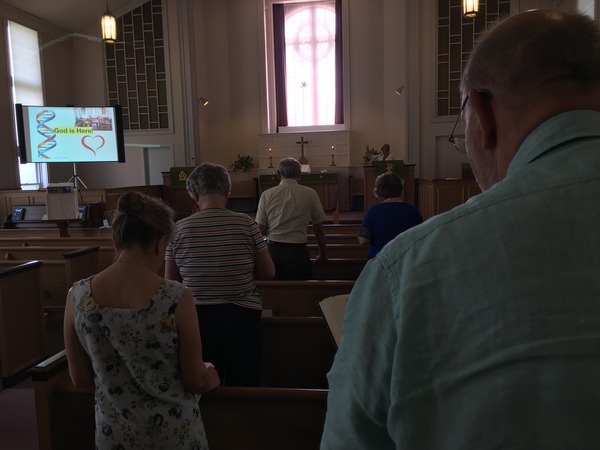 ---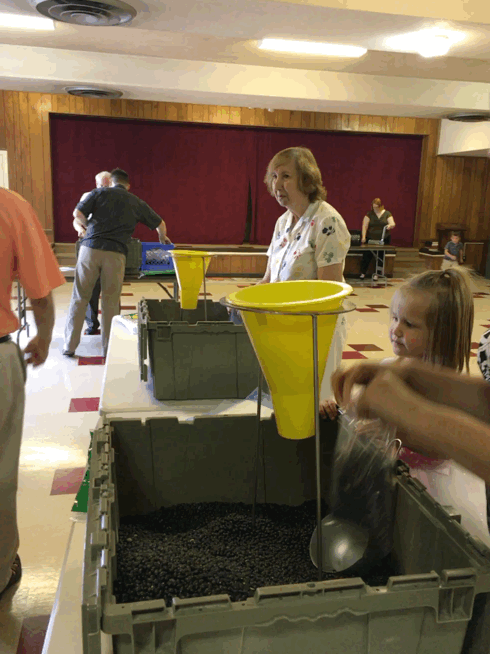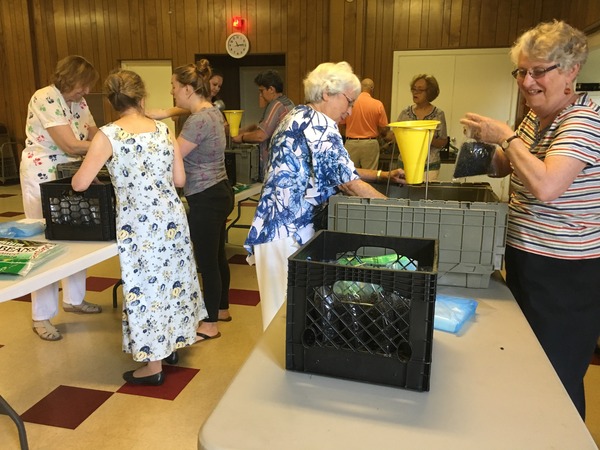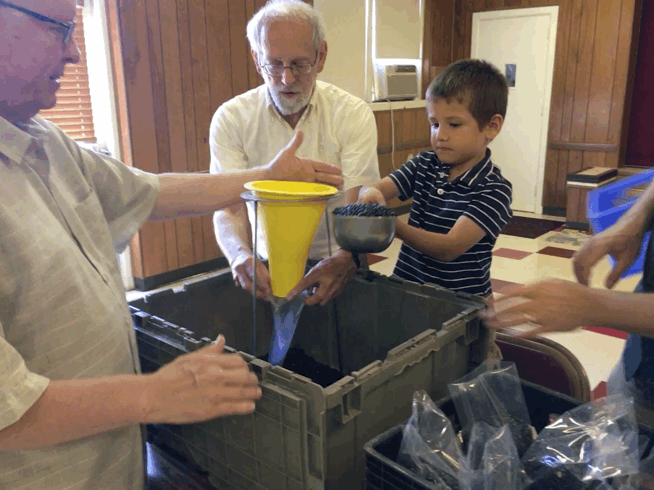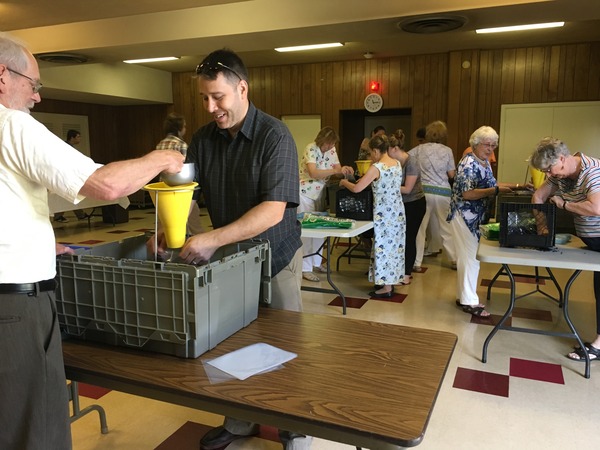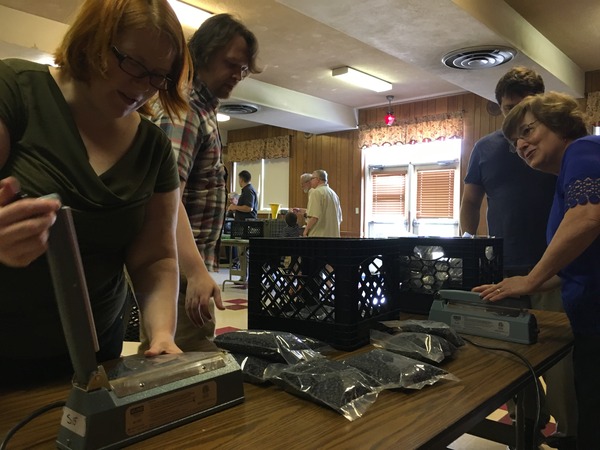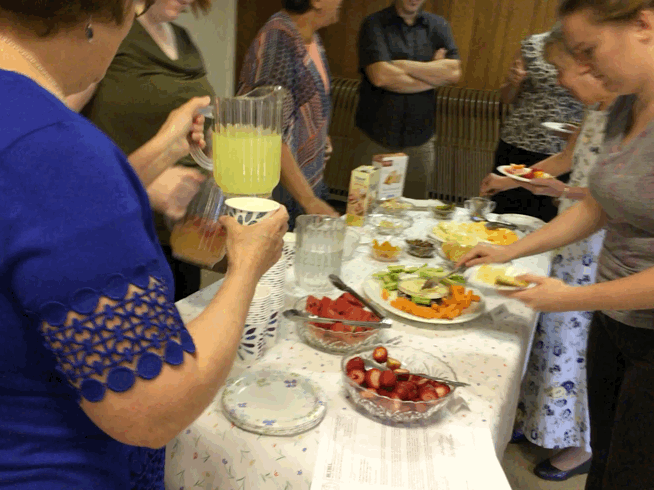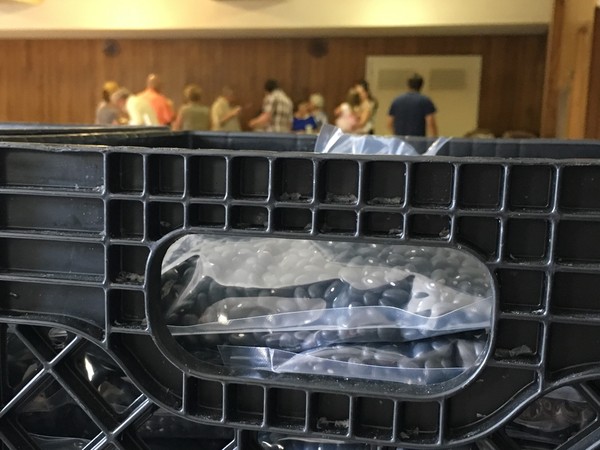 We stayed after worship yesterday to bag beans for the Arlington Food Assistance Center to distribute to the families they serve. Special thanks to everyone who stayed and pitched in, Diane for coordinating the service project and Melody and James for providing refreshments for fellowship afterwards!