When we sit on a chair, we're pretty confident it can hold us, because we can see, feel and touch it. Some things we can't see, feel or touch. For example, we can't see our breath... until we make a bubble! We can't see love either, but we know what it feels like when our parents and friends love us. God loves us and nothing can keep us from God's love. Even though we can't touch love like this chair or see it like the breath in a bubble, God's love is just as close as the air we breathe.
From yesterday's Moments with the Children at Heart
---
•

Kaizen Karate, in fellowship hall daily thru 8/4




•

VBS, 9:20 am-12:30 pm daily thru 8/4 at Oakton COB
• Executive Committe Meeting, 7:30 pm in library

Tuesday

.
•

Iglesia de Restauracion Pacto Eterno, 7-9 pm

• Brethren Voices, 11 am,

more details
Saturday

.
•
CAEC Prayer Service, 11:30 am in fellowship hall
•
Shepherd's Spring Open Pool + Ice Cream Social, 1-3 pm
•
Iglesia de Restauracion Pacto Eterno, 5-9 pm
Sunday

.



•

Community Worship at ACOB

, 10 am


• Brethren Voices, 6:30 pm,

more details



Mon., 8/7 - Board Meeting, 7:30 pm
Wed., 8/9 - Hymn Sing, 7 pm at Nokesville COB
Fri., 8/11 - Volunteer at Brethren Nutrition Center, 10 am
Fri., 8/11 -

Environmental Baby Shower

, 6:30 pm in fellowship hall,
more details
Sat., 8/12 - Yard Sale Benefit for Nigerians, 8 am - 1 pm at Dranesville COB
Sat., 8/12 - Centering Prayer, 10:30 am in library
Sat., 8/12 - Brethren Response in Nigeria, 6 pm at Dranesville COB
Sun., 8/13 - Community Worship at Arlington Forest,
more details
Thurs., 8/17 - Shepherd's Spring's Sprint to the Spring
Sun., 8/20 - Community Worship at Bethel UCC,
more details
Thurs., 8/24 -

Breakfast Bunch

, 8 am
Sun., 8/27 - Community Worship + Picnic at Lubber Run,
more details
Sat., 9/2 -
Volunteer at AFAC
, 8:30 am
Mon., 9/4 - NOAC, thur 9/8 at Lake Junaluska
Sat., 9/9 - Shredding 4 Hunger
Sun., 9/10 - Assembling School Kits, after worship
Thurs., 9/21 - International Day of Prayer for Peace
August Community Worship| "God Makes a Way Out of No Way"
Each Sunday in August we will meet with our community worship partners, taking turns at each of our churches. At the end of the month, we'll worship together at Lubber Run Park amphitheater followed by a picnic at the pavilion there. Everyone is welcome; invite a friend! See below for topics, times and locations.
This week!
August 6, 10 am @ Arlington COB
"Feeding the 5,000"
Pastor Nancy preaching on Matthew 14:13-21
August 13, 10 am @ Arlington Forest UMC


"Jesus Walks on Water"
Pastor Alex preaching on Matthew 14:22-33
4701 Arlington Blvd. (at N Henderson Rd.)
August 20, 10 am @ Bethel UCC
Pastor Anne preaching on Matthew 15:21-28
4347 Arlington Blvd. (b/w N George Mason + Trenton St.)
August 27, 10 am @ Lubber Run Park
Several reflections on Exodus 1:8-2:10
200 N Columbus Street (at 2nd St. N.)
Environmental Baby Shower |
Next
Fri., August 11, 6:30 pm
The Young Adults are sponsoring an "Environmental Baby" shower for Suzanne, Josh, and Marylynne Lay in the fellowship hall. This is the usual YA night and vegetarian soup will be provided. Anyone who would like to is invited to attend. Please bring something to add to the dinner. It is informal and will be fun to celebrate with them. She is due on the 20th!!! Direct questions to
Pastor Nancy
. The url to environmental diaper supplies is here:
www.abbyslane.com/apps/giftregistry/registry/24384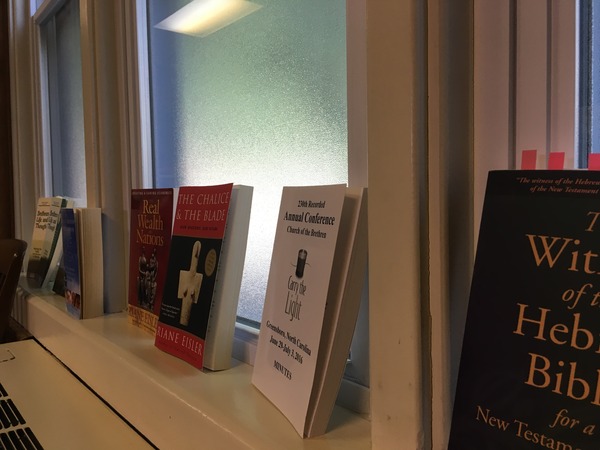 ACOB's Library | New Books!
Check out the latest books added to our collection on our online Library Thing
account
and then check out the ones that interest you from our library. The online listing includes Google reviews to learn more about the books in the next to the last column. Contact
Cindy
with any questions.
Big Bulletin | July, 2017 Edition
More Details |
arlingtoncob.org/calendar
For more information on neighboring church, denomination and non-profit events listed, check the calendar at the above link or contact the office.
---
Volunteer + Give.
Donate Gift + Smart Cards
|
Last week to donate!
Offender Aid + Restoration supports persons in the criminal justice system, particularly those transitioning back to the community after being in jail or prison. OAR has amazing results – its employment project has a low 8% recidivism rate. To help support OAR clients we are collecting $25 Target cards for clothes and other essentials and $20 SmarTrip cards for transportation to job interviews and work. Contact
Marcia
with questions.
Church World Service School Kits |
Collecting through Sun., Sept. 10
It's time again to collect the basic tools for learning for children around the world in impoverished schools, refugee camps and other difficult settings. Please donate an entire kit including all brand new items. No pencils are needed this year as we have enough from last year. Lisa will buy kits for folks preferring to make cash donations. For the Sundays we are worshiping at other churches, Lisa can collect donations each week except at Lubber Run. Contact

Lisa

with questions.
●

One pair of blunt round-tip scissors

●

Three 70-count bound, spiral, wide-lined notebooks

●

One 30-centimeter, 12 inch ruler

●

One hand-held pencil sharpener

●

One large eraser (no pencil cap erasers)

●

One box of 24 Crayola brand crayons
Volunteer at Brethren Nutrition Center |
Next
Fri., August 11
Each summer we volunteer together to serve food at Washington City COB's soup kitchen. We'll help prepare the days meal, serve it and help clean up. Sign up on the sheet in the narthex or contact
Cindy
to volunteer and join a car pool. We'll work together from 10 am to 2:30 pm.
Volunteer Point Person Needed | September Shredding 4 Hunger Event
Every year we partner with Ann Wilson Reality to provide a document shredding truck service in exchange for non-perishable food donations for AFAC. This is always a very successful service project for Hunger Action Month in September. Much of the details have been confirmed, but because of a conflict with the NOAC conference, a point person is needed. The event will be September 9. Contact the
office
if you can volunteer.
Give in the Community | AFAC + Doorways
The Geary-O'Hara Family Foundation is once again partnering with AFAC to feed as many Arlington children that need our help. Almost half of students in South Arlington schools receive free and reduced meals during the school year. Every week of the summer, families with limited resources scramble to provide 10 extra meals per child. Every donation to the
Summer Hunger Challenge
is matched dollar for dollar.

Doorways Back to School Campaign supports 60+ children as they start the school year to cover expenses like medical check-ups, extracurricular activity fees, and after-school care throughout the year. Help them
here
to reach the goal of raising $7,000 to give the tools to succeed in school and build a brighter future.
---
Media.
Dunker Punks Podcast |
http://bit.ly/DPP_Episode36
In the newest podcast, Dana Cassell explores the scriptural calls to live anew as part of her series on a spiritual training regimen for Dunker Punks. Transforming our understanding of what the Bible means by repentance is a step towards the spiritual awakening needed to return to God's justice amidst the inequality of empire.
Type in the case sensitive url to listen on the showpage or subscribe on iTunes.

Listen by clicking the above link or subscribing on
iTunes
.
#BlessedBreak |
http://bit.ly/BlessedBreak59
The video from this #BlessedBreak was created by the Church of the Brethren for their 2017 Annual Report, first shared at the 2017 Chruch of the Brethren Annual Conference the other week. Read the prayer and Scripture paired with the video at the above link.
Worship Audio | Online
Listen again to this week's sermon, catch a sermon from a Sunday you were out or peruse the archives. Each Sunday message along with a selection of hymns and readings is posted online or subscribe on iTunes.

Brethren Voices | New episode! Song and Story Fest
Brethren Voices is the TV show featuring what Brethren do as a matter of our faith. The episode for August features musicians from Song and Story Fest. Watch online now! Watch in Arlington on Comcast 69/Verizon-FIOS 38 on Sundays at 6:30 pm, Wednesdays at 11 am.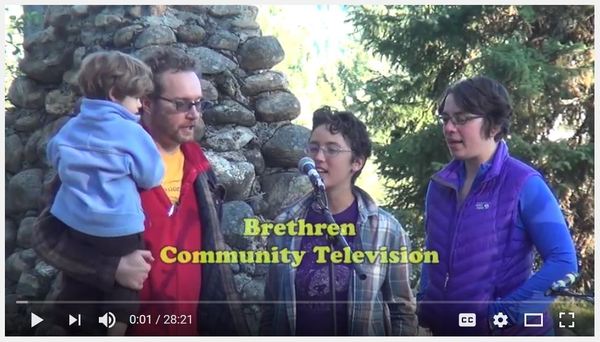 ---
Yoder Family

, transitioning at work ahead of overseas transfer next summer and mourning a close colleague and friend killed in a car accident

Charlotte

, Nancy's mom, in rehab after hospitalization

Tom

, Bill's brother, being succesfully treated for an infection originally diagnosed to be antibiotic resistant

Karolina

, at home but continuing health treatments

James + Melody

, expecting a baby in mid-November!

Marie

, Marcia's friend, recently discovered resurgance of cancer and meeting with a doctor this week about radiation treatments

D. Senko Family

, following her sudden death, family friends of Chris

Families of 2 men kille din CSX accident

, both family friends from Shelley's hometown

Barbara's family

, Ralph's sister-in-law, following her death

Joe

, Chris' friend, facing resurgence of lymphoma after several year's remission

Maxine

, Hazel's sister, broke two ribs and fractured a lung from a fall and is also struggling with Alzheimer's

Sarah + Kathy

, special prayer requests from Cindy's friend, Dennis

Noel

, son of Marcia's friend Sandy, still working with doctors to figure out mysterious and serious dizzy spell

Pastor Mike

, continuing rehab after organ transplant

Church of the Brethren in Nigeria (EYN)

, including 113 girls still captive
Keep in your ongoing prayers:
Minnie Simmons, Dorothy Fravel (Dee's mom), Theresa McCary, Erin Julca, Steve Shuss, Elizabeth Smucker, Carolyn Studds

Note:
Prayer concerns will ordinarily be listed for four weeks. If you would like one to be kept on or added back in, please let the office know. Names in bold are new to the list or updated this week.
---
This week's New Testament Scripture reassures us that there's no right way to pray and that God loves us. None of the miseries of this life can separate us from this most central element, that God loves us. Even in the ways we are complicit in those miseries, our deep seeded ties to the powerful forces of oppression can be transformed by the power of God who searches hearts, seeks the lost, sends the spirit to pray with groans and sighs and helps us in our most weakened state. God's plan is the redemption of creation and we will be restored into the image of God in which we were called into being and meant to live.This week, let us daily remember, nothing can separate us from God's love, and let us walk alongside others as equals to reassure them of the same.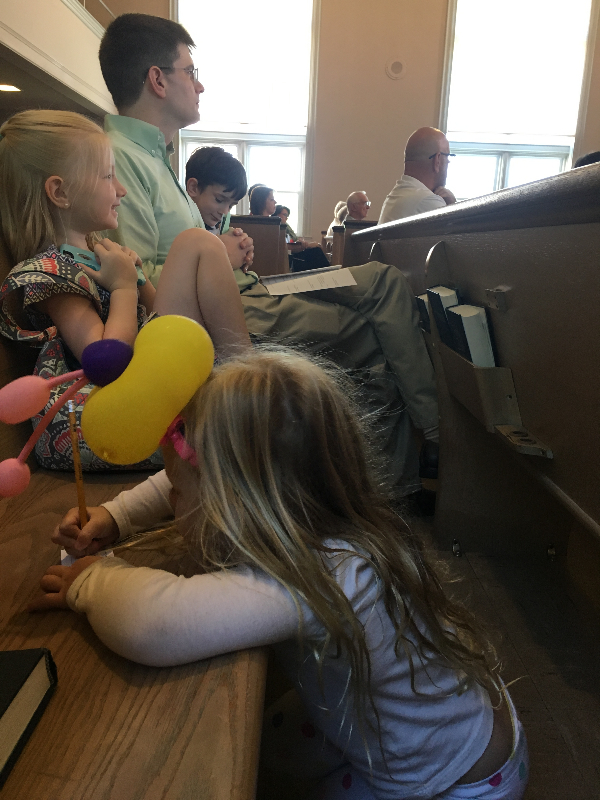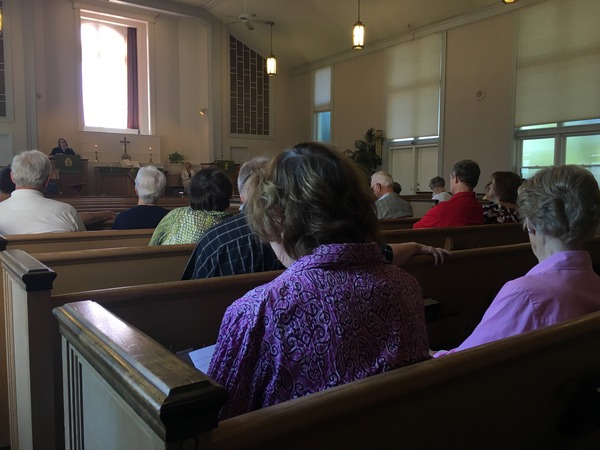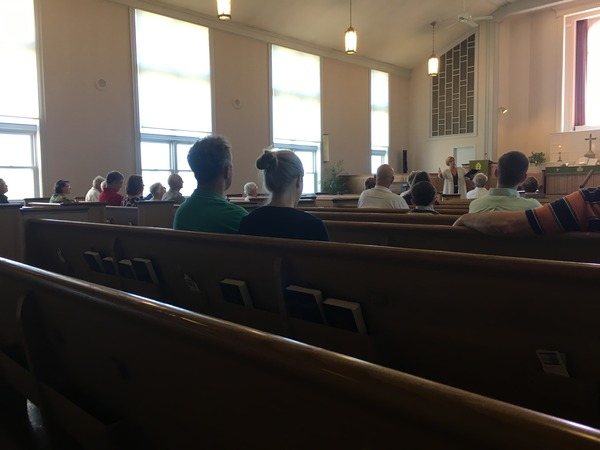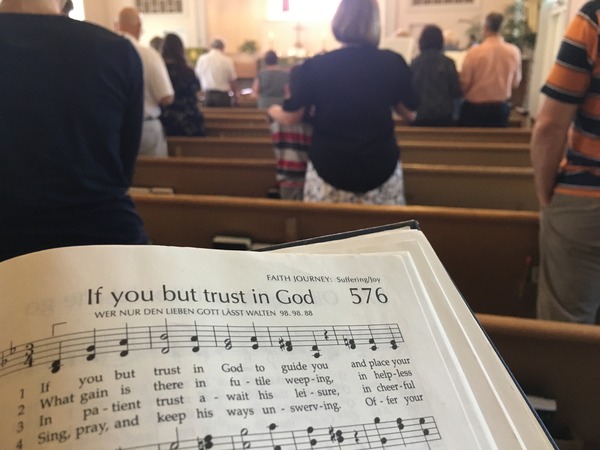 ---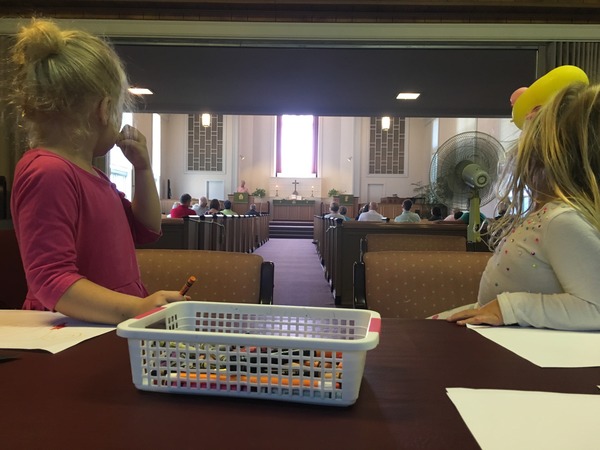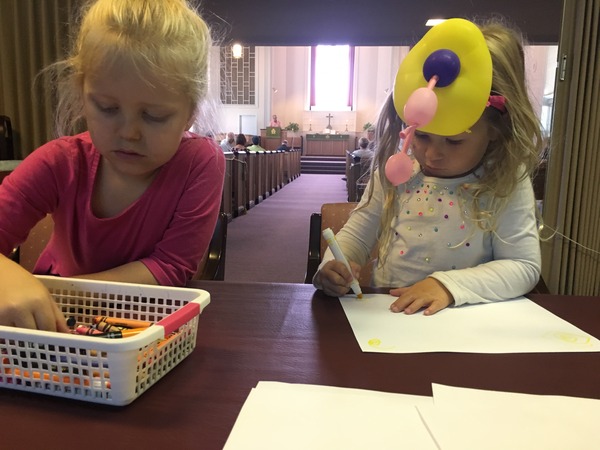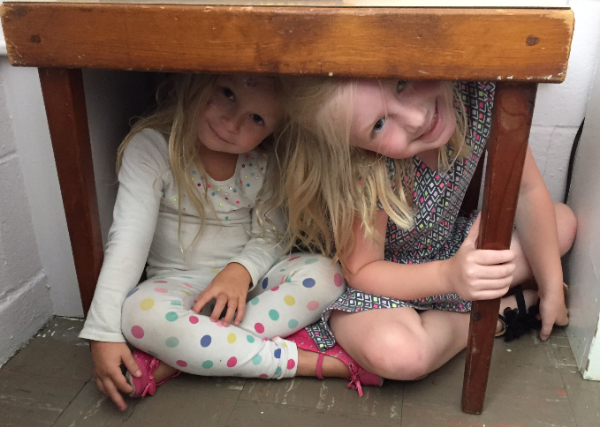 Here's a few snaps of the children coloring and playing during the Council meeting. The All Congregation Church Council Meeting after worship yesterday voted unanimously to enter into a covenantal relationship with Bethel UCC.