The One to whom we pray is with us always. In silence and darkness, in song and the light of day, in relationships and solitude we are never far from the Eternal Source.
From yesterday's Response to Prayer
---
• Pray For Peace

Interactive Worship, 7:30 pm


• Complete work

on dolls for Nigerian children in refugee camps, 8:00 pm or after Peace Service




•

Hunger Action, Put an amount in your coin box equivalent to what you spend on a loaf of bread.
Tuesday

.
•

Iglesia de Restauracion Pacto Eterno, 7-9 pm




•

Hunger Action, Pray for agencies in your community that feed the hungry.



•

Brethren Voices, 11 am,

more details




•

Yoga, 5:45 pm,

more details




•

Bell Choir Rehearsal, 7:00 pm


•

Hunger Action, Put 1 cent in your coin box for every hour you slept this week.

Thursday

.

• Breakfast Bunch, 8 am at Silver Dinner (3200 Wilson)
• Young Adult Gathering in DC, 6:30 pm (at residence)
• Hunger Action, Is there an area in your life in which you are refusing God's invitation?

• Doorways' Breakfast fundraiser, 8 am
• We Are All Arlington, 6 pm


•

Hunger Action, Skip lunch today and give the money you'd have spent to Society of St. Andrew instead.

• Family Fun Day + Fall Fundraiser for AFAC + ASPAN, 11 am
•
Iglesia de Restauracion Pacto Eterno, 5-9 pm
•
Hunger Action, Serve a meal at a soup kitchen or shelter today, for the glory of God.
Sunday

.



•

Brethren Voices Sunday School, adult and children classes 9:45 am,

more details




•

Worship, 11 am


•

Brethren Voices, 6:30 pm,

more details




•

Hunger Action, Consider how your faith community might be more like the Acts 2 community.


Fri., Sept. 30 - Movie for Blessing of the Animals
Sun., Oct. 2 - Ecumenical Blessing of the Animals
Mon., Oct. 3 - Board Meeting
Sat., Oct. 8 - MAD District Conference
Sat., Oct. 22 - CROP Walk
Sat., Oct. 29 - Fall Church Work Day
Sat., Nov. 5 - Soup + Pie Bazaar


Beginner Yoga |
Wednesdays, 5:45 pm
Join others in the fellowship hall for simple, gentle beginner yoga, especially designed to include folks 55+. $9.00 per session. The 6 week session just began. Contact Pastor Nancy with questions.

Christian Education at ACoB | Learn More in the Big Bulletin
New and continuing opportunities to grow in faith through group study await us this year. We will continuing to meet as a church for Intergenerational Big Sunday School on most second Sundays. The remaining Sundays will still see the children meet with Ms. Alma and the upstairs adult class meet during the Sunday School hour. However, the library class will shift to a rotating, drop-in group discussion model during the Sunday School hour focusing on a book the first Sunday of the month, open Scripture exploration on the third Sunday, Brethren Voices TV show the fourth Sunday and Messenger magazine articles on the fifth Sunday. Get more details in the latest Big Bulletin newsletter to learn more about continuing Christian education opportunities, as well as this new opportunity to meet and learn with people and content that both change from week to week.
---
Volunteer.
Comfort Dolls for Nigerian Children | Help Finish after Peace Gathering 8:00 pm
Children's Disaster Relief Services for the CoB is collecting hand-sewn, knitted, or crocheted dolls and stuffed animals to help provide comfort for Nigerian children in trauma healing workshops. We'll gather again after the Peace Gathering to put finishing touches on the dolls (stuffing, dressing and making faces). No crafting experience is necessary to help.

Big Bulletin | New issue! http://bit.ly/1Td8YVI
The latest newsletter was inserted in yesterday's bulletin and mailed to regulars not in attendance. It includes articles about Christian Education at ACoB, A History of Mennonites in Ukraine, Big Question Responses, and more. Read it online at the above link or contact the office for a paper copy.

#BlessedBreak | New devotion! http://bit.ly/BlessedBreak26
Our latest video devotional is inspired by yesterday's Big Sunday School. Take a break to watch the video, read the Scripture and pray.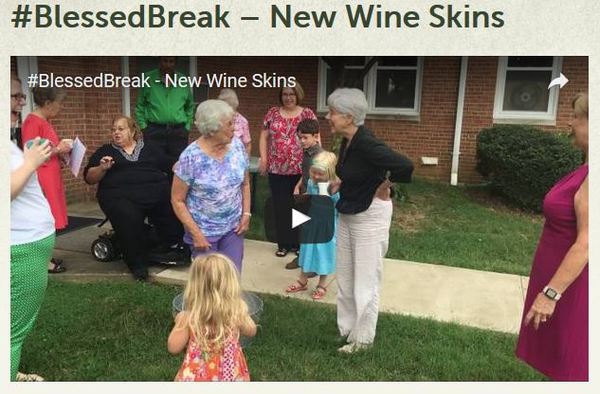 Brethren Voices | South Sudan: On a Journey to Peace
Brethren Voices in Arlington will feature current mission work including a large health care program, recent footage from and an historical perspective of Sudan
throughout September.
Tune in Sundays at 6:30 pm or Wednesdays at 11 am on Comcast, 69; Verizon-FIOS, 38 or on
Arlington Independent Media
's
live stream

.
Contact
James
with any questions.
NEW - Dunker Punks Podcast | http://bit.ly/DPP_Episode14
The latest episode, "Spiritual Training Regimen" features Dana Cassell.

Our spiritual ligaments are meant to be worked, so we can grow in faith. In this episode, Pastor Dana gives us the secret to spiritually training like the greats. Tune in and get to work!
iTunes
.
Text Alerts |

Sign up with your cell phone
Oh no! Worship must be cancelled due to the biggest blizzard in history, or maybe, we don't have any ice cream for tomorrow's ice cream social! Fortunately, should church emergencies arise, we now have a new tool for spreading information fast. Text "EZSAY19248" to 313131 and you'll be signed up for ACoB's new text alerts. We won't forget to contact folks who don't sign up, but for those who do, text alerts are the quickest way to stay in the loop with your church family. We might even text out surprise blessings or words of encouragement too!
Worship Audio |

Online
Peruse the archives,
ACoB sermon audio
(9/18/16) along with a selection of hymns and readings is posted
online
or subscribe on
iTunes
---
Pray. Call. Write.
Ed Varner and family following death of Vivian

Minnie, in treatment for chest infection


Yoli, Roy + Family,

Lisa's sister and Alma's daughter, upon Roy's mother's passing
Nelson Family + Nokesville CoB, mourning the loss of Kay Nelson from a very rapidly developing cancer
Gary, travelling to Russia and Ukraine (9/21-10/3), TourMagination feels secure that all areas of the tour are safe for travel. Let us also pray for folks caught in the middle of the conflict between Russia and Ukraine and for success at ongoing peace talks in Minsk.
Pastor Mike

, continuing to deal with liver failure and awaiting transplant
Pastor Pat

, recovering from a broken arm
Briana + Alys,

starting college + grad school
Charles Tuck

, Hazel's son, diagnosed with cancer throughout his body
Minnie

, palliative care at Goodwin House, Rm 248, visitors welcome
Walkin-Haske Family

, ongoing health treatments
Jummai Paul

, kidnapped Chibok girl and others
Church of the Brethren in Nigeria (EYN)
---
Worship Notes.
Do "Nice guys finish last"? (sermon title) Great! for the last shall be first.

Listen to Sunday's sermon here:
http://bit.ly/2cAqt7z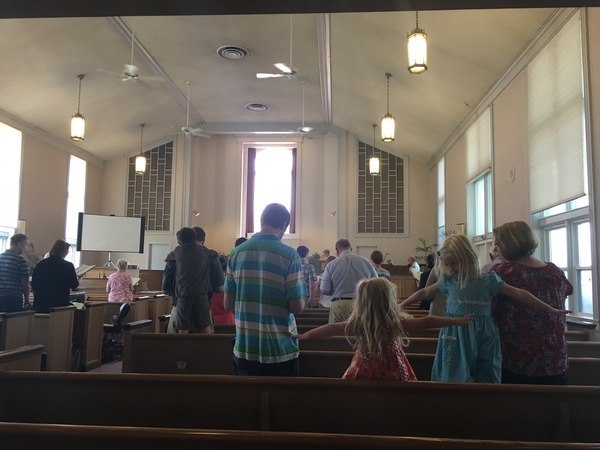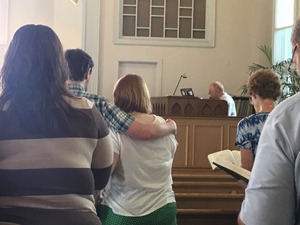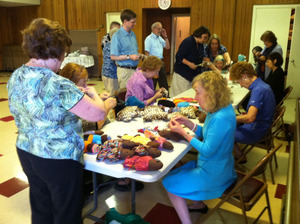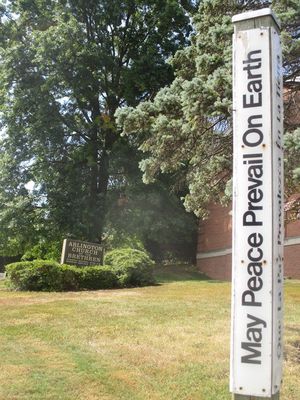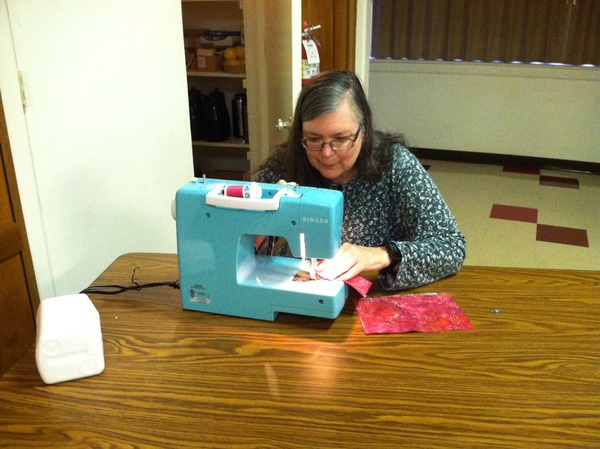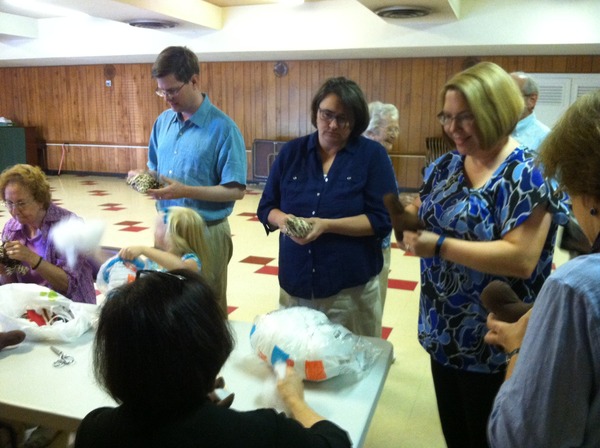 'Service after worship' included putting together school kits for Church World Service with the supplies we have collected. Then work continued on the dolls for Nigerian children in refugee camps.
Sewing, stuffing, and creating eyes from yarn were all tasks that volunteers accomplished. But, there are more dolls to complete. After the Peace Gathering tomorrow you can help finish a few more.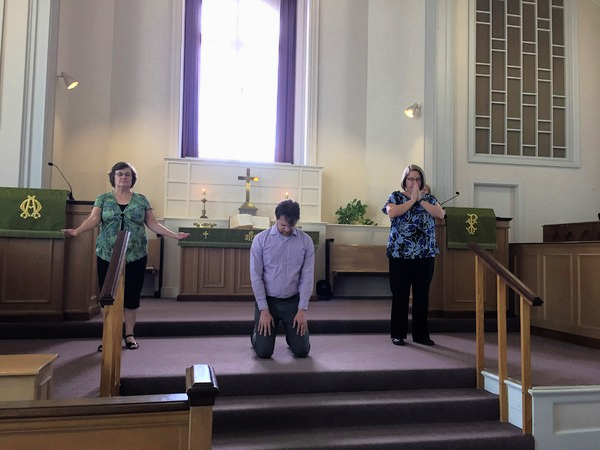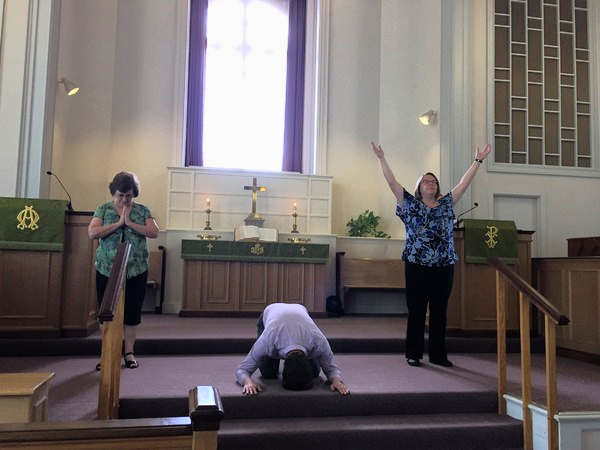 ---
More Pictures.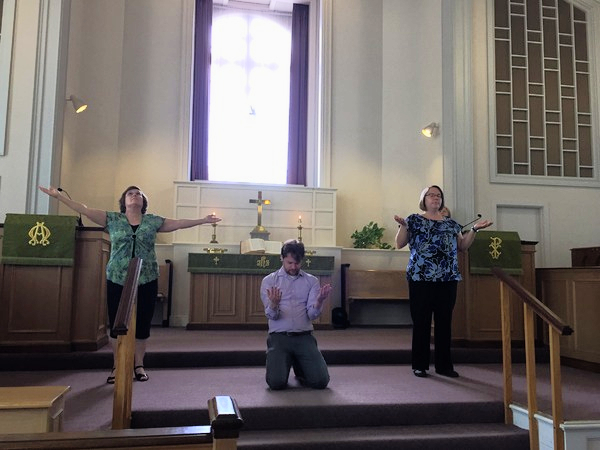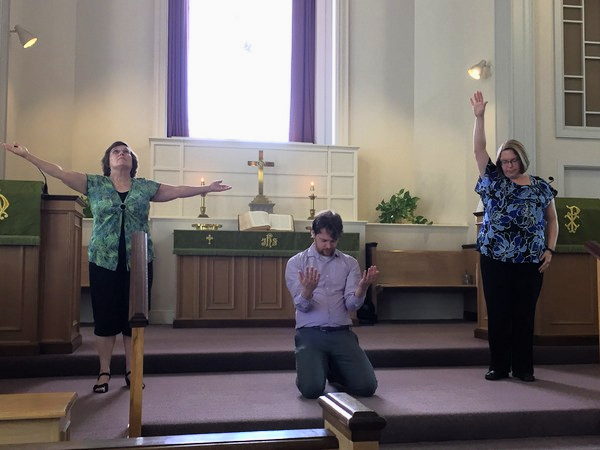 How do you pray? Different prayer poses invited us into a time of prayers for peace and justice.