When we abide in Jesus, we can't stop hungering and thirsting after righteousness. When we abide in Jesus, life-changing hope, power, courage, and love keep flowing from His vine into our branches. When we truly abide in Jesus, how can we not bear fruit?

---
Mo
Monday.
•
Office Hours,
3:30-5:30pm, (switched from Tuesday this week only)
Tuesday.
• Film Screening of A Place at The Table, 6:30pm at Marymont University
•
Iglesia de Restauracion Pacto Eterno, 7-9pm in Fellowship Hall
Wednesday.
•
Office Hours,
9:30-11:30am
•
Brethren Voices, 11am,
more details
•
No Bell Choir Rehearsal
, on break through summer
Thursday.
•
Office Hours,
3-5pm
• Exploring the Barriers to Equity and Inclusion, 7pm at Central Library
•
Kaizen Karate, 6:30-8:30pm in Fellowship Hall
•
Community Choir Practice,
7:30pm at AFUMC
Friday.
Saturday.
• Spring Church Work Day, 9am - 2pm, more details
•
Iglesia de Restauracion Pacto Eterno, 5-9pm in Fellowship Hall
Sunday.
•
Worship, 11 am in Sanctuary
•
Office Hours, 12 - 3pm
•
Cambodian Alliance Evangelical Church, 1-4pm in Sanctuary + Fellowship Hall
I
•
Iglesia de Restauracion Pacto Eterno, 5-9pm in Fellowship Hall
•
Brethren Voices, 6:30 pm
,
more details
Mon., 4/30 - Executive Committee Meeting, 7:30pm
Tues., 5/1 - 8th Annual Peace Feast, 6:30pm at Linville COB
Sat., 5/5 -

AFAC Service Saturday

, 8:30am,
more details
Sat., 5/5 - Disaster Response Auction, 9am in Westminster
Sun., 5/6 - Bethel Worship (1 of 2 trials), 9:30am in sanctuary
Sun., 5/6 - Refreshments with Bethel UCC, 10:30am in the fellowship hall
Sun., 5/6 - Pastoral Search Committee Meeting, following worship
Sat., 5/12 - Camp Mardela Auction + Flea Market
Sat., 5/12 - Shepherd's Spring Workday, 1 of 2
Mon., 5/14 -

Special Church Board Meeting

, 7:30pm in library
Wed., 5/16 - Church Planting Conference, thru 5/19 at Bethany
Wed., 5/16 - Pastoral Search Commitee Meeting, 7:30pm in the library
Sat., 5/19 - Shepherd's Spring Workday, 2 of 2
Sun., 6/3 - AFAC Volunteer Picnic, 5pm
Mon., 6/4 -

Church Board Meeting

, 7:30pm in library
Sun., 6/10 - Bethel Worship (2 of 2 trials), 9:30am in sanctuary
---
More Details.
Lybrook Community Ministries
| Brethren Mission in NM
On Sunday

we got to share worship with guests Jim and Kim Therrien, co-pastors at Tokokadi COB in the Lybrook community of New Mexico who talked a little bit about their mission work at a reservation school. Learn more on their website:
http://www.lcmmission.org/
Search Committee
|

At Work, Input + Questions Welcome
The search committee to find our permanent pastor has been called from the congregation. Participants have committed to take on this task for us and have already started their work. The committee includes Amy, Debbie who is chairing, Everett, James, Karolina, Lisa, and Nancy W. Contact any of them with questions about the process, their progress or your hopes for our next pastor.
MAD Disaster Response Auction |

Sat., May 5, 9 am

in Westminster, MD
This is the 38th year the Mid-Atlantic District of our denomination will rally our local faith community through the annual Disaster Response Auction to make a difference for our wider communities recovering from disasters. ACOB supports the auction by purchasing ad space in the auction booklet and many folks in our church individually donate and attend. Contact the office for more details abou the event and Nancy W. if you'd like to carpool.
Consolidated Reports
| Coming Soon!
In lieu of a new version of the Big Bulletin newsletter, a synthesis of the latest reports will be distributed regularly on an as needed basis. Highlights from the latest church board meeting, donation and fundraising totals and other accounts of recent church work will be collected and regularly distributed upon reaching critical mass. A big thanks to Jo Ann for taking on this new periodical as part of her role as Clerk on the church board. Please send reports and questions her way.

Thank You! | Yard Sale
A big thanks to everyone who worked so hard to make the yard sale such a success. We raised $700 and found homes for many items to be put to good re-use. To that end, we have also found a home at Shepherd's Spring for the old altar that Arlington's first congregation used when worshiping in a local school building.

Thank You! | Dunker Punks Podcast
Thank you for generously donating over $360 during Easter breakfast. The podcast is very encouraged by ACOB's strong support. With your investment we are now paying honorariums to the show team. We value our authentic young adult voice and the time it takes our volunteers to share their gifts honed and lessons learned through discipleship to Christ. We are simultaneously creating even more ways to explore their inspired messages by developing companion curriculum for each episode. Thank you for helping us grow like the mustard seed weed, building connections across and beyond traditional congregations.

---
Advocate, Volunteer + Give.
Spring Church Work Day | This Sat., April 28, 9 am
Projects are available for all ages and all levels of activity and you can choose whether to work inside or outside. Bring an axe if you have one to help with tree stump removal. Contribute to making our church look welcoming and enjoy fellowship while you work. All volunteers are invited to stay for a pizza lunch. Contact Warren with questions.

Film Screening
| This

Tues., April 24, 6:30 pm
AFAC is the charity beneficiary of a screening of the acclaimed film on hunger in America, A Place at the Table, by the producers of Food, Inc. A student-led discussion will immediately follow. Voluntary donations of non-perishable foods for AFAC will be collected. Contact Brenna Cook with questions at
bmc45925@marymount.edu
.
Baby Food Drive
| This Sun., April, 29 is the last day to donate.
Bring in-kind and monetary donations to worship this Sunday. Be part of this month's Service Ministry Team service project by donating baby food items for distribution at AFAC. No glass jars please. Lisa will make a store trip for folks who prefer to give monetary donations. Contact her with any questions.
Disaster Response Change Jar | This Sun., April, 29 is the last day to donate.
Everyone has been so generous filling the jar, including the children who faithfully donate change each week during Sunday School. This Sunday is your last chance to pitch in, free your pockets and clear your bureau tops for disaster relief! Folks who attended the MAD Disaster Response Auction last year brought back a big barrel of pretzels to enjoy and then repurpose the container for collecting change ahead of this year's auction, next week (5/5). Our change jar is quite heavy at this point, and we look forward to finding out how much we collected for helping people recover from disasters!

Volunteer at AFAC| Sat., May 5, 8:30 am
ACOB regularly volunteers as a community, distributing food to folks in need. Many who faithfully show up will be attending the district disaster auction, so this is a great time to give volunteering a try if have yet to or its been a while. Contact Diane with any questions.


* Do you care about ways to serve and participate in our community and through our denomination? Sign-up for and commit to reading regular updates from organizations that interest you, then notify Suzanne in the office about the events and projects you want shared on ACOB's calendar.
---
Media.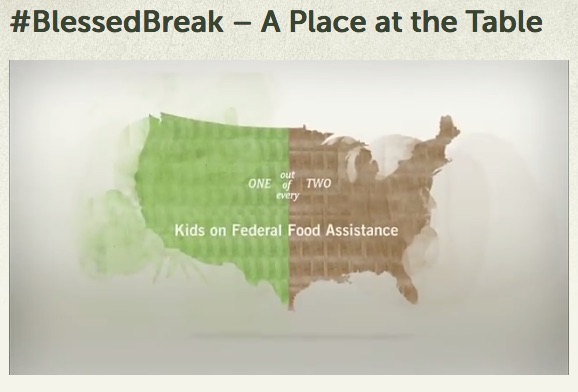 Blessed Break |
New!
A Place at the Table
This month's Blessed Break features the trailer for A Place at the Table. You can join a screening of the movie in its entirety on Tuesday night at Marymount University.
http://bit.ly/BlessedBreak96
---
Keep in your ongoing prayers: Steve Shuss, Minnie Simmons, Carolyn Studds

* P

rayer concerns will ordinarily be listed for four weeks. If you would like one to be kept on or added back in, please let the office know. Names in bold are new to the list or updated this week.
---
Worship.
Listen to Sunday's Sermon here:
http://bit.ly/ACOBMessage42218
Pastor Christy returns with a sermon on the last "I am" statement in John's gospel.
T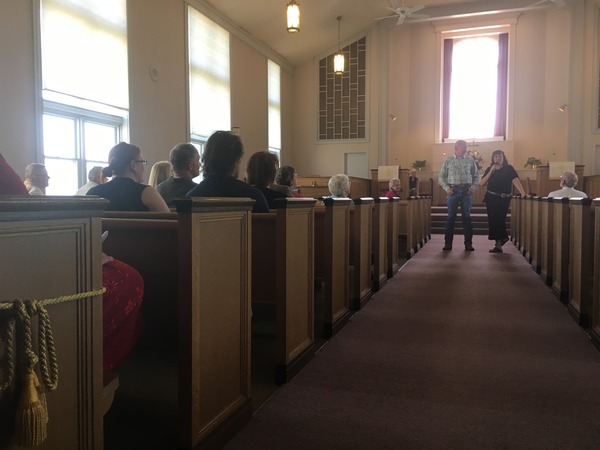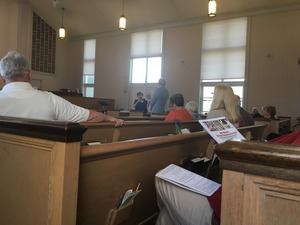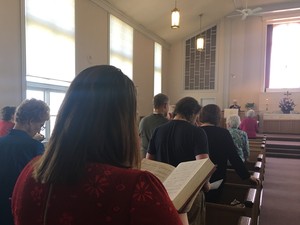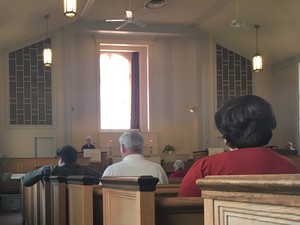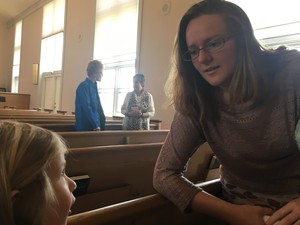 ---
From last week's Yard Sale: