"We must discover the power of love, the redemptive power of love. And when we do that, we will make of this old world a new world, for love is the only way."

-

Martin Luther King, Jr., quoted in Sunday's sermon
---
Mo
Monday.
Tuesday.
•
Donna Fields' Birthday!
•
Office Hours, 3:30-5:30pm
•
Iglesia de Restauracion Pacto Eterno, 7-9pm in Fellowship Hall
Wednesday.
•
Brethren Voices, 11am,
more details
•
Kelsey Court Meeting, 6:30-9 pm in fellowship hall
Thursday.
•
Office Hours, 3-5pm
•
Kaizen Karate, 6:30-8:30pm in Fellowship Hall
•
Community Choir Practice, 7:30pm at AFUMC
Friday.
•
Jane Fields Price's Birthday!
Saturday.
•
CAEC Prayer Service, 11:30am - 1pm in fellowship hall
•
Iglesia de Restauracion Pacto Eterno, 5-9pm in Fellowship Hall
Sunday.
•
Worship, 11am
•
AFAC Volunteer Picnic, 5pm
•
Cambodian Alliance Evangelical Church, 1-4pm in Sanctuary + Fellowship Hall
I
•
Iglesia de Restauracion Pacto Eterno, 5-9pm in Fellowship Hall
• Brethren Voices, 6:30 pm
,
more details

Mon., 6/4 - Church Board Meeting, 7:30pm in library
Fri., 6/8 - 12 - Reevesland Lettuce Washing, in kitchen
Fri., 6/8 - Young Adults Gathering, 6:30pm in fellowship hall
Sun., 6/10 - Bethel Worship (2 of 2 trials), 9:30am in sanctuary
Sun., 6/10 - Children's Sunday School with Bethel, 9:45am
Sun., 6/10 - Unity Potluck, 12pm in fellowship hall
Sun., 6/17 - Father's Day
Sun., 6/17 - Worship, 10am
Thurs., 6/28 - Breakfast Bunch in Bridgewater
Wed., 7/4-8 - Annual Conference, Cincinnati, OH
Sat., 7/7 - Volunteer at AFAC, 8:30am
Sat., 7/8-14 - Song + Story Fest, Inspiration Hills Camp, OH
Sun., 7/22 - Bag Lunches for ASPAN, 12pm in fellowship hall

---
More Details.
Need to Contact the Church Office?
| Reminder
As a reminder, church office hours vary from week to week. See the online calendar for when the office will be open and when Pastor Christy will be in town for the upcoming week. Neither Pastor Christy (60% time) or Suzanne (5 hours/week) are currently contracted for the full regular hours for their positions. Also note, Pastor Christy's email was set up when she joined us and includes her first name: pastorchristy@arlingtoncob.org. Feel free to text or call the office mobile (571-243-5344) with any calendar, contact or availability questions anytime.

Last Spring

Sunday

School Classes
| This

Sun., June 3, 10 am
Both the children and adult

Sunday

school classes will wrap up this Sunday, June 3. Next,

Sunday, June 10

, worship will still be at

11 am

but there will be no

Sunday

school classes. Bethel will be worshiping in our building that day from

9:30 am - 10:30 am

, so their children will be having

Sunday

school classes from

9:45 am - 10:30 am

and ACOB children are welcome to attend. All are also welcome to attend Bethel's traditional after worship refreshments at

10:30 am

in our fellowship hall. Contact the office with questions.
Special Bethel Service
|

Sun., June 3, 10 am
Bethel United Church of Christ is holding special homecoming worship

this Sunday

to say goodbye to their church building (

4347 Arlington Blvd, Arlington, VA 22203)

. They warmly invite all who wish to attend. Contact Pastor Anne with questions at 703-403-6653.
Worship at

10 am

in 2 Weeks
|

Sun., June 17, 10 am
Throughout the summer

Sunday

School goes on break and worship is moved to

10 am.

Sunday

School and the later worship time will resume on the third

Sunday

in September. Contact the office with questions.
Table Talk
| Summary on Bulletin Board
We had a wonderful time checking in last week about our new relationship with building partners, Bethel UCC, and to help inform the pastoral search committee's ongoing work. Find notes from our table talk discussions on the bulletin board to the left of the church office.
Breakfast Bunch to Bridgewater
|

Thurs., June 28

, Meet at

6:45 am
In June our Breakfast Bunch hits the road to visit our friends in Bridgewater, and as with their local meet-ups, all are welcome. We'll meet at

6:45 AM

to carpool from ACOB at

7 AM.

Then, we'll stop at the Village Inn (4979 S. Valley Pike on Rte. 11 just of I-81) for breakfast. We have connected with Nelson, Catherine and Lucille who are looking forward to our visit. Sadly, Wes and Jane are not going to be able to join. Ralph C. will also be away but is helping find a meeting space. We also hope Dee will join us! We're planning for the Bridgewater visit to begin around

10 am

and last about an hour to an hour and half. Contact Gary with questions and to join a carpool.
Unity Worship + Potluck | *Update: TBD
As it turns out,

June 10

is not a good date for all three congregations. Keep an eye out for the rescheduled date once it is selected.
---
Advocate, Volunteer + Give.

Doorways Donation Day | TBD
Our annual Doorways donation day is coming up. This is always a very successful event, raising multiple carloads of groceries for our community partner providing shelter from domestic violence. Once the date is set (either June 9, 16 or a date in July if those dates aren't locked in soon), we will need pairs of volunteers in hour shifts to stand outside of the store offering to collect donations.
Disaster Relief
|

Pretzel Jar Donation Total
Last year we re-purposed a pretzel jar brought back from the 2018 Disaster Auction. We used it to collect spare change to donate at this year's auction the other week. The change was counted and w

e collected $271 for disaster relief! Before sending the jar off to the auction, folks guessed how much they thought we might have collected and Josh was the closest with a guess of $276! The Service Ministry Team very kindly awarded him a $10 Starbucks gift card for the very close guess. We picked up another jar this year and after we polish off the pretzels, we'll start collecting again! Contact Marcia

* Do you care about ways to serve and participate in our community and through our denomination? Sign-up for and commit to reading regular updates from organizations that interest you, then notify Suzanne in the office about the events and projects you want shared on ACOB's calendar.
---
Media.
New!
Dunker Punks Podcast |
http://bit.ly/DPP_Episode58
Tori Bateman interviews Gimbiya Kettering, the Director of Intercultural Ministries for the Church of the Brethren, who gives incredible insight on race relations within and beyond the church. Learn how the Church of the Brethren and Martin Luther King Jr. are connected in ways you may not expect.
---
Abby, Alma's granddaughter, a joy to see her graduate with many honors from high school

on Saturday

, Abby is looking forward to studying nursing and playing volleyball at EMU next year
Jacque

, readmitted to the hospital this week after surgery last week, but now back home and regaining energy

Carole

, in positive spirits and celebrated her birthday this weekend, calls and visits while she is still at the rehab facility are appreciated, 703-867-1952

Ralph

,

home from the hospital stay last week

Sara

, celebrating a new job

Everett

, back injury

Tom

, Sue's boss, returning to work next week

Sharon

, Marcia's friend + ACOB service volunteer, health issues involving rapid weight loss

Ron

,

Sue's friend, continued chemo treatments for stage IV lung cancer

John

, Dale's brother, undergoing health assessment for an englarged heart and possible microvalve repair

Dale

, seeking treatment for back pain

Karolina

, positive progress transitioning between homes

Ruby

, Lisa's student, back at school and a mostly normal routine after first of series of brain surgeries

Eugene

, Donna's high school friend, receiving treatment for burns after a farm accident

Sophia

, wrapping up a challenging school year

Chuck Norton

,

Bethel UCC, undergoing treatment for pancreatic cancer

Church of the Brethren in Nigeria (EYN),

including 113 girls still captive
Keep in your ongoing prayers: Steve Shuss, Minnie Simmons, Carolyn Studds

* P

rayer concerns will ordinarily be listed for four weeks. If you would like one to be kept on or added back in, please let the office know. Names in bold are new to the list or updated this week.
---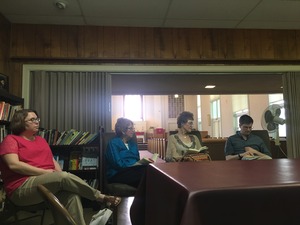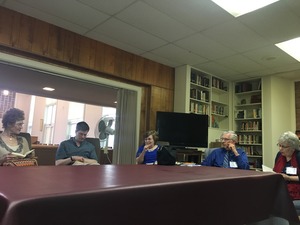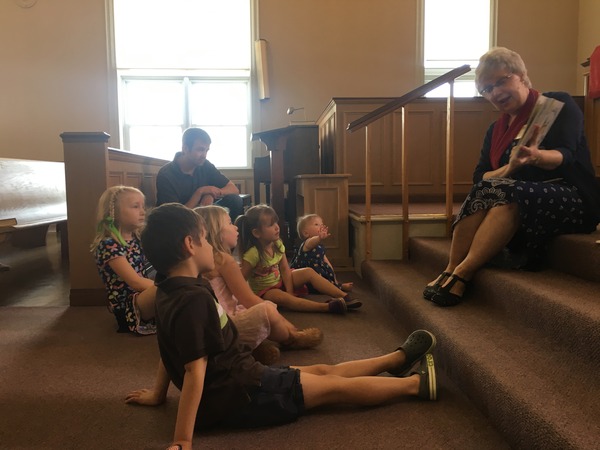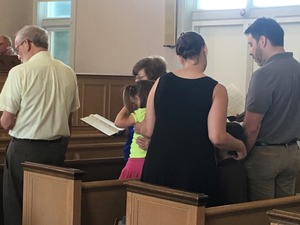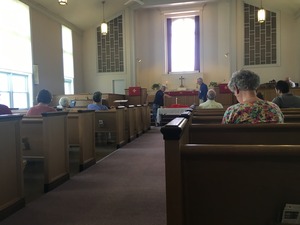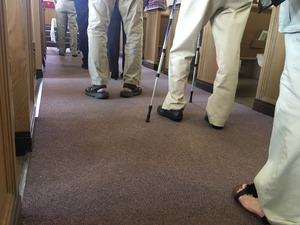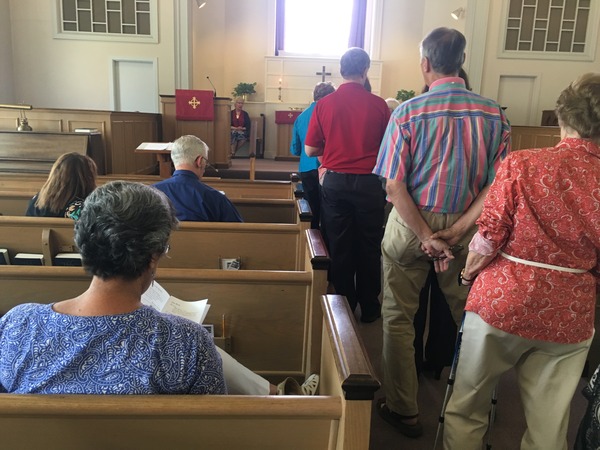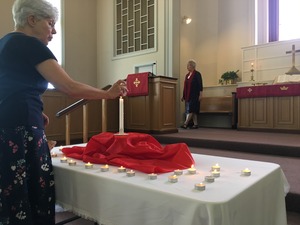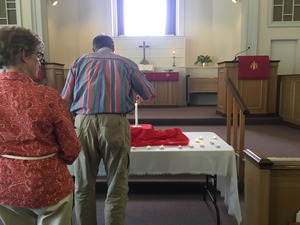 ---