When we feel healed - when we feel whole - we are so much more empowered.

-

From Sunday's sermon by Interim Pastor Christy Dowdy
---
Mo
Monday.
•
Church Board Meeting, 7:30 pm in the library
Tuesday

.
•
Iglesia de Restauracion Pacto Eterno, 7-9pm
Wednesday.
•
Brethren Voices,

11am

,
more details
•
Handbell Choir Practice, 7:00 pm
Thursday.
•

Community Choir Practice,

7:30pm at Arlington Forest UMC


Fri


Friday.
•
ACOB Young Adult Gathering

,

6:30pm in the fellowship hall
Saturday.
• AFAC Spring Garden Kick Off, 9am
•
Iglesia de Restauracion Pacto Eterno, 5-9pm
Igles
Sunday

.
•
Worship and Welcome Potluck, 11am, more details
v
•
A Taste of Winter, 3pm at Shepherd's Spring
•
Brethren Voices,

6:30pm

,
more details
Wed., 2/14 - Adult Cooking Class, Schedule at Shepherd's Spring
Wed., 2/14 - Ash Wednesday Worship, 7pm at Bethel UCC, more details
Sun., 2/18 -

Soup and Pie Meeting

, after worship in sanctuary, more details
Thurs., 2/22 -

Breakfast Bunch

, 8am, location TBA
Sun., 2/25 -

Deacon Meeting

, 12pm in fellowship hall
Fri., 3/2 - Christian Minority Communities Seminar, more details
Sat., 3/3 - Volunteer at AFAC, 8:30am
---
More Details.
Potluck to Welcome Pastor Christy | Sun., Feb. 11 after worship
Plan to stay after worship next week for a welcome lunch for Pastor Christy. Please bring your favorite dish to share. Beverages will be provided. Contact Alma with questions.
Ash Wednesday Worship | Wed., Feb., 14
Begin Lent with our friends at Arlington Forest UMC and Bethel UCC at a community worship service at Bethel (4347 Arlington Blvd.). Contact the church office with any questions.
"Growing in God's Garden" | 2018 Lenten Devotional
Lent invites forty days of intentional soul work. It gives us time to reflect on God's word and pray, trusting God to tend our llives and bring forth new life. Pick up this year's Lenten Devotional by Erin Matteson in the narthex. Consider donating in the nearby basket to offset the cost, if able.
Soup + Pie Meeting | Sun., Feb. 18, after worship
All hands on deck are needed to help wrap up 2017's Soup and Pie Bazaar event and start planning for 2018. Contact Alma with questions.

More Details |
arlingtoncob.org/calendar
For items under "This Week" and "Looking Ahead" that are not listed in the descriptions under "More Details," find more information on the online calendar at the above url. Bolded items are ACOB events, other listings come from our denominational and community partners. The bulletin boards also have more details received directly from our partners in the mail. The narthex board includes ways to give, the board to the right of the office has events, and newsletters and thank you notes are on the one to the left. The one on the left also includes an editorial board for you to post interesting articles and funny cartoons.

---
Advocate, Volunteer + Give.
Child Care | Volunteer during Worship
Two volunteers are needed during every worship service to care for the children in the nursery. At the same time, we no longer have a paid child care provider two weeks out of the month as we had recently. New volunteers are needed and would be very appreciated. All volunteers both new and returning, please connect with Jacque or Suzanne in the office to see about meeting our new insurance safety requirements.
Altar Flowers | Volunteer to Bring Flowers
Each week, flowers from folks in the congregation decorate our altar. Sign up on the sheet in the narthex to be part of this tradition. Contact Alma with questions.
After Worship Socials | Volunteer to Host One Month
Once a month we gather in the library after worship to chat and check-in. Volunteer to bring refreshments. Sign up for any Sunday out of the month on the sheet in the narthex. Contact Alma with questions.
Request for Comments | Tell Your Service Story
The National Commission on Military, National and Public Service
is currently accepting comments from the public. While their mandate remains heavily focused on military service, their definition of service includes both national volunteer service and service in the military. Our Office of Public Witness is currently highlighting this opportunity to share your story and impact the focus of this commission. Share online: http://www.inspire2serve.gov/content/share-your-thoughts
Christian Minority Communities | Sat., March 2nd
Join the Office of Public Witness for a day-long seminar discussing the historic and current situation, relevant U.S. and international policies, and the theological implications of these communities. The day will consist of guest speakers from government and faith-based organizations, discussions, and action items for further reflection and advocacy. Register online: http://bit.ly/OPWSeminar_2March18
Packing Help | For Karolina
If you're able to help with packing for a multi-tiered move, Karolina and family appreciate help on the following days and times. If you can help, be in touch with Karolina directly.
Wed., Feb. 7

: 9-5 with lunch break;
Sat., Feb. 10

:

9-3:00
Disaster Response Auction | Donate by Feb. 18
The 38th annual auction will be held May 5th in Westminster, MD. Last year $60K was raised to help victims of disasters across the world. Help by donating auction items or monetary gifts for the auction booklet. Every auction booklet sponsorship makes sure more of the auction profits go to victims of disasters. Sponsors levels are set at $10, $25, $35 and $50, and you can designate your donation in the offering. Write checks to ACOB and they will be forwarded from the church. Contact Marcia with questions.
---
Media.
New!
Dunker Punks Podcast |
http://bit.ly/DPP_50
For our 50th episode (!) Dana Cassell returns, this time interviewing Brethren Volunteer Service Director, Dan McFadden. Listen as the two exchange stories from BVS throughout the years. And find out why BVS will "ruin your life" in the best way possible. Type in the case sensitive url to listen on the showpage or subscribe on iTunes. Listen by clicking the above link or subscribing on
iTunes
.
Worship Audio |

Online
Listen again to this week's sermon, catch a sermon from a Sunday you were out or peruse the archives. Each Sunday message along with a selection of hymns and readings is posted online or subscribe on iTunes.

Brethren Voices | Alternative Gift Giving
Brethren Voices is the TV show featuring what Brethren do as a matter of our faith. The episode for December features alternative gift suggestions. This year the United States has experienced so many natural disasters that have swept though countless neighborhoods across the country. Now, we're in the Christmas Holiday Season. It's that time of the year to find the special gift for the person who most of the time has everything that they already need. With many survivors of these disasters, just needing a place to live, we suggest an alternative gift for the person on your list who probably has everything. Each year, "Brethren Voices" features Alternative Gift Giving Ideas. For that person, probably the best gift is you, but we do have an alternative gift idea, a financial gift to the Brethren Disaster Ministries, in the name of that special someone on your list. Watch online now! Watch in Arlington on Comcast 69/Verizon-FIOS 38 on Sundays at 6:30 pm, Wednesdays at 11 am.

New! #BlessedBreak | http://bit.ly/BlessedBreak88

This week's video, from Mutual Kumquat, is a hymn from Sunday's worship service. Our scripture told the story of a woman healed by Jesus who rose and began to serve. How will you be of service this week?

---
Carole C., facing surgery soon
Roy, uncle of Cub Scout parent David, suffering from dementia
Carol, mother of Cub Scout parent Jules', suffering from cancer and facing surgery

Christy & Dale Dowdy

,

upon the passing of Christy's mother at age 97

Richard

, friend of Karolina and Rich, battling metastatic colon cancer

Friends and family of Joe Mourano

,

friend of Chris D., passed away after a battle with cancer

Friends and family of Craig P.

, who passed away following a heart attack

Sandy Wright

, friend of Sue and Bazaar attendee, is cancer free!

Hazel Tuck and Family

, following Charles' passing

Chip Dettra

, facing dialysis

Karolina Walkin

, suffering from pain from neurological damage

Church of the Brethren in Nigeria (EYN), including 113 girls still captive
Keep in your ongoing prayers:
Erin Julca, Steve Shuss, Minnie Simmons, Carolyn Studds

Note:
Prayer concerns will ordinarily be listed for four weeks. If you would like one to be kept on or added back in, please let the office know. Names in bold are new to the list or updated this week.
---
Worship.
Listen to Sunday's Sermon:
http://bit.ly/ACoBMessage20418
This Sunday, we welcomed Rev. Christy Dowdy as our interim pastor. Pastor Christy's sermon is about healing, empowerment, and being lifted up – and how all those might be applicable for ACoB in this time of great transition.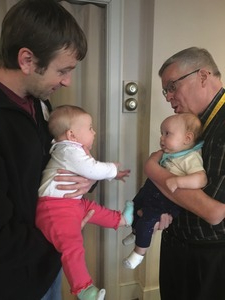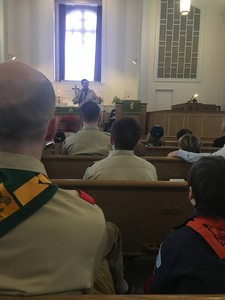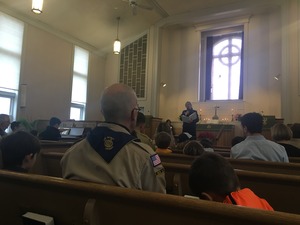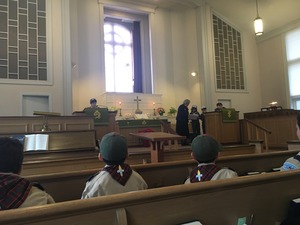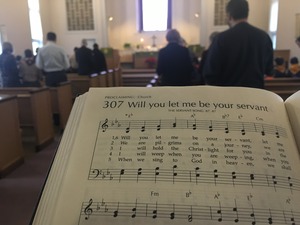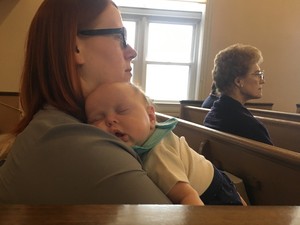 ---
After sharing worship with our Cub Scouts, we enjoyed fellowship and food together: