ACoB E-Bulletin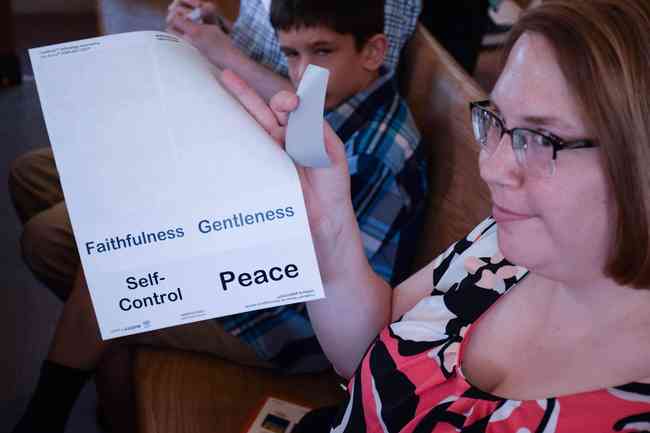 Because Service Doesn't Stop on Sundays.
Suzanne, you are a unique, gifted child of God and a blessing to our vital faith community.
This e-update is just one way we connect with each other as together,
we live for the glory of God and our neighbor's good.

---
Kaizen Karate Sumer Camp each weekday from 7:30 am to 6:00 pm


Tuesday

.
Iglesia de Restauracion Pacto Eterno, 7-9 pm




Brethren Voices, repeated Channel 69 or 38 at 11 am,

more details


Annual Conference in Greensboro, NC through Sunday July 3


Thursday

.
Kaizen Karate Evening Class, 6:30 - 7:30 pm
Yoga, 6 pm at Arlington Forest UMC, $9/class session

No Playgroup this week
Deadline for Big Bulletin submissions.

AFAC Service
Saturday,
more details
Iglesia de Restauracion Pacto Eterno, 5-9 pm
Sunday

.

Community Worship at Bethel UCC, 10 am
(4347 Arlington Blvd. at intersection with George Mason Dr. Park at Red Cross)
No Sunday School
Brethren Voices, Channel 69 or 38 at 6:30 pm,

more details


Song + Story Fest Begins,

more details



June 24 - July 1 - Suzanne on Vacation,
more details
June 29 - July 3 - Annual Conference,
pray for AC
July 4
-
Independence
Day
Ice Cream Social with Boulevard Manor,
more details
July 6 - Beginner Yoga at ACoB, $9/session, 6:00 pm
July 8 - ACoB Young Adults Gathering
July 10 - Big Bulletin Distributed,
more details
July 10 - Deacon and Caregiver Meeting after worship, lunch provided
July 17 - Bagging Oatmel for AFAC after church
August 1 - Board Meeting
August 5 - Volunteer at Brethren Nutrition Program
August 6 - Shepherd's Spring's Sprint and Celebrate Summer,
more details
August 7 - Community Worship Summer Series Starts at ACoB
Big Bulletin | Articles Due July 1
Submit articles for the next newsletter by July 1. Saving event announcements for the bulletins, newsletter articles are requested to report on an achievement, inform about a topic or appeal for a cause. Don't forget to answer June's Big Question too, "What cost are you willing to pay for unity?" Send articles to Suzanne in the church office.

Brethren Voices | Sundays at 6:30 pm + Wednesdays at 11 am
Brethren Voices is a monthly public access TV show featuring what people of the Church of the Brethren do as a matter of our faith. Arlington CoB partners with Brethren Voices to share the show locally as an invitation of welcome to everyone in our community. In Arlington, Brethren Voices airs on Arlington Independent Media: Comcast channel 69, Verizon-FIOS channel 38 and streams on AIM's website. Tune in: Wednesdays at 11 am, Thursdays at 2 am and Sundays at 6:30 pm. Contact James with any questions.

Sprint to the Spring| Register by July 23
Walk or run the scenic paths and trails of Shepherd's Spring on Sat., 8/6 at 8:30 am. Register with a suggested donation of $15. 100% of the proceeds from this volunteer-driven event benefit the Camper Scholarship Fund at Shepherd's Spring. Register before July 23, 2016 to receive your goodie bag! Stay after the race to enjoy Celebrate Summer: the camp's free annual event featuring live entertainment, open pool, ice cream, bake sale, face painting, Heifer Global Village tours, food and more! Call the main office at (301) 223-8193 with any questions.

Worship Audio | Online
In case you miss a Sunday service, sermon audio along with a selection of hymns and readings is posted online or subscribe on iTunes
---
Volunteer.
AFAC Service Saturday |
Sat., July 2, 8:30 am
This is one of those special opportunities to serve our community as a community. At least 8 to 9 people are needed to assist with the food distribution process for the day. We'll be there from 8:30 am to 11:30 am. Please make a commitment to help by signing up on the volunteer sheet posted on the bulletin board in the narthex or by emailing Diane at dmicker[at]verizon[dot]net.
Independence Day Ice Cream Social | Mon., July 4, 7:30 pm
A neighborhood tradition since 2002, this Fourth of July event is co-sponsored by Boulevard Manor and ACoB and is a great way to meet our neighbors. Free ice cream, toppings, and water are provided. Participants may choose to bring a lawn chair, blanket, soft drinks, snacks, and mosquito repellent. Please do not bring fireworks or alcoholic beverages to the event. Many stay after ice cream to watch the fireworks above the National Mall, which typically begin around 9:15 pm. Contact Alma to help serve ice cream.
Deacon + Caregiver Meeti

ng |
Sunday, July 10, after worship
Deacons and Caregivers will meet in small groups based on function. Other agenda items include lunch, new deacons, and point persons.
Beginner Yoga |
Wednesday, July 6, 6:00 p.m
Join others in the fellowship hall for simple, gentle beginner yoga, especially designed to include folks 55+. $9.00 per session. To continue weekly or bi-weekly (TBD). Contact Pastor Nancy with questions.
Dolls + Stuffed Animals for Nigeria | Crafty Volunteers Needed
Children's Disaster Services is working with women theologians of EYN on a "Healing Hearts Curriculum" that provides trauma healing for children affected by the violence of Boko Haram. They need 100 hand-sewn/knit/crocheted soft dolls and stuffed animals as examples of the kinds of comfort items that could be made locally in the future. Contact Marcia to participate and for design specifications.
Plot Against Hunger |
Volunteer to Dry Sage
Arlington Food Assistance Center (AFAC) would like to distribute the abundance of sage in our garden. Volunteers can pick the sage anytime it's not wet to take home and dry in your oven. Contact Suzanne for drying instructions.
Volunteer in the Nursery |
Sign Up in the Narthex
A new sign-up sheet with dates through the fall has been posted in the narthex. In addition to child care volunteers who stay with the children following the children's message through the end of the service, helper volunteers are also needed to pop in the nursery one or two times during the service.
Thunderclap | Help Spread the Word about Community Worship
Thunderclap is an online application that amplifies a message by enabling supporters to post it at the same time. Sign up to post an invitation to our August Community Worship Series:
http://bit.ly/CommunityWorship2016
Member of a CSA? | Donate fresh produce to AFAC
AFAC is looking for CSA (Community Supported Agriculture) members willing to ask fellow CSA members/hosts about sharing extra summer produce with our neighbors in need. If you receive too much of a vegetable or you're going on vacation, consider donating. Recent client surveys show that the families really enjoy and make good use of the fresh produce they receive. Contact
Puwen.lee@afac.org
to donate.
Help with Housekeeping |
Fridays + Sundays at Shepherd's Spring
Consider assisting Shepherd's Spring in carrying out God's work of providing a place for spiritual renewal and growth along with teaching stewardship of God's creation. During its busy season (fall and summer) the camp needs extra help with changing beds, cleaning rooms/cabins, vacuuming and doing laundry. Call the main office at (301) 223-8193 to volunteer.
Refugee Assistance | Prayerful consideration needed
The violence of settling scores has resulted in a huge number of displaced people: 60 million at last report. What are we to think of people in such desperate circumstances and what are we supposed to do? Some in our congregation are gathering information about how to help refugees. Is it a place where ACoB is called to act? Could these strangers become friends? Read over the commitment choices we have, but the first choice is, can we help? Are we willing to let God surprise us with new community?
Follow this link to learn more about how Lutheran Social Services assists refugees and ways our congregation could help a family fleeing violence. http://bit.ly/ACoB4Refugees Contact Debbie with questions.

Pray for Annual Conference | Sign up online or set aside any time
Annual Conference chaplain, Karen B. Cassell, has created an online site to help us continuously hold the work of Annual Conference in prayer. Sign up online: http://bit.ly/Pray4AC2016

You can also participate in Annual Conference even if you're not attending by watching worship and business sessions streamed online. Find links to watch on ACoB's calendar for Annual Conference events posted between June 29 and July 3.

From Marcia Sowles, Service Coordinator | Our Doorways Donation Day was very successful. We collected over $350 in gift cards, over 50 bottles of dish soap, 15 liquid bottles of hand soap, over 20 shampoo/conditioner, 15 deodorants, 6 baby lotions, several laundry detergents, 12 disinfecting wipes, 4 sunscreen, several bottles of lotion and baby lotion, over 20 boxes of storage/sandwich bags, 7 boxes of trash bags, six boxes of swiffer pads, and over 70 rolls of paper towels and $35 in cash, plus many other items. Our list is an underestimate since at times we were too busy collecting the items to record them.
Thanks to Diane Micker, Donna Fields, Marsha Jump, Linda Betzfelder, and Pastor Nancy, and Lisa and Alma Gallego who along with me help to staff the event. Special thanks to Donna for going to the church to make extra copies of Doorways Wish Lists to hand out, to Alma and Lisa for delivery the items and to Suzanne for posting our volunteer list. Doorways was very appreciative our support.
---
Pray. Call. Write.
Pastor Mike Vess

, being treated for liver disease
Margarta Owen

, awaiting surgery
Edwardo

, neighbor of Fitzgeralds with tumor diagnosis
JoAnn Cubbage,

volunteering at Camp Shepherd Sprng this week

Annual Conference Delegate,

Silena Davis​​

​

Frieda + Stan Thawley

, Jo Ann's sister-in-law and Fred's parents, supporting family through a difficult time

Fred Thawley,

Alan's dad and Jo Ann's nephew, recovering from a third surgery for leg blood clots

Alan Thawley, friends + family,

Jo Ann's Grandnephew, grieving his wife's death

during surgery for an ectopic pregnancy, back in Ireland

LGBTQ Community

, mourning lives lost at Pulse in Orlando

Minnie,

palliative care at Goodwin House, Rm 248, visitors welcome




Walkin-Haske Family,

ongoing health treatments

Jummai Paul,

kidnapped Chibok girl and others

Church of the Brethren in Nigeria (EYN)
---
---
Worship Notes.
The drama of "The Wedding Reception Planning Team" reminded us that silly arguments can have negative effects. Not all conflicts are silly but we can act silly about all conflicts. Paul faced strong disagreement in Galatia and other locations about his revelation that the Gentiles were to be welcomed into Christian community without adopting the law and practices of Jews. He was not willing to compromise the revelation he received. We have freedom in Christ he says, but the freedom is not unrestrained. We are gifted with 'Fruit of the Spirit' that keep us from selfish desires. We discarded the types of selfish desires and each put on a spirit fruit. We are to use these gifts for others. God believes in us! That makes us able for all things - even difficult situations of conflict.

Listen and share yesterday's sermon, the third of a three part series:
http://bit.ly/ACoBMessage61916
(Audio to be uploaded this week.)
Read Galations and bring any questions next Sunday as our sermon series continues:
http://bit.ly/Galatians_Bible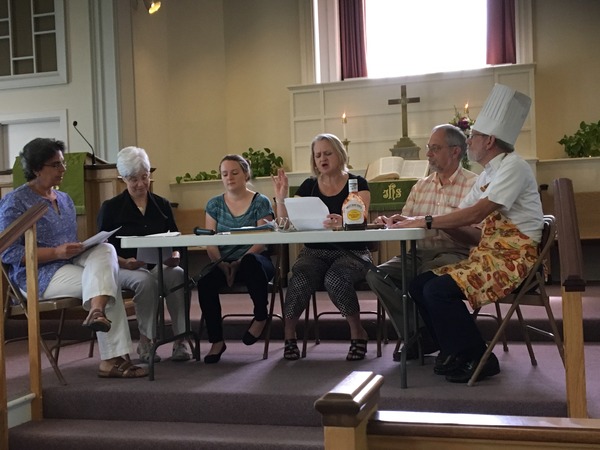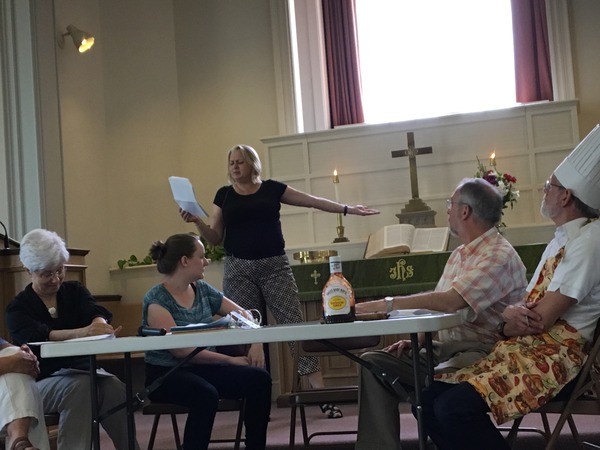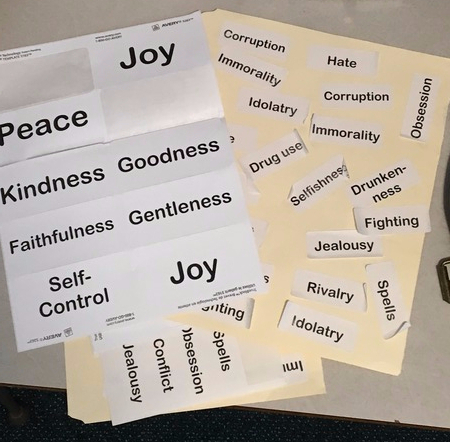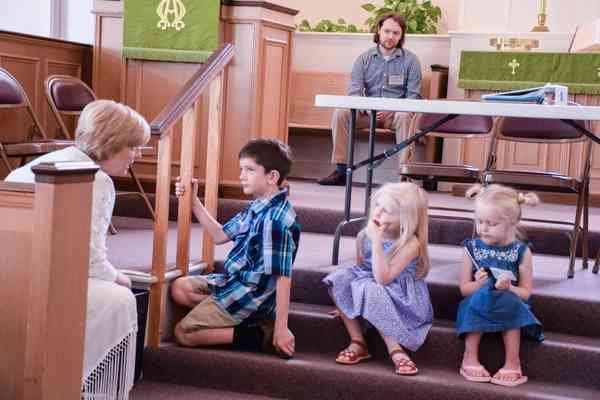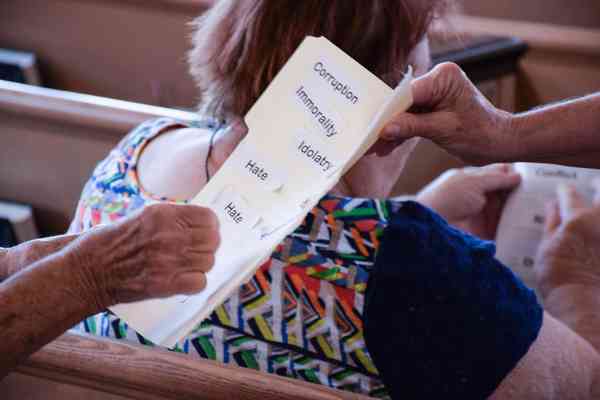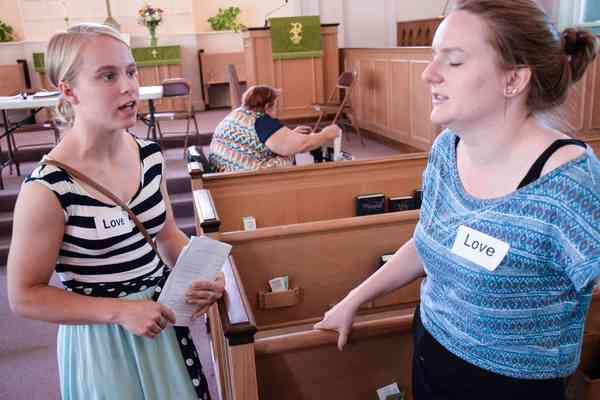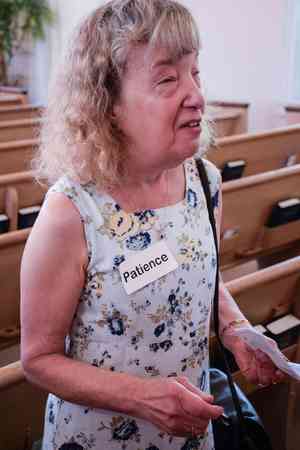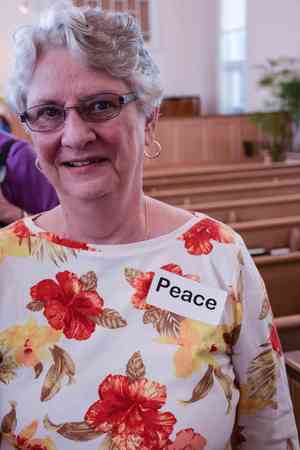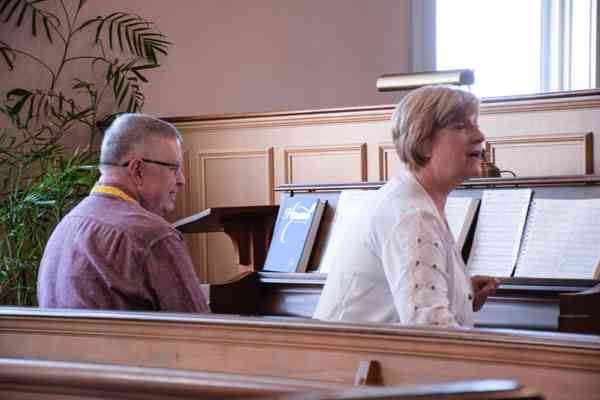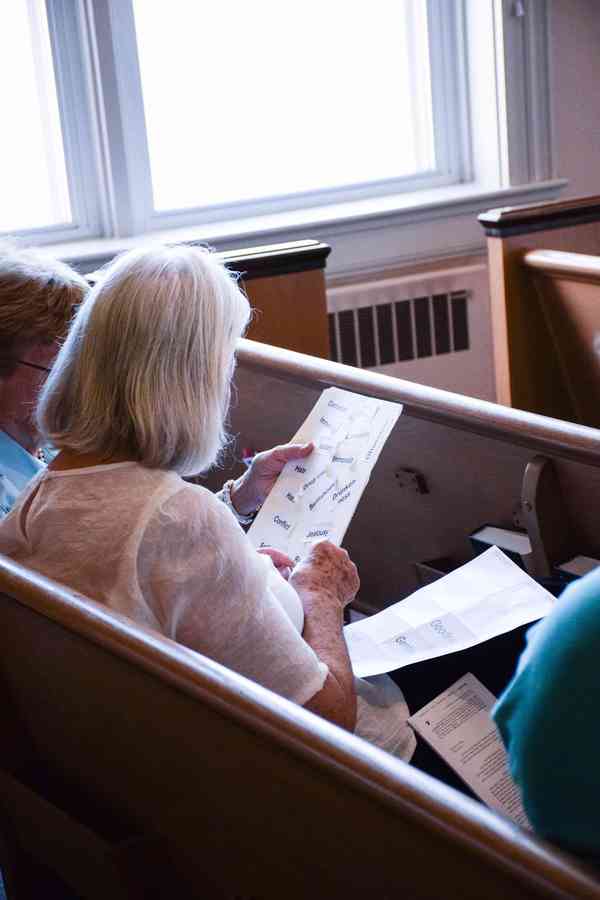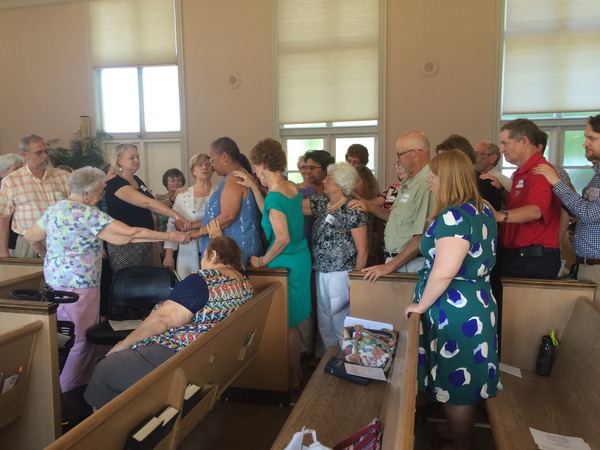 (above) Silena Davis is blessed as she begins service as our Annual Conference Delegate.

*Note: Suzanne will be out of the office for vacation through Friday, July 1. Normal church office hours will resume Saturday, July 2. Contact Everett or Pastor Nancy with items for the bulletins or other matters for the office.
Arlington Church of the Brethren

Office Hours (call ahead)*

Saturday

|

8 - 11 am

Sunday

| 11

am - 2 pm

Contact

Tel: 703-524-4100

Mobile (call anytime): 571-243-5344
Fax (call ahead): 703-524-4109
ACoB@ArlingtonCoB.org