Well, just between you and me - we midwives have figured out ways to fool the cruel Pharoah!

The midwives who helped save Moses, in yesterday's scripture skit
---
Tuesday

.
•
Iglesia de Restauracion Pacto Eterno, 7-9 pm
Wednesday.
•
Brethren Voices, 11am,
more details
Friday

.
•
Family Camp 2017, thru 9/3 at Camp Mardela
Saturday.
•
Volunteer at AFAC
, 8:30 am
Sunday

.
•
Worship
, 10 am at ACOB
•
Brethren Voices, 6:30pm,
more details
Mon., 9/4 - NOAC, through 9/8 at Lake Junaluska
Fri., 9/8 - ACoB Young Adults Gathering, 6:30pm
Sat., 9/9 - Centering Prayer, 10:30am
Sat., 9/9 - Shredding 4 Hunger
Sun., 9/10 -

Sunday School Classes Resume

, 10 am
Sun., 9/10 - Worship at 11 am, Shepherd's Spring Sunday
Sun., 9/10 - Assembling School Kits, after worship
Sun., 9/10 - Interfaith Unity Walk, 12:30pm, more details
Wed., 9/13 - Yoga Returns, 5:45pm
Wed., 9/13 - Bell Choir, first practice
Sat., 9/16 -

Children's Weaving for Peace Day

, 10 am
Sun., 9/17 -

Peace Sunday


Sun., 9/17 - Annual Dunker Church Service, 3 pm at Antietam Battlefield
Thurs., 9/21 - International Day of Prayer for Peace
Sun., 9/24 - BNP Celebration BBQ, 1 pm, more details
Fri., 10/13 - MAD District Conference, thru 10/14 at Frederick COB
Important Update!
Laying Down BNP
In a letter last week, Jenn Hosler and Faith Westdorp shared that the Washington City CoB
has decided to "lay down" the Brethren Nutrition Program. Citing declining numbers of people served, the need for large-scale kitchen renovations, and the changing dynamics of the Capitol Hill neighborhood, the church community has decided to end the program, giving thanks for what's been done, meals shared and relationships built. They are still in need of volunteers through the month of September, and invite you to a Celebration BBQ on Sunday, September 24. You can sign up to volunteer here and RSVP for the BBQ here.
See Pastor Nancy with more questions, or to read the original email.
Interfaith Unity Walk
From the InterFaith Conference of Metropolitan Washington: Today, more than ever, spreading the message of friendship and unity is critical. Join us s we walk down Massachusetts Ave NW and visit houses of worship and other religious centers in a public celebration of solidarity among different faiths and cutures wiht our community. September 10, 12:30-5pm. Several of us from ACoB will join the walk after we assemble our CWS School Kits. Find more information here.
ACOB's Library | New Books!
Check out the latest books added to our collection on our online Library Thing
account
and then check out the ones that interest you from our library. The online listing includes Google reviews to learn more about the books in the next to the last column. Contact
Cindy
with any questions.
Big Bulletin | July, 2017 Edition
More Details |
arlingtoncob.org/calendar
For more information on neighboring church, denomination and non-profit events listed, check the calendar at the above link or contact the office.
---
Volunteer + Give.
Church World Service School Kits | Collecting through Sun., Sept. 10
It's time again to collect the basic tools for learning for children around the world in impoverished schools, refugee camps and other difficult settings. Please donate an entire kit including all brand new items. No pencils are needed this year as we have enough from last year. Lisa will buy kits for folks preferring to make cash donations. For the Sundays we are worshiping at other churches, Lisa can collect donations each week except at Lubber Run. Contact

Lisa

with questions.
●

One pair of blunt round-tip scissors

●

Three 70-count bound, spiral, wide-lined notebooks

●

One 30-centimeter, 12 inch ruler

●

One hand-held pencil sharpener

●

One large eraser (no pencil cap erasers)

●

One box of 24 Crayola brand crayons
Volunteer Point Person Needed | September Shredding 4 Hunger Event
Every year we partner with Ann Wilson Reality to provide a document shredding truck service in exchange for non-perishable food donations for AFAC. This is always a very successful service project for Hunger Action Month in September. Much of the details have been confirmed, but because of a conflict with the NOAC conference, a point person is needed. The event will be September 9. Contact the
office
if you can volunteer.
Children's Weaving for Peace Day | Sat., Sept. 16, 10 am-12 pm
To celebrate this year's Peace Day, our Service Ministry Team invites children to join in making woven potholders and book marks to symbolize the 2017 Peace Day theme of "Peace and Justice Together." We will then offer the creations to our congregation in return for a donation to Children's Disaster Services or a new Montessori Preschool in Nigeria, so the children's projects can in turn help other children. Contact
Marcia
with questions.
Volunteer in the Community | VA Hospital Center + AFAC
VA Hospital Center is circulating information about free pap smear and cervical cancer screenings on the morning of September 9. Contact the
office
if you'd like to help spread the flyer around our community.
---
Media.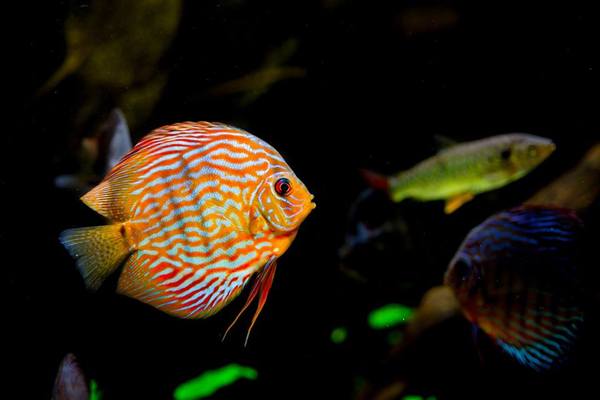 New episode!
Dunker Punks Podcast |
http://bit.ly/DPP_Episode38
In the most recent podcast,
Dylan Dell-Haro explores the diversity seen throughout the creatures of God's kingdom. In previous episodes, Dylan has shared stories of human gender diversity to remind of us two is not enough. We see many examples of inconsistency in gender and ways of life in this episode of the Dunker Punks podcast.
Type in the case sensitive url to listen on the showpage or subscribe on iTunes.

Listen by clicking the above link or subscribing on
iTunes
.
Worship Audio |

Online
Listen again to this week's sermon, catch a sermon from a Sunday you were out or peruse the archives. Each Sunday message along with a selection of hymns and readings is posted online or subscribe on iTunes.


Brethren Voices | Song and Story Fest
Brethren Voices is the TV show featuring what Brethren do as a matter of our faith. The episode for August features musicians from Song and Story Fest. Watch online now! Watch in Arlington on Comcast 69/Verizon-FIOS 38 on Sundays at 6:30 pm, Wednesdays at 11 am.


#BlessedBreak | New devotion! http://bit.ly/BlessedBreak63

This week's video is from Midwives for Haiti, a current project with Brethren Volunteer Service. Like the midwives Shiphrah and Puah from this Sunday's scripture who made Moses' birth possible, these midwives bring life and safety to a country and a people in desperate need of just those things.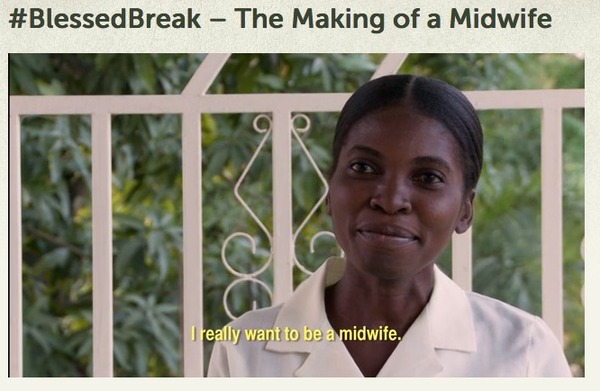 ---
Congratulations to Suzanne, Josh and Marylynne on the arrival of Maple Jane Lay, born Saturday!

Charlotte

,

returned to rehab

Those in the path of Hurricane Harvey

Carole

,

in rehab

Elizabeth

,

Melody's friend, defending her dissertation

Hearts and Minds,

that they be opened to the equality of all

Yoder Family

, transitioning at work ahead of overseas transfer next summer and mourning a close colleague and friend killed in a car accident

Tom

, Bill's brother, being succesfully treated for an infection originally diagnosed to be antibiotic resistant

Karolina

, at home but continuing health treatments

James + Melody

, expecting a baby in mid-November!

Marie

, Marcia's friend, recently discovered resurgance of cancer and meeting with a doctor this week about radiation treatments

D. Senko Family

, following her sudden death, family friends of Chris

Families of 2 men killed in CSX accident

, both family friends from Shelley's hometown

Barbara's family

, Ralph's sister-in-law, following her death

Joe

, Chris' friend, facing resurgence of lymphoma after several year's remission

Maxine

, Hazel's sister, broke two ribs and fractured a lung from a fall and is also struggling with Alzheimer's

Sarah + Kathy

, special prayer requests from Cindy's friend, Dennis

Noel

, son of Marcia's friend Sandy, still working with doctors to figure out mysterious and serious dizzy spell

Pastor Mike

, continuing rehab after organ transplant

Church of the Brethren in Nigeria (EYN)

, including 113 girls still captive
Keep in your ongoing prayers:
Minnie Simmons, Dorothy Fravel (Dee's mom), Theresa McCary, Erin Julca, Steve Shuss, Elizabeth Smucker, Carolyn Studds

Note:
Prayer concerns will ordinarily be listed for four weeks. If you would like one to be kept on or added back in, please let the office know. Names in bold are new to the list or updated this week.
---
Since we're worshipping with our community partners this month, there's no new sermon audio this week. If you'd like to catch up on previous sermons, you can do that here.

This week, we shared a potluck meal and outdoor worship at Lubber Run Park with our community partners. Thanks to the many worship volunteers for their acting, singing, and sharing potluck dishes!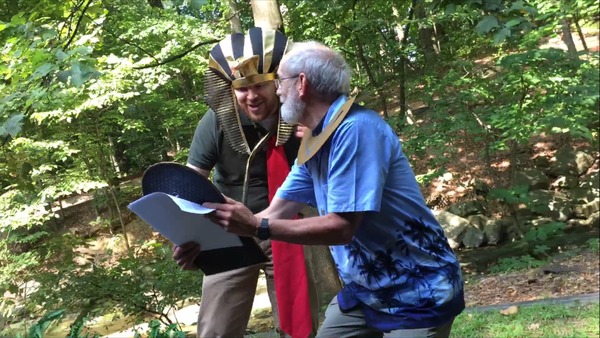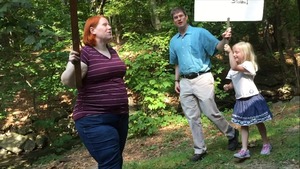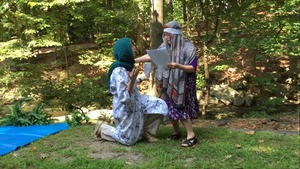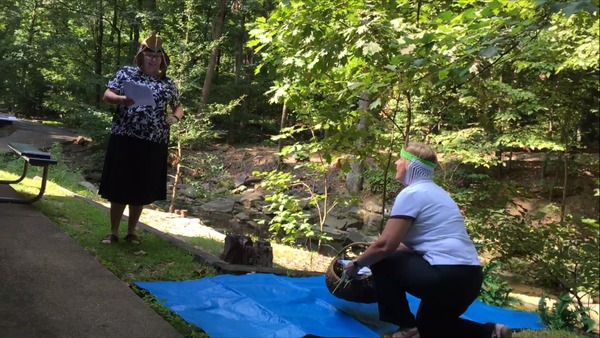 ---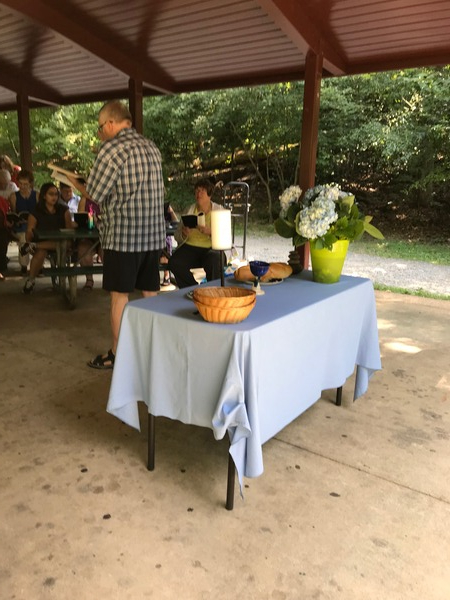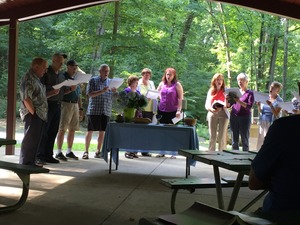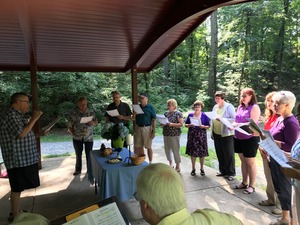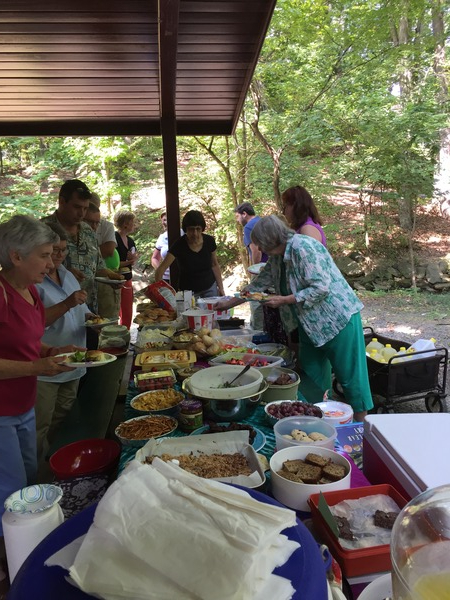 Telaj