"It's challenging in our busy and frantic world to recognize instances where we see and experience the unfolding of God's kingdom here on earth."
---
Mo
Monday.
•
Boulevard Manor, 7pm in Fellowship Hall
Tuesday.
• Lucille's Birthday!
•
Iglesia de Restauracion Pacto Eterno, 7-9pm in Fellowship Hall
Wednesday.
• ACOB Office Hours, 10am - 12pm
•
Brethren Voices, 11am
• IRPE Musician Practice, 6-9pm in fellowship hall
• ACOB Office Hours, 6:30-8pm
Thursday.
•
Office Hours,
3:00-5:00pm
•
NO Community Choir Practice this week
Friday.
• Suzanne's Birthday!
Saturday.
•
Jo Ann's Birthday!
• A Taste of Summer, 1pm at Shepherd's Spring
• Worship Planning, 1:30pm in library
•
Iglesia de Restauracion Pacto Eterno, 5-9pm in Fellowship Hall
Sunday.
•
Bread + Cup Communion during Worship, 10am
•
Deacon Meeting, 11am
I
• ACOB Office Hours, 11am-2pm
•
Iglesia de Restauracion Pacto Eterno, 5-9pm in Fellowship Hall
• Brethren Voices, 6:30 pm

Thurs., 6/28 - Breakfast Bunch in Bridgewater
Sun., 7/1 - Bethel UCC joining us for worship, 10am
Wed., 7/4-8 - Annual Conference, Cincinnati, OH
Sat., 7/7 - Volunteer at AFAC, 8:30am
Sun., 7/8 - Dave Johnson Preaching + Stephen leading worship
Fri., 7/13 - Young Adult Meet-Up, 6:30pm
Sat., 7/8-14 - Song + Story Fest, Inspiration Hills Camp, OH
Sun., 7/22 - Bag Lunches for ASPAN, 12pm in fellowship hall
Mon., 7/30 - Executive Committee Meeting, 7:30pm
Mon., 8/6 - Church Board Meeting, 7:30pm

---
More Details.
Join in Worship Planning | This Sat., June 23, 1:30 pm
Interested in planning worship? Anyone is welcome to come to the worship team meeting on Saturday in the ACOB church library. We'll come to brainstorm and process worship ideas for upcoming Sundays. All are welcome! Contact Pastor Christy with questions.
Invitation | Contact Pastor Christy
Have you been thinking about formally becoming a member of Arlington Church of the Brethren? Would you like to talk about your discernment or process your own journey? Pastor Christy would appreciate having a conversation with you. Feel free to let her know. Contact her by email (pastorchristy@arlingtoncob.org) or phone call/text (814 599-6307) to schedule an appointment.
Need to Contact the Church Office?
| Reminder
As a reminder, church office hours vary from week to week. See the online calendar for when the office will be open and when Pastor Christy will be in town for the upcoming week. Neither Pastor Christy (60% time) or Suzanne (5 hours/week) are currently contracted for the full regular hours for their positions. Also note, Pastor Christy's email was set up when she joined us and includes her first name: pastorchristy@arlingtoncob.org. Feel free to text or call the office mobile (571-243-5344) with any calendar, contact or availability questions anytime.

Summer Camp | Scholarships for Children + Grandchildren
The church is offering $150 scholarships for each camper going to Shepherd's Spring or Camp Mardela for a week this summer. Contact Lisa for more information and to access the scholarship for your child or grandchild.

Breakfast Bunch to Bridgewater
|

Thurs., June 28, 6:45 am
RSVPs are needed! Let Alma know by June 17 if you plan to join the Breakfast Bunch trip to Bridgewater next month. In June our Breakfast Bunch hits the road to visit our friends in Bridgewater, and as with their local meet-ups, all are welcome. We'll meet at 6:45 am to carpool from ACOB at 7 am. Then, we'll stop at the Village Inn (4979 S. Valley Pike on Rte. 11 just off I-81) for breakfast. Ralph C. and Rhonda C. have reserved the Kreuger Room on the 3rd floor of Maple Terrace for our get-together from 10 am-12 pm, and Pastor Christy and Dale have generously invited any or all to their home in Harrisonburg to further break up our trip home.


---
Advocate, Volunteer + Give.
Thank You! | From Doorways Staff + Clients
Doorways sent a special note of thanks for the amazing bounty you collected for their clients last weekend! Here's the grand total: $130 total in cash donations; $215 total in Safeway gift cards; and 336 household items. In addition to the tangible necessities are two other tremendous gifts: first, the awareness you raised among our neighbors and the advocacy you did to amplify our clients' needs; and second, the love and compassion you show our clients through these gifts. To know that there are caring people in our community willing to take time on their weekends to help their neighbors can make such an impact in our clients' confidence and hope for their brighter futures. We are grateful to you for all of these wonderful gifts!

Help Needed | Childcare Is Needed in Our Church Nursery
We have many blank spaces on the sign-up list for the coming Sundays. Are you someone who is able and willing to give a Sunday morning to care for our young friends of Arlington Church of the Brethren during our worship hour? Please consider if you could offer your care for a coming Sunday. It's a "good problem/challenge" that we have young children who are part of our congregation!

Housing Needed for Dowdys

|

Overnight

Sat., 6/23
Workers are coming this week to repair the parsonage chimney. The power must be cut off, because the lines runs so close to the chimney. It's unlcear when the work will be finished and the power back on, so the Dowdys made need a place to stay when they return to town

Saturday

night. If anyone who lives relatively close to the church could house them, please contact Warren.
Thank You!
| Lemonade Stand Total
A big thanks to everyone who supported the childrens' lemonade stand today! Lily, Elijah, Marina and Marylynne hosted on behalf of Alex's Lemonade Stand Foundation, offering cookies and lemonade for donations to pediatric cancer research. Together we raised $143 for research to find better treatments and cures for childhood cancer and helped provide needed hope for kids and their families. If you weren't here but would like to contribute, you can still donate online:
http://bit.ly/ACOB4ALSF
. Thank you for your support!

* Do you care about ways to serve and participate in our community and through our denomination? Sign-up for and commit to reading regular updates from organizations that interest you, then notify Suzanne in the office about the events and projects you want shared on ACOB's calendar.
---
Media.
New!
Brethren Voices | SnowCap: Providing a Safety Net
Brethren Voices is the TV show featuring what Brethren do as a matter of our faith. The episode for this month features

SnowCap Community Charities. In the mid 1960's, the basic life needs of many in Portland, Oregon's, East Multnomah County were not being met by any agency or organization. Peace Church of the Brethren and 25 area churches stepped in to help fill the void, felt by so many residents. Now, and for the past 50 years, SnowCap Community Charities has been providing emergency food and clothing to over 8,000 low-income neighbors each month.
Watch
online
now! Watch in Arlington on Comcast 69/Verizon-FIOS 38 on Sundays at 6:30 pm, Wednesdays at 11 am.
---
Jacque

,

as she begins chemotherapy Monday

John

, Dale's brother, who will have mitro valve repair on Tuesday

Sharon,

Marcia's friend, who had gall bladder surgery

Anna May and Mike

, friends of Donna, whose husband, Eugene, died of severe burns.

Graduates

, celebrating the season of new possibilities

People who are Hungry,

as we remember the Global Day of Prayer to End Famine

Nate and Jenn Hosler

, pastors of the Washington City CoB, on the birth of their son, Ayuba

Lisa

, preparing for a New Community Project trip to Lybrook, NM to learn from and work with the Navajo community

Bethel UCC

, after an emotional service

on Sunday

to say goodbye to their building

People Experiencing Disasters,

for our brothers and sisters whose homes and communities are being threatened and wrecked by wildfire, lava and floods

People Responding

, for people and projects like Heifer providing relief through livestock donations and micro loans

Carole

, in positive spirits, calls and visits while she is still at the rehab facility are appreciated, 703-867-1952

Chuck Norton

,

Bethel UCC, undergoing treatment for pancreatic cancer

Church of the Brethren in Nigeria (EYN),

including 113 girls still captive
Keep in your ongoing prayers: Steve Shuss, Minnie Simmons, Carolyn Studds

* P

rayer concerns will ordinarily be listed for four weeks. If you would like one to be kept on or added back in, please let the office know. Names in bold are new to the list or updated this week.
---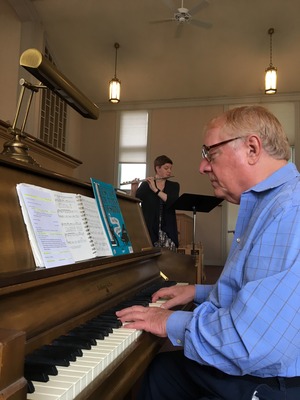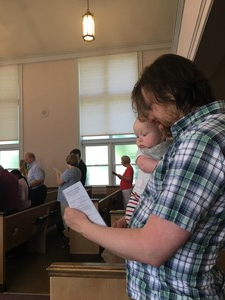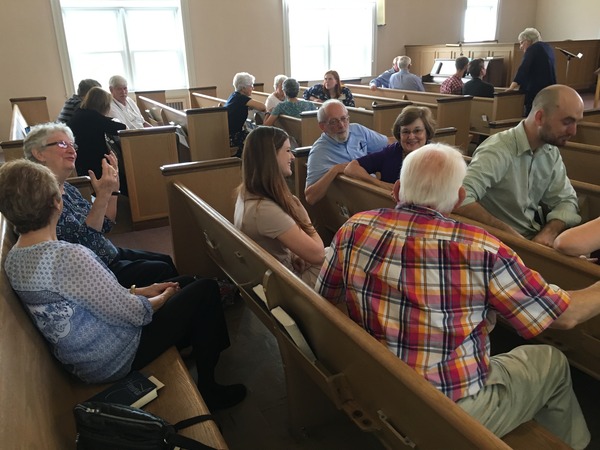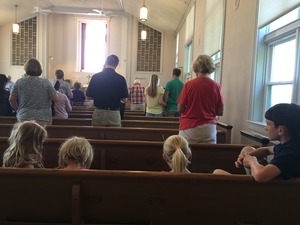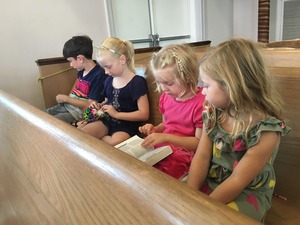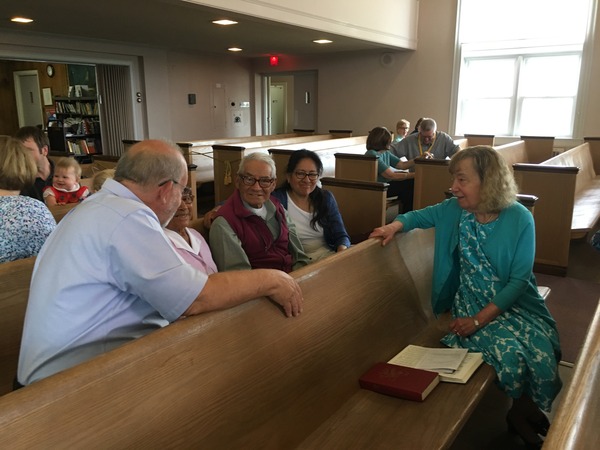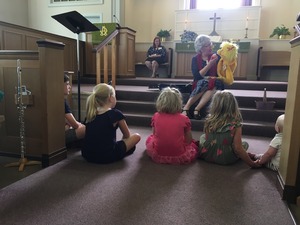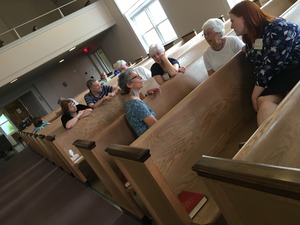 ---
More Photos.
ACOB kids had a lemonade stand after church to raise money to end pediatric cancer: