"When my mother really wanted me to pay attention as a younger child, she would face me directly, and put her hands on my cheeks and say: 'Listen.'"

---
Mo
Monday.
•
Organ Tuning, 10am - 5pm
•
Church Board Meeting, 7:30pm in library
Tuesday.
•
Office Hours, 6:30-8pm
•
Iglesia de Restauracion Pacto Eterno, 7-9pm in Fellowship Hall
Wednesday.
• ACOB Office Hours, 10am - 12pm
•
Brethren Voices, 11am
Thursday.
•
Kaizen Karate, 6:30-8:30pm in Fellowship Hall
•
Community Choir Practice, 7:30pm at AFUMC
Friday.
•
Reevesland Lettuce Washing, 9am - 5pm in kitchen
•
Young Adults Gathering, 6:30pm in fellowship hall
Saturday.
•
Reevesland Lettuce Washing, 9am - 2pm
•
Doorways Donation Day,
10am - 2pm, Safeway on Harrison St, more details
•
Iglesia de Restauracion Pacto Eterno, 5-9pm in Fellowship Hall
Sunday.
•
Bethel Worship (2 of 2 trials), 9:30am in sanctuary
•
Children's Sunday School with Bethel, 9:45am, more details
•
Worship, 11am
•
Cambodian Alliance Evangelical Church, 1-4pm in Sanctuary + Fellowship Hall
I
•
Iglesia de Restauracion Pacto Eterno, 5-9pm in Fellowship Hall
• Brethren Voices, 6:30 pm

Mon., 6/11-6/12 - Reevesland Lettuce Washing, 9am - 5p in the kitchen
Sun., 6/17 - Father's Day
Sun., 6/17 - Worship, 10am
Sun., 6/17 - Refreshments after Worship, 11am
Thurs., 6/28 - Breakfast Bunch in Bridgewater
Wed., 7/4-8 - Annual Conference, Cincinnati, OH
Sat., 7/7 - Volunteer at AFAC, 8:30am
Sat., 7/8-14 - Song + Story Fest, Inspiration Hills Camp, OH
Sun., 7/22 - Bag Lunches for ASPAN, 12pm in fellowship hall

---
More Details.
Need to Contact the Church Office?
| Reminder
As a reminder, church office hours vary from week to week. See the online calendar for when the office will be open and when Pastor Christy will be in town for the upcoming week. Neither Pastor Christy (60% time) or Suzanne (5 hours/week) are currently contracted for the full regular hours for their positions. Also note, Pastor Christy's email was set up when she joined us and includes her first name: pastorchristy@arlingtoncob.org. Feel free to text or call the office mobile (571-243-5344) with any calendar, contact or availability questions anytime.

Sunday School Update | This Sun., June 10, 9:45 am
Before our last 11 am worship this Sunday, our adults will meet for their last Sunday School before summer (This is a correction from the print bulletin). ACOB's children concluded their class for the season yesterday, but are welcome to join Bethel's children this week. Bethel will be worshiping in our building that day from 9:30 am - 10:30 am, so their children will be having Sunday school classes from 9:45 am - 10:30 am and ACOB children are welcome to attend. All are also welcome to attend Bethel's traditional after worship refreshments at 10:30 am in our fellowship hall. Contact the office with questions.

Unity Worship + Potluck | Postponed
Unity Sunday with our building partners, IRPE and CAEC, will be postponed until fall when 11 am worship resumes and Bethel can be part of this special service. Contact the office if you have questions or are interested in helping with rescheduling.

Summer Camp | Scholarships for Children + Grandchildren
The church is offering $150 scholarships for each camper going to Shepherd's Spring or Camp Mardela for a week this summer. Contact Lisa for more information and to access the scholarship for your child or grandchild.

Reevesland | Update
The Boulevard Manor neighborhood is working on a possible solution to "save" Reeves farmhouse and have it useable for a broader purpose (instead of private). Habitat for Humanity of Northern Virginia (Habitat NOVA), in partnership with a large team of corporate and individual donors, is proposing to acquire the Reeves Farmhouse and adapt it as a home for 4 to 6 high functioning adults with intellectual and/or developmental disabilities. Habitat NOVA, along with its team of construction professionals and volunteers will rehabilitate the existing farmhouse and construct a historically compatible one-story addition. Contact the office if you're interested in more details on this phenomenal opportunity to have such a supportive space in our neighborhood.

Table Talk
| Summary on Bulletin Board
We had a wonderful time checking in two weeks ago about our new relationship with building partners, Bethel UCC, and to help inform the pastoral search committee's ongoing work. Find notes from our table talk discussions on the bulletin board to the left of the church office.
Breakfast Bunch to Bridgewater | Thurs., June 28, 6:45 am
RSVPs are needed! Let Alma know by June 17 if you plan to join the Breakfast Bunch trip to Bridgewater next month. In June our Breakfast Bunch hits the road to visit our friends in Bridgewater, and as with their local meet-ups, all are welcome. We'll meet at 6:45 am to carpool from ACOB at 7 am. Then, we'll stop at the Village Inn (4979 S. Valley Pike on Rte. 11 just off I-81) for breakfast. We have connected with Nelson, Catherine and Lucille who are looking forward to our visit. Sadly, Wes and Jane are not going to be able to join. Ralph C. will also be away but is helping find a meeting space. We also hope Dee will join us! We're planning for the Bridgewater visit to begin around 10 am and last about an hour to an hour and half.
---
Advocate, Volunteer + Give.
Doorways Donation Day | This Sat., June 9, 10 am-2 pm
Our annual Doorways donation day is always a very successful event, raising multiple carloads of groceries for our community partner providing shelter from domestic violence. We need groups of 2 or 3 volunteers in one to two-hour shifts to stand outside of the store offering to collect donations. The 11 and 1 o'clock hours are still available. A second volunteer with a large vehicle to drop of donations at the end of the day would also be helpful. Connect with Marcia to sign up.

Special Refreshments | Sun., June 17, after worship
Plan to stay after worship next week for special refreshments hosted by our children on behalf of Alex's Lemonade Stand Foundation. The kids will share cookies and snacks while they sell lemonade for donations to pediatric cancer research. The lemonade stand will be set up outside on Montague Street at the corner of ACOB's entrance driveway, so we can welcome the neighborhood too. Contact Suzanne with any questions.

* Do you care about ways to serve and participate in our community and through our denomination? Sign-up for and commit to reading regular updates from organizations that interest you, then notify Suzanne in the office about the events and projects you want shared on ACOB's calendar.
---
Media.
Dunker Punks Podcast |
http://bit.ly/DPP_Episode58
Tori Bateman interviews Gimbiya Kettering, the Director of Intercultural Ministries for the Church of the Brethren, who gives incredible insight on race relations within and beyond the church. Learn how the Church of the Brethren and Martin Luther King Jr. are connected in ways you may not expect.
---
Lisa

, preparing for a New Community Project trip to Lybrook, NM to learn from and work with the Navajo community

Bethel UCC

, after an emotional service

on Sunday

to say goodbye to their building

People Experiencing Disasters

,

for our brothers and sisters whose homes and communities are being threatened and wrecked by wildfire, lava and floods

People Responding

, for people and projects like Heifer providing relief through livestock donations and micro loans

Abby

, Alma's granddaughter, a joy to see her graduate with many honors from high school

on Saturday

, Abby is looking forward to studying nursing and playing volleyball at EMU next year

Jacque

,

recovering at home and trying to gain strength for chemotherapy

Carole

, in positive spirits, calls and visits while she is still at the rehab facility are appreciated, 703-867-1952

Everett

, back injury

Tom

, Sue's boss, returned to work last week

Sharon

, Marcia's friend + ACOB service volunteer, health issues involving rapid weight loss

Ron

,

Sue's friend, continued chemo treatments for stage IV lung cancer

Chuck Norton

,

Bethel UCC, undergoing treatment for pancreatic cancer

Church of the Brethren in Nigeria (EYN),

including 113 girls still captive
Keep in your ongoing prayers: Steve Shuss, Minnie Simmons, Carolyn Studds

* P

rayer concerns will ordinarily be listed for four weeks. If you would like one to be kept on or added back in, please let the office know. Names in bold are new to the list or updated this week.
---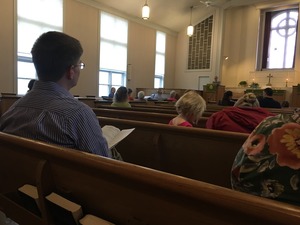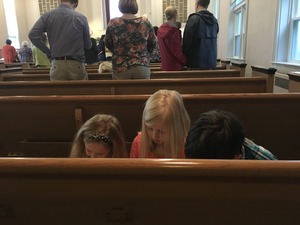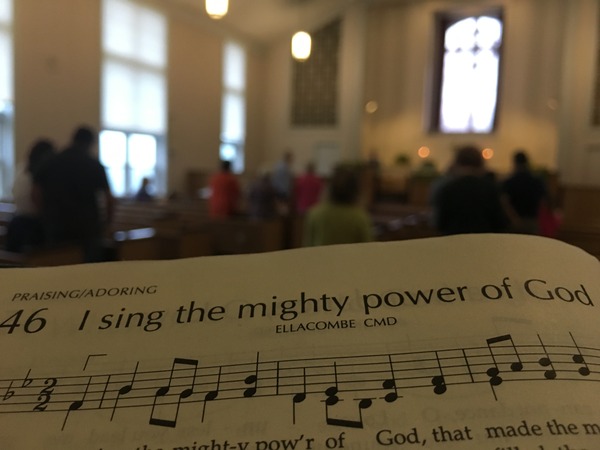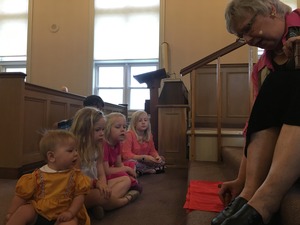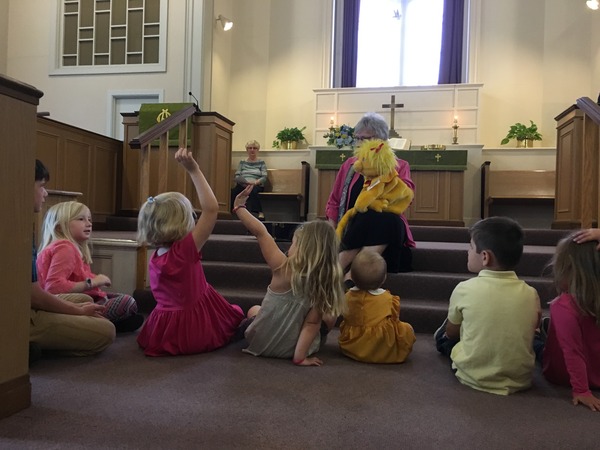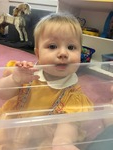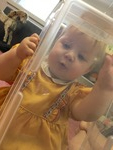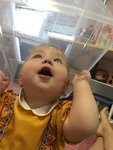 ---