God, we greet you in this new year. As centuries come and go, your presence is ever new when we open our sense to receive you. We ask now that you sharpen our awareness of your creative energy at work within and around us. Let us welcome you in the stranger who is not yet a friend and in the hungry who need the food and care we might provide. Show us your expectations for us in this season. Amen
Adapted from Bayler for yesterday's Call to Worship
---
•

Iglesia de Restauracion Pacto Eterno, 7-9 pm



•

Brethren Voices

, 11 am,

more details




•

Yoga

, 5:45 pm




•

Handbell Choir Practice

, 7 pm



Thursday

.

•

Kaizen Karate, 6:30 pm


• Community Choir Practice

, 7:30 pm at AFUMC,

more details
Saturday

.
Mon., Jan. 9 - Board Service Team Meeting, 7 pm
Fri., Jan. 13 -

ACOB Young Adults Gathering

, 6:30 pm
Sat., Jan. 14 -

Making Scarves for Homeless

, 10 am - 1 pm,
more details
Thurs., Jan. 19 - Congregational Life Ministries Webinar, 2:30 pm,
more details
Sat., Jan. 21 - Cub Scouts' Pinewood Derby
Sun., Jan. 26 -

Breakfast Bunch

, 8 am
Mon., Jan. 30 - Executive Committee Meeting, 7:30 pm
Fri.-Sat., March 24 - 25 - All Church Retreat, at Shepherd's Spring *Note New Date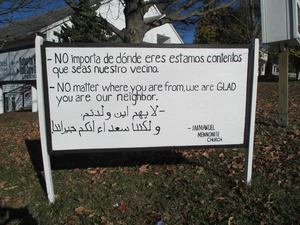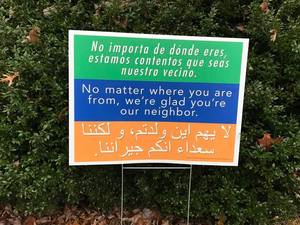 Yard Signs + Stickers | No matter where you are from, we are glad you are our neighbor.
Immanuel Mennonite in Harrisonburg, VA posted a simple and literal sign of welcoming love that has inspired thousands across the country. ACOB is helping spread the word by making a little more than a dozen of the signs available in our neighborhoods too. Please reimburse Cindy directly with cash if you would like one for your yard or a bumper sticker for your car. She has picked up 15 yard signs for $10 each and 30 bumper stickers for $2 each via Ayuda, a metro area immigrant aid organization.

Big Bulletin | Submit Articles through this Wed., Jan 4
The next Big Bulletin newsletter will distributed on Sun., Jan. 8. Please submit articles to the office by the Wednesday before.

Community Choir Practice | Possible Location Change
As of now the plan is to meet per usual at Arlington Forest UMC (4701 Arlington Blvd.) at 7:30 pm on Thursday for Community Choir Practice. Someone has mentioned offering their house as an alternate location. If that becomes the new plan, everyone on the choir list will be notified by email. If you have questions or are not on the choir list contact Nancy W.

Soup + Pie Meeting | This Sun., Jan 8, after worship
Meet in the sanctuary after worship for a report on totals from our annual fundraiser and to start deciding where to designate the funds. Contact Alma with questions.

More Details | arlingtoncob.org/calendar
For more information on neighboring church and non-profit events listed, check the calendar at the above link or contact the office.
---
Volunteer + Donate.
Volunteer at AFAC | This Sat., Jan. 7, 8:30 am
This is one of those special opportunities to serve our community as a community. At least 8 to 9 people are needed to assist with the food distribution process for the day. We'll be there from 8:30 am to 11:30 am. Please make a commitment to help by emailing
Diane
.
Making Scarves for Homeless | Sat., Jan. 14, 10 am – 1pm
Join together to make no-sew scarves by cutting a simple pattern into strips of fleece material. Please bring scissors + yard sticks if you have them. Extra fleece is always welcome too. We will give the completed scarves to ASPAN to distribute to people without homes this winter. Contact
Cindy
with questions.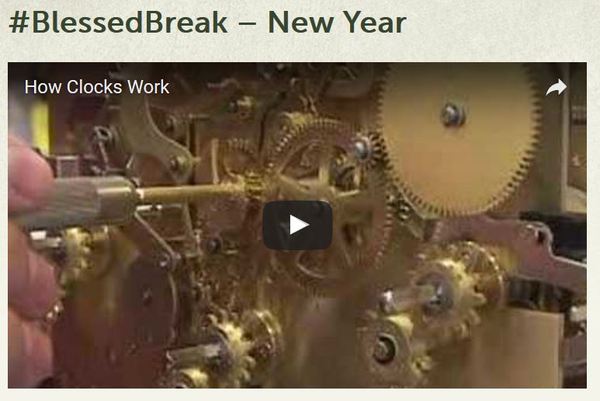 #BlessedBreak | New Devotion!
http://bit.ly/BlessedBreak39
The latest video devotional is a short meditation on how clocks work and what to do with our time. Watch the video and read the accompanying scripture and prayer at the above link.
Worship Audio |

Online
Listen again to this week's sermon, catch a sermon from a Sunday you were out or peruse the archives. Each Sunday message along with a selection of hymns and readings is posted online or subscribe on iTunes.

Dunker Punks Podcast | http://bit.ly/BlessedBreak38
The latest episode features Kevin Schatz interviewing volunteers and recipients of a Christmas service project in LA. It's an inspiring account of people passing on the hope that Jesus' birth brings. Listen by clicking the above link or subscribing on
iTunes
.
---
Pray. Call. Write.
Dorothy Dodson's Friends + Family

, including Marcia who shared a love of ice skating, theater and tennis during their close friendship. Dorothy passed on Dec. 27 at age 93 after a full life and recent diagnosis of leukemia.

Jan, 2017 Anabaptist Meeting in Buenos Aires,

upcoming meeting of brothers and sisters of Argentina, Brazil, Paraguay, Uruguay, Chile, Bolivia and Peru to work on issues related to identity of faith and building fraternal relationships

Georgina's Family + Friends

, Orin's landlord who passed just before Christmas

Charles Tuck,

Hazel's son, cleared of cancer in recent health report

Nancy Marion's Friends + Family

, including Chris + Shelley, mourning her passing

Dot Fravel

, Dee's mom, hospitalized for fluid-filled lungs

Carol Smith

, Going to Nigeria to help start a preschool

Gene Hagenberger

, District Exec, struggling with sickness

Julie

, yoga group member, continued pain after gallblader surgery

​

Pastor Mike

, continuing to deal with liver failure and awaiting transplant

Jummai Paul

, kidnapped Chibok girl and 195 others

Church of the Brethren in Nigeria (EYN)
Keep in your ongoing prayers:
Dorothy Fravel (Dee's mom), Theresa McCary, Erin Julca, Steve Shuss, Elizabeth Smucker, Carolyn Studds

Note:
Prayer concerns will ordinarily be listed for four weeks. If you would like one to be kept on or added back in, please let the office know. Names in bold are new to the list or updated this week.
---
Worship Notes.
When Mary and Joseph end up in Egypt, the wonder of a miraculous birth gives way to the brutal realities into which their baby is born. If we don't talk about tragedy and loss at church, we cheat ourselves of the help and hope our faith offers to get us through these days. The truth of the Christmas story teaches us how to carry broken hearts and hold life together. It's God's message of love found in Jesus that offers us hope for every day. The Christmas story doesn't take away the possibility of a broken heart, it takes it on. God's love redeems, lifts us up and carries us all the days of life. Joy to the world, God is with us.

Listen to yesterday's sermon here:
http://bit.ly/ACoBMessage1Jan2017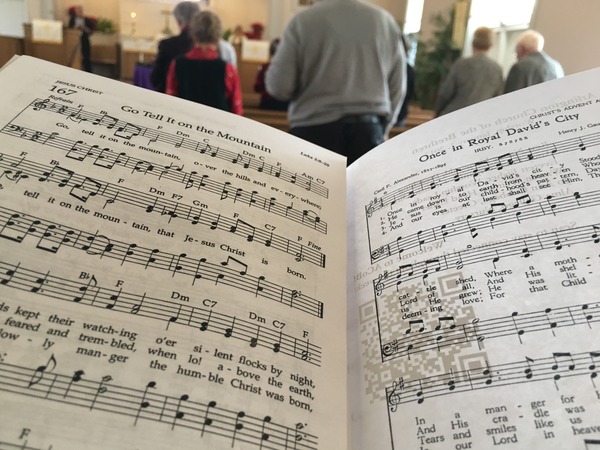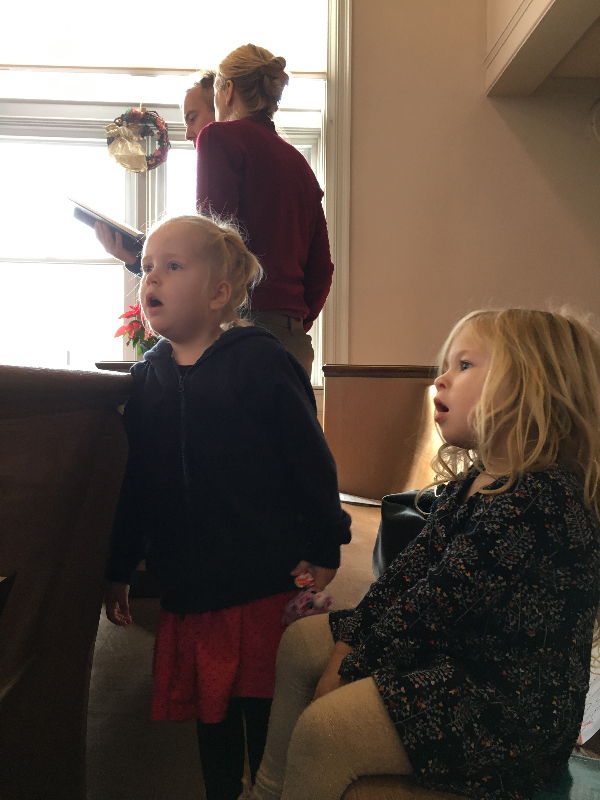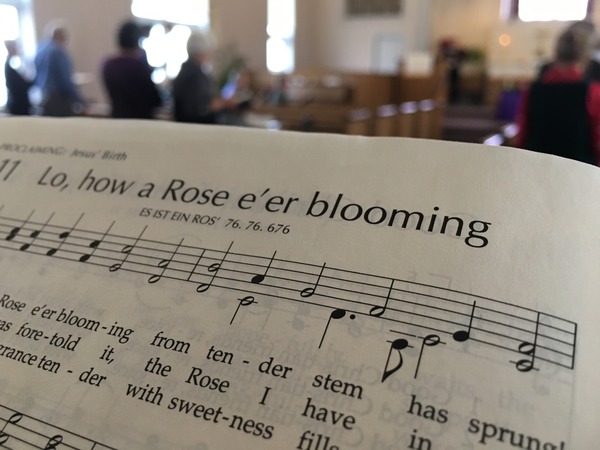 Yesterday, we began worship with a fun carol sing on the first day of the new year!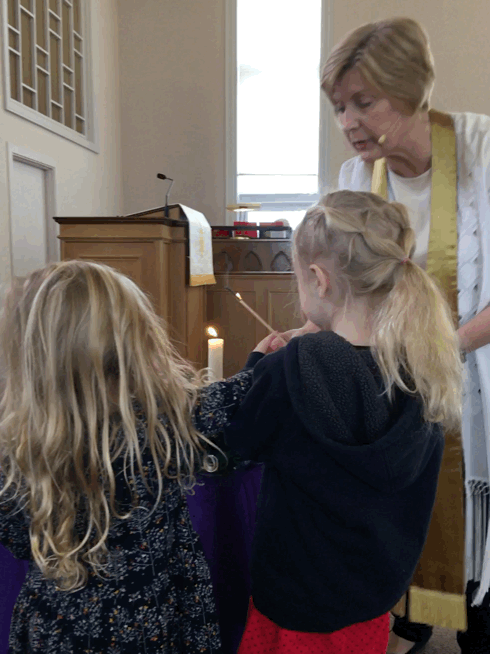 Our advent candles remind us that Jesus brought light into the world. We thank God for the light we see in these children, and ask for God's help to also shine God's light in 2017.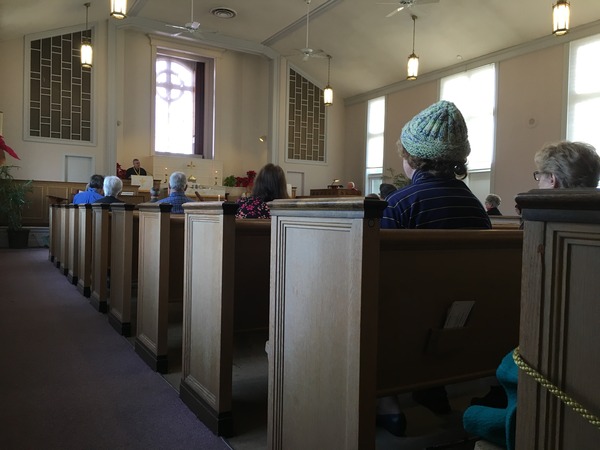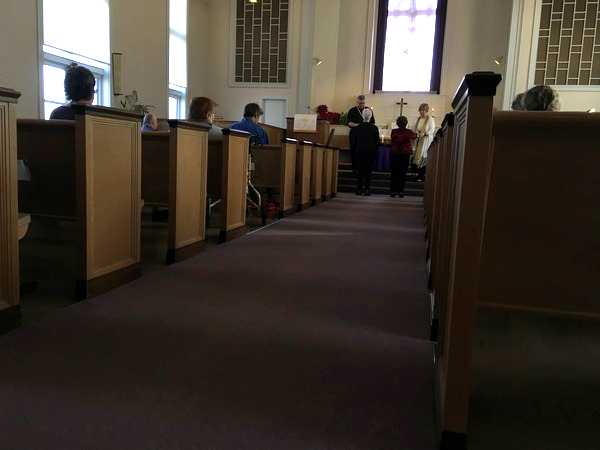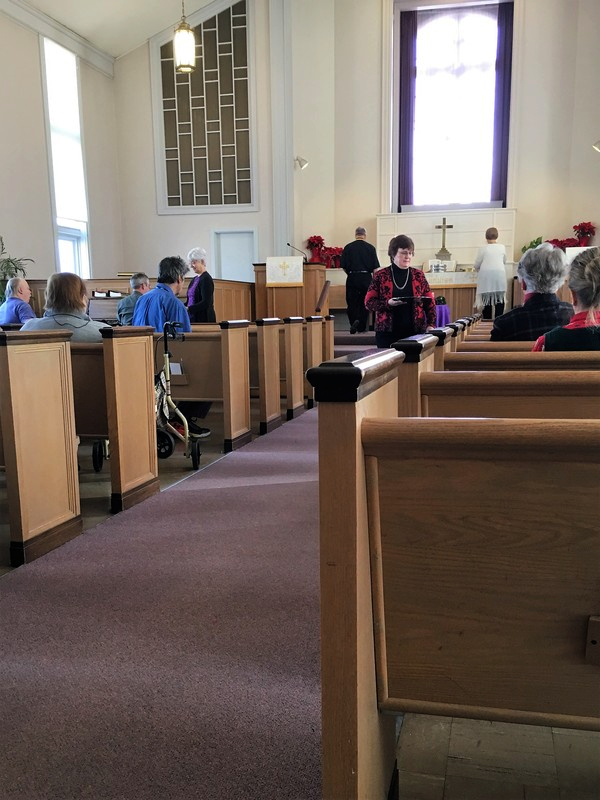 Yesterday, we shared communion.
May we leave the season of seeking and enter into a year of sharing, knowing God is with us.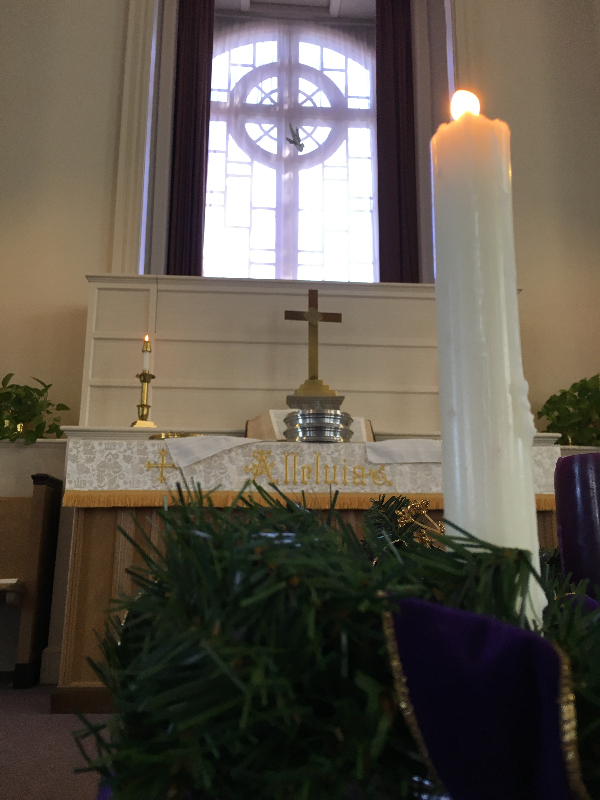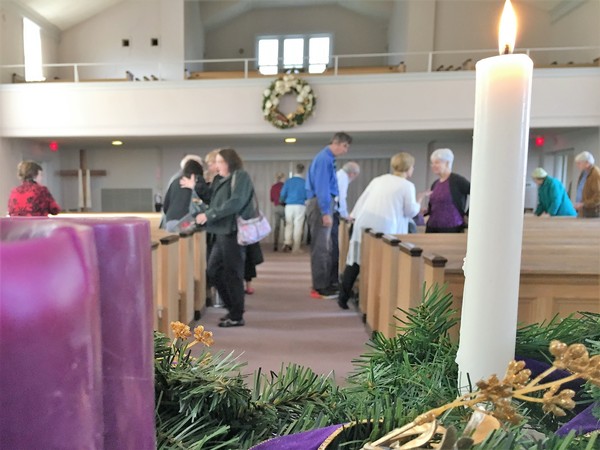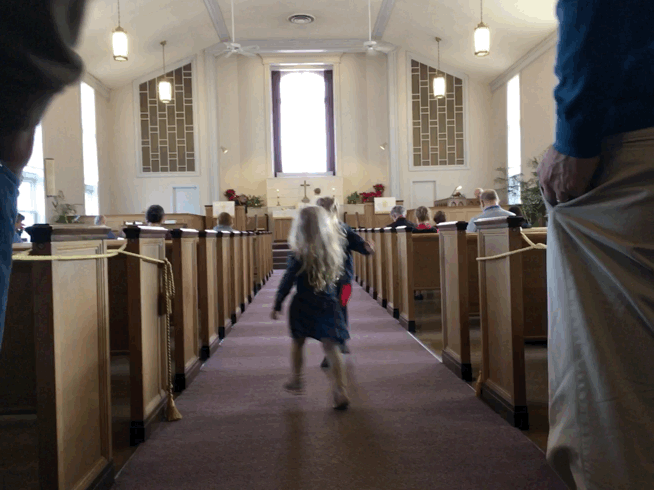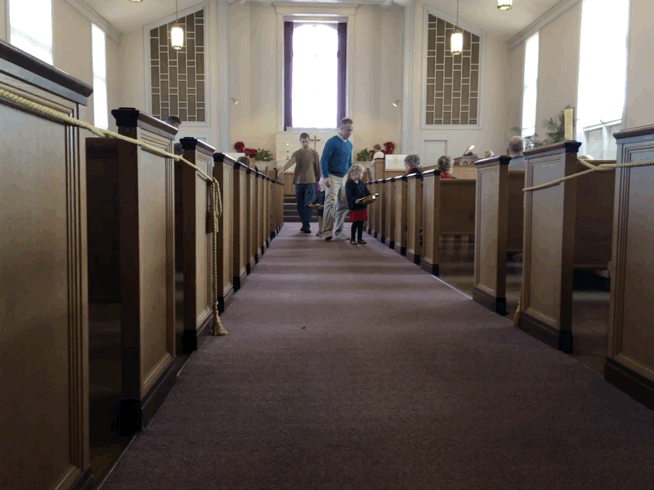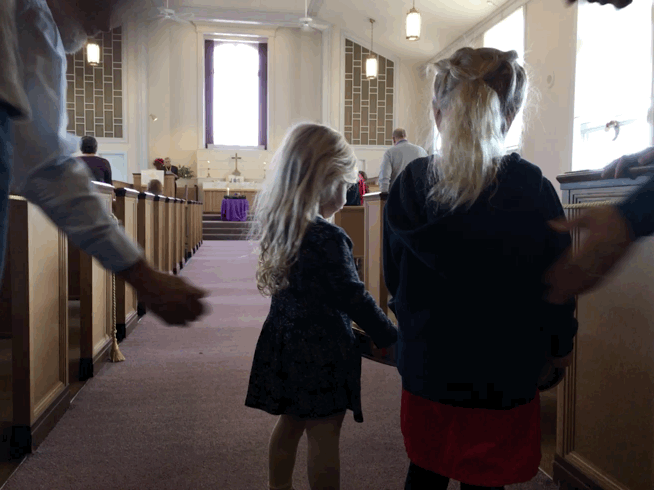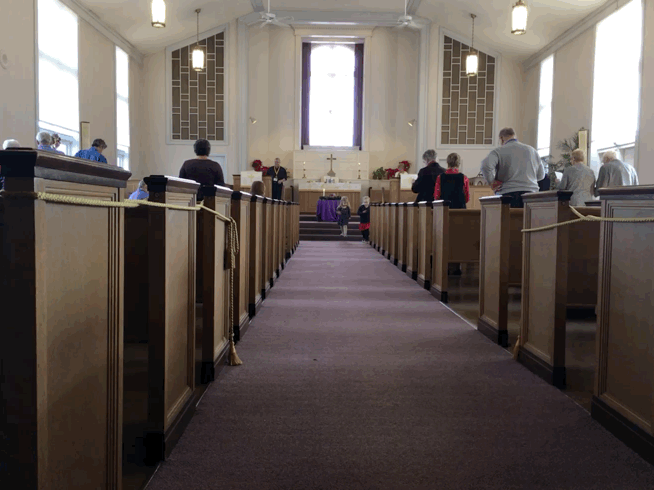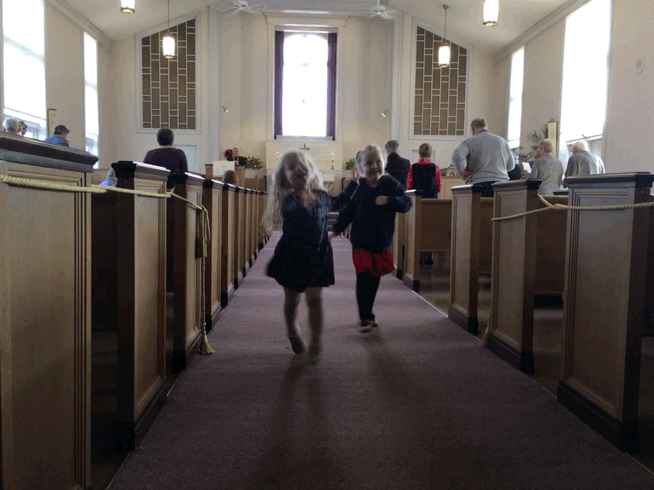 We are beginning a new year, both personally and together. Many of us have pledged finanical support for the church budget. We are striving to reach the goal set at November's Council Meeting for the church's operations and programs and for our outreach contributions to other organizations. May we begin this year with a strong effort to reach that goal and may we continue that effort throuhghout the year.