The nonsense of the resurrection became the hope that shook the Roman Empire and established the Christian movement. The nonsense of slave songs in Egypt and Mississippi became the hope that let the oppressed go free. The nonsense of a bus boycott in Montgomery, Alabama, became the hope that transformed a nation.


-

from Pastor Christy's Easter Sermon
---
Mo
Monday.
•
Church Board Meeting,

7:30pm

, in the library
Tuesday

.
•
Iglesia de Restauracion Pacto Eterno, 7-9pm
Wednesday.
•
Brethren Voices,

11am

,
more details
•
Bell Choir Rehearsal,

7pm

, in the sanctuary
Thursday.
•
Office Hours,
9:30-11:30am + 3-5pm
•
Kaizen Karate, 6:30-8:30pm in fellowship hall
•
Community Choir Practice,
7:30pm at AFUMC
Friday.
•
Mission Alive, thru 8/8 at Frederick COB
•
Roundtable, thru 8/8 at Bridgewater College
Saturday.
•
CAEC Prayer Service,
11:30am - 1pm in fellowship hall
•
Iglesia de Restauracion Pacto Eterno, 5-9pm
I
Sunday

.
•
Community Worship, 10am at Arlington Forest UMC, more details
•
Office Hours, 12 - 3pm
•
Cambodian Alliance Evangelical Church, 1-4pm
I
•
Iglesia de Restauracion Pacto Eterno, 5-9pm
I
•
Brethren Voices,

6:30pm

,
more details
Sun., 4/8 - Samuel Sarpiya, AC Moderator at Oakton COB, 11am, more details
Fri., 4/13 -

Young Adults Gathering

, 6:30pm
Sat., 4/14 - ACOB Yard Sale,

more details


Sun., 4/15 -

Big Sunday School

, 10am, more details
Sun., 4/15 - Special Council Meeting, noon,
more details
Thurs., 4/19 - AFAC Shining a Light on Hunger, 6:30pm
Fri., 4/20 - 4/23 - Ecumenical Advocacy Days
Sun., 4/22 - Vision + Vitality Reunion, 10am
Thurs., 4/26 -

Breakfast Bunch

, 8am
Sat., 4/28 - Spring Church Work Day, 9am
Mon., 4/30 - Executive Committee Meeting, 7:30pm
Sat., 5/5 -

AFAC Service Saturday

, 8:30am
Sat., 5/12 - Camp Mardela Auction + Flea Market
---
More Details.
Community Worship | Next Sunday, April 8, 10 am
Head over to Arlington Forest United Methodist Church (4701 Arlington Blvd.) for a special worship service with our community partners next Sunday. All are welcome. The service starts at AFUMC at 10 am. There will be no Sunday School or worship service held at ACOB that morning.
2018 Annual Conference Moderator in Town | Sun., April 8, 11 am
Samuel Sarpiya will be speaking during 11 am Sunday worship at Oakton COB on April 8. After a carry-in lunch, Sarpiya will lead a workshop discussing ways to reach out into the community. If you can't make it to meet him in person, Episode 30 of the Dunker Punks Podcast features an interview with Sarpiya: http://bit.ly/DPP_Episode30
While cleaning out and organizing all of the church's storage areas, several nice but not needed items were found. Come see if you might need them at our Spring Yard Sale, Rain or Shine. Contact Jo Ann with questions.

Lisa is organizing a bake table for the morning. Contact her if you can donate desserts for sale to benefit the church.
Big Sunday School | Sun., April 15, 10 am
All ages join together for BIG Sunday School with activities planned for all in the fellowship hall. Come learn about the story of the rich young man, what Jesus asked him and how we should respond. We'll explore the story together in fun multi-generational and interactive ways. Contact Alma, Jo Ann, or Donna with questions.
Special Council Meeting | Sun., April 15, after worship
Please plan to stay after worship in the sanctuary for a special all church council meeting to discuss increasing two line items in the budget: 411, Church Maintenance and 412, Parsonage Maintenance. Contact Warren, Lisa Martin or Everett with any questions.
---
Advocate, Volunteer + Give.
Unite to End Racism Rally | April 4
A rally to end Racism on the National Mall in Washington, D.C., is scheduled for
April 4
, the 50th anniversary of the assassination of Martin Luther King, Jr. The Office of Peacebuilding and Policy of the Church of the Brethren is volunteering at the event, encouraging Church of the Brethren congregations to attend, and working to provide hospitality/coordination for Church of the Brethren march participants.
On Tuesday
evening,
April 3
, an ecumenical worship service will be held.
On Wednesday
morning,
April 4
, a silent prayer walk will proceed to the National Mall, culminating in an interfaith prayer service preceding the
9 a.m.
anti-racism rally.
Thursday, April 5
is slated for advocacy and action efforts in the nation's capital. "Fifty years ago, the Rev. Martin Luther King, Jr. went to Memphis, Tenn., to support 1,300 striking sanitation workers battling deadly working conditions, low wages and white supremacy," said an announcement of the rally. "The night before he was murdered standing on a hotel balcony on April 4, 1968, he told them, 'We've got to give ourselves to this struggle until the end. Nothing would be more tragic than to stop at this point in Memphis. We've got to see it through." The event is being held with several ecumenical partners including the National Council of Churches (NCC) and several of its 38 member communions. Next week, the Office of Peacebuilding and Policy will be sending out an Action Alert about the rally with more information.
Baby Food Drive | Throughout April
Be part of this month's Service Ministry Team service project by donating baby food items for distribution at AFAC. No glass jars please. Lisa will make a store trip for folks who prefer to give monetary donations. Contact her with any questions.
---
Media.
New!
Dunker Punks Podcast |
http://bit.ly/

DPP_Episode54
Elizabeth Ullery-Swenson brings back a panel of young adults to continue the conversation around the Church of the Brethren's "Compelling Vision" process. Jennifer Keeny Scar, Tim Heishman, and Colin Scott return to share their thoughts, concerns and hopes for the future of the Church
.
Type in the case sensitive url to listen on the showpage or subscribe on iTunes. Listen by clicking the above link or subscribing on
iTunes
.
---
Karolina and family,

transitioning between homes

Ron,

friend of Sue, recovering from a successful tumor surgery after much time living with pain, and anticipating continued treatments

Richard,

Karolina's friend, doing much better after serious surgery

Carole,

continuing to heal and adjust after surgery

Ralph,

thinking back ten Easter Sundays to his first worship back after serious surgery, grateful for the love and care of this congregation that helped him to be here.

Fosters,

grateful for a joyful weekend of firsts with Phoenix Avery and our church family and community

Lisa's student and his family, anticipating the first of possibly three brain surgeries on

April 9

to repair a shunt
Karen,

Marsha's cousin, recently found a worrisome tumor to be benign

Dapchi Kidnapping Victims,

thankful for the release of nearly all the girls kidnapped last month in Nigeria

Tom

, Sue's boss undergoing treatment for cancer

Terra + the Behren family,

Melody's friend who just lost her mother

Peggy + family,

grieving the loss of both her sister and brother in the last couple of weeks

March for our Lives,

lasting impact and action to prevent gun violence

Ralph + Andy

,

celebrating the birth of their niece, Grace Sue

Mary Edwards

, Marcia's friend, being treated for cancer, helped to raise $67K for cancer treatment with Marcia and others at a recent skating event

Gary S

.

, traveling to Buenos Aires, taking ACOB's greetings to the church there

Cindy's Mother + Stepfather,

as Cindy's mother was just diagnosed with dementia

Chuck Norton,

Bethel UCC, undergoing treatment for pancreatic cancer

Church of the Brethren in Nigeria (EYN), including 113 girls still captive
Keep in your ongoing prayers:
Steve Shuss, Minnie Simmons, Carolyn Studds

Note:
Prayer concerns will ordinarily be listed for four weeks. If you would like one to be kept on or added back in, please let the office know. Names in bold are new to the list or updated this week.
---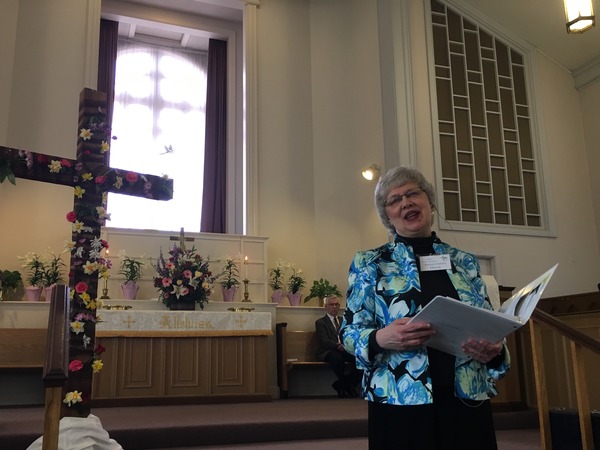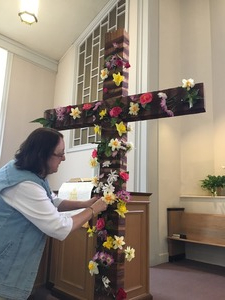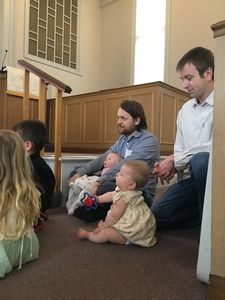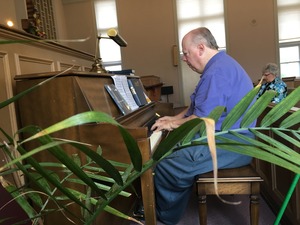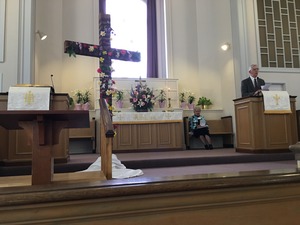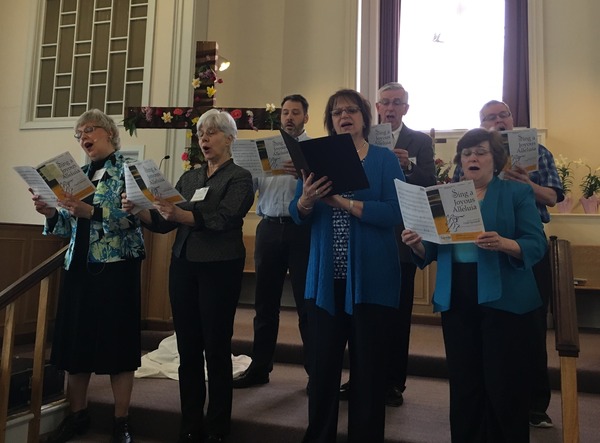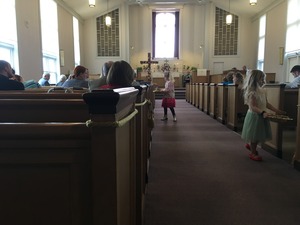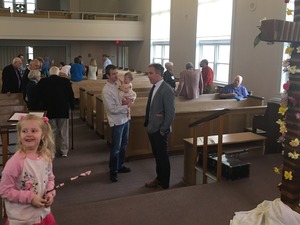 ---
From our Love Feast with friends from several partner and neighbor congregations: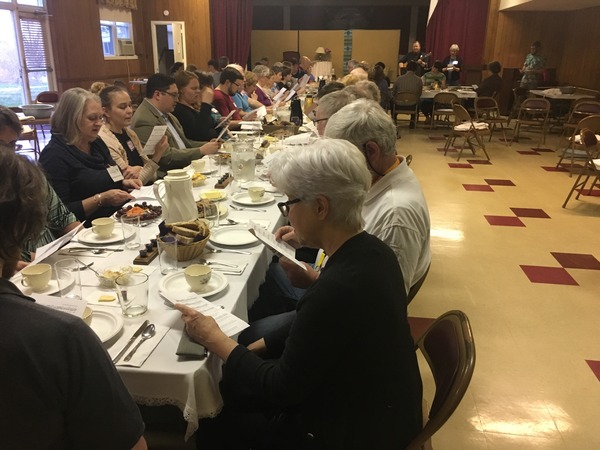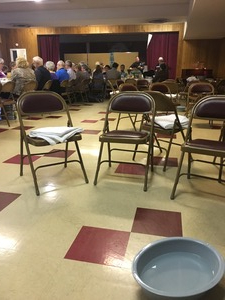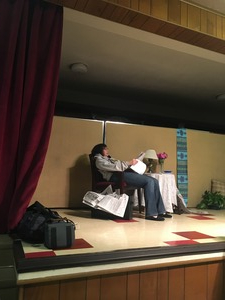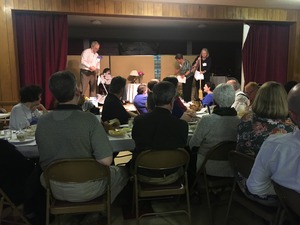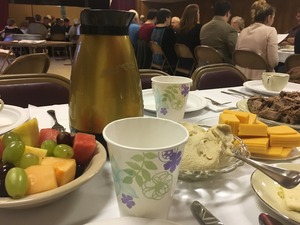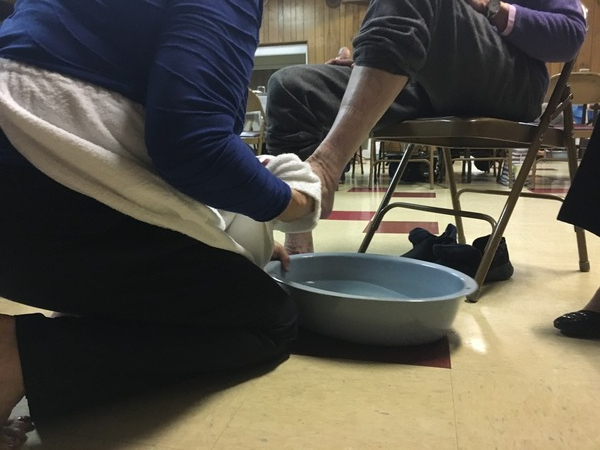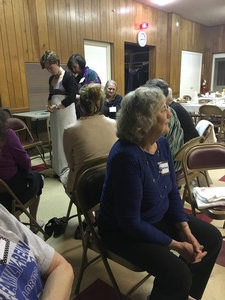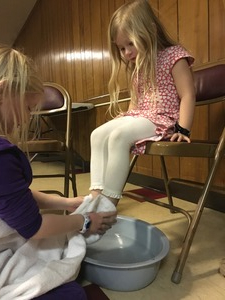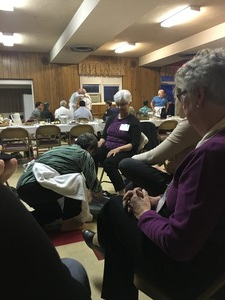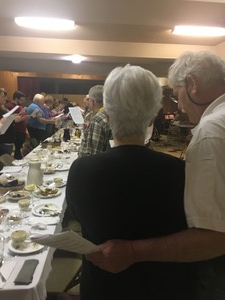 And from Saturday's Easter Egg Hunt!