Suzanne, you are a unique, gifted child of God and a blessing to our vital faith community.
This e-update is just one way we connect with each other as together,
we live for the glory of God and our neighbor's good.

---

Kaizen Karate Summer Camp each weekday, 7:30 am-6 pm
Book Worms, 7 pm


Tuesday

.



Iglesia de Restauracion Pacto Eterno, 7-9 pm

Brethren Voices, 11 am,

more details


Yoga, 6 pm in elementary school room,

more details


Movies + Munchies, 6 pm in fellowship hall,

more details




Thursday

.

Community Choir Practice, 7:30 pm at AFUMC


Young Adults Gathering, 6 pm in side yard,

more details



Iglesia de Restauracion Pacto Eterno, 5-9 pm
Sunday

.

Ecumenical Community Worship, 10 am at Bethel UCC,

more details


Brethren Voices, 6:30 pm,

more details




Sun., Aug. 21 - Community Worship at Arlington Forest UMC
Thurs., Aug. 25 - Breakfast Bunch
Sun., Aug. 28 - Community Worship at Lubber Run Park
Mon., Aug. 29 - Executive Committee Meeting
Sat., Sept. 3 - AFAC Volunteer Service Saturday
Sat., Sept. 10 - Shredding for AFAC
Sun., Sept. 11 - Big Sunday School Resumes

Ecumenical Community Worship | This Sun., Aug. 14, 10 am at Bethel UCC
Throughout August we'll meet for Sunday worship with our partner churches Bethel UCC and Arlington Forest UMC, rotating locations at each of our church buildings. At the end of the month, we'll worship at Lubber Run park amphitheater followed by a picnic at the pavilion there. This Sunday, August 14, we will join in worship at Bethel UCC (4347 Arlington Blvd.). Click here for the full schedule and a flyer to invite your friends!
http://bit.ly/CommunityPartnerCongregations
Movies + Munchies | Wed., Aug. 10, 6 pm
Come watch Joseph and the Amazing Technicolor Dream Coat: the story of Jacob and his twelve sons, especially Joseph, Jacob's favorite. Featuring Donny Osmond as Joseph, Richard Attenborough as Jacob and Joan Collins as Mrs. Potiphar. The movie runs an hour and 19 minutes and will be shown in the fellowship hall. Contact Ralph with any questions.

Beginner Yoga | Wednesdays, 6 pm
Join others (in the elementary school room, this week) for simple, gentle beginner yoga, especially designed to include folks 55+. $9.00 per session. To continue weekly through August. Contact Pastor Nancy with questions.

Young Adults' Gathering | Fri., 6:30 pm in side yard
Come out for a special, end of summer picnic for young adults, their children, friends and child care volunteers. That means all are welcome! Print this flyer and invite a friend!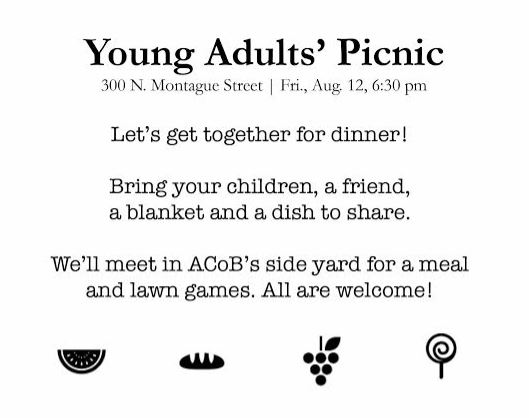 ---
Volunteer.
Donate CWS School Kits | Through Sun., Sept. 11
This end of summer service project with Church World Service (CWS) gives children in impoverished schools, refugee camps, or other difficult settings some of the basic tools for learning. Please collect and donate completed school kits throughout August and the first two weeks of September.

CWS School Kits Include:
One pair Fiskars blunt metal scissors (rounded tip)

Three 70-count, wide rule, spiral notebooks (no loose leaf or filler paper)

One 30-centimeter ruler (12")

One hand-held pencil sharpener

One large eraser

Six to Eight new pencils with erasers

One box of 24 count Crayola crayons (24 count only)
AFAC's Summer Hunger Challenge | Virtual Food Drive for Kids
The start of the school year is dreaded by some, but longed-for by too many Arlington children for whom school lunch and breakfast are the only meals they can count on. Help fill the gap and have your donation matched dollar for dollar on Arlington Food Assistance Center (AFAC)'s virtual food drive:
http://bit.ly/AFACSummerHungerChallenge
Help Notify the Community | Free Cervical Cancer Screenings
Virginia Hospital Center is offering a free cervical cancer screening on Sept. 10 and have passed along flyers in English and Spanish to notify the community. Contact the office to volunteer to distribute or post the flyers.

Host Families Needed| State Department Student Exchange Program
Bring the world to you, your family and your community by opening your home to a State Department-sponsored high school exchange student. By hosting a student for a few weeks or an academic year, you'll share cultures and form bonds that can last a lifetime. Visit
http://hosting.state.gov
or talk to Karolina for more details.

Worship Audio | Online
In case you miss a Sunday service, sermon audio along with a selection of hymns and readings is posted online or subscribe on iTunes

Brethren Voices | Give a Girl a Chance
Brethren Voices in Arlington will feature
New Community Project
's Give a Girl a Chance program throughout August.
Tune in Sundays at 6:30 pm or Wednesdays at 11 am on Comcast, 69; Verizon-FIOS, 38 or on
Arlington Independent Media
's
live stream

.
Contact James with any questions.

Dunker Punks Podcast | http://bit.ly/DPP_Episode11
Do you hear God in the sounds of nature?
Do you hear God in the cries of people living in hunger?
Do you hear God's voice when someone says church is so boring and full of hypocrites?
Do you hear God speaking to us in the protest chant,
#BlackLivesMatter
?
Do you hear God in celebrations of life and love?
Do you experience God in the sound of sheer silence? A gentle whisper? A still, small voice?
In the latest episode of the
Dunker Punks Podcast
, Kevin and Erica talk about a place near and dear to their hearts. A place where God speaks to them through nature, friends and fun.
Click the above link or subscribe on
iTunes
.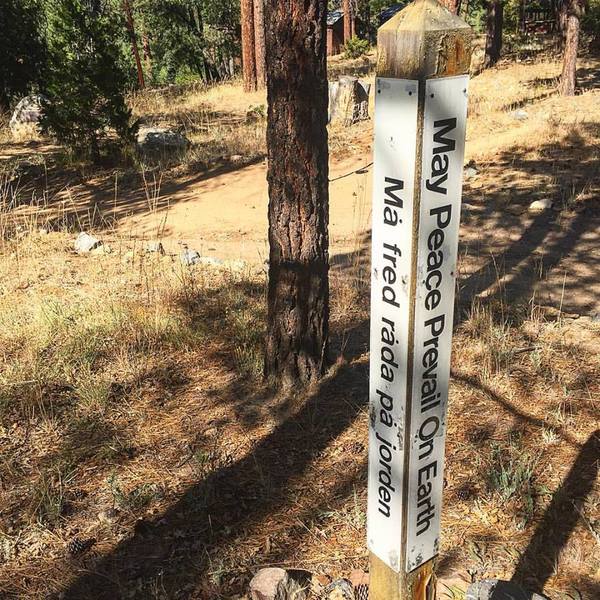 ---
Pray. Call. Write.
Charles Tuck

, Hazel's son, diagnosed with cancer throughout his body
Elizabeth Smucker

, Gary's aunt, in rehab following a severe stroke
Donna

, following elbow surgery
John

, following a procedure
Pastor Mike

, being treated for liver disease
Minnie

, palliative care at Goodwin House, Rm 248, visitors welcome
Walkin-Haske Family

, ongoing health treatments
Jummai Paul

, kidnapped Chibok girl and others
Church of the Brethren in Nigeria (EYN)
---
Worship Notes.
Throughout August worship with our community partners, we will take turns sharing saints from each of our denominations. Today we learned about Brethren Sarah Righter, a woman called to preach in the 1820s. She Hath Done What She Could Do is the name of the book that tells her story along with other women who followed the vision and voice of Jesus into new frontiers.

As our ways of being church change, the one thing we must hold onto is the vision that enables us to see where God moves in the world. The greatest danger for congregations of old and new may be to quench the flame of the Spirit with our preoccupation with anything less than what Jesus has called us to do. Jesus bridged the gap between God and God's humanity, and he gave new rituals of remembrance that put us on our knees, washing feet and serving others, and rituals of fellowship, reminding us that all are welcome at his table. We must discern Jesus' call for this day and this age. As the Body of Christ, may we let sight of Jesus shape us into people alert to where God's Spirit is already working in the world.

Listen to yesterday's sermon here:
http://bit.ly/ACoBMessage7Aug16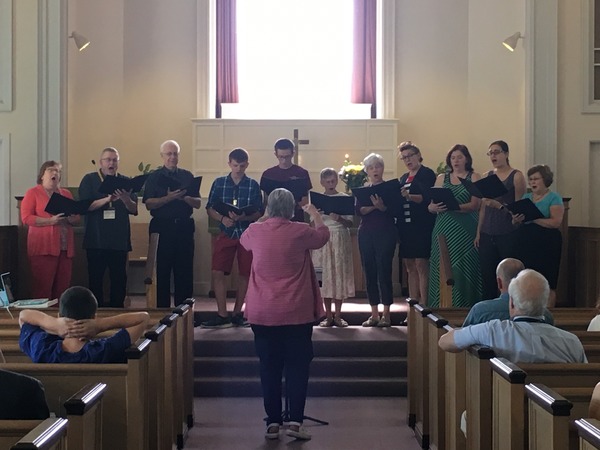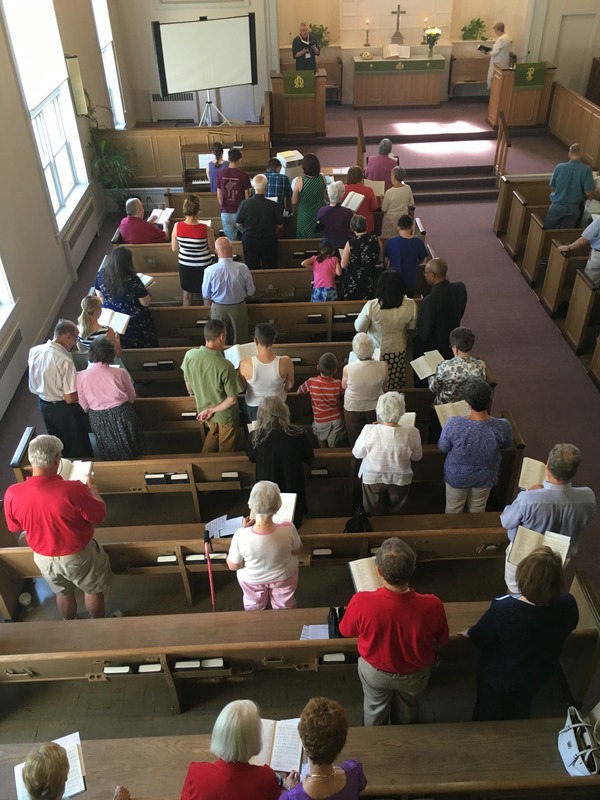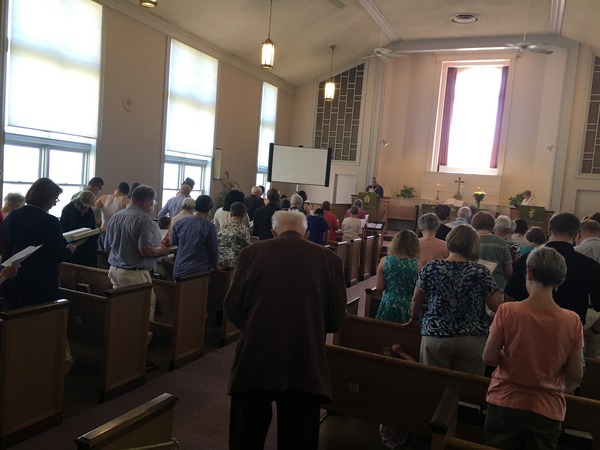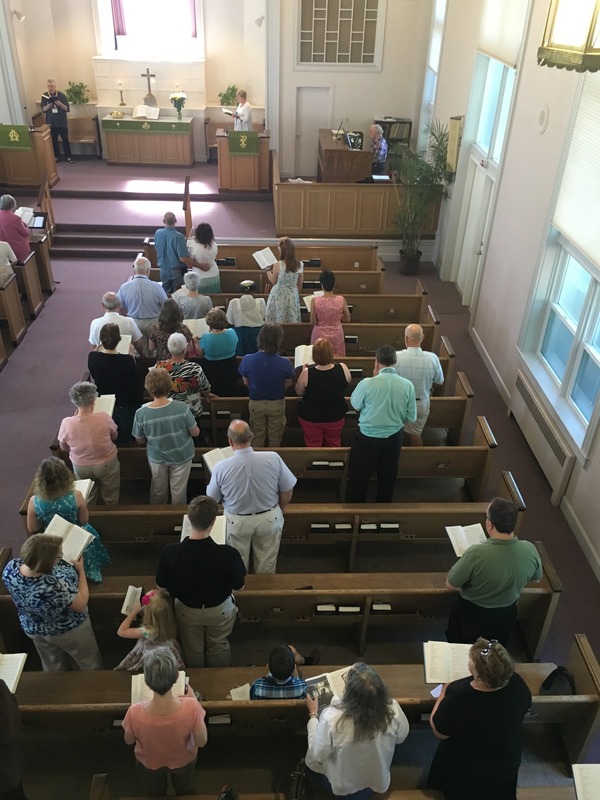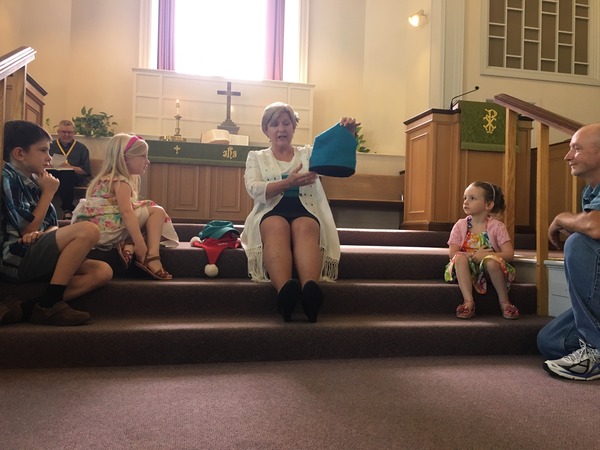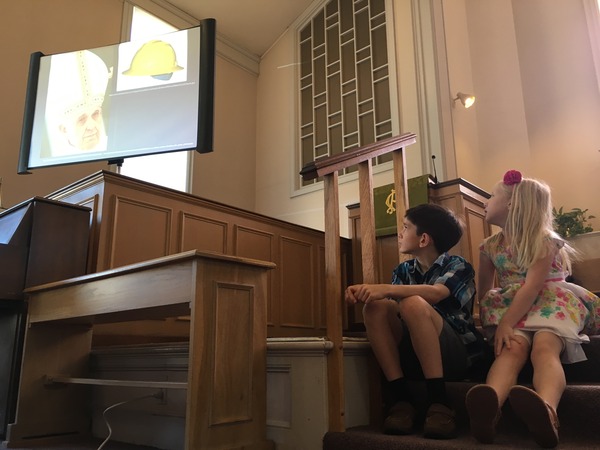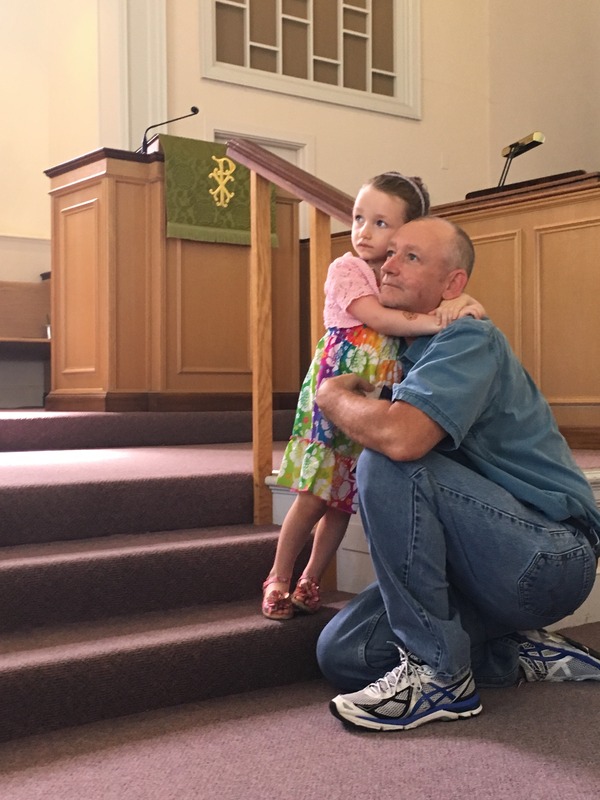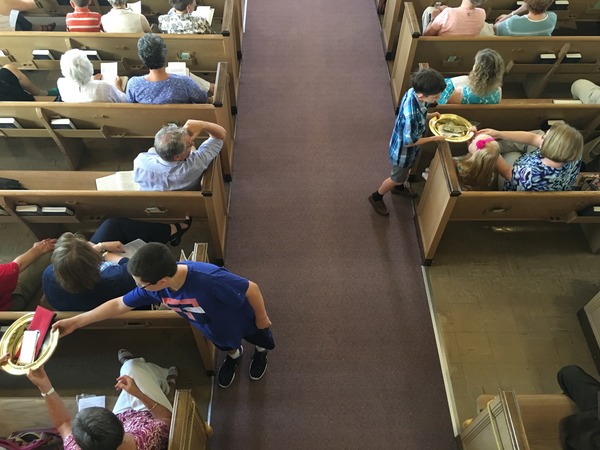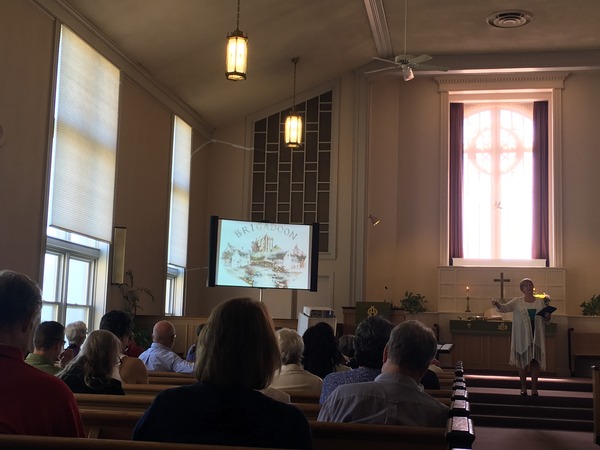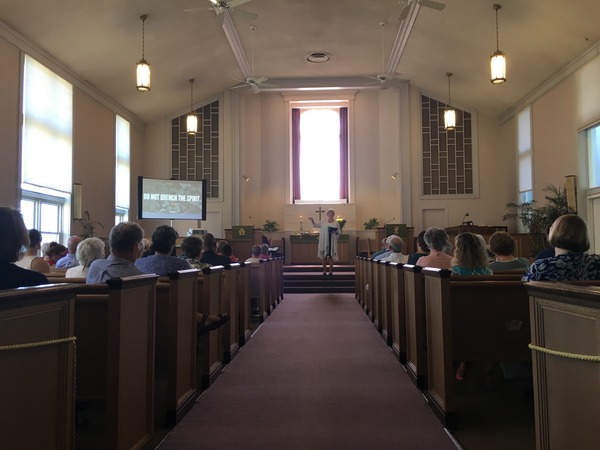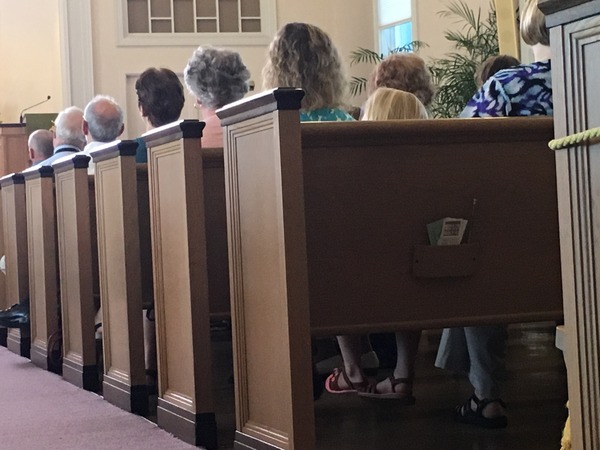 ---
More Pictures.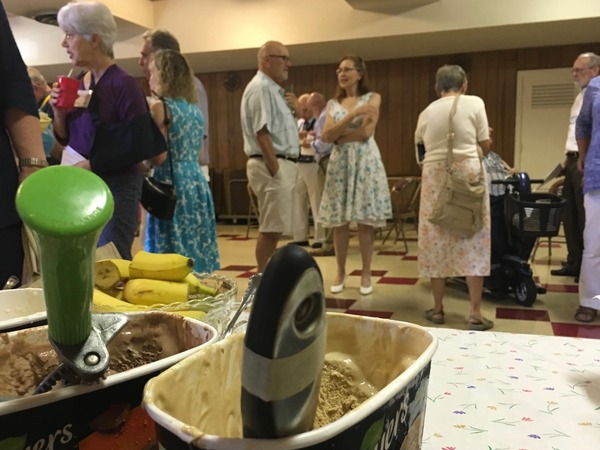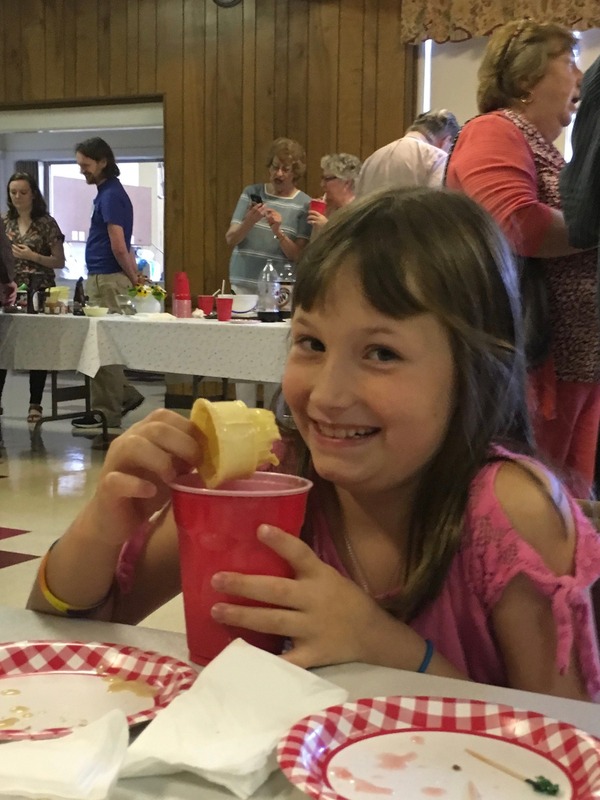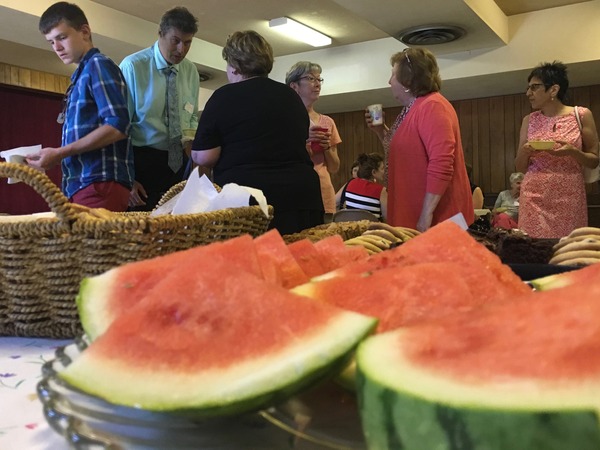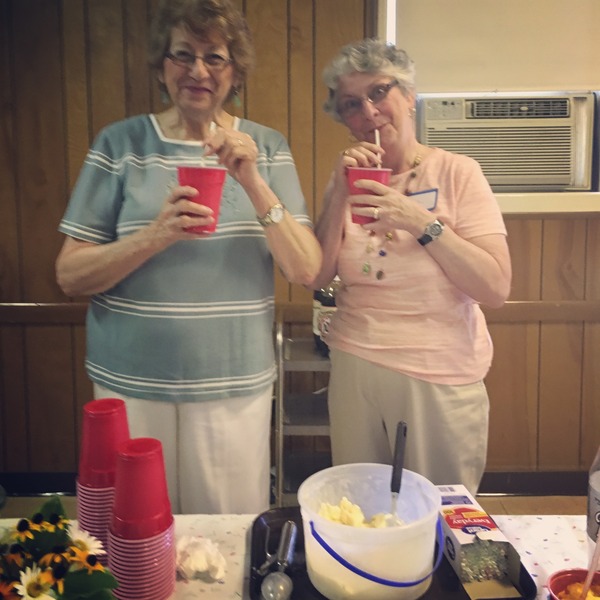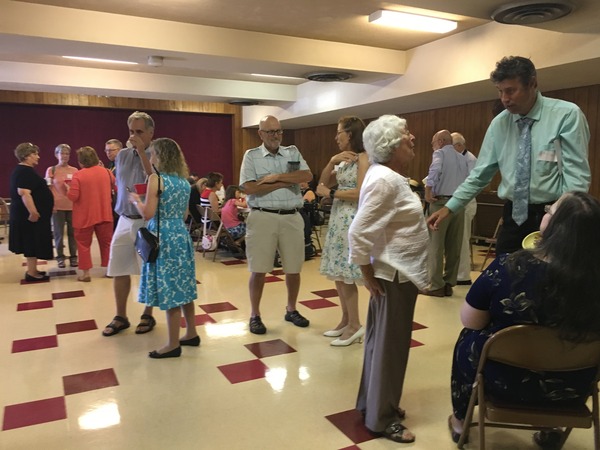 After worship we enjoyed an ice cream social with our community partners! Many thanks to our hospitality function group for organizing and everyone who brought sweet treats.
Thanks to our volunteers who helped serve lunch at the Brethren Nutrition Program on Friday.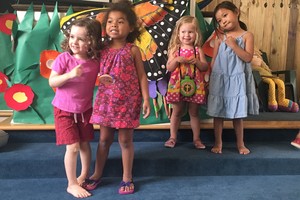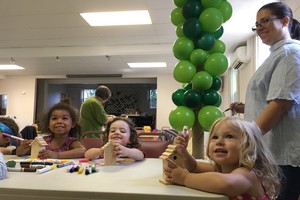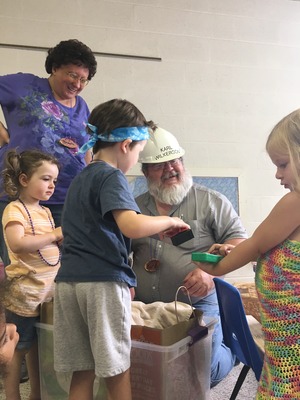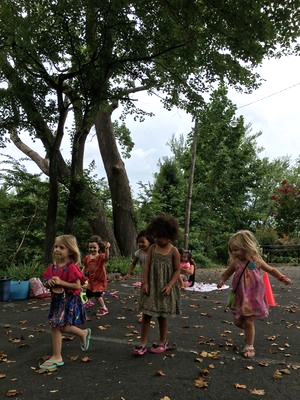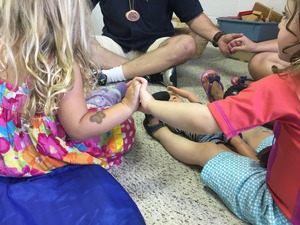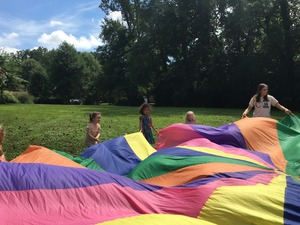 Last week, Marylynne joined with children at Oakton Church of the Brethren for Vacation Bible School. In addition to enjoying daily Bible study, crafts, recreation, music and worship, the children raised $150.54 for Habitat for Huminaty, enough for a front door or 15 hammers for construction!