Speak your peace to our hearts. Touch us with your Holy Spirit. Reveal your word, that we may hear your message this day, and live as your disciples in the days and years to come.

-

from Sunday's invocation
---
Mo
Monday.
Tuesday.
•
Office Hours,
3:30-5:30pm
•
Iglesia de Restauracion Pacto Eterno, 7-9pm in Fellowship Hall
Wednesday.
•
Office Hours,
9:30-11:30am
•
Brethren Voices, 11am,
more details
•
No Bell Choir Rehearsal
Thursday.
•
Office Hours,
3-5pm
•
AFAC Shining a Light on Hunger, 6:30pm
•
Kaizen Karate, 6:30-8:30pm in Fellowship Hall
•
Community Choir Practice,
7:30pm at AFUMC
Friday.
•
Ecumenical Advocacy Days (through 4/23)
Saturday.
• CAEC Prayer Service, 11am in Fellowship Hall
•
Iglesia de Restauracion Pacto Eterno, 5-9pm in Fellowship Hall
•
Vision + Vitality Reunion, 9:45am in the library
•
Worship, 11 am in Sanctuary
•
Office Hours, 12 - 3pm
•
Brethren + Mennonite Underground Railroad during the Civil War Lecture, 4 pm at Sangersville
COB
•
Cambodian Alliance Evangelical Church, 1-4pm in Sanctuary + Fellowship Hall
I
•
Iglesia de Restauracion Pacto Eterno, 5-9pm in Fellowship Hall
•
Brethren Voices, 6:30 pm
,
more details
Thurs., 4/26 -

Breakfast Bunch

, 8am
Sat., 4/28 - Spring Church Work Day, 9am,
more details
Mon., 4/30 - Executive Committee Meeting, 7:30pm
Tues., 5/1 - 8th Annual Peace Feast, 6:30pm at Linville COB
Sat., 5/5 -

AFAC Service Saturday

, 8:30am,
more details
Sat., 5/5 - Disaster Response Auction, 9am in Westminster
Sun., 5/6 - Bethel Worship (1 of 2 trials), 9:30am in sanctuary
Sat., 5/12 - Camp Mardela Auction + Flea Market
Sat., 5/12 - Shepherd's Spring Workday, 1 of 2
Mon., 5/14 -

Special Church Board Meeting

, 7:30pm in library
Wed., 5/16 - Church Planting Conference, thru 5/19 at Bethany
Sat., 5/19 - Shepherd's Spring Workday, 2 of 2
Mon., 6/4 -

Church Board Meeting

, 7:30pm in library
Sun., 6/10 - Bethel Worship (2 of 2 trials), 9:30am in sanctuary
---
More Details.
Consolidated Reports
| Coming Soon!
In lieu of a new version of the Big Bulletin newsletter, a synthesis of the latest reports will be distributed regularly on an as needed basis. Highlights from the latest church board meeting, donation and fundraising totals and other accounts of recent church work will be collected and regularly distributed upon reaching critical mass. A big thanks to Jo Ann for taking on this new periodical as part of her role as Clerk on the church board. Please send reports and questions her way.

Thank You! | Yard Sale
A big thanks to everyone who worked so hard to make the yard sale such a success. We raised over $630 and found homes for many items to be put to good re-use. To that end, we have also found a home at Shepherd's Spring for the old altar that Arlington's first congregation used when worshiping in a local school building.

Thank You! | Dunker Punks Podcast
Thank you for generously donating over $360 during Easter breakfast. The podcast is very encouraged by ACOB's strong support. With your investment we are now paying honorariums to the show team. We value our authentic young adult voice and the time it takes our volunteers to share their gifts honed and lessons learned through discipleship to Christ. We are simultaneously creating even more ways to explore their inspired messages by developing companion curriculum for each episode. Thank you for helping us grow like the mustard seed weed, building connections across and beyond traditional congregations.

NY Times Article | Kidnapped as Schoolgirls: Here They Are Now
The New York Times met and photographed dozens of the students abducted by Boko Haram. Now at a university, they say they are the lucky ones. But their celebrity has a price. Find the powerful pictures and update online: http://flip.it/YIyWDm


---
Advocate, Volunteer + Give.
Spring Church Work Day | Sat., April 28, 9 am
Projects are available for all ages and all levels of activity and you can choose whether to work inside or outside. Contribute to making our church look welcoming and enjoy fellowship while you work. All volunteers are invited to stay for a pizza lunch. Contact Warren with questions.

Baby Food Drive | Throughout April
Be part of this month's Service Ministry Team service project by donating baby food items for distribution at AFAC. No glass jars please. Lisa will make a store trip for folks who prefer to give monetary donations. Contact her with any questions.

Volunteer at AFAC| Sat., May 5, 8:30 am
ACOB regularly volunteers as a community, distributing food to folks in need. Many who faithfully show up will be attending the district disaster auction, so this is a great time to give volunteering a try if have yet to or its been a while. Contact Diane with any questions.


* Do you care about ways to serve and participate in our community and through our denomination? Sign-up for and commit to reading regular updates from organizations that interest you, then notify Suzanne in the office about the events and projects you want shared on ACOB's calendar.
---
Media.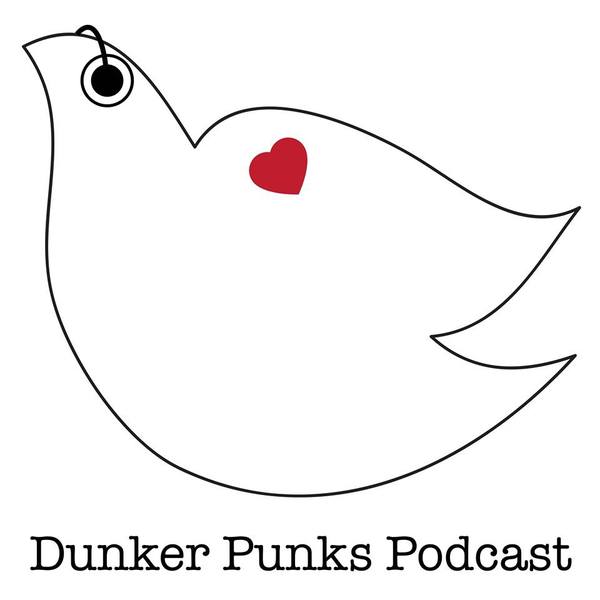 Dunker Punks Podcast |
New!
Brethren Life and Thought
Brethren have incorporated themselves into society while still maintaining their beliefs for centuries. In this modern era, publications like Brethren Life and Thought provide a platform for an ever-globalizing denomination to stay connected and in community with each other. Explore this concept and more as Jonathan Stauffer interviews the Social Media Editor for the Brethren Journal Association, Chibuzo Petty, on this episode of DPP.
http://bit.ly/DPP_Episode55
---
Hazel,

hospitalized last weekend for stomach problems

Maria's dad,

98 years-old and very sick, Maria + Mario clean the church building

Carole

, continuing to heal and adjust after surgery at a new rehab facility, Calls and visits are appreciated, 703-867-1952

Pastor Nancy

, having outpatient knee surgery Monday 4/16

Ruby,

Lisa's student, undergoing brain surgery today.

Karolina and family

,

transitioning between homes

Ron,

friend of Sue, recovering from a successful tumor surgery after much time living with pain, and anticipating continued treatments

Carole,

continuing to heal and adjust after surgery

Karen,

Marsha's cousin, recovering from surgery

Tom,

Sue's boss undergoing treatment for cancer

Terra + the Behren family,

Melody's friend who just lost her mother

Peggy + family,

grieving the loss of both her sister and brother
Chuck Norton

,

Bethel UCC, undergoing treatment for pancreatic cancer

Church of the Brethren in Nigeria (EYN),

including 113 girls still captive
Keep in your ongoing prayers: Steve Shuss, Minnie Simmons, Carolyn Studds

* P

rayer concerns will ordinarily be listed for four weeks. If you would like one to be kept on or added back in, please let the office know. Names in bold are new to the list or updated this week.
---
Worship.
Listen to Sunday's Sermon here:
http://bit.ly/ACoBMessage41518
This week, we welcomed Rev. Carolyn Richar, Associate Pastor of Bethel UCC, our partner congregation. She shared a message of navigating grief, transition, and hope.
T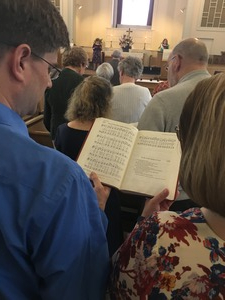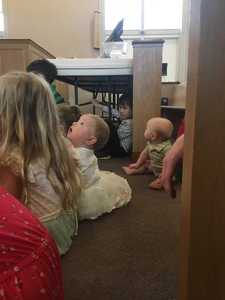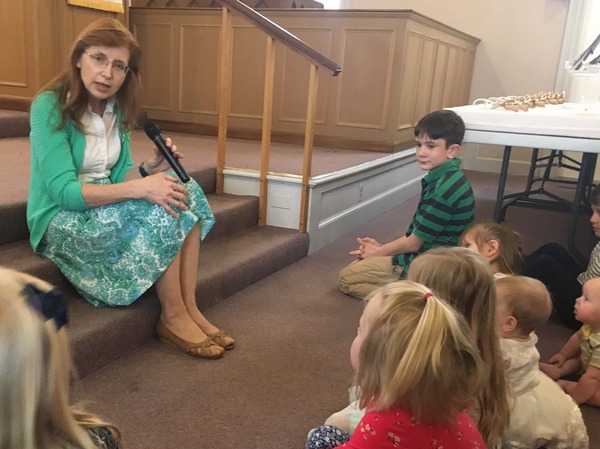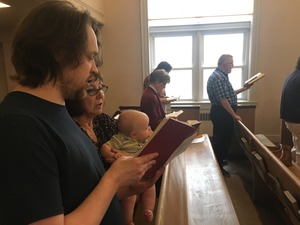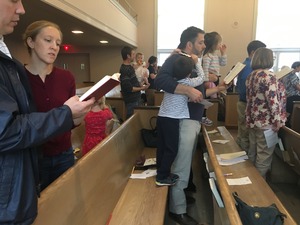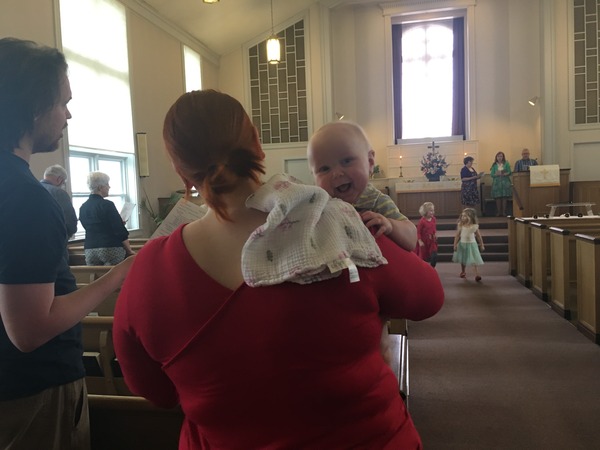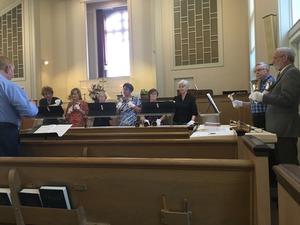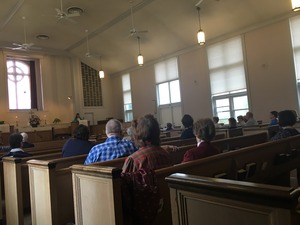 ---