ACoB E-Bulletin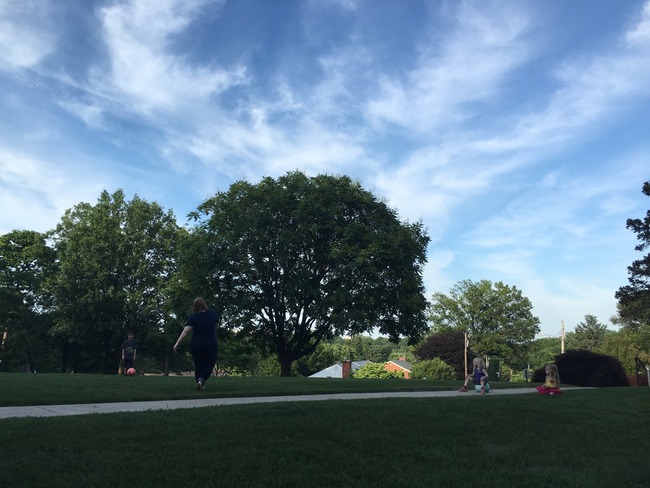 Because Service Doesn't Stop on Sundays.
Suzanne, you are a unique, gifted child of God and a blessing to our vital faith community.
This e-update is just one way we connect with each other as together,
we live for the glory of God and our neighbor's good.

---
Boulevard Manor Civic Assoc. Meeting, 7 pm downstairs
Reevesland Lettuce Washing


Tuesday

.
Iglesia de Restauracion Pacto Eterno, 7-9 pm
Reevesland Lettuce Washing
Prayer Vigil for Sentencing Reform, 9 am,

more details


Brethren Voices, Channel 69 or 38 at 11 am,

more details


Mental Health Webinar, 2:30 pm online,

more details


Executive Committee Meeting, 7:30 pm


Thursday

.
Kaizen Karate, 6:30 - 7:30 pm


Community Choir Practice, 7:30 pm at AFUMC

Playgroup, 10:30 - 11:30 am

Annual Conference Delegate Briefing, 10 am at Oakton CoB
Tenative Doorways Donation Day, (alternatively 6/25)
,
more details
Iglesia de Restauracion Pacto Eterno, 5-9 pm
Sunday

.
Summer Worship Hours, 10 am
No Sunday School
Brethren Voices, Channel 69 or 38 at 6:30 pm,

more details



June 21 - Racial Justice Field Report from Flint,
more details
June 23 - Breakfast Bunch
June 23 - Young Adult DC Gathering
June 25 - Tentative Doorways Donation Day, (alternatively 6/18),
more details
June 29 - July 7 - Annual Conference
July 2 - AFAC Service Saturday
July 3 - Community Worship at Bethel UCC
July 3 - 9 - Song + Story Fest,
more details
July 4 - Independence Day Ice Cream Social with Boulevard Manor
July 17 - Bagging Oatmel for AFAC
August 6 - Shepherd's Spring's Sprint and Celebrate Summer,
more details
August 7 - Community Worship Summer Series Starts at ACoB
Prayer Vigil for Sentencing Reform | Wed., June 15, 9 am
The Office of Public Witness is adding support for Congress to pass comprehensive criminal justice reform this year. Gather with faith leaders, families directly impacted by incarceration, Senators and civil rights leaders to pray for justice and quick action on reductions in federal mandatory minimum sentences for drug offenses. RSVP online: http://bit.ly/Pray4SentencingReform and join in at the Capitol across from the Methodist Bldg (100 Md Ave., NE).

Christian Community in the Midst of Struggle for Mental Health | Wed., June 15, 2:30 pm
This webinar features Phil Warburton, leader of a missional faith community (E1 Community Church), and will discuss the risk factors of people struggling with poor mental health and how the Geoff Ashcroft Community (GAC) provides care and combats stigma and discrimination in relation to poor mental and physical health. Join the webinar on June 15 at 2:30 p.m. (Eastern time) at www.brethren.org/webcasts. A continuing education credit of .1 is available for those who attend the live event. For more information contact Stan Dueck, director of Transforming Practices for the Church of the Brethren, at 800-323-8039 ext. 343 or sdueck@brethren.org.

Racial Justice Field Report from Flint | Wed., June 19, 8 pm
Register for this telephone conference call with On Earth Peace's Racial Justice Organizing Community of Practice by June 19. The call will provide a multi-ethnic and multi-denominational reflection and update on the Flint, Mich., water crisis, with an exploration of issues of underlying racism. Hear from people actually living with this water crisis, about how they are dealing with the everyday aspects of 'Bottled Water Life." Members of the local Church of the Brethren will discuss what has been the federal, state and local government response as well as volunteer efforts. Churches involved in direct relief will share some of what they've experienced and how it has molded their focus. The panel will discuss aspects of the role racism and white privilege has played. Has it been heightened by institutional racism, or are there more deliberate actions in both the cause and response? The call will include a spiritual power moment, and information about how to get involved in ongoing racial justice organizing initiatives. For more information and to register to participate, go to http://goo.gl/forms/G6gDSshux0uXRrUs2.

Brethren Voices | Sundays at 6:30 pm + Wednesdays at 11 am
Brethren Voices is a monthly public access TV show featuring what people of the Church of the Brethren do as a matter of our faith. Arlington CoB partners with Brethren Voices to share the show locally as an invitation of welcome to everyone in our community. In Arlington, Brethren Voices airs on Arlington Independent Media: Comcast channel 69, Verizon-FIOS channel 38 and streams on AIM's website. Tune in: Wednesdays at 11 am, Thursdays at 2 am and Sundays at 6:30 pm. The episode running now features an interview with this year's Annual Conference moderator, Andy Murray. Contact James with any questions.

Sprint to the Spring| Register by July 23
Walk or run the scenic paths and trails of Shepherd's Spring on Sat., 8/6 at 8:30 am. Register with a suggested donation of $15. 100% of the proceeds from this volunteer-driven event benefit the Camper Scholarship Fund at Shepherd's Spring. Register before July 23, 2016 to receive your goodie bag! Stay after the race to enjoy Celebrate Summer: the camp's free annual event featuring live entertainment, open pool, ice cream, bake sale, face painting, Heifer Global Village tours, food and more! Call the main office at (301) 223-8193 with any questions.

Worship Audio | Online
In case you miss a Sunday service, sermon audio along with a selection of hymns and readings is posted online or subscribe on iTunes
---
Volunteer.
Doorways Donation Day |
June 18 or 25, 10 am – 2 pm
Volunteers are needed to staff ACoB's donation table outside of Safeway on Harrison St. just north of Lee Hwy. Doorways will furnish us with its wish list (normally diapers, paper goods and cleaning goods). Volunteers will give customers the opportunity to purchase these items for Doorways clients: women and families escaping domestic violence and homelessness. Our previous store host had a glitch securing corporate approval leaving the date of the service activity up in the air at this time. Stay tuned for more details and contact Marcia with any questions.
Plot Against Hunger |
Volunteer to Dry Sage
We have a bumper crop of sage in our side yard garden. Arlington Food Assistance Center (AFAC) has responded that they can make good use of it. Volunteer to help pick, dry by oven and/or package the sage into little baggies for AFAC to pair with recipies for distribution to clients. Contact Suzanne to volunteer.
Member of a CSA? | Donate fresh produce to AFAC
AFAC is looking for CSA (Community Supported Agriculture) members willing to ask fellow CSA members/hosts about sharing extra summer produce with our neighbors in need. If you receive too much of a vegetable or you're going on vacation, consider donating. Recent client surveys show that the families really enjoy and make good use of the fresh produce they receive. Contact
Puwen.lee@afac.org
to donate.
Help with Housekeeping |
Fridays + Sundays at Shepherd's Spring
Consider assisting Shepherd's Spring in carrying out God's work of providing a place for spiritual renewal and growth along with teaching stewardship of God's creation. During its busy season (fall and summer) the camp needs extra help with changing beds, cleaning rooms/cabins, vacuuming and doing laundry. Call the main office at (301) 223-8193 to volunteer.
Refugee Assistance | Prayerful consideration needed
The violence of settling scores has resulted in a huge number of displaced people: 60 million at last report. What are we to think of people in such desperate circumstances and what are we supposed to do? Some in our congregation are gathering information about how to help refugees. Is it a place where ACoB is called to act? Could these strangers become friends? Read over the commitment choices we have, but the first choice is, can we help? Are we willing to let God surprise us with new community?
Follow this link to learn more about how Lutheran Social Services assists refugees and ways our congregation could help a family fleeing violence. http://bit.ly/ACoB4Refugees Contact Debbie with questions.
---
Pray. Call. Write.
Orlando, Fl Community

, in the wake of yesterday's tragic shooting
Alan,

Hazel's son, recovering well from surgery
Charles,

Hazel's son, recovering well from surgery

Alan Thawley, friends + family,

Jo Ann's Grandnephew, grieving his wife's death during surgery for an ectopic pregnancy, returning to Ireland this week
Fred Thawley,

Alan's dad and Jo Ann's nephew, recieving continued treatment for leg blood clots
Brendan + Jodi

, Robyn and Gary's son, expecting a boy!

Ralph Berg,

Robyn's good friend, being treated for congestive heart failure
Stephen Jr.,

Ralph's nephew, at home recovering from a heart attack at age 35
Minnie,

palliative care at Goodwin House, Rm 248, visitors welcome

Walkin-Haske Family,

ongoing health treatments
Jummai Paul,

kidnapped Chibok girl and others
Church of the Brethren in Nigeria (EYN)
---
Biking for Peace.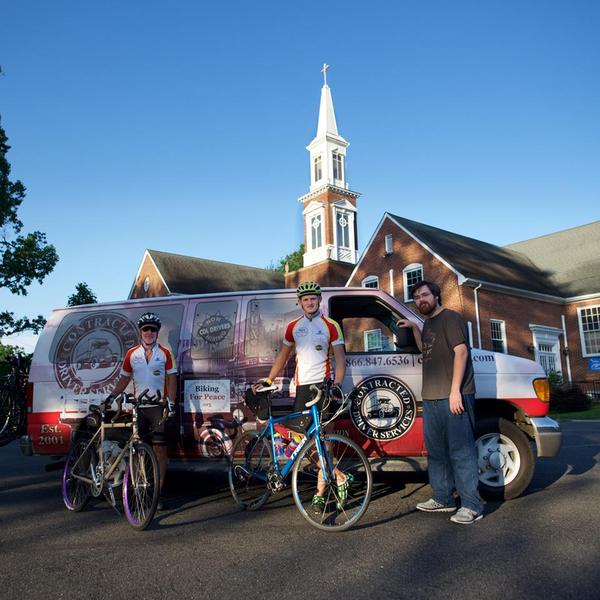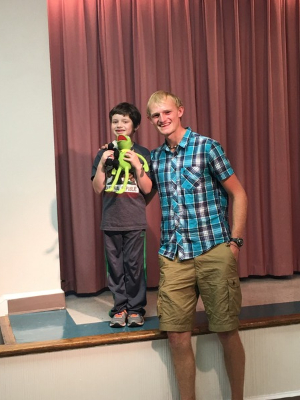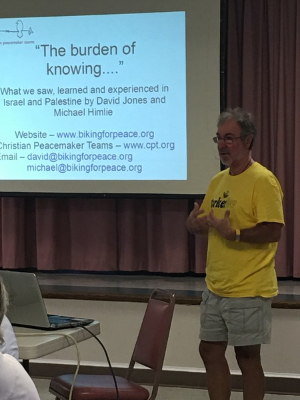 Thank you to everyone who helped organize, advertise and host last week's Biking for Peace Meet + Greet at Oakton CoB. You can continue to follow the adventure and donate for peace at http://www.bikingforpeace.org/
---
Playgroup Lemonade Stand.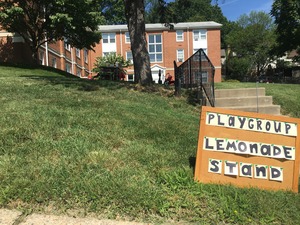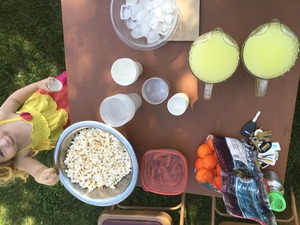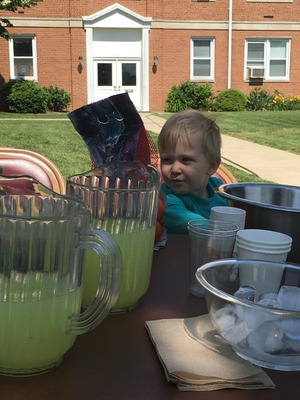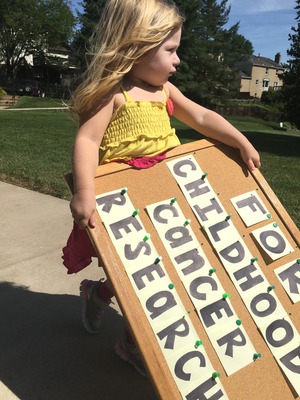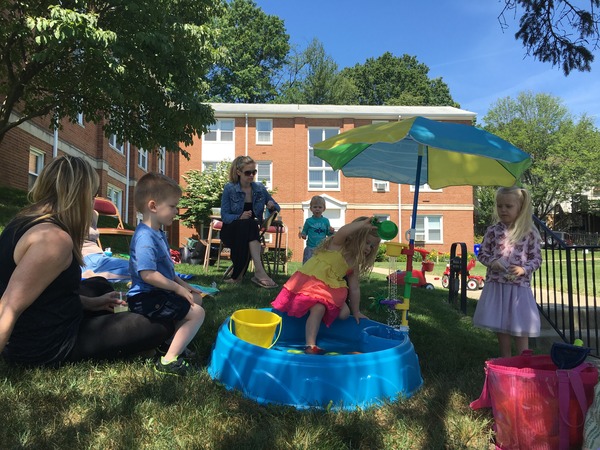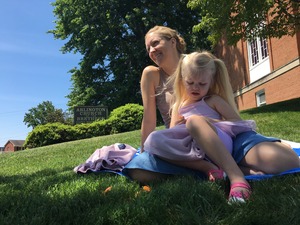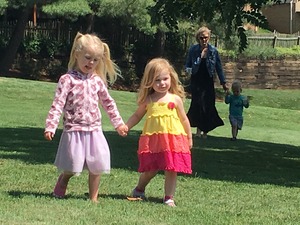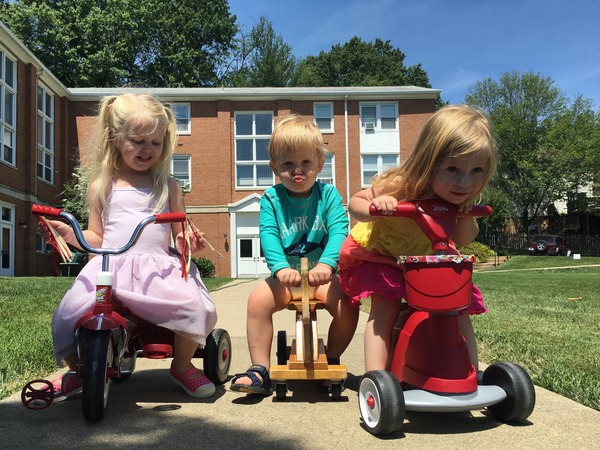 Our Friday morning playgroup has raised $84 for childhood cancer research! Join the fun by donating to their online Lemonade Stand:
http://bit.ly/FriMorningPlaygroupLemonadeStand
---
Worship Notes.
Paul's disagreement with Peter's decision to stop eating with the Gentile Christians raises the question, should Paul stand up for the new understanding he has been called to teach or keep the peace back among the faithful ranks? Compelling Gentiles to live like Jews for the sake of unity meant that unity was based on law, rather than the gospel of grace. Before commissioning Paul, Jesus lived, died and rose again to change the way God redeems humans. Paul writes extensively about grace and how we are reconciled with God by the faithfulness of Jesus. So, for Paul, the answer isn't about a power struggle in the church: it's about following Jesus. Paul could never agree to unity if it compromised the gospel. Looking back to the inclusion of Gentiles into full fellowship in the Christian church can help us look forward to annual conference. Must justice wait for unity? In the final analysis, we are accountable to God who calls us into grace. As the Gracious One continues to speak, may we keep listening!

Listen to yesterday's sermon, the first of a three part series:
http://bit.ly/ACoBMessage12June16
Read Galations and bring any questions next Sunday as our sermon series continues:
http://bit.ly/Galatians_Bible
For more on the business to be discussed at Annual Conference, click here:
http://www.brethren.org/ac/2016/business/
or attend the Delegate Meeting, this Saturday at 10 am at Oakton CoB.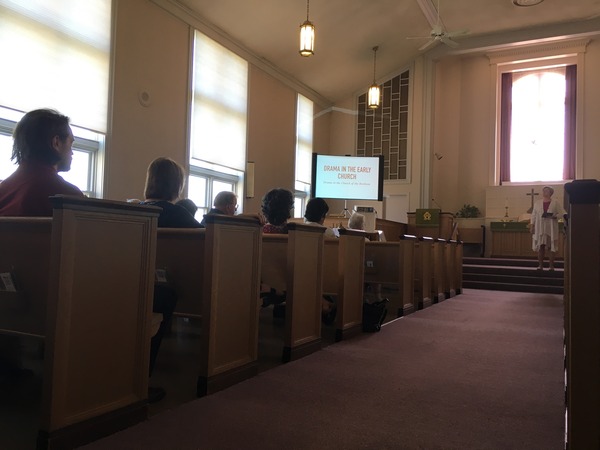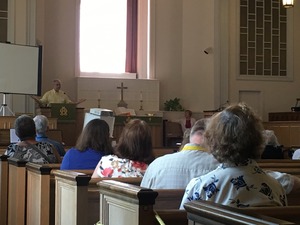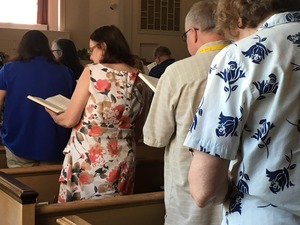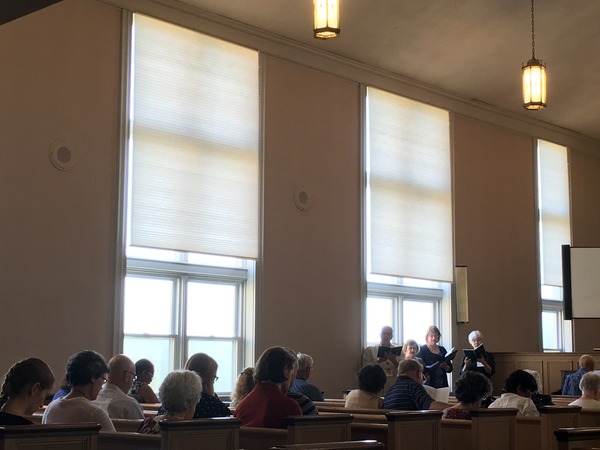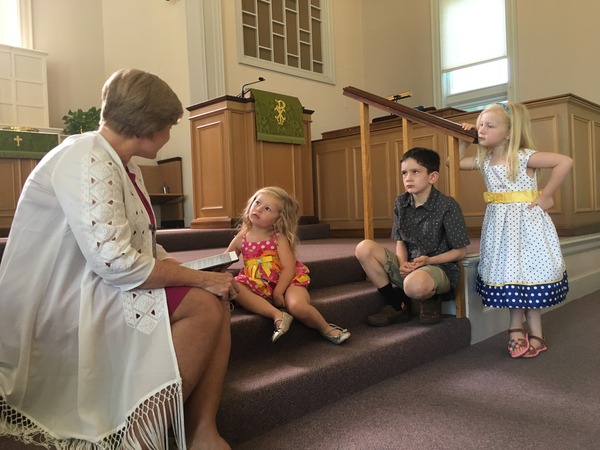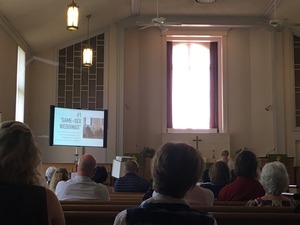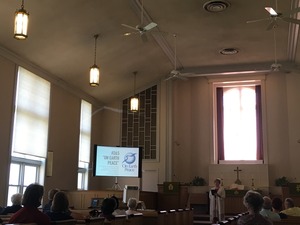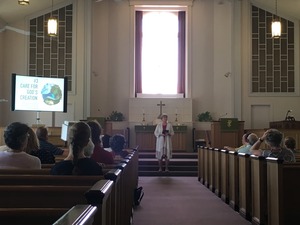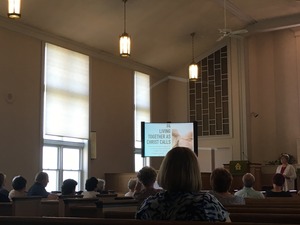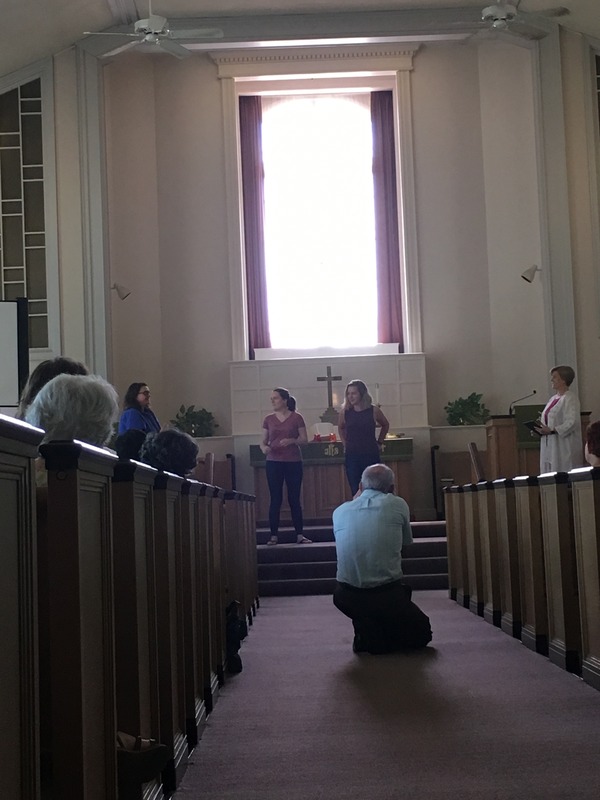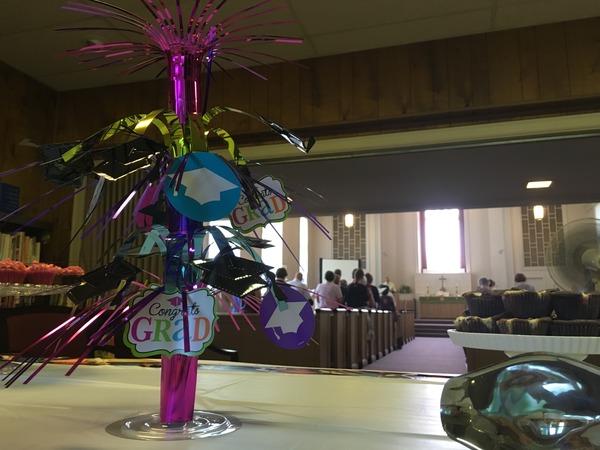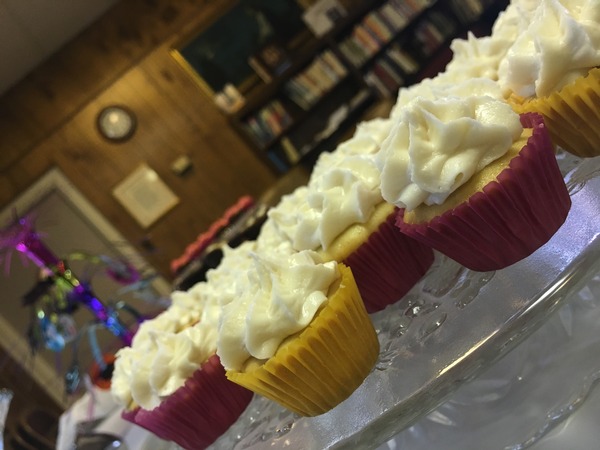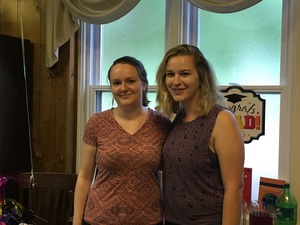 A big congratulations to our graduates, Alys, Briana, and Laura!
Arlington Church of the Brethren

Office Hours (call ahead)

Wednesday

|

6:30 - 9:30 pm

Saturday | 8

:00 - 11:00 am

Contact

Tel: 703-524-4100

Mobile (call anytime): 571-243-5344
Fax (call ahead): 703-524-4109
ACoB@ArlingtonCoB.org