"There are still so many who bravely stay alive in the darkest of caves, hoping against hope that some day they might be free."
---
Mo
Monday.
•
Kaizen Karate, 7:30am - 6pm, in fellowship hall weekdays thru 8/3
Tuesday.
•
Iglesia de Restauracion Pacto Eterno, 7-9pm in Fellowship Hall
Wednesday.
•
Brethren Voices, 11am
Thursday.
Friday.
• Young Adult Meet-Up, 6:30pm (rescheduled from last week)
Saturday.
•
Iglesia de Restauracion Pacto Eterno, 5-9pm in Fellowship Hall
Sunday.
•
Worship and Bag Lunches for ASPAN,
in the fellowship hall, more details
•
ACOB Office Hours,
12-3p
12
•
Iglesia de Restauracion Pacto Eterno, 5-9pm in Fellowship Hall
• Brethren Voices, 6:30 pm

Thurs., 7/26 - Breakfast Bunch, 8am
Thurs., 7/26 - Community Choir Resumes, 7:30pm at AFUMC
Sun., 7/29 - Refreshments after worship, 11am in library
Mon., 7/30 - Executive Committee Meeting, 7:30pm
Sun., 8/5 - Community Worship at Bethel UCC, 10am
Mon., 8/6 - Church Board Meeting, 7:30pm
Sun., 8/12 - Community Worship at ACOB, 10am
Sun., 8/19 - Community Worship at AFUMC, 10am
Sun., 8/26 - Community Worship at Lubber Run, 10am

---
More Details.
Invitation | Contact Pastor Christy
Have you been thinking about formally becoming a member of Arlington Church of the Brethren? Would you like to talk about your discernment or process your own journey? Pastor Christy would appreciate having a conversation with you. Feel free to let her know. Contact her by email (pastorchristy@arlingtoncob.org) or phone call/text (814 599-6307) to schedule an appointment.
---
Advocate, Volunteer + Give.

Bag Lunches for ASPAN | Sun., July 22 during worship
Join us on Sunday as we prepare lunches for Arlington Street People's Alliance Network. We'll meet downstairs in the fellowship hall during worship time with a special drama, learning about Lisa's experience in Lybrook, NM and several activities.



* Do you care about ways to serve and participate in our community and through our denomination? Sign-up for and commit to reading regular updates from organizations that interest you, then notify Suzanne in the office about the events and projects you want shared on ACOB's calendar.
---
Media.
Dunker Punks Podcast |
http://bit.ly/DPP_Episode61
In the latest Dunker Punks Podcast, Dana Cassell visits with members of the Umstead Park United Church of Christ of Raleigh, North Carolina, who are providing sanctuary for an undocumented immigrant with an active deportation order. Learn about the concept of sanctuary and find out how your church or community can become part of this growing movement.
---
Participants at National Youth Conference,

which begins on Saturday

Dennis,

friend of Cindy, who is having surgery in August

Richard

, Karolina's friend, who is again needing chemotherapy for new cancer discovered

Mary

, friend of Marcia's, who is facing more health issues

Kathleen Sissel

, Melody's friend, who had an emergency appendectomy while in her third trimester of pregnancy.

McGavin Family

, grieving the death of their teenage son Raymond, a former student of Lisa's

Families Separated at the Border

, and for continued advocacy until they are reunited and safe

Ethiopia

, in the wake of the violent attack at a rally, that it won't bring about a new wave of violence or derail the work of reconciling various ethnic groups

Jacque

,

started chemotherapy last month

John

, Dale's brother, recovering from mitro valve repair

Sharon

,

Marcia's friend + ACOB service volunteer, recovering from gall bladder surgery

Anna May and Mike

, friends of Donna, Anna May's husband, Eugene, died of severe burns.

Graduates

, celebrating the season of new possibilities

Vernon Miller's Family

, honoring his good long life after peacefully passing following a couple bouts of pneumonia. Vernon pastored the Arlington congregation from 1969-1978

Church of the Brethren in Nigeria (EYN),

including 113 girls still captive
Keep in your ongoing prayers: Steve Shuss, Minnie Simmons, Carolyn Studds

* P

rayer concerns will ordinarily be listed for four weeks. If you would like one to be kept on or added back in, please let the office know. Names in bold are new to the list or updated this week.
---
Worship.
Listen to Sunday's Sermon here:
http://bit.ly/ACOBMessage71518
A sermon about the grace of being adopted, rescued from the cave and embraced in Christ's care.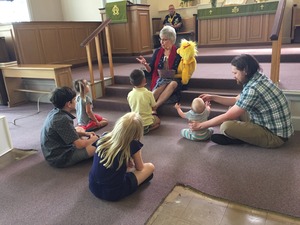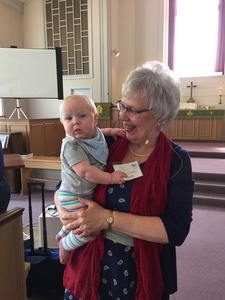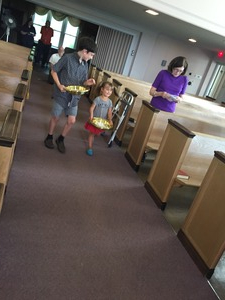 ---
A great group at the Breakfast Bunch's trip to Bridgewater a couple of weeks ago: