Suzanne, you are a unique, gifted child of God and a blessing to our vital faith community.
This e-update is just one way we connect with each other as together,
we live for the glory of God and our neighbor's good.

---
Pastor Nancy on Vacation, thru July 31
Suzanne on Vacation, thru July 23
Kaizen Karate Summer Camp each weekday, 7:30 am-6 pm

Tuesday

.



Iglesia de Restauracion Pacto Eterno, 7-9 pm




Brethren Voices, 11 am,

more details


Yoga, 6 pm,

more details




Thursday

.
- Breakfast Bunch may meet this Thursday instead of the following Thursday. Stay "tuned" for a confirmation e-mail from Gary Reals with further details.

Kaizen Karate Evening Class, 6:30 - 8 pm



No Playgroup this week

Make Dolls + Stuffed Animals for Nigerian Children, 9:30-1:00 in fellowship hall . Contact Marcia Sowles or Cindy Harper if you plan to participate (so that they will have adequate supplies available.)
more details
Iglesia de Restauracion Pacto Eterno, 5-9 pm
Sunday

.

Worship, 10 am
Syrian Refugee Resettlement Meeting in fellowship hall, 12:30 pm. Will be looking at the level of commitment options to discern what level "fits" those in the congregation who are interested in proceeding. If you cannot make this meeting, but want to be involved, contact Debbie Miller prior to the meeting.
Brethren Voices, 6:30 pm,

more details




July 11 - August 1 - Pastor Nancy on Vacation
July 16 - 23 - Suzanne on Vacation
July 20 - Deposit for Brethren Heritage Tour Due,
more details
July 28 - Breakfast Bunch ?? -- (may be meeting on July 21 instead)
July 28 - Young Adult DC Gathering
August 1 - Board Meeting
August 4 - Community Choir Practice Resumes
August 5 - Volunteer at Brethren Nutrition Program,
more details
August 6 - Shepherd's Spring's Sprint and Celebrate Summer,
more details
August 7 - Community Worship Summer Series Starts at ACoB -- contact Nancy
Weimer to volunteer to bring something for the ice cream social,
which will follow.
August 8 - Book Worms Meet
August 14 - Community Worship at Bethel UCC
August 21 - Community Worship at Arlington Forest UMC
August 28 - Community Worship at Lubber Run Park
August 29 - Executive Committee Meeting
Sept. 3 - AFAC Volunteer Service Saturday
Sept. 10 - Shredding for AFAC
Sept. 11 - Big Sunday School Resumes
Sept
Guest Preachers | July
A big thanks to Jason Thompson for preaching yesterday. We look forward to hearing a message from Jamie Riser next week (7/24) and Debbie Miller the following (7/31) and thank them for sharing their gifts. Thanks too to Everett, Nancy W. and everyone pitching in to give Pastor Nancy and Suzanne time for vacation.
Dunker Punks Podcast |
http://bit.ly/DPP_Episode9
The latest episode features our own Laura Weimer interviewing OAR's Executive Director, Elizabeth Jones Valderrama. Listen, then help the folks OAR serves by donating a gift or smart card through our
current collection drive
.
Big Bulletin |
http://bit.ly/BigBulletin
The latest issue of the newsletter was distributed recently. Click the above link for an e-copy or contact the office to have a paper copy mailed to you. Email Suzanne at
acob@arlingtoncob.org
.

Beginner Yoga | Each Wednesday at 6:00 p.m
Join others in the fellowship hall for simple, gentle beginner yoga, especially designed to include folks 55+. $9.00 per session. To continue weekly. Contact Pastor Nancy with questions.
Brethren Heritage Tour | Oct. 14-16, Deposit due July 20
Shenandoah District's Pastoral Support Committee will host a second Brethren Heritage Tour this fall, Oct. 14-16, with stops in Maryland and Pennsylvania at historical sites significant to Brethren. The announcement in the district newsletter noted that the tour will travel by chartered bus and stay at Budget Host Inn in Lancaster, Pa. Cost is $175 per person (double occupancy) or $267 per person (single occupancy) and covers transportation, lodging, admission charges, instructor fees, and dinner in an Amish home. The registration form and a $50 deposit are due by July 20 with the balance due by Sept. 1. For more information, click
here
. To register, click
here
.
Brethren Voices | Mutual Kumquat
Brethren Voices is a monthly public access TV show featuring what people of the Church of the Brethren do as a matter of our faith. The current episode is about Brethren's favorite band, Mutual Kumquat. Tune in on Comcast channel 69, Verizon-FIOS channel 38 or watch on AIM's website on Wednesdays at 11 am, Thursdays at 2 am or Sundays at 6:30 pm. Contact James with any questions.

Sprint to the Spring + Celebrate Summer | Aug. 6, Register by July 23
Walk or run the scenic paths and trails of Shepherd's Spring on Sat., 8/6 at 8:30 am. Register with a suggested donation of $15. 100% of the proceeds from this volunteer-driven event benefit the Camper Scholarship Fund at Shepherd's Spring. Register before July 23, 2016 to receive your goodie bag! Stay after the race to enjoy Celebrate Summer: the camp's free annual event featuring live entertainment, open pool, ice cream, bake sale, face painting, Heifer Global Village tours, food and more!
Call the main office at
(301) 223-8193
with any questions.
GaySpirits Conference | Fri., Sept 23 + Sat., Sept. 24
Discover and explore your spiritual path at Little River UCC (8410 Little River Trnpk). Visit
gayspirits.com
for more details.

Worship Audio | Online
In case you miss a Sunday service, sermon audio along with a selection of hymns and readings is posted online or subscribe on iTunes
---
Volunteer.
Support OAR Clients | Donate Gift + Smart Cards
Offender Aid + Restoration supports persons in the criminal justice system, particularly those transitioning back to the community after being in jail or prison. OAR has amazing results—its employment project has a low 8% recidivism rate. To help support OAR clients the Witness Commission is collecting $25 Target cards for clothes and other essentials and $20 Smarttrip cards for transportation to job interviews and employment while waiting for a first pay check. Contact Marcia with questions or listen to the latest Dunker Punks Podcast to learn more about OAR.
Make Dolls + Stuffed Animals | Sat., July 23, 9:30 am
Children's Disaster Relief Services is collecting hand-sewn, knitted, or crocheted dolls and stuffed animals to help provide comfort for Nigerian children in trauma healing workshops. Folks with and without experience in these craft techniques are invited to join together to make comfort items from patterns that will be available. Contact Marcia or Cindy with questions.
Volunteer to donate ice cream, or fresh fruit, for our Ice Cream Social
|
Sun., Aug. 7
when we will be hosting the first Ecumenical Community Worship. Contact Nancy Weimer or sign up on sheet in the narthex.
Volunteer for Brethren Nutrition Program | Fri., Aug. 5, 9 am - 3 pm
Mark your calendars for

Friday August 5th

. We will meet at the church at

9 am

and carpool to Washington City CoB to prepare and serve a lunch for the homeless and needy participants in the Brethren Nutrition Program. We will return by

3 pm

. Sign up on the bulletin board in the narthex and contact Cindy with any questions. Thanks for your help!
Donate Baked Goods or Volunteer at the Event |
Summer Celebration, Aug 6
Needed are items that don't need to be refrigerated (pies, 1/2 dozen packages of cinnamon rolls, bread loaves, 2 pack of brownies, 6 pack of cookies, 6 pack of scones and small cakes). All items must be prepackaged and ready to sell, labled with ingredients and state if the food contains nuts. Contact Nancy McCrickard if you can help at
410-848-8090
or
nancy.mccrickard@westminsterbrethren.org
.

Day of event volunteers are also needed in 2 hour shifts. Areas needing help include parking, watermelon station, balloons, emcee assistance, greeter, swimming pool spotters, food service, drinks, face painting, animal petting area, and the sales tent. Contact Diane Moser at
fdmquilts@yahoo.com
to volunteer.
Volunteer in the Nursery |
Sign Up in the Narthex
A new sign-up sheet with dates through the fall has been posted in the narthex. In addition to child care volunteers who stay with the children following the children's message through the end of the service, helper volunteers are also needed to pop in the nursery one or two times during the service.
Thunderclap | Help Spread the Word about Community Worship
Thunderclap is an online application that amplifies a message by enabling supporters to post it at the same time. Sign up to post an invitation to our August Community Worship Series:
http://bit.ly/CommunityWorship2016
Refugee Assistance | Prayerful consideration needed
The violence of settling scores has resulted in a huge number of displaced people: 60 million at last report. What are we to think of people in such desperate circumstances and what are we supposed to do? Some in our congregation are gathering information about how to help refugees. Is it a place where ACoB is called to act? Could these strangers become friends? Read over the commitment choices we have, but the first choice is, can we help? Are we willing to let God surprise us with new community?
Follow this link to learn more about how Lutheran Social Services assists refugees and ways our congregation could help a family fleeing violence. http://bit.ly/ACoB4Refugees Contact Debbie with questions.

---
Pray. Call. Write.
Prayers for recovery for Gary Smucker's aunt, Elizabeth Smucker, who suffered a serious stroke on Sun., July 17. She is hospitalized in Harrisonburg, VA.
The communities of West Virginia and California

, experiencing natural disasters

Our national community

,

in the wake of multiple incidents of gun violence
Donna

, following elbow surgery
John

, following a procedure
Pastor Mike

, being treated for liver disease
Margarta

, dear friend of Carole Compton, health concerns
Edwardo

, Fitzgeralds' neighbor, with tumor diagnosis
Minnie,

palliative care at Goodwin House, Rm 248, visitors welcome
Walkin-Haske Family,

ongoing health treatments
Jummai Paul,

kidnapped Chibok girl and others
Church of the Brethren in Nigeria (EYN)
---
Pictures.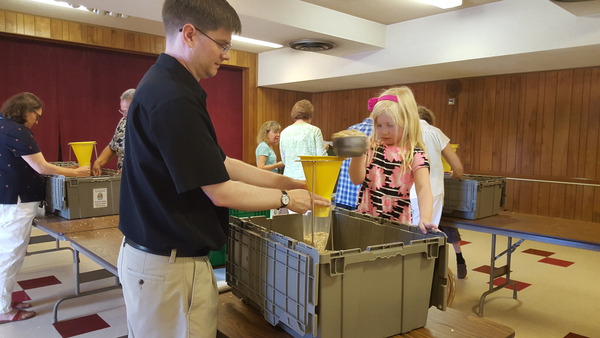 Approximately 15 people convened to the fellowship hall following worship to bag 300 pounds of oatmeal into small bags for distribution at AFAC. In approximately 45 minutes the job was complete, with many containers of small, sealed bags of oatmeal ready for pick up by AFAC staff. Great Job to all who helped and especially to Diane Micker who coordinated with AFAC.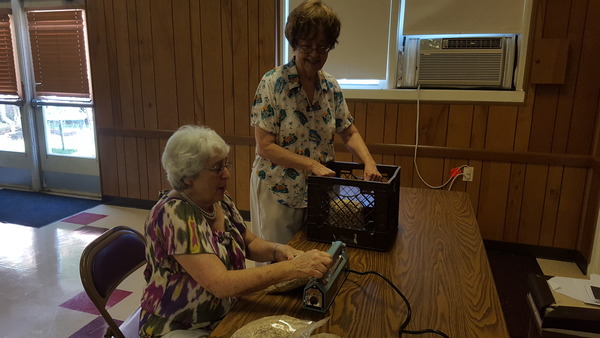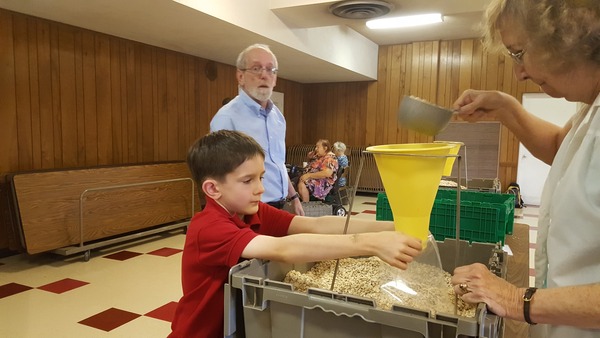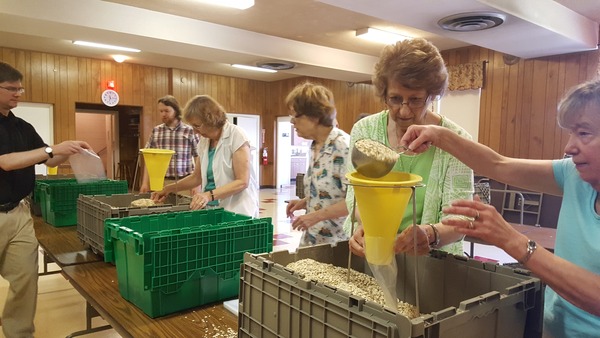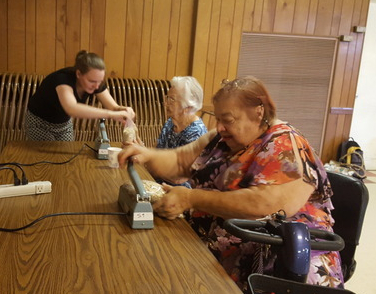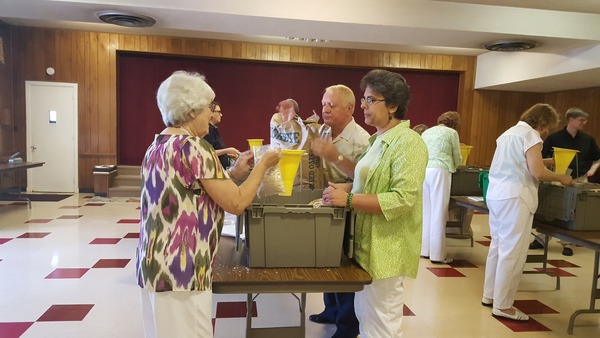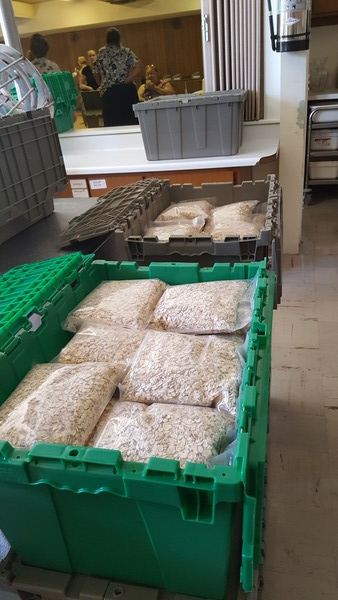 Ready to be transported to AFAC for distribution.