Martin Luther King Jr. once said, "Life's most persistent and urgent question is 'what are you doing for others?'"

-

From yesterday's Invitation to Giving
---
Mo
Tuesday

.
•
Iglesia de Restauracion Pacto Eterno, 7-9pm
Wednesday.
•
Brethren Voices,

11am

,
more details
•
Handbell Choir Practice, 7:00 pm
Thursday.
•
Breakfast Bunch,
Clarendon Silver Diner,

8-10 am
•
Community Choir, at Arlington Forest UMC, 7:30 pm
Saturday.
•
Iglesia de Restauracion Pacto Eterno, 5-9pm
Igles
Sunday

.
•
Classes for All Ages, 9:45am; Worship, 11am
•
Deacon's Meeting, following worship
•
Brethren Voices,

6:30pm

,
more details
Wed., 1/24 – Bell Choir Rehearsal,

7-8 pm


Thurs., 1/25 – Community Choir Rehearsal, Arlington Forest,

7:30 pm


Mon., 1/29 – Executive Committee,

7:30 pm


Thurs., 2/1 – Community Choir Rehearsal, Arlington Forest,

7:30 pm


Mon., 2/5 – Church Board Meeting,

7:30 pm
Sun., 2/14 - AFAC Empty Bowls Event, more details
---
More Details.
Thank You | From Pastor Nancy
Thank you, thank you! I can't say it enough. The send off party last week and all your cards and comments meant so much to me! You gave me an incredibly generous goodbye gift which we will put to good use on our ski "sabbatical". The Star Trek theme, as you know = my favorite, was such a surprise and so very much fun. It mirrored all the good times we have had together as we have walked the path of the Jesus Way. You have blessed Fitz and me in a million ways in our nine years together. I know you will be a blessing to others and I trust they will bring you the blessings and challenges you need for the next steps in your journey. You will always be in our thoughts and I shall keep you in my prayers.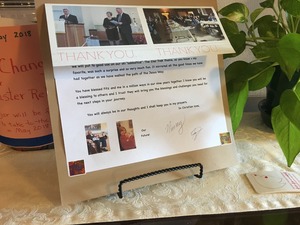 Gratitude | From
Robyn Reals
You truly showed your big heart

Sunday

7th, for Pastor Nancy's Retirement Party. Thank you for sharing wonderful food and for sending Pastor Nancy and Fitz off with lovely gifts. Your generosity was more than appreciated. There are not enough fitting words to thank each of those who spent many hours helping all the components of the day come together.
I personally thank those below for their creativity, time, hard work, humor and love toward the planning and the gifts. I send my apologies if I have missed anyone!
Dana Cassell
; JoAnn Cubbage
; Jenny Ditta
; Donna Fields
; Everett Fisher
; Alma and Lisa Gallego
; Paul Heisey
; Sue Hillmer
; Pastor Anne Holmes
; Suzanne Lay
; Debbie Miller
; Westen and Mark Muntain
; Ralph Pricington
; Gary Reals
; Pastor Carolyn Richar
; Marcia Sowles
; Warren and Nancy Weimer
; Shelley Wright
Stephen, Amy, Lily and Elijah Ziehm
Hope you all had fun, I know you made wonderful parting memories for the loved Fitzgerald family!
New Office Hours | Beginning This Week
Thank you to Shelley, with assists from Amy and Pastor Nancy for keeping up with the in-office tasks over the fall and early winter. Suzanne returns to the office this week. Feel free to call or text the office cell at any time,
571-243-5344
. She'll be working in the building Sundays after worship until

3 pm

,

Wednesday

mornings from

9:30 am-11:30 am

and Thursday afternoons from

3-4 pm.

Please send announcements for the bulletin by Wednesday morning. Dana will continue the online tasks as Suzanne transitions, including creating and sending the e-bulletin and sharing on our social media sites.


Worship and Transition | Through January
Debbie is organizing worship for next week and we look forward to hearing her preach. The following week,

January 28

, Dave Johnson will return to preach. The first

Sunday

in February is Scout

Sunday

, when our interim Pastor Christy Dowdy will join us to preach. Contact Everett with any questions about these upcoming worship services.
More Details |
arlingtoncob.org/calendar
For more information on neighboring church, denomination and non-profit events listed, check the calendar at the above link or contact the office.
---
Advocate, Volunteer + Give.
AFAC Empty Bowls | Sun., Feb. 14
Empty Bowls is a fundraiser luncheon featuring delicious hot soups donated by local restaurants and served in beautiful hand-thrown bowls created by local artists. Choose from 2 seatings: 11:30am - 12:45pm or 12:45pm - 2:00pm. St. Andrew's Episcopal Church, 400 Lorcom Ln.
Each $35 ticket includes a bowl of your choice to take home, plus soup, bread and dessert.
Children 5 and under are free.
All proceeds from this event go directly to helping feed the 2,200 Arlington families AFAC serves each week.
Questions? Please contact puwen.lee@afac.org.
---
Media.
Dunker Punks Podcast |
http://bit.ly/DPP_Episode48
In this episode of the podcast, Ben Bear demonstrates how simple living is not always easy living. Ben calls people by name to recognize their efforts in simple living. Ben proves it to be true that even small changes to simple living are important.

Type in the case sensitive url to listen on the showpage or subscribe on iTunes. Listen by clicking the above link or subscribing on
iTunes
.
Worship Audio |

Online
Listen again to this week's sermon, catch a sermon from a Sunday you were out or peruse the archives. Each Sunday message along with a selection of hymns and readings is posted online or subscribe on iTunes.

Brethren Voices | Alternative Gift Giving
Brethren Voices is the TV show featuring what Brethren do as a matter of our faith. The episode for December features alternative gift suggestions. This year the United States has experienced so many natural disasters that have swept though countless neighborhoods across the country. Now, we're in the Christmas Holiday Season. It's that time of the year to find the special gift for the person who most of the time has everything that they already need. With many survivors of these disasters, just needing a place to live, we suggest an alternative gift for the person on your list who probably has everything. Each year, "Brethren Voices" features Alternative Gift Giving Ideas. For that person, probably the best gift is you, but we do have an alternative gift idea, a financial gift to the Brethren Disaster Ministries, in the name of that special someone on your list. Watch online now! Watch in Arlington on Comcast 69/Verizon-FIOS 38 on Sundays at 6:30 pm, Wednesdays at 11 am.

New! #BlessedBreak | http://bit.ly/BlessedBreak84



---
Friends and family of Craig P.

, who passed away following a heart attack

Sandy Wright, friend of Sue and Bazaar attendee, is cancer free!

Donna Fields

, recovering from cataract surgery

Hazel Tuck and Family

, following Charles' passing

Chip Dettra

, facing dialysis

Joe Mourano

, family friend of Chris D., battling cancer

Karolina Walkin

, suffering from pain from neurological damage

Church of the Brethren in Nigeria (EYN), including 113 girls still captive



Those recovering at home:
Ralph, Carole, Andy
Keep in your ongoing prayers:
Erin Julca, Steve Shuss, Minnie Simmons, Carolyn Studds

Note:
Prayer concerns will ordinarily be listed for four weeks. If you would like one to be kept on or added back in, please let the office know. Names in bold are new to the list or updated this week.
---
Worship.
Listen to Sunday's Sermon:
http://bit.ly/ACoBMessage11418
A special thanks to Amy and Stephen for planning and leading

Sunday

worship where we got to hear the voices of our congregation read MLK's Letter from a Birmingham Jail. Our upstairs

Sunday

School class was inspired to lead the special service after concluding their group reading and discussions of Jim Wallis' America's Original Sin.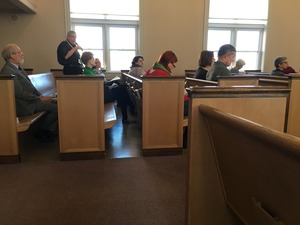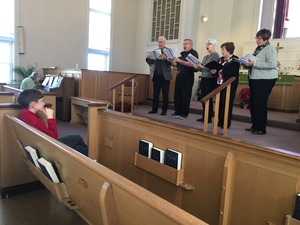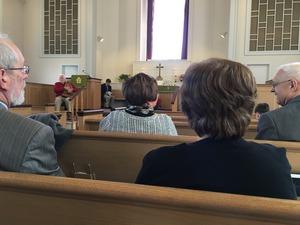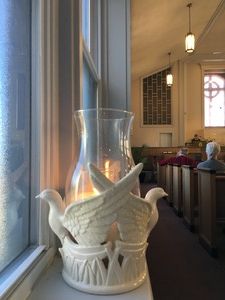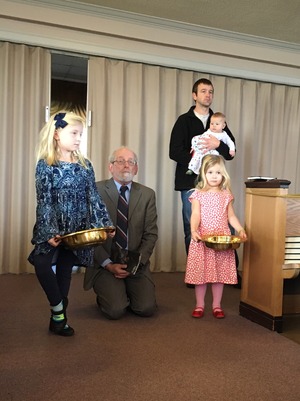 ---
More Pictures.
The Service Ministry Team hosted scarfmaking for our neighbors without homes yesterday. The small but industrious group made 140 scarves to be distributed by our partners at ASPAN. At the same time, we donated two full bags of toiletries that we'd been collecting in the church hall.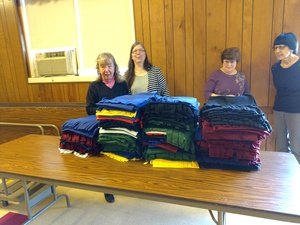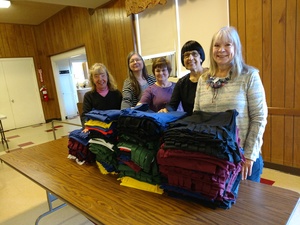 On Friday

, the young adults had a fun potato bar meet-up organized by Sara. We were delighted to celebrate Laura's 24th birthday with cupcakes. Thanks to Nancy and Donna for providing childcare for the fun evening!