"On this first Sunday of Advent we pray that we might never lose hope that God is at work rebuilding our own brokenness and the brokenness of the world around us."

-

from yesterday's Call to Worship
---
Mo
Monday.
•
Church Board, 7:30 pm, more details
Tuesday

.
•
Iglesia de Restauracion Pacto Eterno, 7-9pm
Wednesday.
•
Brethren Voices,

11am

,
more details
•
Handbell Choir Practice, 7:00 pm
Thursday.
•
Breakfast Bunch, 8am
•
Bible Study, 12 Noon, Bethel UCC
•
Community Choir Practice, 7:30 pm at AFUMC
Friday.
•
ACOB Young Adult Gathering, 6:30-8:30pm
Saturday.
•
Centering Prayer

, 10:30-11:30am
•
Celebration of Life for Charlotte McKay, 1pm at Bridgewater COB, more details
Sunday

.
•
Big Sunday, 9:45am
•
Brethren Voices,

6:30pm

,
more details
Mon., 12/11 - Worship Team Meeting, with Bethel UCC, 7-8pm
Wed., 12/13 -

Bell Choir Rehearsal

, 7-8pm
Sat., 12/16 - Fellowship Hall Rental, 12-4pm
Sun., 12/24 - Christmas Eve Harp Music & Service, 6pm
---
More Details.
Church Board Reorganizational Meeting
| Mon., Dec. 4, 7:30pm
Both incoming and outgoing members are asked to attend this meeting where we wrap up financial work for 2017 and being the organization of the Board for 2018.
A Celebration of Life for Charlotte McKay | Sat., Dec. 9, 1pm
A Celebration of Life Service will be held for Charlotte S. McKay at Bridgewater Church of the Brethren on Saturday, December 9 at 1 pm. The address for the service is 420 College View Drive, Bridgewater, VA 22812. All are invited to attend.
More Details |
arlingtoncob.org/calendar
For more information on neighboring church, denomination and non-profit events listed, check the calendar at the above link or contact the office.
---
Advocate, Volunteer + Give.
Gift Cards Needed for Doorways!
| Now until Sun., Dec. 10
We are now accepting gift card donations for Doorways. Doorways assists women and families escaping violence and abuse. Your kind donation will be used by these families in need to buy groceries, household goods, and clothing. All gift cards should be in the amount of $25 and can be from Giant, Safeway, Target, TJ Maxx, Marshall's, Ross, Old Navy, and Amazon. Please place any donations in the offering plate by December 10. For questions or additional information, see Marcia S.
Blood Drive Pledge
|

June 23, 2018
A local mom's group is organizing a blood drive at our church this summer. They plan to have a children's room so pairs of caregivers can take turns giving blood. They need 50 pledges to secure the date with the Red Cross. Please save the date and sign up to give blood whether or not you plan to bring kids. Contact Suzanne with questions or if you'd like to volunteer in the children's room. Pledge here:
http://www.signupgenius.com/go/508044ba5ae23a4fb6-blood
Arlington Forest Coat Drive
Arlington Forest is holding a coat drive for Arlington Public Housing. Please bring any gently used, clean coats to help keep someone warm this winter. Donations can be dropped off at Arlington Forest in the collection box located in the parlor near the window.
Calendar Donations Needed!
The residents of Sunrise Retirement home are looking for new 2018 calendars. If you have received any free calendars via giveaway or mail that you do not intend to use, please consider donating them. Bring any donations to the church office.
---
Media.
Dunker Punks Podcast |
http://bit.ly/bodiesontheline
Tori Bateman from the Church of the Brethren Office of Public Witness brings Sarah Thompson, the Director of Christian Peacemaker Teams, on the podcast to share about their non-violent works. This Dunker Punks podcast brings much passion and hope into places of conflict that we might see as hopeless.

Type in the case sensitive url to listen on the showpage or subscribe on iTunes. Listen by clicking the above link or subscribing on
iTunes
.
Worship Audio |

Online
Listen again to this week's sermon, catch a sermon from a Sunday you were out or peruse the archives. Each Sunday message along with a selection of hymns and readings is posted online or subscribe on iTunes.


New! Brethren Voices | Passion for Practical Peacemaking
Brethren Voices is the TV show featuring what Brethren do as a matter of our faith. The episode for November features Samuel K. Sarpiya, 2018 Annual Conference Moderator of the Church of the Brethren. Samuel first had contact with the Brethren as a young man in Nigeria. He remembered that the EYN Church of the Brethren was very accepting of others and "they made really good peanut butter.". Watch online now! Watch in Arlington on Comcast 69/Verizon-FIOS 38 on Sundays at 6:30 pm, Wednesdays at 11 am.


New! #BlessedBreak | http://bit.ly/BlessedBreak77

This week's video offers perspective on Hope, the theme of this first week of Advent. How are you holding hope?

---
Andy Price,

vision difficulties

Karolina Walkin,

pain from neurological difficulties

Hayden Hargenrader,

Shelley's 18mo. old cousin, suffering seizures & strep throat

Carole C.

, at Manor Care, recovering from surgery

Family and friends of Theresa M.,

after her passing last week

Hermella

, Amy's neighbor, an 11 year old with seizures

Charles Tuck,

Hazel's son, with brain cancer

The Weimer Family,

following the loss of Nancy's mother, Charlotte

Mrs. Shawn Hiepson

,

healing breast cancer

Church of the Brethren in Nigeria (EYN)

, including 113 girls still captive
Keep in your ongoing prayers:
Erin Julca, Steve Shuss, Minnie Simmons, Carolyn Studds

Note:
Prayer concerns will ordinarily be listed for four weeks. If you would like one to be kept on or added back in, please let the office know. Names in bold are new to the list or updated this week.
---
A sermon on Isaiah's prophecy and choosing hope over fear.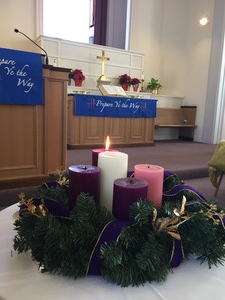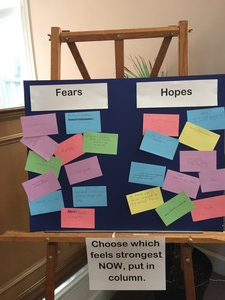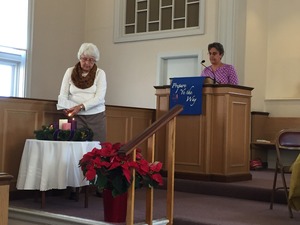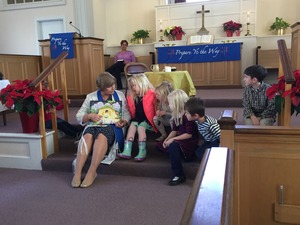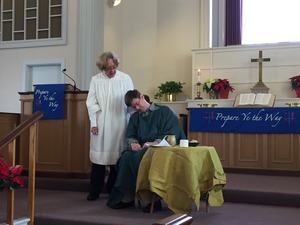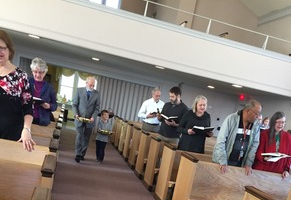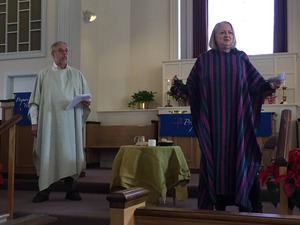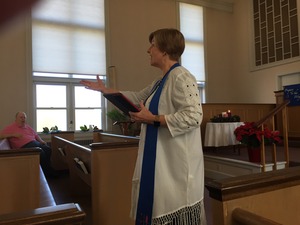 ---
More Pictures.
we
Yesterday, after worship, we shared a litany together (like other progressive churches) and ate wedding cake to highlight the supreme court's consideration of a case this week where a baker refused to serve a gay couple. We ate, prayed, and learned more about ways we can work for justice.