God asks for a 'tithe' of what we have. It doesn't seem like much when we take just one thing from our bags, but when we put it all together, we have plenty in God's basket and even more left over in ours.

-

from yesterday's Moments for Children
---
Tuesday

.
•
Iglesia de Restauracion Pacto Eterno, 7-9 pm
Wednesday.
•
Brethren Voices,

11am

,
more details
•
Young Adult DC Gathering

, 6:30pm
• Handbell Choir Rehearsal, 7-8pm
Thursday.
•
Breakfast Bunch,
8am
•

Centering Prayer

, in the library, 4pm
Saturday.
•
CROP Walk, 8am - 11am, more details
•
Shepherd's Spring Into the Dark Retreat, through 10/29
Sunday

.
•
Sunday School,
9:45am
•
Brethren Voices,

6:30pm

,
more details
Sat., 11/4 -

Soup and Pie Bazaar

, 9am - 2pm, more details
Fri., 11/10 - Simple Living Weekend, at Brethren Woods, more details
Wed., 11/22 - Community Thanksgiving Service at ACoB, 7pm
---
More Details.
VOICE Event a Success
Last Sunday evening, Pastor Nancy and others joined over 1,500 people of faith at a gubernatorial forum in Prince William County. Organized by VOICE: Virginians Organized for Interfaith Community Engagement, the event was one opportunity for people of faith to participate in VOICE's strictly non-partisan mission to take action on issues that affect the most vulnerable families and communities in Northern Virginia. The Prince William Times published an article with more information. Read about it here.
take a
Simplify: A Simple Living Weekend | November 10-11, Brethren Woods Camp
Simple Living has been a core Brethren value since our earliest days as a denomination. But what does it mean to live simply in a busy, modern, 21st century world? What does it mean for us, for our relationship with God, and for the Earth? Join inspiring practitioners and experts on simple living as they offer practical, engaging, and hands-on workshops and experiences to help us consider what simple living looks like for us today. We'll have opportunities for worship, fellowship, and great food. More information here.
Big Bulletin | July, 2017 Edition
More Details |
arlingtoncob.org/calendar
For more information on neighboring church, denomination and non-profit events listed, check the calendar at the above link or contact the office.
---
Advocate, Volunteer + Give.
CROP Walk
| October 28, 8am
This 5K/10K walk is part of a nationwide network of Hunger Walks sponsored by Church World Service to
raise funds to provide sustainable self-help and development, disaster relief, and refugee assistance around the world. Join us on Saturday, October 28 at First Presbyterian Church! Registration begins at 8:00am with the walk beginning at 9:00am rain or shine.
Soup and Pie Bazaar
| November 4, 9am - 2pm
Pitch in for our annual festival and fundraiser. Plan now to make soup and pie or to volunteer in the kitchen. Pull from storage your white elephant donations. Craft items and baked goods will be needed. Check out the insert in this week's bulletin for more details.
---
Media.
Dunker Punks Podcast |
http://bit.ly/compellingvision
In the most recent episode,
Elizabeth Ullery-Swenson brings together a panel of young adult leaders in the Church of the Brethren in this episode of the podcast. Jennifer Keeny Scar, Tim Heishman, and Colin Scott examine the future of the church through an open conversation which includes challenges in the denomination.
Type in the case sensitive url to listen on the showpage or subscribe on iTunes.

Listen by clicking the above link or subscribing on
iTunes
.
Worship Audio |

Online
Listen again to this week's sermon, catch a sermon from a Sunday you were out or peruse the archives. Each Sunday message along with a selection of hymns and readings is posted online or subscribe on iTunes.


Brethren Voices | Miss Pennsylvania 2017
Brethren Voices is the TV show featuring what Brethren do as a matter of our faith. The episode for October features Katie Schreckengast, a member of the Church of the Brethren and recently crowned Miss Pennsylvania. Watch online now! Watch in Arlington on Comcast 69/Verizon-FIOS 38 on Sundays at 6:30 pm, Wednesdays at 11 am.


New! #BlessedBreak | http://bit.ly/BlessedBreak71

This week's video is from Heifer International. Heifer will be featured at a table during our Soup and Pie Bazaar, coming up November 4.

---
John Detra,

with a broken leg

Theresa

, nearing death after a long and faithful life

Alma's sister Edna Cook and daughter Judy
Charles Tuck,

Hazel's son, with brain cancer

The Weimer Family,

following the loss of Nancy's mother, Charlotte

Victims of California wildfires,

in the wake of lost homes and family members

Mrs. Shawn Hiepson

,

healing breast cancer

Jim Wilson

,

Jo Ann's brother, improving following bypass surgery

Steven Maxwell

,

Ralph's brother, for his move

Theresa M.,

entering hospice care

Jill Carter

, friend of Shelley + Chris, facing surgery and cancer treatment

Dee and family

, following her mother's death

Birgitta D. and daughter Sophia

Carole C.

,

continuing health recovery

Hurricane Maria refugees and victims

Mexico earthquake refugees and victims

Hurricane Harvey and Irma storm refugees and victims

Church of the Brethren in Nigeria (EYN)

, including 113 girls still captive
Keep in your ongoing prayers:
Erin Julca, Steve Shuss, Minnie Simmons, Carolyn Studds

Note:
Prayer concerns will ordinarily be listed for four weeks. If you would like one to be kept on or added back in, please let the office know. Names in bold are new to the list or updated this week.
---
Jesus told a strange story about a wedding and the guests who refused to attend and the guests who did attend but refused to wear their wedding attire. What does it all mean? Pastor Nancy and the ACoB congregation do some serious exegesis together on this text from Matthew 22.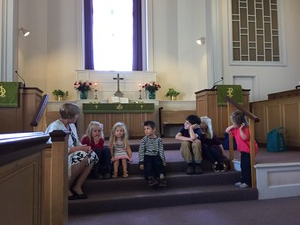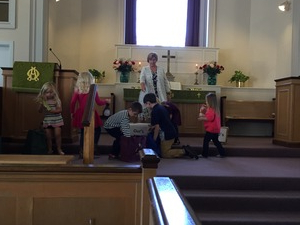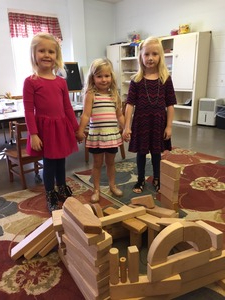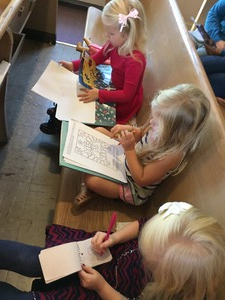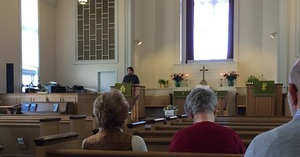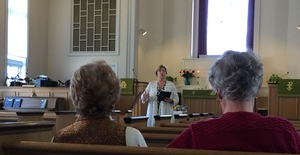 ---
Working hard during Saturday's Church Work Day: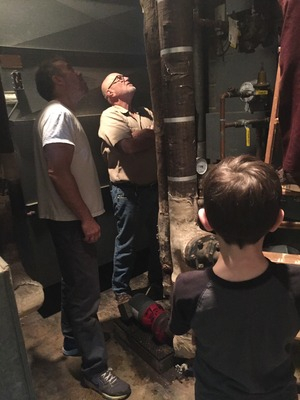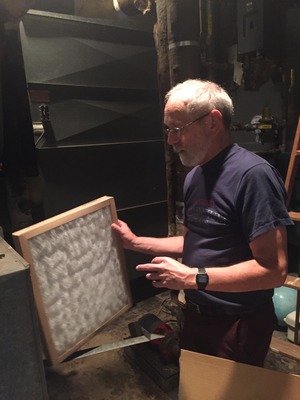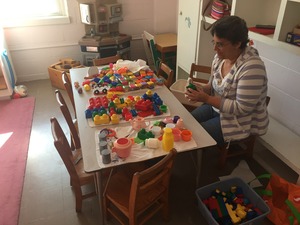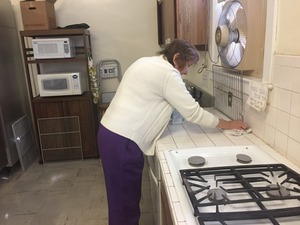 And celebrating at Sunday's baby shower for Melody and James: