"Take nothing for the journey except a staff—no bread, no bag, no money in your belts. Wear sandals but not an extra shirt. Whenever you enter a house, stay there until you leave that town. And if any place will not welcome you or listen to you, leave that place and shake the dust off your feet as a testimony against them."
-

from Sunday's scripture, Mark 6:1-13
---
Mo
Monday.
•
Kaizen Karate, 7:30am - 6pm, in fellowship hall weekdays thru 8/3
Tuesday.
•
Iglesia de Restauracion Pacto Eterno, 7-9pm in Fellowship Hall
•
Congregational Life Ministry Team Meeting, 7pm in library
Wednesday.
• Jane Mohr's birthday!
•
Brethren Voices, 11am
• Search Committee Meeting, 7:30pm in library
Thursday.
•
ACOB Office Hours, 10am - 12pm + 6:30-8pm
Friday.
•
Young Adult Meet-Up, 6:30pm
Saturday.
• Manchester Square, 9:30am - 3:30pm in library
•
Iglesia de Restauracion Pacto Eterno, 5-9pm in Fellowship Hall
Sunday.
•
Collecting Metro + Target Cards for OAR in Worship, 10am, more details
•
Iglesia de Restauracion Pacto Eterno, 5-9pm in Fellowship Hall
• Brethren Voices, 6:30 pm

Sun., 7/22 - Bag Lunches for ASPAN, 11am in fellowship hall
Thurs., 7/26 - Breakfast Bunch, 8am
Thurs., 7/26 - Community Choir Resumes, 7:30pm at AFUMC
Sun., 7/29 - Refreshments after worship, 11am in library
Mon., 7/30 - Executive Committee Meeting, 7:30pm
Sun., 8/5 - Community Worship at Bethel UCC, 10am
Mon., 8/6 - Church Board Meeting, 7:30pm
Sun., 8/12 - Community Worship at ACOB, 10am
Sun., 8/19 - Community Worship at AFUMC, 10am
Sun., 8/26 - Community Worship at Lubber Run, 10am

---
More Details.
Invitation | Contact Pastor Christy
Have you been thinking about formally becoming a member of Arlington Church of the Brethren? Would you like to talk about your discernment or process your own journey? Pastor Christy would appreciate having a conversation with you. Feel free to let her know. Contact her by email (pastorchristy@arlingtoncob.org) or phone call/text (814 599-6307) to schedule an appointment.
---
Advocate, Volunteer + Give.

Gift Cards for OAR | Sun., July 15 during worship
Support Offender Aid and Restoration (OAR) by participating in the Service Ministry Team effort to collect gift cards for neighbors recently released from prison. $20 Metro SmarTrip Cards and $25 Target gift cards will help them get to job interviews and buy needed clothing and household items. Instead of cereal, the third Sunday of July the children will collect your donations, including any cash to purchase additional cards (AFAC cereal collection is still ongoing in the box in the office hallway). Contact Marcia with any questions or to donate earlier.


* Do you care about ways to serve and participate in our community and through our denomination? Sign-up for and commit to reading regular updates from organizations that interest you, then notify Suzanne in the office about the events and projects you want shared on ACOB's calendar.
---
Media.
New!
Dunker Punks Podcast |
http://bit.ly/DPP_Episode61
In the latest Dunker Punks Podcast, Dana Cassell visits with members of the Umstead Park United Church of Christ of Raleigh, North Carolina, who are providing sanctuary for an undocumented immigrant with an active deportation order. Learn about the concept of sanctuary and find out how your church or community can become part of this growing movement.
---
Boys on the soccer team in Thailand

, in the process of being rescued

Kathleen Sissel

, Melody's friend, who had an emergency appendectomy while in her third trimester of pregnancy.

McGavin Family

, grieving the death of their teenage son Raymond, a former student of Lisa's

Families Separated at the Border

, and for continued advocacy until they are reunited and safe

Ethiopia

, in the wake of the violent attack at a rally, that it won't bring about a new wave of violence or derail the work of reconciling various ethnic groups

Jacque

,

started chemotherapy last month

John

, Dale's brother, recovering from mitro valve repair

Sharon

,

Marcia's friend + ACOB service volunteer, recovering from gall bladder surgery

Anna May and Mike

, friends of Donna, Anna May's husband, Eugene, died of severe burns.

Graduates

, celebrating the season of new possibilities

People who are Hungry,

as we remember the Global Day of Prayer to End Famine

Nate and Jenn Hosler

, pastors of the Washington City CoB, on the birth of their son, Ayuba

Vernon Miller's Family

, honoring his good long life after peacefully passing following a couple bouts of pneumonia. Vernon pastored the Arlington congregation from 1969-1978

Bethel UCC

, preparing to leave their building in the fall

Carole

, in positive spirits, calls and visits while she is still at the rehab facility are appreciated, 703-867-1952

Chuck Norton

,

Bethel UCC, undergoing treatment for pancreatic cancer

Church of the Brethren in Nigeria (EYN),

including 113 girls still captive
Keep in your ongoing prayers: Steve Shuss, Minnie Simmons, Carolyn Studds

* P

rayer concerns will ordinarily be listed for four weeks. If you would like one to be kept on or added back in, please let the office know. Names in bold are new to the list or updated this week.
---
Worship.
Due to technical difficulties, there is no podcast of this week's sermon.

Thanks to Dave Johnson for his sermon on supporting the prophets among us.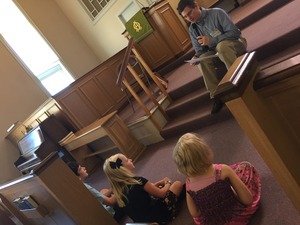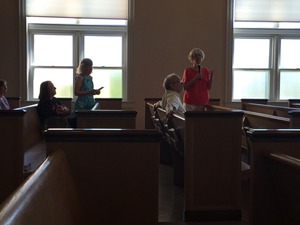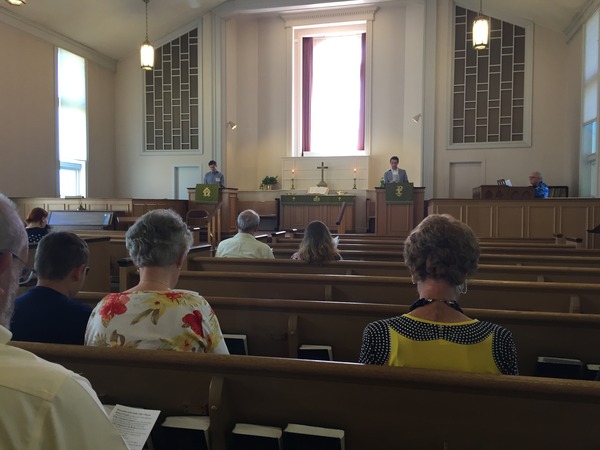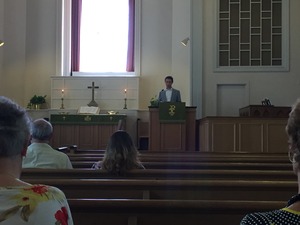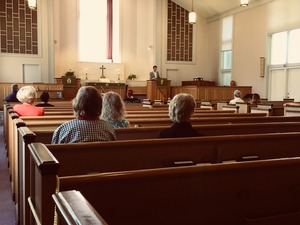 ---
Folks working hard on a hallway painting project last week: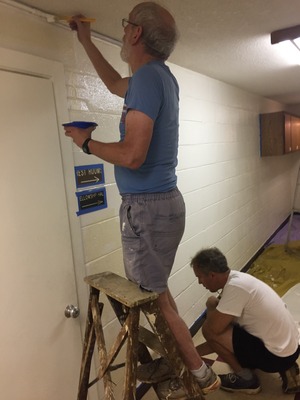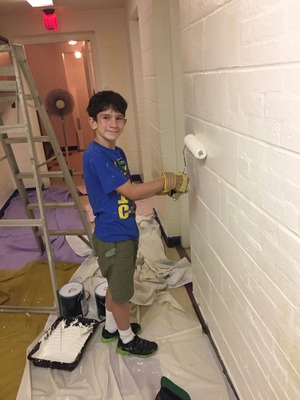 And here's Phoenix and Minnie enjoying a visit togther this week: