ACoB E-Bulletin
| | |
| --- | --- |
| | www.ArlingtonCoB.org |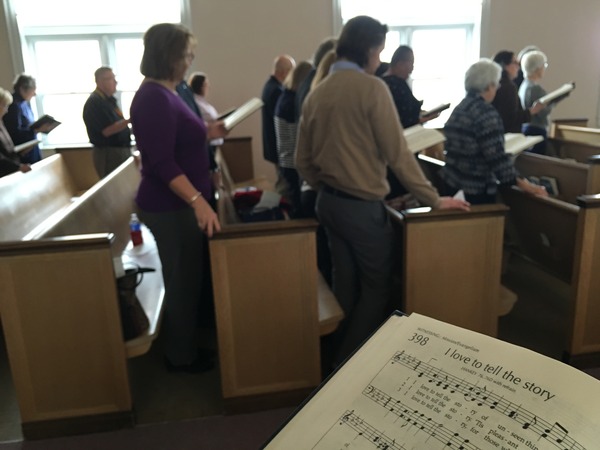 Because Service Doesn't Stop on Sundays.
Suzanne, you are a unique, gifted child of
God and a blessing to our vital faith community.
This newsletter is just one way we connect with each other as
together, we live for the glory of God and our neighbor's good.
---
Iglesia de Restauración Pacto Eterno,
7-9 pm
Ash Wednesday Taize Service
, 7 pm in sanctuary, more details
Community Choir Practice,

7:30 pm

, AFUMC
Kaizen Karate,
6:30-7:30 pm
Children's Playgroup
,
10:30-11:30 am in nursery
ACoB Young Adult Meet-Up,

6:30 pm
Iglesia de Restauración Pacto Eterno, 5-9 pm
Special Refreshments
, following worship in library, more details
Cambodian Alliance Evangelical Church, 1-4 pm
Iglesia de Restauración Pacto Eterno,

5-9 pm
Feb. 17 -
DC Young Adult Meet-Up
, 6:30 pm *New Date
Feb. 21 -
Intergenerational Big Sunday School
, 9:45 am *New Date
Feb. 21 -
Scout Sunday
, *New Date
Feb. 25 -
Breakfast Bunch
Feb. 29 - March 6 -
Pastor Nancy on vacation

​
Telling Your Story | Small Groups Forming
On Sunday we began an immersion sermon series for the season of Lent. You are invited to join a small group that will go into greater depth for each week's message. Both adult Sunday School classes are small groups. For others, email the office to join a group meeting outside of Sunday School: acob@arlingtoncob.org.

Click here to scroll to the bottom of this email for the first take-home question of this immersion series.
Ash Wednesday Taize Service | Wed., Feb. 10, 7 pm
Ash Wednesday marks the start of the Lenten season, in which we focus on prayer, reflection and fasting ahead of Easter. Come to a Taize worship service on this Holy Day. Taize is a candlelight service with repeated songs to foster meditative prayer in community. We'll be joined by our ecumenical partners and anyone else interested to worship.
"Let Us Also Go" by Chris Bowman | Pick Up in Narthex
Our Brethren Press Lenten Devotionals have arrived. Pick one up and spend a little time each day with God as Easter approaches.
Heart of Anabaptism Webinar | Thurs., Feb. 11, 2:30 pm
This webinar will look at ways to live simply, share generously, care for creation and work for justice in individualist and consumerist cultures. Joanna (Jo) Frew will guide participants in exploring and reflecting on the interconnection of spirituality to economics. The webinar is free and no registration is required. Join the webinar on the day of the event by clicking http://brethren.adobeconnect.com/transformation. Contact Stan Dueck for more information at 800-323-8039 ext. 343 or sdueck@brethren.org.
Yoga | Thurs., Feb. 11, 6 pm
​Gentle, basic beginners yoga class at Arlington Forest UMC designed to teach posture and breathing techniques. Release and relieve stress, reduce tension, improve circulation and learn to relax while learning the fundamentals and positions of yoga. Cost is $9 per class, payable at beginning of class. Call 703-548-1882 or email contessashome@gmail.com to RSVP.
Special Refreshments | Sun., Feb. 14
Next week after worship in the library, we will celebrate and thank Dee, Minnie, and Nancy for their many years of exceptional service to our congregation.
Rooting DC Forum | Sat., Feb. 27, 9 am - 4 pm
This free, all-day gardening forum at Wilson High School in DC aims to provide education about urban food production and consumption, to cultivate health and preserve the environment. The program includes dozens of interactive workshops, cooking and food preservation demonstrations, and panel discussions focusing on youth gardening, nutrition, sustainable growing techniques, and healthy food access. The event also hosts 60+ green businesses and nonprofits from throughout the region at an information fair. Learn more on their website.

Online Church Directory | http://arlingtoncob.org/member-directory
For contact information on the go, our local church directory is now online. Type in the link or click through on the homepage menu: About Us>Contact Us>Member Directory. Use this case sensitive password to access the page: NewLife
Social Media |
Engage Online
For folks wondering about those funny symbols at the top of our new e-bulletin design, they are links to our social media sites. Let the church office know if you'd like help accessing these sites or if you need tech help in general.

Facebook. We share pictures of our congregations' activities and quotes from worship on Facebook, as well as social justice news articles and event reminders. "Like" and comment on our page and posts to increase views of our content.

​Twitter. ​We tweet prayers, sermon snippets, denomination news, social justice and community news, hymn lyrics, eco tips and more. Follow us and use our favorite hashtags: #ACoBamen, #HandsAndFeet, #Godisgreen, and #Together. Throughout Lent we will be tweeting devotional bits using the hashtag #Go.

​
Instagram.
​Our newest social media site emphasizes pictures of our church life as they are captured. Follow us to catch the fun as it happens.

Mobile App.
The ACoB church app is free on iTunes and Google Play. Download it on your smartphone to read the Bible, view photos or get to the church social links quickly.
Website.
In addition to an overview of all of our ministries and activities, our website includes up-to-date information about upcoming events, sermon audio, and #BlessedBreak video devotionals.
Messenger Magazine |

Reimbursement Donation
ACoB coordinates subscriptions to our denominations' magazine for every interested person in our congregation. This is the month to make a special donation to help cover the cost, if able: each subscription is $14.50 under our group rate.
2016 MAD Disaster Response Auction | Sat., May 7
This year will be the 36th year MAD will rally our local faith community through the annual Disaster Response Auction to make a difference for our wider communities recovering from disasters.

ACoB supports the auction by purchasing ad space in the auction booklet. Contributing to the production costs of the auction in this way enables more of the event proceeds to go to disaster relief. Help offset production costs by making an individual donation to the auction booklet through ACoB. Our church will send one check to the district, but each individual donor will be named in the booklet. The levels are Patron ($10), Supporter ($25), Sustainer ($35) and Sustainer Plus (over $35). Write checks to Arlington CoB with a notation that it's for the MAD disaster auction booklet or designate a paypal donation by February 21.
Other ways to support the auction include prayer, event volunteering and donating auction items including handicrafts like quilts, comforters and wall hangings; special items like quality woodwork, artwork, antiques and other collectables; gift baskets; a gift certificate from your business; or food or plants valued over $10
AFAC Whole Grain, Low-Sugar Cereal Donations | High Need
Food drives wane during the holidays, so Arlington Food Assistance Center's ceral stock is low. For those wanting to help, our ongoing collection box is in the hall under the coat racks.
Jim Harper, Cindy's nephew, being treated for a liver abscess

Samuel Dali, EYN president in serious car accident

Taiwanese, Recovering from an earthquake

Marian Rognlien, Fitzgerald's close friend, slow improvment in rehab

Rich Haske, Karolina's husband, Briana's father, home recuperating

Donna and Rick's family, grieving after the death of Donna's aunt

Bradley family, grieving the sudden passing of Rev. Phillip Bradley, a Md CoB pastor

Gail, Gary Reals' sister, palliative care

Plank Family, celebrating the life of Rev. Donald Plank (97) who recently passed after serving in CoB in Md and Pa for 50 years

Heather, Jeff's sister-in-law's daughter, receiving treatment for a rare autoimmune disorder

Gary Reals and the Snyder family, Gary's friend and work colleague is recovering from a broken hip while also grieving his wife's unexpected passing. Mrs. Synder also worked with Gary.

Stultz family, at Summerdean CoB long awaiting finalization of an adoption delayed by the DR of Congo government

Theresa McCary and family, grieving after the death of Theresa's son

Roberta Price, Julie Fields Price's mother-in-law who is ill

Jummai Paul, kidnapped Chibok girl and others

Church of the Brethren in Nigeria (EYN)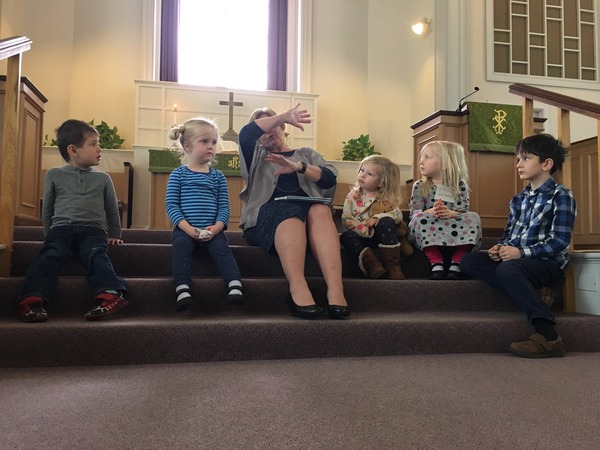 Pastor Nancy tells the children the story of Moses transforming to literally shine God's glory. Just one of the many stories God chose to reveal God's self though.
Our stories are a place to see where God is working in our world today. Give some thought this week to your story. Journal or talk with a friend. Where do you see God in your life? What have these experiences taught you about who God is?
We each reflect God and we are each a part of the way God reveals God's self in the world. This makes our stories extremely important to know and share. Let us commit to learning and telling our stories this Lent so that we too may reflect the glory of God.
Arlington Church of the Brethren

Office Hours

Wednesday

|

6:30 - 9:30 pm

Saturday |

8:00 - 11:00 am

Contact

Tel: 703-524-4100

Mobile (call anytime): 571-243-5344
Fax (call ahead): 703-524-4109
ACoB@ArlingtonCoB.org