Remember the stories Jesus and his friends tell of bread broken and shared, feeding a multitude, gathering together
—
enemy and friend
—
and of unlikely guests revealing the sacred.

Remember, it is in the breaking that we become whole, in losing our lives that we find them, in serving that we are served.

As the grain scattered becomes one in the loaf, when we eat this bread, we become one with one another.

As the grapes find life in the vine, when we drink this cup, we become at one with the source of life itself.
From yesterday's remembering of our sacred story at Christ's table on World Communion Sunday
---



•

Board Meeting, 7:30 pm

Tuesday

.
•

Iglesia de Restauracion Pacto Eterno, 7-9 pm



•

Brethren Voices, 11 am,

more details




•

Yoga, 5:45 pm,

more details




•

Handbell Choir Practice, 7 pm


•

DC Young Adult Gathering, 6:30 pm

Thursday

.



•

Community Vocal Choir Practice, 7:30 pm at AFUMC

Saturday

.
•

MAD District Conference


•
Iglesia de Restauracion Pacto Eterno, 5-9 pm
Sunday

.



•

Sunday School + Scripture Stumbles, adult + children classes 9:45 am,

more details




•

Community Choir Singing at Worship, 11 am


•

Brethren Voices, 6:30 pm,

more details




Mon., Oct. 10 - Shepherd's Spring Quiet Day, 9:30 - 3 pm
Tues., Oct. 11 - Just Peace Webinar, 9 am online
Thurs., Oct. 13 - Worship Team Meeting, 3 pm
Fri., Oct. 14 - ACoB Young Adults' Gathering, 6:30 pm
Sat., Oct. 15 - 12 Baskets + Goat, Heifer Fundraiser, 3:30 pm, Frederick CoB
Sun., Oct. 16 - Big Sunday School, 9:45 am *New Date,
more details
Sun., Oct. 16 - Harmony + Hope Fall Concert, 7 pm, Bridgewater CoB
Sat., Oct. 22 -

CROP Walk

,
more details
Sat., Oct. 22 - Clarendon UMC Bazaar + Pig Roast, noon
Sat., Oct. 22 - Pumpkin Party, 4 pm, Oakton CoB
Sun., Oct. 23 - Wear Purple,
more details
Sun., Oct. 23 - Music Festival w/ Grossnickle CoB, 3 pm, Wolfsvill Park
Sun., Oct. 23 - Oakton CoB Community Concert, 4 pm
Mon., Oct. 24 - Executive Committee Meeting, 7:30 pm
Thurs., Oct. 27 - Breakfast Bunch, 8 am
Sat., Oct. 29 -

Fall Church Work Day

, 9 am - noon
Sat., Nov. 5 -

Soup + Pie Bazaar

, 9 am - 2 pm
Sat., Nov. 5 - Shepherd's Spring 25th Anniversary Campfire, 4 pm
Wed., Nov. 9 -

ACoB Young Adults Gathering

, 6:30 pm *New Date
Sunday School Swap | Note New Dates
Just for this month, Big Sunday School will be on the third Sunday of the month, October 16. That means the rotating, drop-in Sunday School class for the second Sunday will be Scripture Stumbles, next week on October 9 at 9:45 am in the library.
Purple Out | Wear Purple, Sun., Oct. 23
October is National Domestic Violence Awareness month and we are partnering with
Doorways
to help spread the word. Wear purple for a congregation picture that we will send in to support their local awareness campaign. Contact
Suzanne
with questions.
Beginner Yoga |
Wednesdays, 5:45 pm
Join others in the fellowship hall for simple, gentle beginner yoga, especially designed to include folks 55+. $9.00 per session. The 6 week session just began. Contact Pastor Nancy with questions.

Summer Worship Survey | Take 2-3 Minutes to Share Your Thoughts
Follow this link to answer 10 questions about your experience of our summer ecumenical community worship: http://bit.ly/SummerWorshipSurvey

More Details | arlingtoncob.org/calendar
Many of our neighboring churches and organizations are hosting events throughout the fall. See an upcoming event you're interested in or want to learn more about? Follow the above link to get the details from our online calendar.
---
Volunteer.
CROP Walk |
Sat., Oct. 22, 9 am
This 5K/10K walk is part of a nationwide network of Hunger Walks sponsored by Church World Service to raise money for hunger relief both locally and abroad. Donate and/or sign up to walk:
bit.ly/2016CROPWalkACOB
. Contact
Marcia
with questions.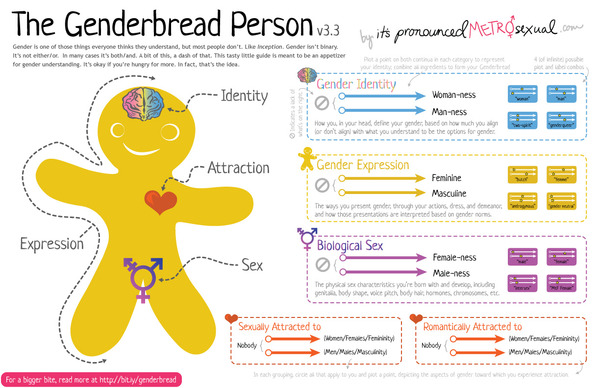 Dunker Punks Podcast | New episode! http://bit.ly/DPP_Episode15
The latest episode, "Gender is a galaxy" features Dylan Dell-Haro talking about gender and being the people God created us to be. Listen by clicking the above link or subscribing on
iTunes
.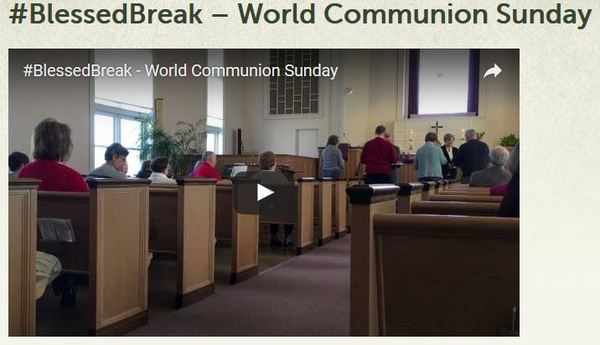 #BlessedBreak | New devotion!
http://bit.ly/BlessedBreak27
Our latest video devotional is inspired by World Communion Sunday yesterday.
Take a break to watch the video, read the Scripture and pray.
Brethren Voices | Caring for the Earth
Brethren Voices in Arlington features an interview with David Radcliffe on caring for our earth
throughout October.
Tune in Sundays at 6:30 pm or Wednesdays at 11 am on Comcast, 69; Verizon-FIOS, 38 or on
Arlington Independent Media
's
live stream

.
Contact
James
with any questions.
Text Alerts |

Sign up with your cell phone
Oh no! Worship must be cancelled due to the biggest blizzard in history, or maybe, we don't have any ice cream for tomorrow's ice cream social! Fortunately, should church emergencies arise, we now have a new tool for spreading information fast. Text "EZSAY19248" to 313131 and you'll be signed up for ACoB's new text alerts. We won't forget to contact folks who don't sign up, but for those who do, text alerts are the quickest way to stay in the loop with your church family. We might even text out surprise blessings or words of encouragement too!
Worship Audio |

Online
Listen again to this week's sermon, catch a sermon from a Sunday you were out or peruse the archives. Each Sunday message along with a
selection of hymns and readings is posted
online
or subscribe on
iTunes
.
---
Pray. Call. Write.
Marina

, diagnosed with Type I Diabetes
Ed Varner and family

, following death of Vivian *Note corrected name


Minnie

, in treatment for chest infection




Yoli, Roy + Family

,

Lisa's sister and Alma's daughter, upon Roy's mother's passing
Nelson Family + Nokesville CoB

, mourning the loss of Kay Nelson from a very rapidly developing cancer
Gary

, travelling to Russia and Ukraine (9/21-10/3), TourMagination feels secure that all areas of the tour are safe for travel. Let us also pray for folks caught in the middle of the conflict between Russia and Ukraine and for success at ongoing peace talks in Minsk.
Pastor Mike

, continuing to deal with liver failure and awaiting transplant
Charles Tuck

, Hazel's son, diagnosed with cancer throughout his body
Minnie

, palliative care at Goodwin House, Rm 248, visitors welcome
Walkin-Haske Family

, ongoing health treatments
Jummai Paul

, kidnapped Chibok girl and others
Church of the Brethren in Nigeria (EYN)
---
Worship Notes.
Recall the people who first taught you faith and let their strength be passed on to you. As we face fears that seem like enormous obstacles, consider the lives of those humble servants who lived each day, not remarkably but faithfully. Can we faithfully accept that it's not about more, that we only need a little and likely we have enough already? When we live as servants
—
like Jesus did
—
having faith that we already have enough for each day, we keep on.

Listen to Luke 17:5-10, 2 Timothy 1:1-10, and yesterday's sermon here
:
http://bit.ly/ACoBMessage2Oct16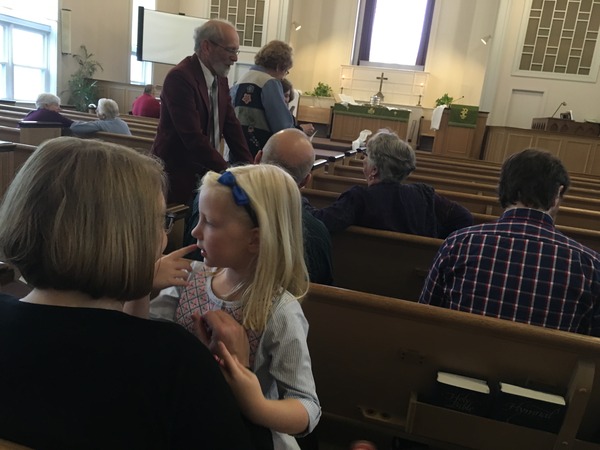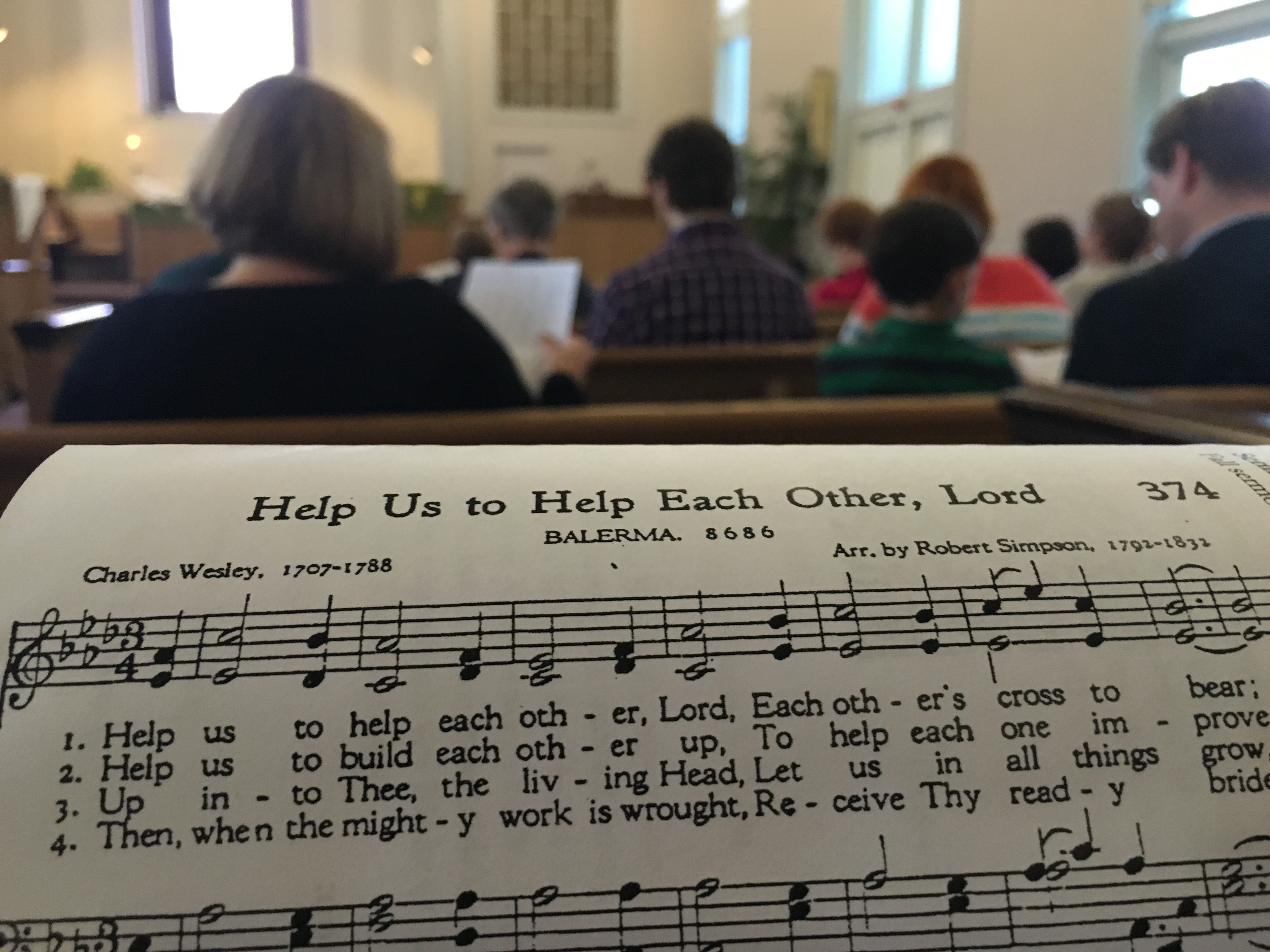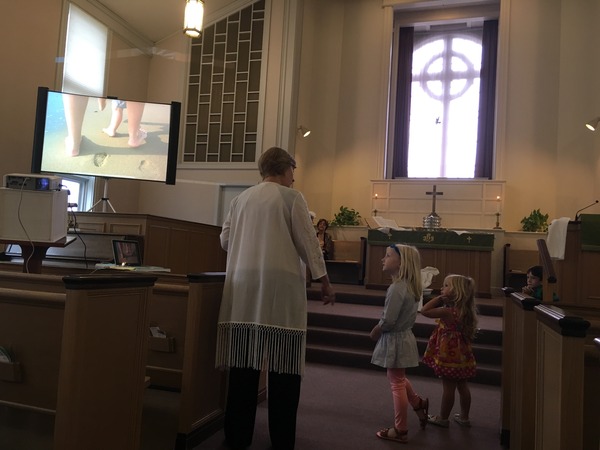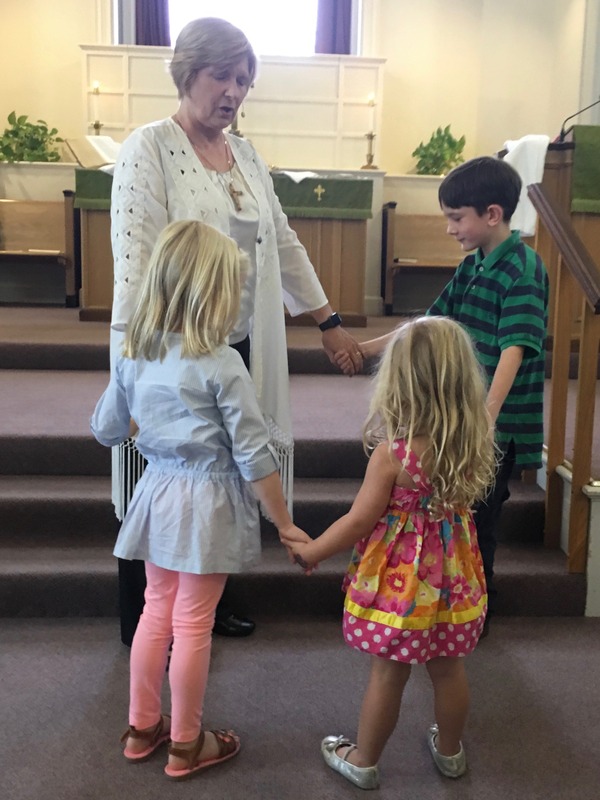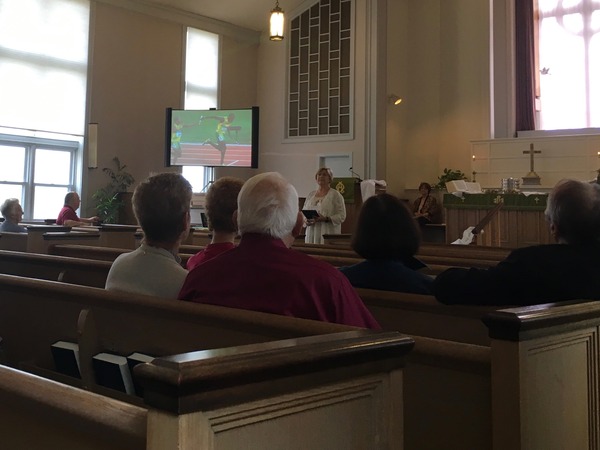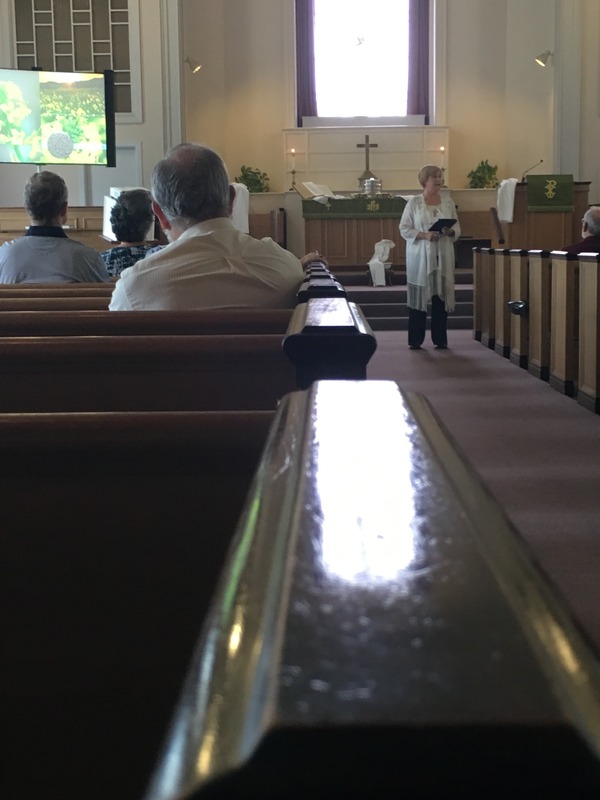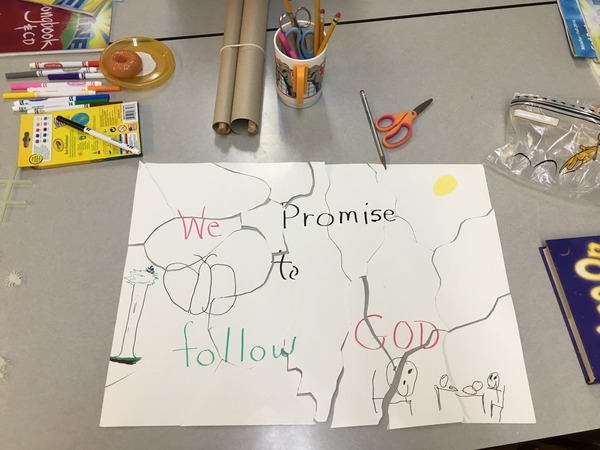 ---
More Pictures.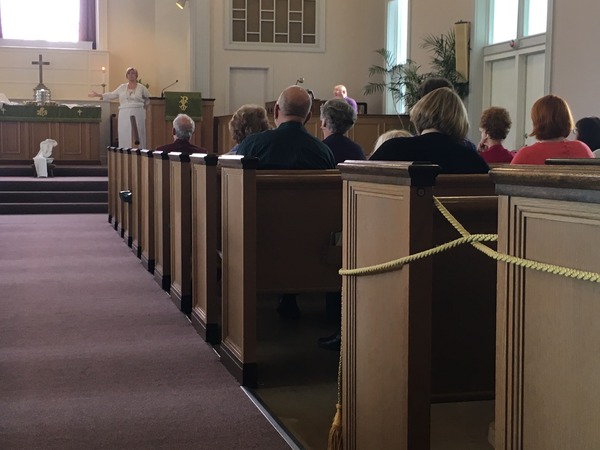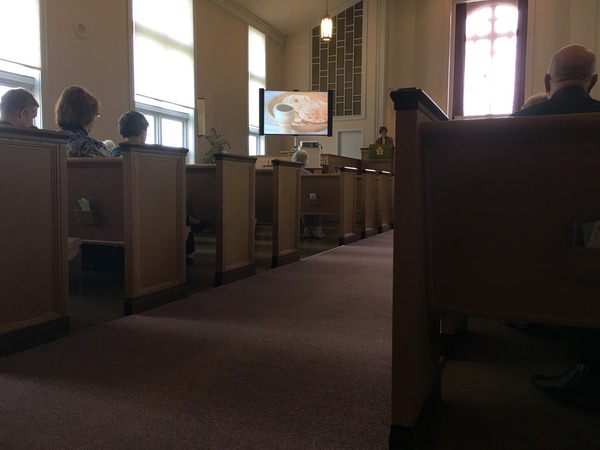 Yesterday was World Communion Sunday, a day for people around the world to gather in spirit as one body at Christ's table. We come from many places, differing in age, race, orientation, politics and even faith, discovering that are differences are not something we tolerate but that our differences are a blessing.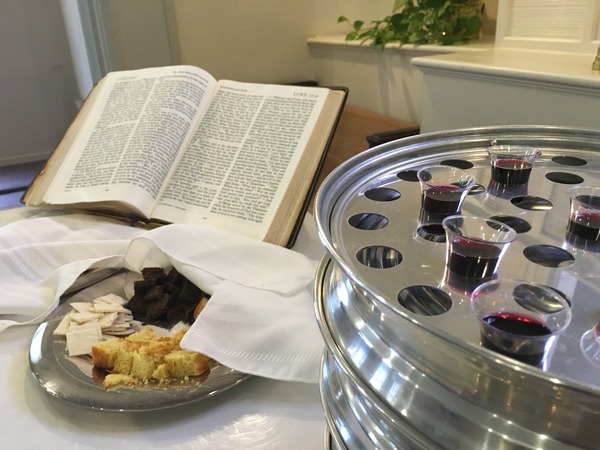 We broke many types of bread in communion of the body of Christ. Injera, pita, naan, rice crackers, tortilla, corn bread, pumpernickel and wheat symbolized the many different peoples within the family of God: people who long to be united as one humanity.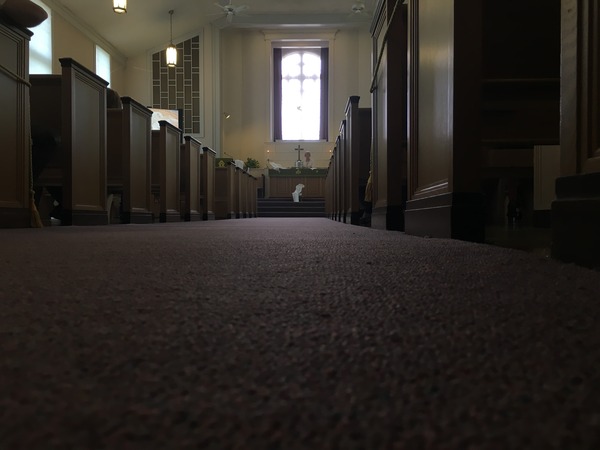 Come, children of God, just as you are.
Wherever you are on this journey of life, you are welcome here, here in this place, here in this community, here at this table.
Come children of God, come and remember with us.